MARICOPA COUNTY, Ariz. — More than 7,000 evictions were filed in Maricopa County during the first month of 2023, the largest amount of county evictions since the 2008 housing crisis.
January's data was also a 13% increase from what county officials had been calling "normal" during the COVID-19 pandemic, according to Maricopa County Justice Courts data. The latest numbers continue an increase in evictions for the seventh month straight.
"I think it is safe to say that landlords are not only back to normal, but surpassing normal," said Scott Davis, a public information officer with the county's justice courts.
>> Download the 12News app for the latest local breaking news straight to your phone.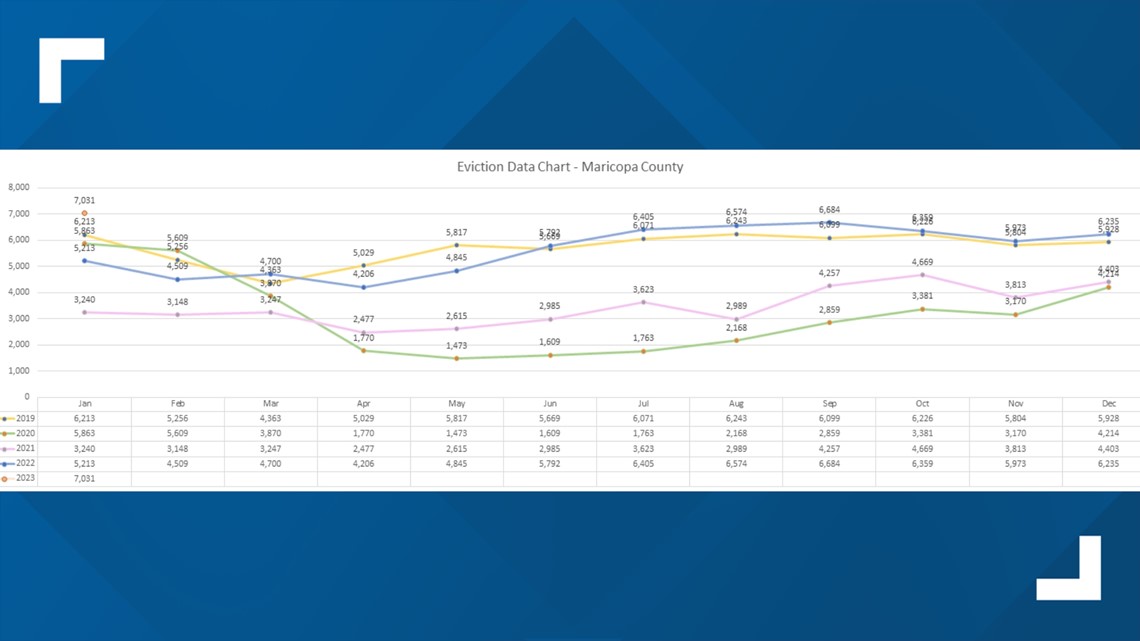 The 7,031 Maricopa County evictions in January rival the 7,273 evictions seen in September 2008. However, more than 750,00 people have moved to Maricopa County since 2008.
Davis said that although the county had over 7,000 evictions filed, that does not mean that 7,000 people were evicted. He said a third of those evictions may get dismissed because the tenant paid the rent or the landlord did not pursue the case for whatever reason.
Since the housing market crash, county eviction numbers have hovered somewhere between 5,000 and 3,000 per month until eviction moratoriums, put in place during the pandemic, knocked those numbers down to the high 1,000s.
Experts warned about a potential eviction "tsunami" after the moratorium on evictions expired in the fall of 2021. That tsunami never came, but evictions have continued to creep up month by month since the moratorium's lifting.
"At first, call me naive, I was a little encouraged by it, I thought that maybe landlords had learned to work with their tenants, and they were more patient and, and were willing to wait. But, you know, they did start going up slowly, but significantly," Judge Anna Huberman, of Maricopa County's Country Meadows Justice court said.
For ten years, Huberman has heard eviction cases. Lately, it's similar stories of people who can't pay their rent.
"Either they lost their job, I had someone today who said they'd actually gotten COVID and we're out of work. It's mostly the same story. People just have hardship. And that's why they can't pay their rent," Huberman said.
However, hardship isn't a defense for not being able to pay rent under Arizona law. But it is what more people are experiencing.
"Number one is the cost. Rents have increased substantially, units are not available, landlords can charge more than they did a year ago," Robyn Julien, CEO of Save the Family Foundation of Arizona, said.
Save the Family does help with an Eviction Prevention Program for people in Mesa and Gilbert, which more people have sought help from lately, Julien said. But there is only so much funding to go around.
As for how much longer the increase in evictions will last, it's unclear.
"I think there's some really tough numbers out there. Whether we look at inflation, we look at the amount of affordable housing available, which is very limited. When we look at the numbers of people coming into our state, it is really a challenge," Julien said.
What's also a challenge is how fast the eviction system moves, Maxine Becker, an attorney who works on Housing and Eviction policy with Wildfire, said.
"Rental assistance is largely not available and it's also not synced on the timeline of an eviction, because eviction moves much faster than our rental assistance process has," Becker said.
Becker proposes investing in an alternative like eviction diversion or eviction prevention.
"Helping people find as early as possible legal assistance, social services assistance, rent assistance, case management support, to help them stay in their homes... Without that, we're just going to be asking the same questions every month when we see these numbers rise," Becker said.
Boomtown
The Valley is growing but at what cost? All this week at 6 p.m. and 10 p.m on 12News.
How big is Maricopa County?
Maricopa County is the United States' 4th largest county in terms of population with 4,485,414 people, according to the 2020 Census.
The county contains around 63% of Arizona's population and is 9,224 square miles. That makes the county larger than seven U.S. states (Rhode Island, Delaware, Connecticut, Hawaii, New Jersey, Massachusetts and New Hampshire).
One of the largest park systems in the nation is also located in Maricopa County. The county has an estimated 120,000 acres of open space parks that includes hundreds of miles of trails, nature centers and campgrounds.
The county's seat is located in Phoenix, which is also the state capital and the census-designated 5th most populous city in the United States.
The county was named after the Maricopa, or Piipaash, Native American Tribe.