Almost two weeks after he was rescued from an Arizona mine shaft, a man is recovering in a Phoenix hospital and speaking publicly about his life-threatening experience.
John Waddell, 60, said he broke down crying when he finally heard someone looking for him nearly three days after he fell 100 feet down a mine shaft west of Phoenix near Eagle Eye Road and Mile Post 13.
"I thought I was going to die," Waddell said Sunday at a press conference at Banner University Medical Center Phoenix. He said he didn't think anyone was going to find him in time.
PREVIOUS: Man rescued days after he fell into a 100-foot-deep mine shaft
Waddell suffered from dehydration, broke the femur in his left leg, as well as his right ankle. His survival mode kicked in though. He used a stick to act as a splint to set his broken leg.
"I look up and there's a rattlesnake coming down and once I got my splint set, I pulled out the stick and started beating on this rattlesnake. And as I was leaning over to the side I could feel something going underneath my arm. This was the second rattlesnake," Waddell said.
Eventually, he killed three rattlesnakes, but constantly feared of others living deep in the shaft.
"You don't know where they're at, but you can hear them," he said.
If snakes aren't frightening enough, dehydration was setting in and Waddell needed to do something to keep his organs from shutting down.
That's when he realized the blisters on his hands from sliding on the rope, might actually be a good thing.
"I was popping the blisters and drinking the fluid to try and get something in my system."
On top of the pain from broken bones and the lack of food and water, Waddell said he also started to hallucinate.
On his third day in the shaft, Waddell said he had just about given up when his friend found him.
"I was just so thankful," Waddell said with tears in his eyes. "It was quite a ride."
WATCH THE FULL PRESS CONFERENCE
After about five hours of rescue efforts, the man was pulled out of the mine shaft and taken to a local hospital for emergency care.
"He really is lucky to be alive and to not have suffered from any other worse injuries," said Dr. Cliff Jones, an orthopedic surgeon at Banner University Medical Center Phoenix who performed Waddell's leg and ankle surgeries.
Waddell, a miner, owns and operate the property the mine is on for the last 20 years. He says he was exploring the mine for abandoned gold the day he fell.
At the press conference Sunday, Waddell said he did see some gold down in the mine shaft and he will one day go back, but this time with someone else to help him.
PHOTOS: MCSO rescues man who was in 100-foot-deep mine for days
PHOTOS: MCSO rescues man who was in 100-foot-deep mine for days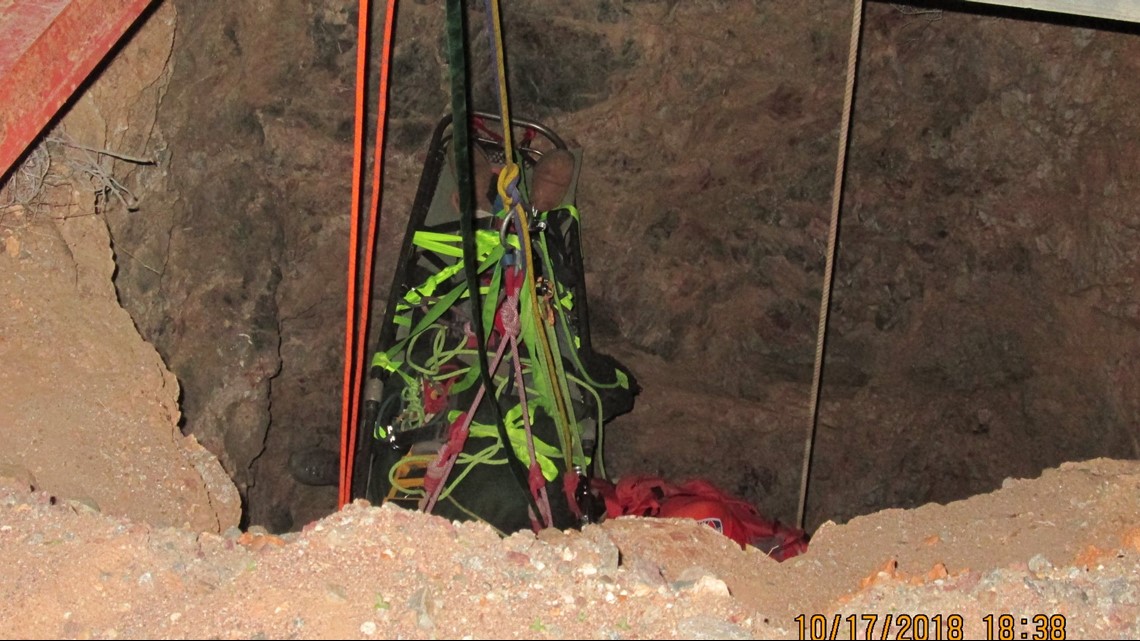 WATCH: Rescuers share the story of rescuing a man trapped in a mine shaft