PHOENIX — Large crowds gathered in Phoenix on Thursday night as people protested the death of George Floyd, a black man who died while handcuffed in police custody in Minnesota.
Floyd's death was captured on video that went viral.
He died while pleading for air as a white police officer kneeled on his neck during a confrontation with officers outside a grocery store.
Four officers with the Minneapolis Police Department were fired. One former officer, Derek Chauvin, was arrested in connection to Floyd's death. Chauvin has been charged with third-degree murder and manslaughter.
The protest began at City Hall around 7 p.m. and moved to the state Capitol around 9:15 p.m.
Phoenix police said the protesters tried to enter the building and when they couldn't, some attempted to damage property at the state Capitol.
Police said protesters then moved away from the Capitol and began throwing rocks and bottles at officers. They also allegedly damaged police vehicles and took police equipment from one of the vehicles.
Police said officers used pepper spray on "those who were damaging police vehicles."
An unlawful assembly was declared just before 11 p.m. Police said multiple announcements were made due to "unlawful assembly and criminal behavior."
Police said protesters walked back toward Seventh Avenue and Washington Street, allegedly throwing rocks at police headquarters and damaging several personal cars parked in the area.
Police tried to break up the group by using less lethal means, including OC Spray, bean bag rounds, and pepper balls.
Some protesters still remained around 12 a.m.
Eight people were arrested, most for unlawful assembly, police said. One driver was cited for civil traffic violations. Authorities identified the eight people arrested as Marina Sharpe, Asia Tucker, Thomas Knight, Lynn Beasley, Kristine Hester, Alaina Dewitt, Wendi Scovell, and Anthony Wallin.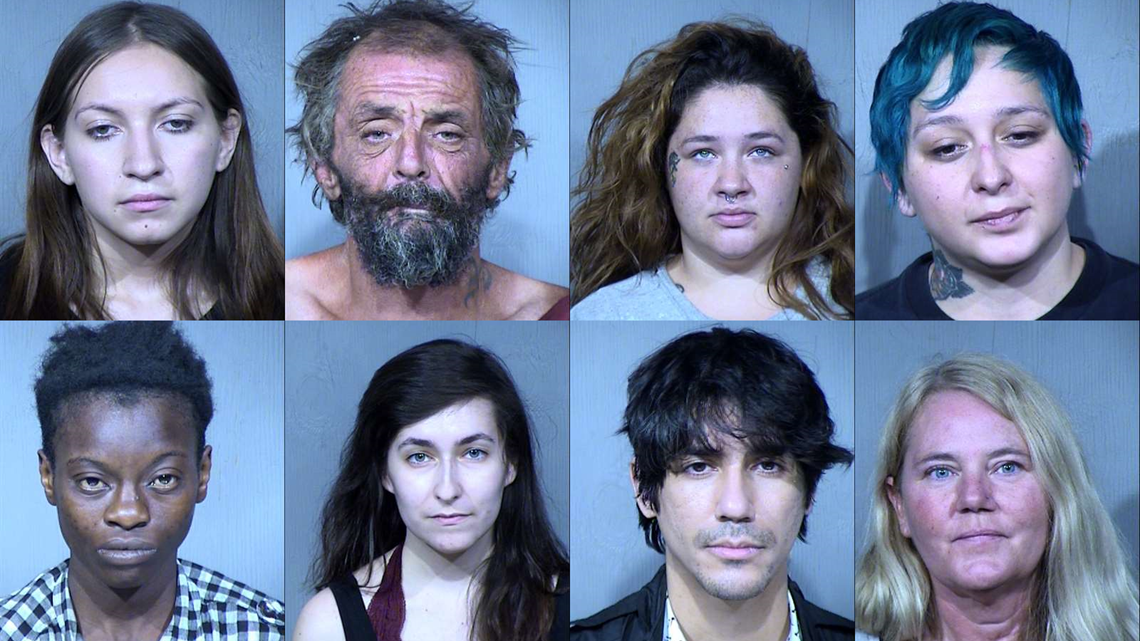 One protester was taken to a local hospital for precautionary reasons and has since been released.
Two officers were treated for heat-related complications and have been released.
Phoenix Police said at least five fully marked police vehicles, several bus stops, windows at police headquarters, and windows at 800 W. Washington Street were damaged.
Black Lives Matter groups distanced themselves from Thursday's rally in Phoenix.
In a statement released Friday, Phoenix Mayor Kate Gallego said past of her job "in a moment like this is to listen above all else.
"The killing of George Floyd takes place against a backdrop of systemic inequities, particularly for African-Americans, that are larger than any one incident. We all have a responsibility to address this inequity. People are right to stand up and demand change," the statement continued.
"We must have high standards for all public servants, including law enforcement. There are many officers looking at, and reflecting upon, this incident who are motivated to work even harder to build greater trust with communities where that relationship has eroded. Most residents understand the difficult tightrope officers must walk every day," Gallego said.
"As we work to implement change and push toward racial equity, I ask residents to continue to look out for one another and recognize that hurt begets hurt."
Many cities across the U.S. protested Floyd's death this week as well.
Protesters angered by Floyd's death torched a Minneapolis police station that the department abandoned on the third night of protests following his death.
Fires burned Friday morning in Minneapolis and nearby St. Paul.
National Guard members were being stationed in locations to help stem looting.
Minneapolis Mayor Jacob Frey's defended the city's mostly hands-off approach with protesters.
He said it was his decision to evacuate the police precinct because officers were at risk.
In New York City, protesters defied New York's coronavirus prohibition on public gatherings, clashing with police while demonstrators blocked traffic in downtown Denver and downtown Columbus.
A day earlier, demonstrators had taken to the streets in Los Angeles and Memphis.
The Associated Press contributed to this report.
MORE PHOTOS AND VIDEOS OF THURSDAY NIGHT'S PROTEST: