CAVE CREEK, Ariz. — A brush fire that spread quickly and engulfed several structures near a golf course in Cave Creek has now been 100% contained, Arizona State Forestry said.
Winds blew what is now being called the Ocotillo Fire toward homes, destroying 20 structures. Eight of the structures burned were homes, firefighters said.
Officials reported that 500 homes were evacuated from the area Sunday morning.
Some evacuations were lifted at 5 p.m. Sunday, including those in the area of Rancho Manana and School House Road.
Evacuations in the area north of Spur Crossing and Grapevine and west of 60th Street and Fleming Springs were lifted Tuesday at noon.
The fire started near the 7th hole of the Rancho Manana Golf Course near East Ocotillo Road and North 56th Circle and quickly spread to hundreds of acres.
Firefighters stopped the fire's forward progress around 7 p.m. Saturday night, with no new growth reported Sunday morning. The Ocotillo Fire was estimated at 980 acres and was 67% contained as of Monday.
The Red Cross has established a shelter for evacuated residents at Cactus Shadows High School. Livestock can reportedly be taken to the Cave Creek Memorial Arena.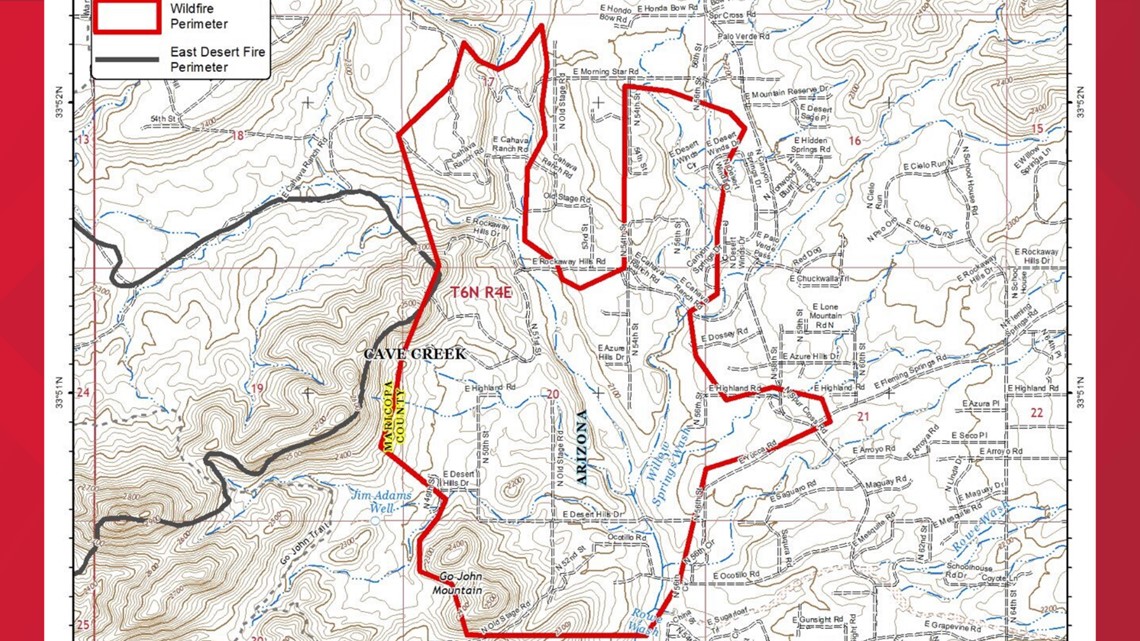 About 10 structures have been destroyed the Department of Forestry and Fire Management says. It is unclear whether these were secondary structures.
There are several closures along Cave Creek Road, MCSO says. The closures include:
Cave Creek and Basin
Cave Creek and Spur Cross
Cave Creek and School House,
School House and Fleming Springs Rd
Avoid the area west of Cave Creek Road and Rancho Manana.
The cause is under investigation, but investigators have already determined it to be human-caused.
The fire has been categorized as a third-alarm fire, meaning that assistance is required from other departments. Multiple Phoenix crews are assisting firefighters from numerous jurisdictions in fighting the fire.
Residents in evacuation areas are urged to have an emergency supplies kit to bring with them when leaving their homes.
The National Fire Protection Association (NFPA) recommends that residents near a disaster store emergency supplies in a plastic tub, small suitcase, trash can, backpack, or other containers.
Residents should make sure they have the necessities, such as three gallons of water per person and a three-day supply of ready-to-eat food, the NFPA said. A first-aid kit, prescription medications, contact lenses, and non-prescription drugs should also be taken into account.
Copies of any important family documents, including insurance policies, identification, bank account records, and emergency contact numbers should also be taken and put into a waterproof, portable container in your kit, the NFPA said.
The association lists other items that would help in a disaster, including:
Sleeping bag or warm blanket for each person
Battery-powered or hand-cranked radio and an NOAA weather radio to receive up-to-date information
Dust mask or cotton T-shirt to filter the air
Matches in a waterproof container
Complete change of clothing including long pants, long sleeve shirts, and sturdy shoes stored in a waterproof container
Signal flare
The entire NFPA checklist of supplies can be found here.