PHOENIX — It's an unfortunate problem that every student and teacher faces. Now, one Valley school is stepping up efforts to protect them.
Within the past two weeks, officials with Mountain Pointe High School near 44th Street and Ray Road in Ahwatukee have been warned of multiple school shooting threats on social media.
"There has been a scare around the whole school for about a week," Christian Richardson, a junior at the high school, said.
He also saw the post on Snapchat that was quickly spread to other students and parents. It showed someone holding a pistol with the caption alluding to them targeting people at the school.
"I felt like my safety was in danger," Richardson said.
Parents picking up their kids felt the same way for their students.
"It's so sad these days you have to worry about things like this," Rebecca Alvarez said.
Tempe Union High School District announced that starting on Monday, every student and staff member would have to undergo heavy security measures.
Students said their backpacks were checked, they had to show their ID, and security used handheld metal detectors. Leading to long lines of students waiting to get to class.
"It was chaotic," Richardson said. "A line wrapped all the way from the front entrance all the way over here."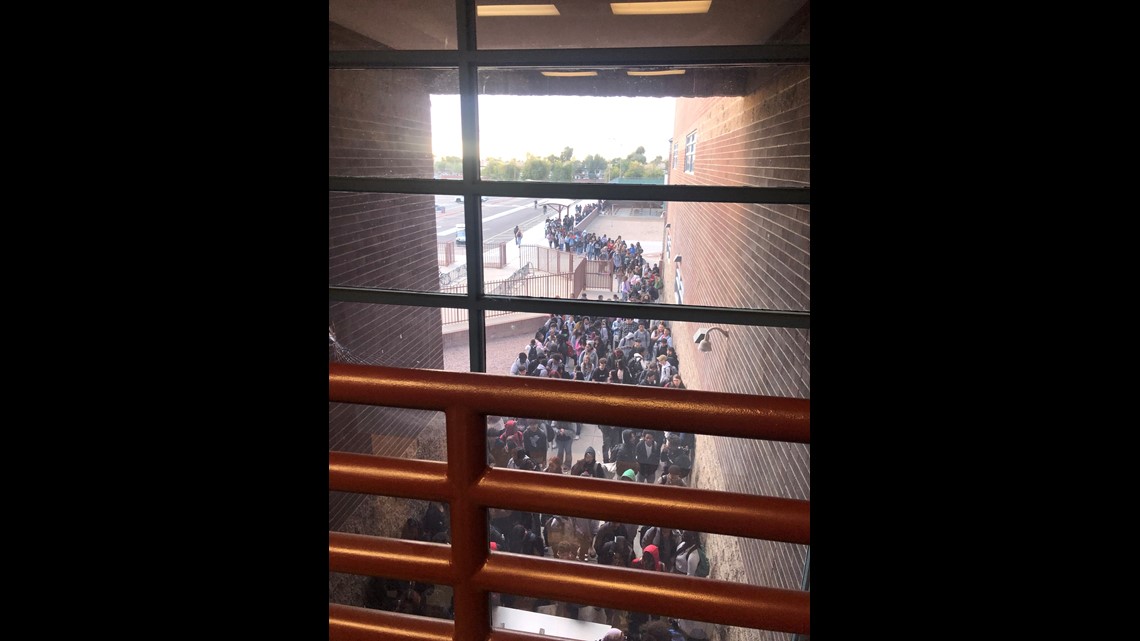 Some students told 12News they waited about 45 minutes to get through. Despite these challenges, they and their parents do feel a little safer.
"I think it's a good thing," Alvarez said.
A spokesperson for Tempe Union High School District said these measures would stay in place for the foreseeable future.
Up to Speed
Catch up on the latest news and stories on the 12News YouTube channel. Subscribe today.
More ways to get 12News
On your phone: Download the 12News app for the latest local breaking news straight to your phone.
On your streaming device: Download 12News+ to your streaming device
The free 12News+ app from 12News lets users stream live events — including daily newscasts like "Today in AZ" and "12 News" and our daily lifestyle program, "Arizona Midday"—on Roku and Amazon Fire TV.
12News+ showcases live video throughout the day for breaking news, local news, weather and even an occasional moment of Zen showcasing breathtaking sights from across Arizona.