MESA, Ariz. — Developers want to build a four-story housing complex near Sloan Park in west Mesa.
The 416-unit complex would be constructed on a vacant six-acre parcel within walking distance of the Chicago Cubs' spring training games.
"This project's impactful architecture and generous onsite amenities make it a highly attractive project," developers wrote in a project description. "The housing is a much-needed land use type in the Riverview Mixed Use Activity District and will support nearby businesses and companies seeking to locate in Mesa."
The complex would consist of two four-story buildings and one two-story building, generating a density of about 62 dwelling units per acre.
"To extend the energy created by the Cubs Stadium, and bring additional consumers and residents to the area, a greater density than normal is required," project records state.
Okland Capital and the Larry H. Miller Company are the development group behind the project.
The Mesa Planning and Zoning Commission will review the project at their next meeting on May 24.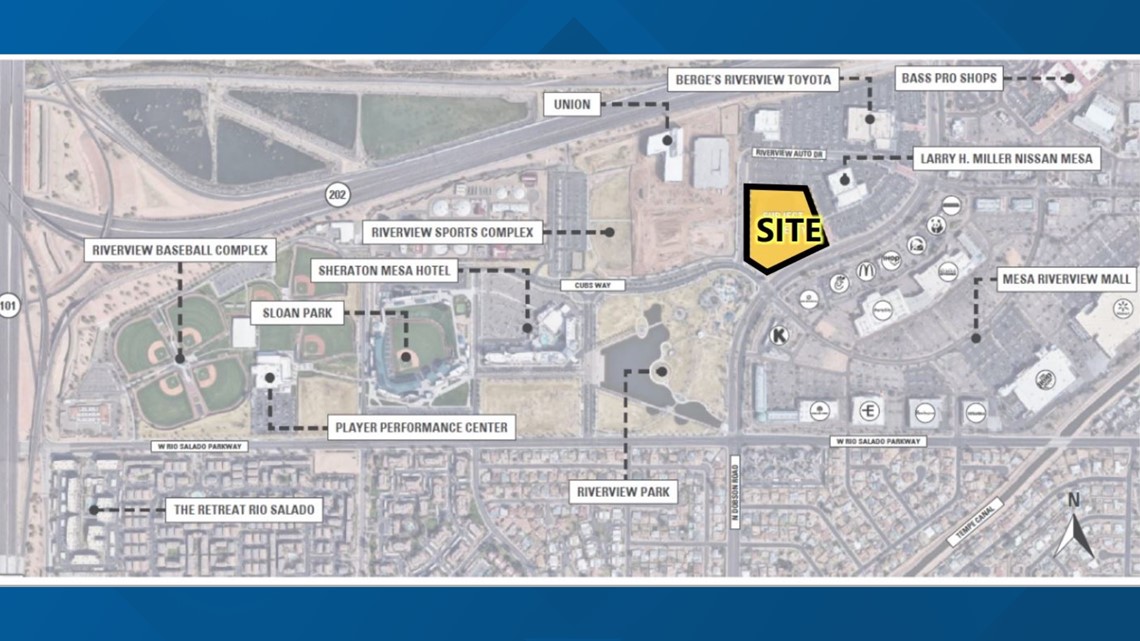 Up to Speed
On your phone: Download the 12News app for the latest local breaking news straight to your phone.
On your streaming device: Download 12News+ to your streaming device
The free 12News+ app from 12News lets users stream live events — including daily newscasts like "Today in AZ" and "12 News" and our daily lifestyle program, "Arizona Midday"—on Roku and Amazon Fire TV.
We are committed to serving all of the Valley's communities, because we live here, too.
12News is the Official Home of the Arizona Cardinals and the proud recipient of the 2018 Rocky Mountain Emmy Award for Overall Excellence.
12News+ showcases live video throughout the day for breaking news, local news, weather and even an occasional moment of Zen showcasing breathtaking sights from across Arizona.