Documents and expert opinion show there may be more to a single-vehicle wreck involving Mesa's police chief than he's ever disclosed. The dispatch log from the incident is missing nearly 40 pages and the official report includes no photographs, nor any record of any eyewitness account despite evidence of at least one witness coming forward.
Now some are asking whether information may have been deliberately omitted.
The wreck
State Route 87 north of Payson in Happy Jack can be unforgiving. A two-lane road where the speed limit is 65 miles per hour twists and turns through the Mogollon Rim. That's where Mesa Police Chief Frank Milstead rolled his expensive sports car in the summer of 2011.
The 2007 Porsche Carrera 4S convertible he owned and was driving rolled at least twice, landing atop a pine tree. Very few details were known about the crash at the time, but there were suspicions within his own rank and file as to what may have caused him to veer off the roadway.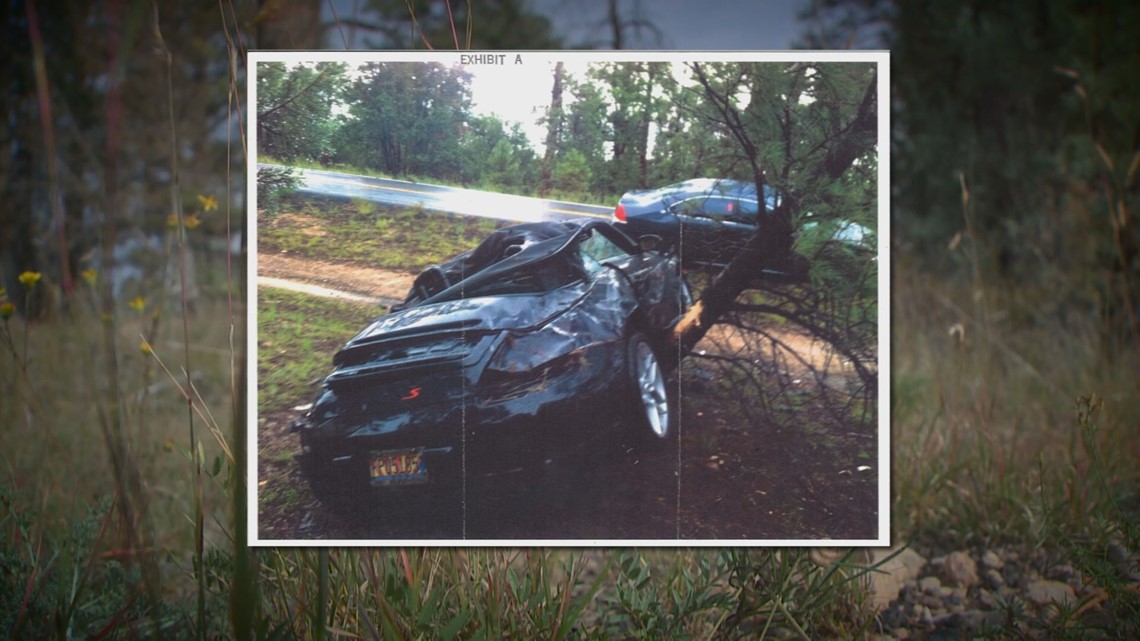 Crashing too many cars?
Some would cast doubt on the investigation and whether Milstead received special treatment. Others would question if he had been drinking before he came dangerously close to death. The police report about the incident includes the observation that "the driver was under no apparent influence."
The two agencies that responded and investigated raised further concerns for those who doubted Milstead's story. After all, it would be Chief Milstead who chastised his officers about crashing too many cars and not wearing their seatbelts in a video he made for the workforce late 2013.
Statistics provided to 12 News by the Mesa Police Department seem to validate what Chief Milstead admonished his officers for.
In 2012 Mesa police officers were involved in 88 accidents; of those, they were found to be at fault in 38.
In 2013, there were 111 accidents; they were to blame for 58.
In 2014, 74 accidents, 32 in which they were at fault.
To put it into perspective, Detective Steve Berry provided 12 News with a spreadsheet that shows, for fiscal year 2014-2015, the Mesa Police Department put almost 6.5 million miles on its fleet.
Milstead wrecks his Porsche in Happy Jack
While the workforce was hearing its chief lecture them about crashing too many cars, many didn't know it at the time that Milstead had a wreck of his own. Records show Milstead rolled his Porsche on Aug. 19, 2011 around 3 p.m.
Retired Mesa Police Officer Javier Fabian Cota disagrees with the original police report's version of events. During his tenure with the department, Cota began looking into the crash on his own time while serving as president of the Mesa Police Association. Among other things, in 2012, he says he was looking into two cases in which two officers were possibly going to be terminated by the Mesa Police Department for being arrested for driving under the influence.
He felt such punishment was harsh and decided to learn what he could about the chief's own accident, even going to the scene and taking pictures, some of which show remnants of the crash near the pine tree.
"There were indications that he had been involved in an accident and was possibly drinking before the collision occurred," said Cota.
Milstead e-mail to the workforce
In a 2012 e-/mail to the workforce, Milstead warned officers that he'd just reviewed two Internal Affairs reports involving two members of the department who were arrested for DUI. He goes on to say he upheld the chain of command recommendations for 200 hours of suspension for both officers. He further wrote, "Make no mistake, both officers were considered for termination and this is the third DUI arrest of a Mesa Police Officer in 18 months," calling it unacceptable.
He finished the e-mail stating, "As of this Friday August 31, 2012, if you are arrested for operating a motor vehicle or watercraft while under the influence of any drug or alcohol, upon review the case is factually sufficient [sic], you will be subject to TERMINATION." He compounds it with, "A conviction has no bearing of [sic] the decision."
Milstead's stance -- that even if an officer isn't convicted in a court of law, he or she could still be fired -- coupled with his own little-known wreck the year before prompted Cota to begin searching for answers.
Questions about special treatment
Official reports of the accident say nothing about an alcohol-related crash. But Cota says once he started asking about Chief Milstead's accident, people started to clam up.
"They were no longer cooperative with me when I asked them that one question, had he been drinking?" Cota said.
A photograph sent to 12 News anonymously was confirmed by our investigation to be of Milstead's wrecked Porsche. That photo is apparently the only one taken of the incident. Public records requests with the Arizona Department of Public Safety and the Blue Ridge Fire District, the two agencies which responded, resulted in replies that no pictures had been taken.
An expert weighs in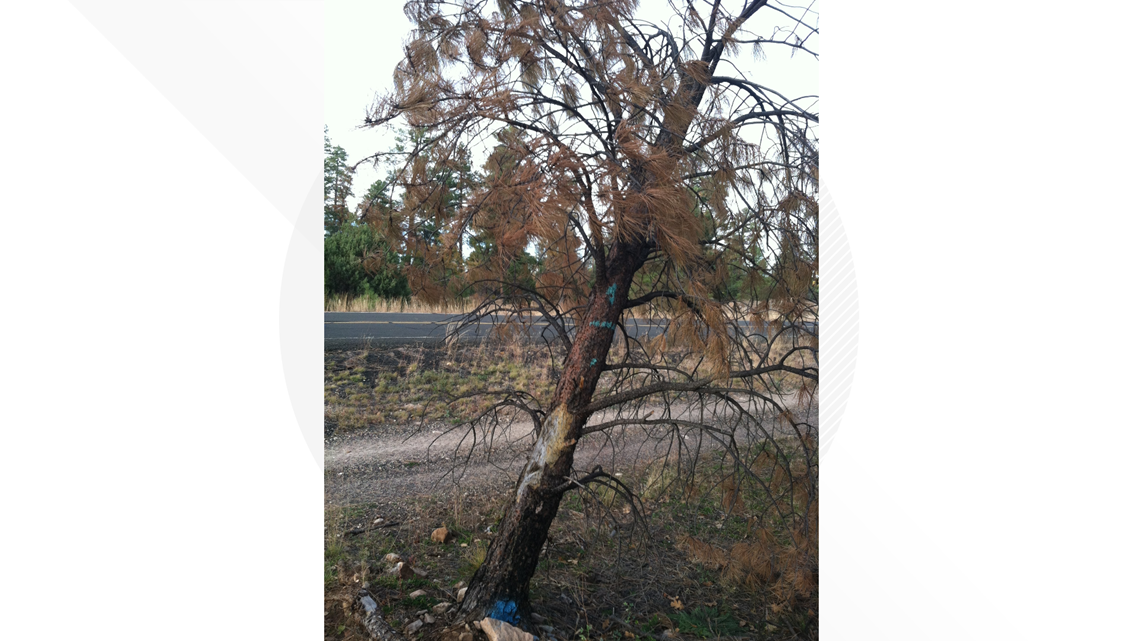 "The photograph obviously was taken before the emergency responders got there, because there are no police cars, fire trucks, anything like that around there," said retired Traffic Sgt. Harry Ryon, who reviewed the accident investigation for 12 News.
Ryon worked for the Los Angeles Police Department for 23 years, specializing in accident reconstruction. We asked Ryon to review the DPS report and other documents from the Milstead crash.
The records show the Blue Ridge Fire District was the first to respond. The fire chief at the time, Chuck (C.E.) Buddle, has stated that he is a friend of Milstead's.
Ryon says, judging by the damage to Milstead's car, he would safely assume that Milstead rolled over at least twice.
Records from DPS reveal it took DPS Officer Jarrod Lampsa 36 minutes to get to the scene. Mobile data messages between Officer Lampsa and the dispatcher indicate he knew the crash involved Mesa Police Chief Frank Milstead.
However, 39 pages from the dispatch log are apparently missing. The log jumps from page 30 to page 70.
In the report, Milstead tells DPS Officer Lampsa he saw a large truck pulling a trailer passing another vehicle. He hit the brakes and swerved to avoid a head-on collision with the truck. Milstead said it was raining hard at the time of the collision. According to the report, the truck was attempting to pass in a no-passing zone where the road is curved to the right.
Mystery eyewitness?
However, there are critical items missing from the report, according to Ryon, such as interviews with potential eyewitnesses. Evidently, there was at least one.
The DPS Computer-Aided Dispatch report identifies an eyewitness named Beth who walked into the Blue Ridge Fire District and reported what she saw.
"Beth who? Did Beth see the wreck? Did Beth have anything to say about it?" asked Ryon. "She was not interviewed for the police report either."
In fact, there's no mention of a Beth in Officer Lampsa's report.
Non-injury crash?
The DPS report was closed out as a non-injury crash. While the report says Milstead, the only driver involved in the crash, was not hurt, Phoenix Assistant Police Chief Harry Markley confirms:
"On Aug. 19, 2011, I was contacted by a personal friend, Frank Milstead to pick him up at the scene of a single-vehicle collision. We both have cabins in northern Arizona in close proximity to each other and he had no other family members in town to pick him up. When I arrived at the location, in a personally owned vehicle, law enforcement and medical professionals were on scene. Once their work was complete, I drove Frank to my cabin in order to monitor him as he had sustained a head injury during the collision."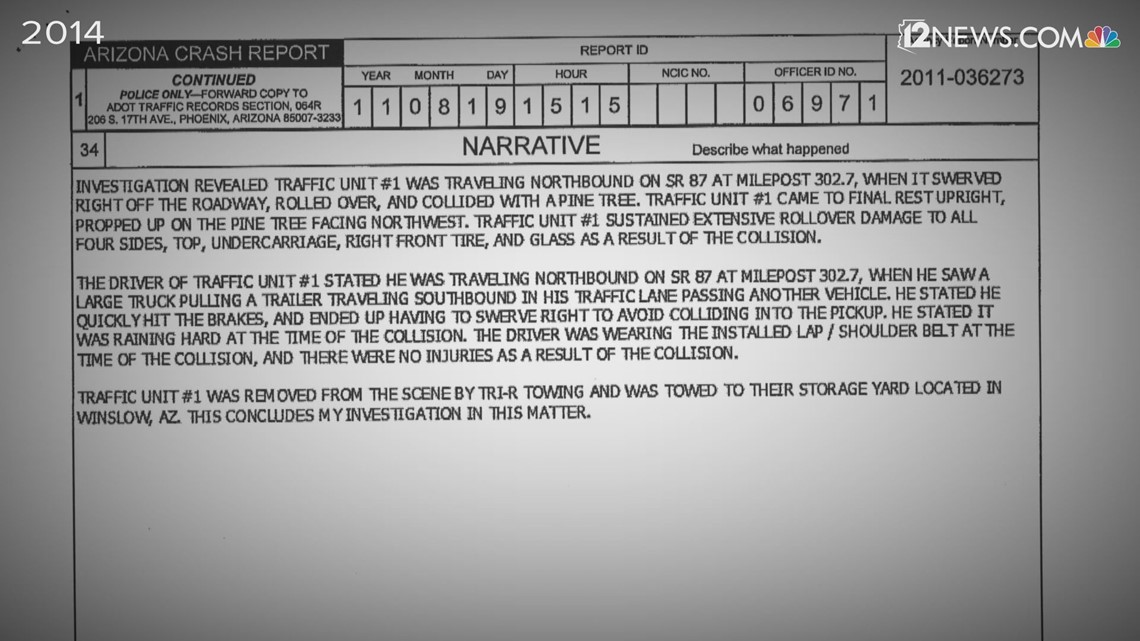 Javier Fabian Cota says he saw Milstead a few days after the wreck and noted he had discolored and swollen eyes.
According to DPS records, on Aug. 9, 2013, Cota called DPS and asked to speak with DPS Director Robert Halliday about Milstead's 2011 crash. Director Halliday called Cota back and Cota expressed concern about the accuracy of the collision report completed by Officer Jarrod Lampsa.
Cota files citizen complaint
As a result, Cota filed a citizen's complaint against Officer Lampsa alleging the collision report and evidence at the scene were inconsistent. That same day, the DPS launched an inquiry into Cota's concerns with its Professional Standards Bureau.
Cota's complaint alleged the DPS crash report indicated the Porsche rolled side over side off the roadway after swerving to avoid an oncoming vehicle and came to a rest against a tree facing the roadway. Cota told DPS evidence at the scene indicated the Porsche would have rolled end over end at a much higher speed than the report indicated.
He also stated the Porsche should have left evidence on the roadway of braking or evasive action if it rolled side over side and none was present at the scene.
He also alleged Officer Lampsa confided to a Mesa Police sergeant that Milstead was drunk, and that someone told Officer Lampsa to write the report differently.
Cota characterized the DPS crash report as blatantly missing information that would allow anyone to reconstruct what happened.
Family connection to DPS
Milstead's father, Ralph Milstead, was the former director of DPS. He retired in 1990.
"It smacks of collusion, if you will," Ryon said.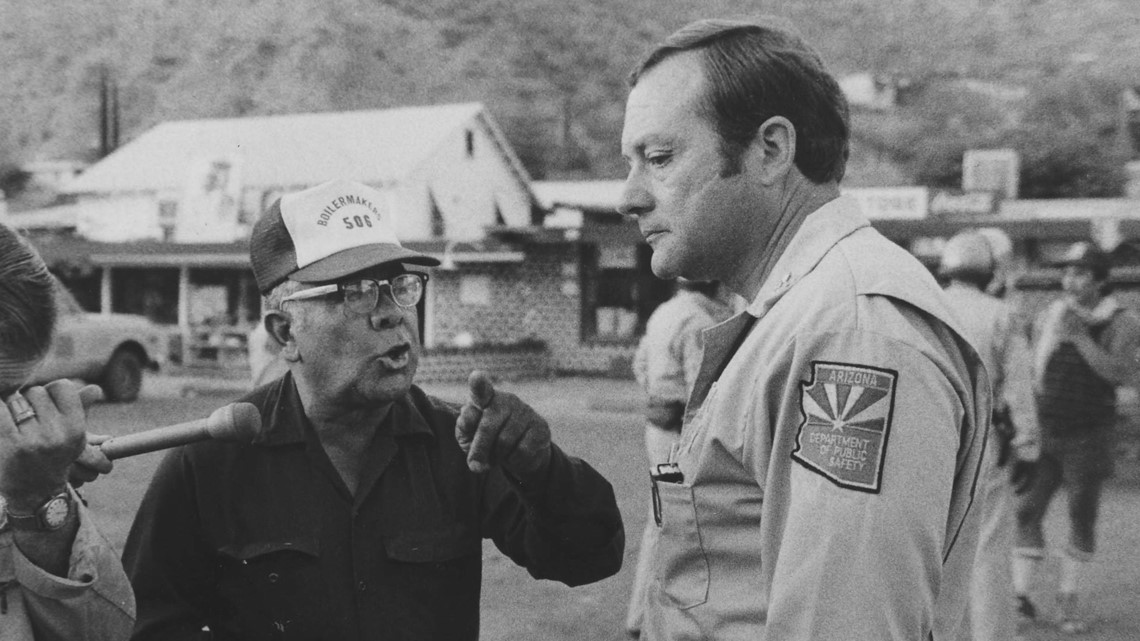 DPS Director Robert Halliday ordered the DPS Professional Standards Unit (PSU) to investigate Officer Lampsa. Ten days after the Cota's complaint was lodged, DPS determined it was "without merit." DPS issued the following statement:
"Mesa Police Chief Frank Milstead NEVER called Arizona Department of Public Safety Director Robert Halliday following the collision three years ago. However, because there were questions raised, Director Halliday ordered the DPS Professional Standards Unit (PSU) to investigate. PSU found the investigation of the collision involving Chief Milstead was done in accordance with DPS training and procedures. We stand behind our investigation, I have complete confidence in the professionalism of our investigating officer."
Ryon believes DPS Officer Lampsa should have contacted a supervisor once he knew the accident involved the police chief.
"If it involved a police chief, I would want a deeper investigation, but not just to indict him but also to clear him if there was no misconduct involved," Ryon said. "You want a complete investigation so that everything is done right."
When asked if that was the case in the Milstead crash, Ryon said, "No."
Ax to grind?
Cota retired in 2012 after Milstead demoted him from sergeant to officer, stemming from an arrest in San Diego for public intoxication and interfering with a police investigation. Cota was detained but was not charged.
He is suing the City of San Diego, its police chief, assistant chief, two officers who detained him and four other officers in federal court for various alleged civil-rights violations. The case is still pending.
Chief Milstead won't talk about wreck
Chief Milstead declined to speak with us after repeated requests for an interview.
Mesa Police spokesman Det. Steve Berry
sent an e-/mail which said, "Nothing that you are asking is Mesa Police business. The events happened off duty in a personal vehicle. Chief Milstead nor any other city employee would be required in this case to answer your questions. This is your television piece, not a criminal proceeding were [sic] someone is compelled by law to answer."