GMO is a buzzword these days that stands for "genetically modified organism," which means scientists have changed the genes of a living thing in a lab.
The term often has negative perceptions, especially when connected with food, including corn, soy and the recently-approved salmon nicknamed "Frankenfish" by critics.
But there's one GMO crop that's booming here in Arizona and saving family farms. In addition, you're likely wearing some of it right now: cotton.
On a sunny and crisp fall morning late in November cotton was in the air in the Valley. Adam Hatley was harvesting a few thousand acres of high-quality cotton on the land he farms, just east of Loop 101 on the Salt River Pima-Maricopa Reservation.
"Arizona, the weather here is ideal for growing cotton," he said. "It's dry and it's hot, and that's what cotton prefers -- very low humidity."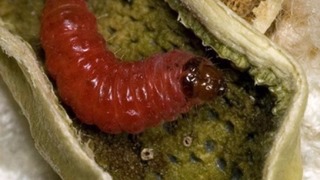 Hatley would know. He and his family have been growing and cutting cotton on this land for 40 years now. For decades, their biggest complication with the crop was the pink bollworm, a cotton killer.
"Twenty, 30 years ago, when we were growing cotton or corn or anything like that, we had to spray [insecticide] quite often," he said.
Hatley and other farmers would spend tens of thousands of dollars each year spraying their fields with insecticide to keep cotton clear of the worms and end up polluting the air air at the same time.
That is until the mid-1990s, when scientists genetically modified cotton to make the crop resistant to the worms.
"I thought it was worth a try," Hatley said, "and I haven't looked back since."
Now, all of the cotton Hatley grows is GMO. And most of the other 200,000 acres of cotton in Arizona is too.
However GMO cotton is not without controversy.
There's a large and driving force against it and basically any GMO product, particularly food. There are websites, articles and Facebook pages pushing back on GMOs. They often claim health hazards and side-effects for women's reproductive issues.
Dr. Roberto Gaxiola doesn't buy what he calls "bad science" and all the anti-GMO literature. He's a professor of cellular and molecular bioscience at Arizona State University, has studied at the Massachusetts Institute of Technology and he genetically modifies plants for a living.
"I can tell you from all the literature I've read," he said, "there is nothing proved like that."
But Gaxiola has proven that genetically modifying plants can make them more resistant to pests and drought.
"For agriculture," he said, "We need to tweak plants so they produce more food for us, they make larger leaves ... "
And in the case of cotton, make it resistant to bollworms.
Back at Adam Hatley's farm, this season's crop of GMO cotton is almost completely cut.
"It's really changed our operation quite a bit," he said. "It really has kept agriculture viable in the Valley."
For more information about GMOs and GMO cotton: