PHOENIX - New figures released by the Arizona Office of Highway Safety say DUI alcohol arrests were down over Memorial Day weekend, but DUI drug arrests increased.
"DUI Drugs has increased everywhere, nationwide," said OHS Director Alberto Gutier.
Officials stopped 17,000 vehicles, almost 500 more than last year, but DUI aggravated, misdemeanor, and extreme arrests were all down. The only increase was to DUI drug arrests.
The 131 arrests are a 22-percent jump from 2017, but Guttier says that's not just because officers made more stops.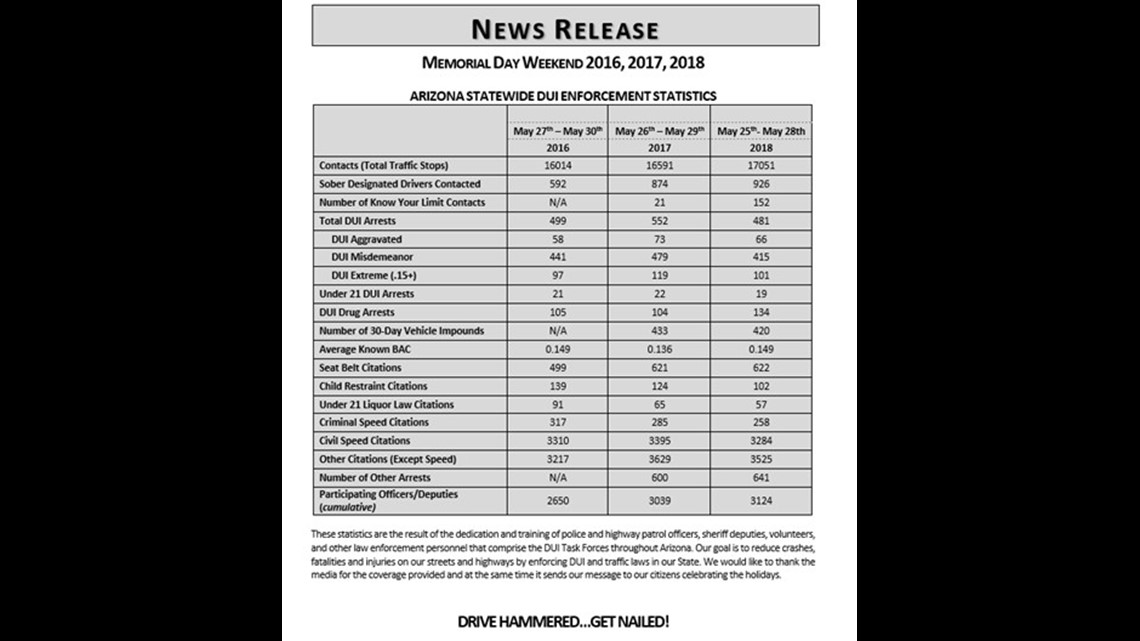 "I've seen an increase over the last 4 to 5 years, on a steady basis," he said.
Law enforcement agencies nationwide have blamed the opioid epidemic, and the increase in legalized marijuana, for the sharp increase. But Guttier says it doesn't end there.
"It's beyond opioids. It's also marijuana. It's also hallucinogens—other things that are coming back, which drives me nuts," he said.
But state officials say they're on it. Gutier says Arizona is among the top in the nation in drug recognition experts. He also says they track stats from 85 agencies, utilize 13 DUI task forces, and are even testing new saliva kits that claim to identify drugs.
"People don't recognize what Arizona does. In other parts of the country, state police don't talk to sheriffs and doesn't talk to police departments. They don't like each other. Here in Arizona, we work together. I don't think Arizona has reached that maximum that other states have, because we enforce the law pretty heavily," he said.
And state officials emphasize—you should NEVER drive under the influence of any alcohol or drugs.