Who Was Subpoenaed?
Nancy Cottle and Loraine B. Pellegrino were listed as "chairperson" and "secretary" of the non-existent Electoral College of Arizona on documents that purported to represent Arizona 11 electoral votes cast for President Donald Trump.
They have not responded to requests for comment.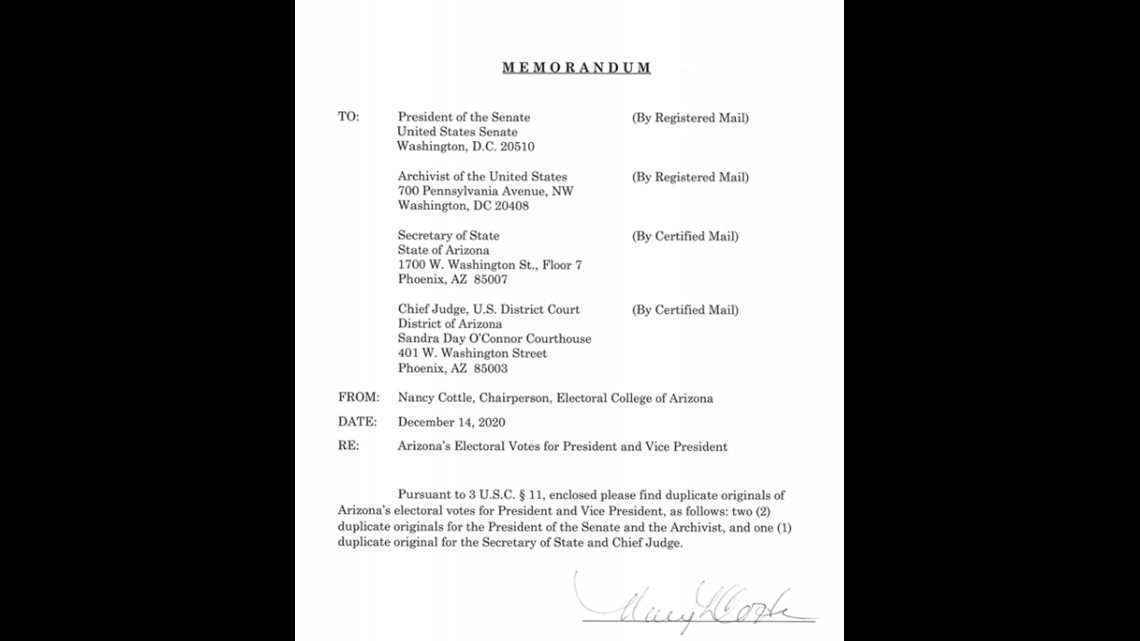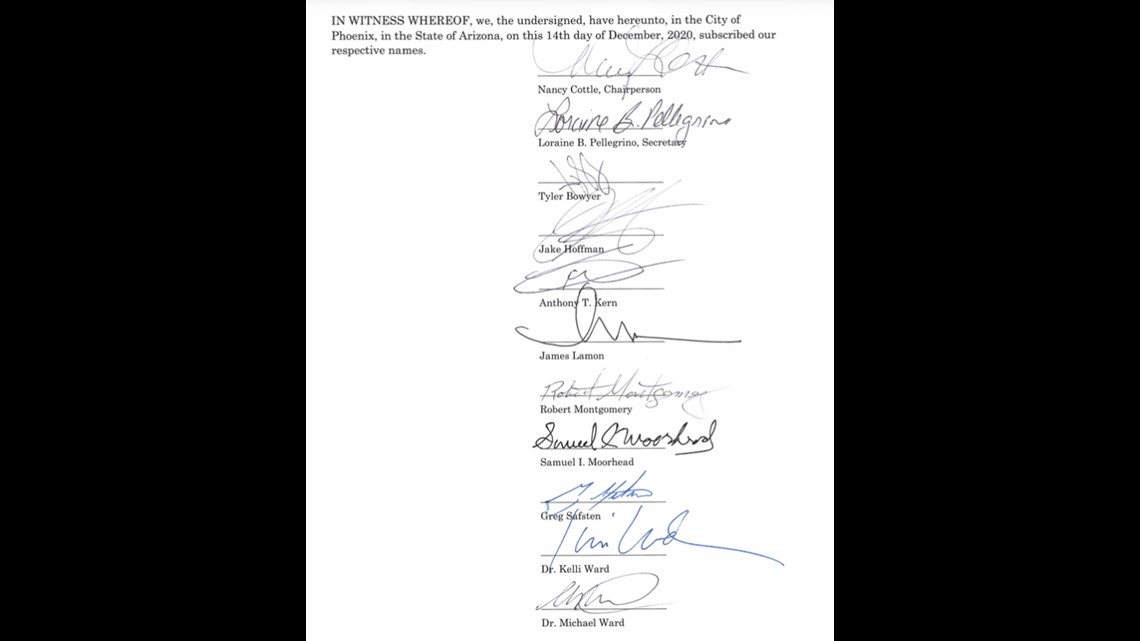 What Does Committee Want to Know?
The Jan. 6 committee is investigating the Trump campaign's role in procuring the documents from Arizona and six other states, as part of a larger plot to erase Joe Biden's electoral victory.
The plot failed. Vice President Mike Pence certified Biden's victory on Jan. 6, hours after rioters attempting to block the election's certification were cleared from the Capitol building.
The committee wants to ask Cottle and Pellegrino who told Arizona Republicans to send their phony slate of electors to Congress.
Committee Chair Bennie Thompson, a member of Congress from Mississippi, said in a statement Friday:
"The Select Committee is seeking information about attempts in multiple states to overturn the results of the 2020 election, including the planning and coordination of efforts to send false slates of electors to the National Archives. We believe the individuals we have subpoenaed today have information about how these so-called alternate electors met and who was behind that scheme."
Was Phony Slate a Secret?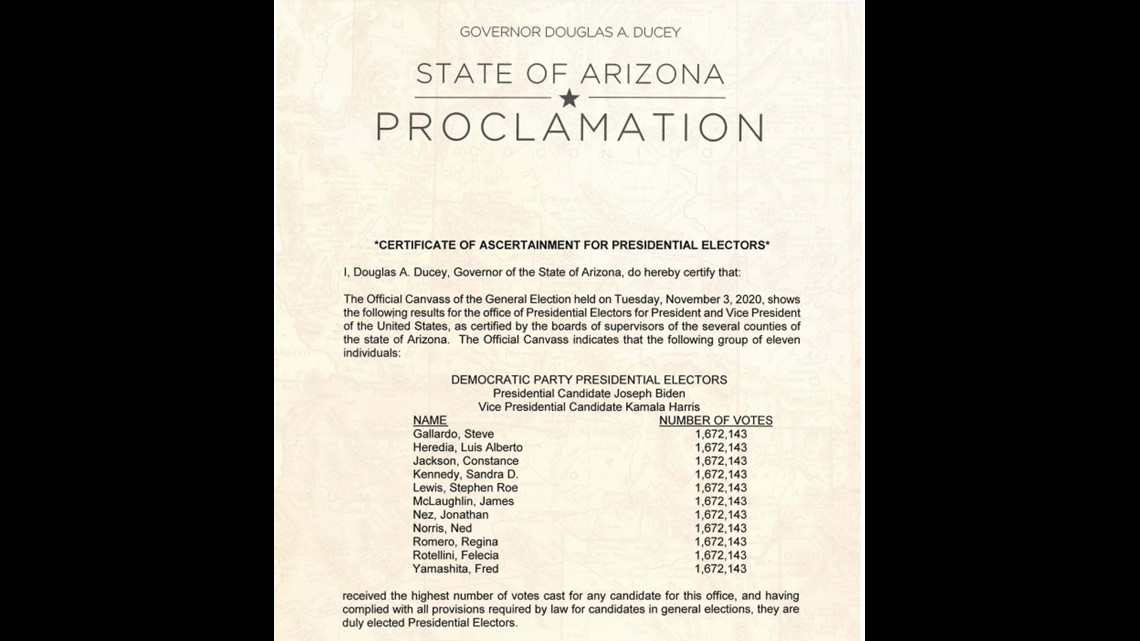 But Arizona Republicans didn't hide their submission of the phony slate of electors two weeks later. Party Chair Kelli Ward claimed in a tweet on Dec. 14, 2020, that they were "the electors who represent the legal voters of Arizona!"
The same day, Arizona's 11 certified electors formally cast their votes for Biden, under tight security.
At the time, more than three weeks before the Capitol insurrection, the phony electors looked like a stunt by Republicans who, along with Trump, were rejecting Biden's victory.
More than a dozen lawsuits were filed in an attempt to overturn Arizona's vote for Biden. All of them failed.
Why Is This Happening Now?
Investigations over the last several months have provided evidence that wasn't available in December 2020. The effort to assemble false slates of electors in seven states appears to be tied to the Trump campaign's attempt to overturn the election results, according to reporting by CNN and others.
Earlier this week, Deputy Attorney General Lisa Monaco said the U.S. Department of Justice was investigating any potential wrongdoing.
What Are Trump Electors Saying?
The phony Arizona Trump electors included Ward and her husband. Michael Ward, State Rep. Jake Hoffman, State Rep. Anthony Kern and U.S. Senate candidate Jim Lamon.
When he was questioned by an Arizona Republic reporter two weeks ago, Hoffman claimed the two slates of electors were "dueling opinions."
"In unprecedented times, unprecedented action is occurring," Hoffman said.
"There is no case law, there is no precedent that exists as to whether or not an election that is currently being litigated has due standing, which is why we felt it appropriate to provide Congress and the vice president with dueling opinions."
But an electoral vote isn't an "opinion." Arizona's 11 votes were already legally certified and cast for Biden when the Trump slate was filed.
Hoffman repeatedly refused to answer the question that the January 6 committee is pursuing: Who directed him to sign the document?
Republican U.S. Senate candidate Jim Lamon, one of the phony Trump electors, was questioned by a Vice reporter about whether he'd cooperate with the committee.
After initially brushing off the reporter's questions, they had this exchange:
Reporter: They're in possession of these documents. Would you cooperate with them?
Reporter: You would cooperate with them?
In audio provided to 12 News, Michael Ward answered a question about the fake electors at last weekend's state Republican Party annual meeting:
"We didn't commit a crime. What we did was submit an alternate slate of electors in the open. We didn't do it secretly. We put out a press release that we did it. We did this a year ago December. So why are they bringing it up now? Because they're trying to tie it all to the Trump campaign."
Why Hasn't Mark Brnovich Investigated?
Attorney General Mark Brnovich, a Republican candidate for the U.S. Senate, answered that question Friday: Don't call me, call the feds.
Here's a transcript of Brnovich's comments on "The Mike Broomhead Show" on KTAR radio:
KTAR: The DOJ is investigating that -- this case about fake electors, and Arizona is one of the states where they're saying fake electors were sent to Congress, and they're calling for an investigation federally. Is it something you've been asked to be a part of the investigation? And can you give us any details about what's happening?
BRNOVICH: Well, Mike, I think you probably know that the Biden administration has essentially told us to pound sand on almost everything related to, you know, our desire to enforce the Constitution and protect Arizonans, even on border security.
And so I know a lot of folks have many questions and concerns regarding the 2020 elections. There are various inquiries going on in our country, both at the state level and the federal level. And as you know, we have an ongoing investigation related to the Senate audit report that was sent to us.
So, as to specific areas regarding the authenticity of electors, the U.S. Department of Justice is exercising its original jurisdiction in that case. And so anybody that has any questions or concerns related to that should contact the Department of Justice.
Democratic Secretary of State Katie Hobbs has forwarded to Brnovich's office a separate slate of fake electors, which used the state seal, but there is no evidence he is pursuing that case.
Nor has Brnovich followed up on evidence suggesting Kelli Ward and the Trump campaign may have illegally tried to influence the vote count and results in Arizona.
Brnovich's focus for the last four months has been his investigation of the report issued by Senate Republicans' partisan election review of Maricopa County's 2020 vote.
He is under enormous political pressure from Trump and Republican election deniers in Arizona to produce indictments.
What's the Governor Saying?
Gov. Ducey told reporters Wednesday that he became aware of the questions about the phony electors when they were reported.
"The Department of Justice and the authorities should conduct whatever they think is appropriate," he said.
Arizona Politics
Track all of our current updates with Arizona politics on our 12 News YouTube channel. Subscribe for updates on all of our new uploads.