GRAND CANYON VILLAGE, Ariz. — Note: The video above is from the April 1 park update.
Grand Canyon National Park is increasing recreational access to selected South Rim viewpoints, the National Parks Service announced Wednesday.
This comes one day after Gov. Doug Ducey said the current "Stay Home, Stay Healthy, Stay Connected" order would expire on May 15. Retail stores opened for business last week as well as salons and barbershops. Dine-in restaurants were allowed to resume dine-in services on Monday of this week and Gov. Ducey said pools and gyms could reopen beginning Wednesday.
Grand Canyon National Park closed to the public on April 1.
The National Park Service says it is working with federal, state, and local public health authorities to closely monitor the COVID-19 pandemic and using a phased approach to increase access on a park-by-park basis.
Beginning May 15, Grand Canyon National Park's South Rim South Entrance will reopen for incoming traffic from 6 to 10 a.m. with limited day-use access to:
The viewpoints at Pipe Creek Vista, Shoshone Point, Twin Overlooks, Duck on a Rock, Thor's Hammer, No Name Point and Navajo Point along East Desert View Drive. Vehicles will need to turn around at Navajo Point.

The picnic areas near Shoshone Point Pavilion, east of Yaki Road, Thor's Hammer and Buggeln Picnic area.

The restroom facilities located by the South Entrance Grand Canyon National Park sign, picnic area east of Yaki Road, Shoshone Point and Buggeln picnic area.


The National Park Service says this will go from May 15 to May 18.
The following facilities remain closed to the public:
South Rim's east entrance and Desert View area
The Rim Trail, Greenway Trail system, inner canyon and all hiking trails
Grand Canyon Village
Center Road west from the South Entrance Road intersection; South Entrance Road north of Desert View Drive intersection; Yaki Point Road, Rowe Well Road and the USFS 310 Road
The Colorado River, North Rim and Tuweep area
NPS says commercial services within the park will remain closed at this time. Visitors who plan to explore the South Rim should make sure they bring enough food and water during their trip as well as hand sanitizer.
The park also recommends arriving no later than 9-9:30 a.m. in case of traffic backups entering the park.
Visitors can stay in the park throughout the day, but there are no overnight accommodations available.
"This initial reopening phase will increase access to our public lands in a responsible way by offering the main feature of the park for the public, the view of the canyon, while reducing the potential exposure of COVID-19 to our nearly 2,500 residents," Grand Canyon National Park Superintendent Ed Keable said in a release.
Additionally, further access to the park over Memorial Day weekend (May 22-25) is being planned currently.
This will likely include extending entrance station hours and access to more roads, hiking trails and viewpoints. The park says those details will be provided to the public when available.
Visitors that come to the park via U.S. Route 89 between Flagstaff or northern Arizona and Cameron will be traveling through the Navajo Nation, which requires face masks to be worn at public facilities and businesses to slow the spread of COVID-19.
Centers for Disease Control and Prevention has released guidelines for those planning to visit parks and recreation facilities during this time, which can be found here.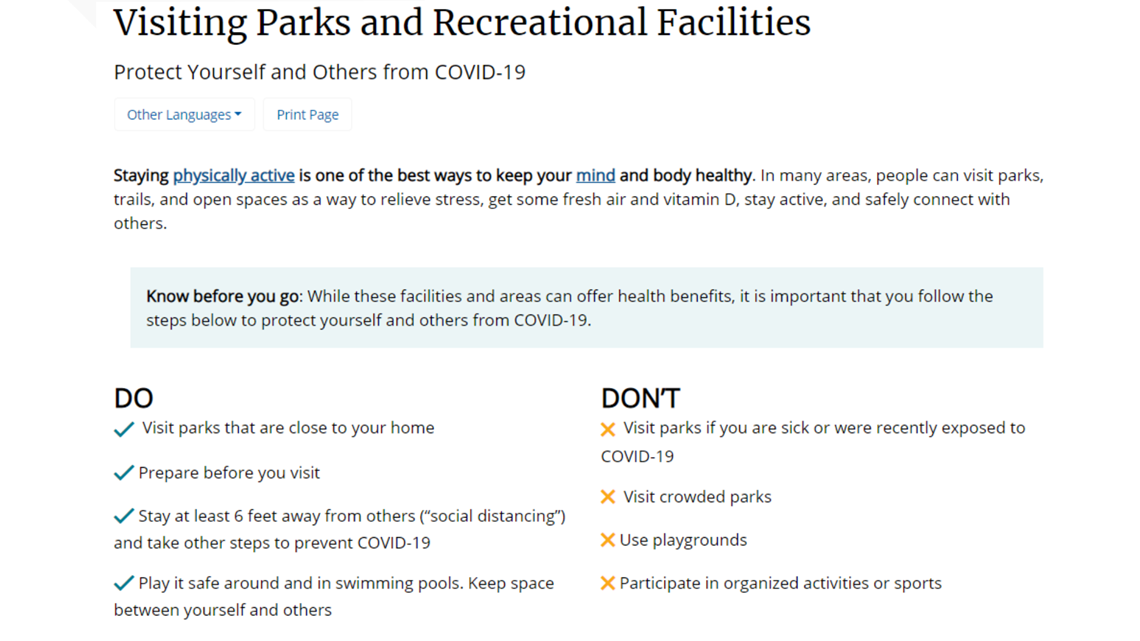 The park says it will continue to monitor all park functions to ensure that visitors adhere to CDC guidance for mitigating risks associated with the transmission of COVID-19 and take any additional steps necessary to protect public health.