PHOENIX — A Maricopa County judge on Monday struck down Arizona's ban on face-mask mandates by school districts as unconstitutional, just two days before the ban was to have become law.
Superior Court Judge Katherine Cooper ruled the ban on certain COVID-19 mitigation measures violated the so-called "single-subject rule" for legislation, by being inserted into a state budget bill.
"The bill is classic logrolling - a medley of special interests cobbled together to force a vote for all or none," Cooper said in her 17-page ruling.
Ninety minutes after the decision was released, Gov. Doug Ducey's spokesman said the ruling by a "rogue judge" would be challenged:
"We are still reviewing the ruling, but this decision is clearly an example of judicial overreach.
"Arizona's state government operates with three branches, and it's the duty and authority of only the legislative branch to organize itself and to make laws. Unfortunately, today's decision is the result of a rogue judge interfering with the authority and processes of another branch of government.
"Further action will be taken to challenge this ruling and ensure separation of powers is maintained."
Republican Attorney General Mark Brnovich, running in a crowded GOP field for the U.S. Senate, said he would appeal the ruling.
Dozens of New Laws Voided
Cooper's ruling voids dozens of other pending laws that were crammed into budget bills:
-A ban on teaching "critical race theory," which called for $5,000 penalties for school districts and the loss of a teaching certificate.
-A ban on COVID-19 mitigation strategies by universities and community colleges. This would have codified Ducey's executive order blocking Arizona State University's COVID plan for the new school year - either get vaccinated or get tested regularly.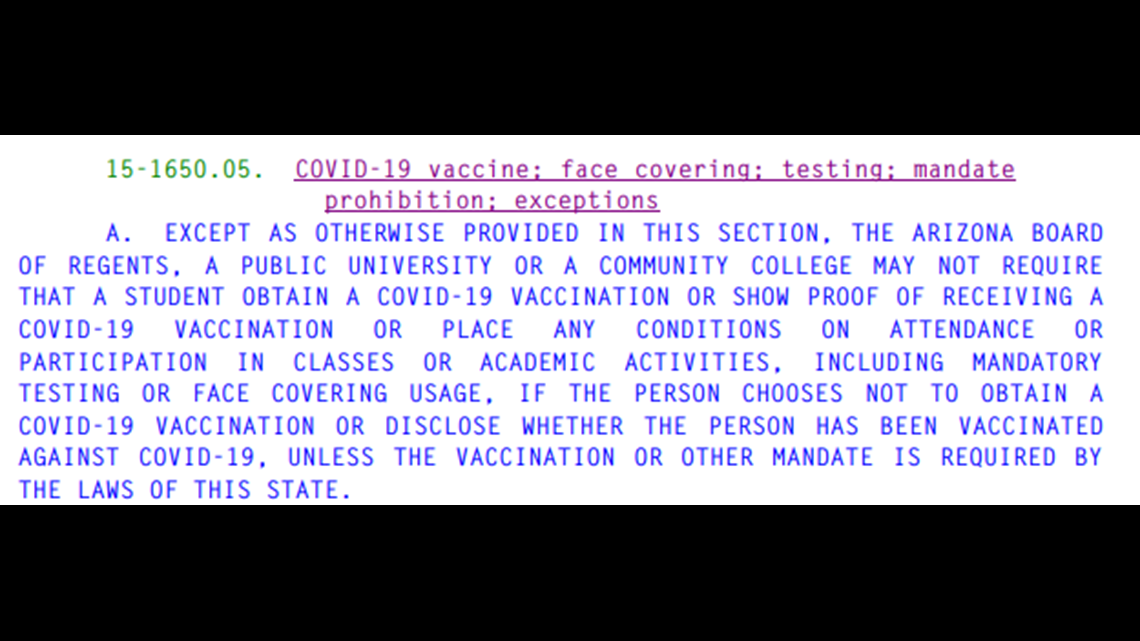 -The 55-page "budget procedures" bill that was stuffed with changes to election law, some of them inspired by Senate Republicans' election review, several others designed to usurp authority from Democratic Secretary of State Katie Hobbs.
The decision could also upend the way the Capitol works. The "logrolling" Cooper described is how budgets get done.
The governor and legislative leaders win votes on a budget in exchange for a promise to insert a lawmakers' pet legislation.
The legislation is typically inserted into a budgets with little public debate, as the Legislature pulls all-nighters to pass a budget before adjourning for the year.
School districts had been preparing to drop their mandates if the ban had been upheld. The governor gave them an incentive: Ducey has threatened to financially punish districts that keep mask requirements in place once the law takes effect.
Those districts would risk losing up to $1,800 per student in American Relief Act funds.
Coalition Challenged Mandate Ban
The lawsuit challenging the mandate ban and other legislation was filed by a coalition led by the Arizona School Boards Association, the Arizona Education Association, Children's Action Alliance.
Phoenix Union High School District was the first district in the state to defy the Legislature's ban on mask mandates.
The district, one of the largest in the state, with more than 25,000 students, imposed a mask requirement on its campuses in late July, before students returned to classes from summer break.
Ground-Breaking ASU Mask Study
Schools without a mask mandate, researchers found, were 3.5 times more likely to have COVID-19 outbreaks than those that started the school year requiring face coverings.
"There's really a lot of people searching for answers, searching for this data," said Dr. Megan Jehn, a clinical epidemiologist on ASU's COVID-19 modeling team.
The data was compiled from school districts in Maricopa and Pima counties.
"Schools just really want to do the right thing," Jehn said. "It was nice to show in a really rigorous, scientific study that the data says what we expect it to say."