As the school resource officer for Chandler High School, Officer Chris Keipert of the Chandler Police Department considers himself a mentor and teacher.
"As SROs, we actually go into classes and teach law related presentations," Keipert said.
But make no mistake, Keipert knows his most important role is that of protector.
"The closest I've come to a student doing harm is they had a plan," he said.
As an SRO with a gun and badge, Keipert is the first line of defense against threats.
But a school resource officer can only do so much in an emergency, considering on any given campus, the officer is responsible for dozens of acres and a maze of buildings and walkways.
"We're 66 acres here at Chandler High," Keipert said. "There's no way I can be everywhere at once."
School safety applications recently submitted to the state superintendent show us what many school leaders in the state—in order to avoid alarm in their communities—often don't want to discuss openly: They need help.
It's why experts say school safety goes beyond simply having an SRO. It's about educating teachers and students on how to respond to a threat and having staff in place to address the wellness of students.
"Research shows if you can have one SRO, one school counselor and one social worker at each site, that gives school culture and school safety the best outcomes," says Arizona State Superintendent Kathy Hoffman.
We reviewed records of Arizona's 1,700 traditional public schools and found significant shortfalls in all three of those positions.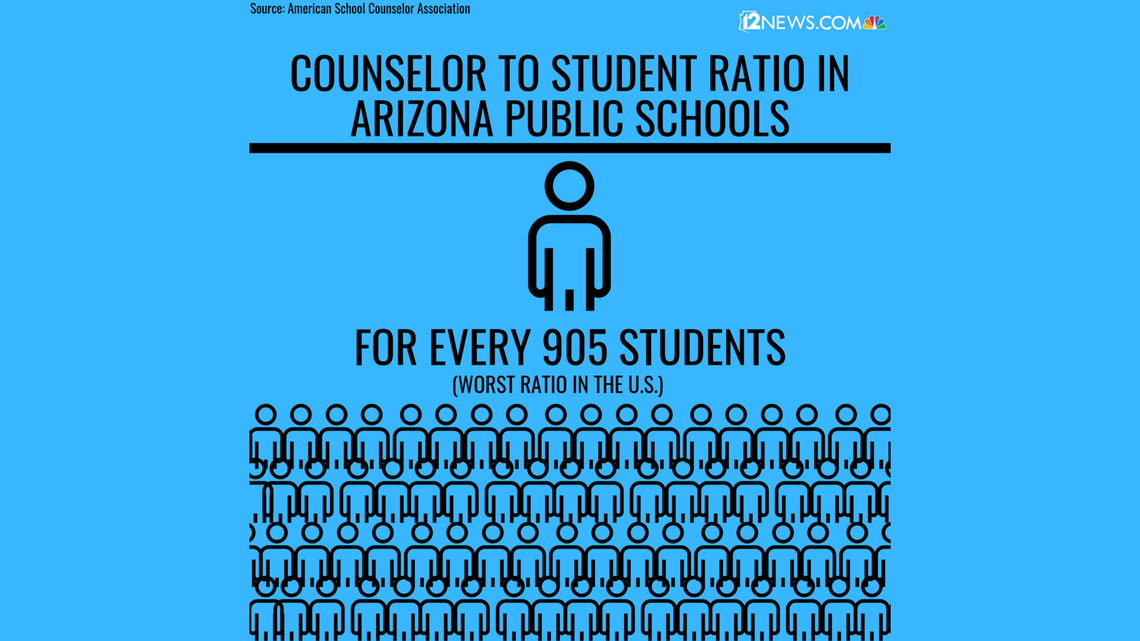 There are also just 1,027 social workers in those public schools and just 343 psychologists, each well below one per school.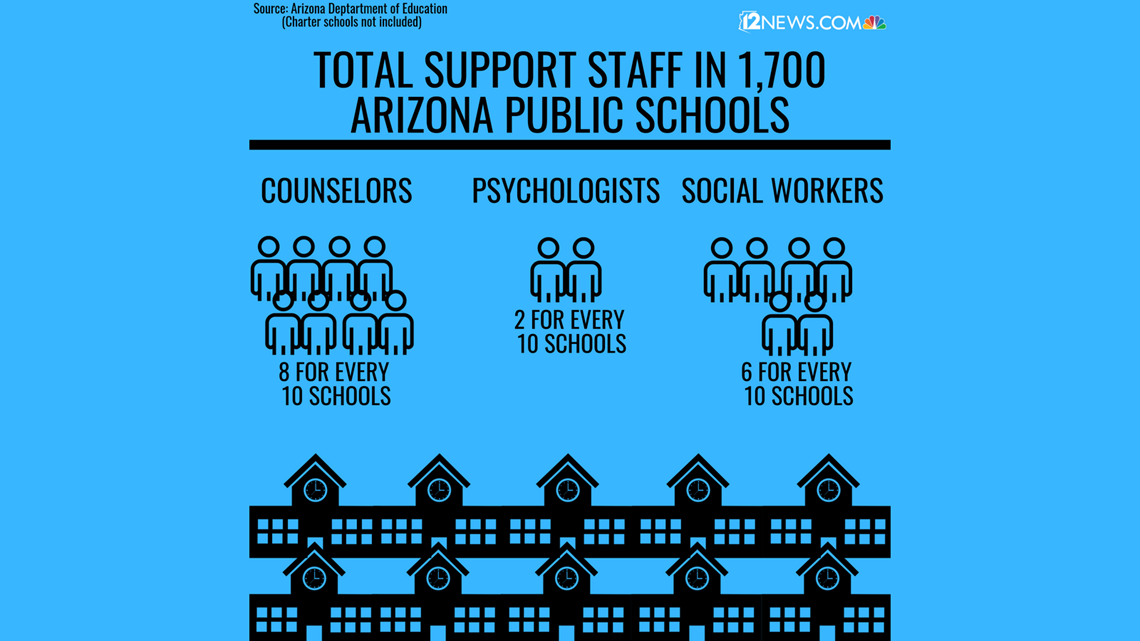 When it comes to SROs, the state does not keep track.
We found 114 middle and high schools have SROs thanks to a state-funded grant.
School districts also cobble together their own money and city dollars to hire officers. We look at the SRO situation at some of the state's larger districts below: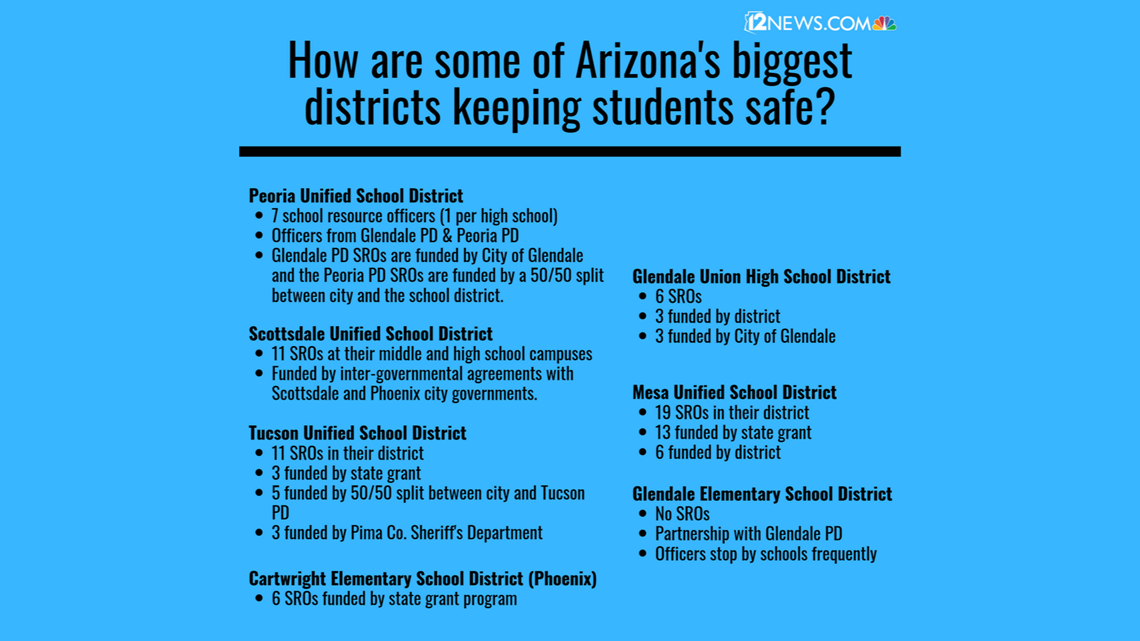 "Something else we have to keep in mind regarding school resource officers is the availability of people who qualify for these positions," Hoffman said.
These shortfalls have serious consequences.
12 News reviewed applications submitted to the state to gain access to $20 million total in grant money allotted for SROs, social workers and counselors and outlined stark shortcomings.
For example, one school that 12 News is not naming, considered a "high risk" campus, saw 40% of students suspended last year. The school has no counselors.
Another district has just one social worker for seven campuses.
And one rural school said it has no assistant principal, social worker, SRO or counselor.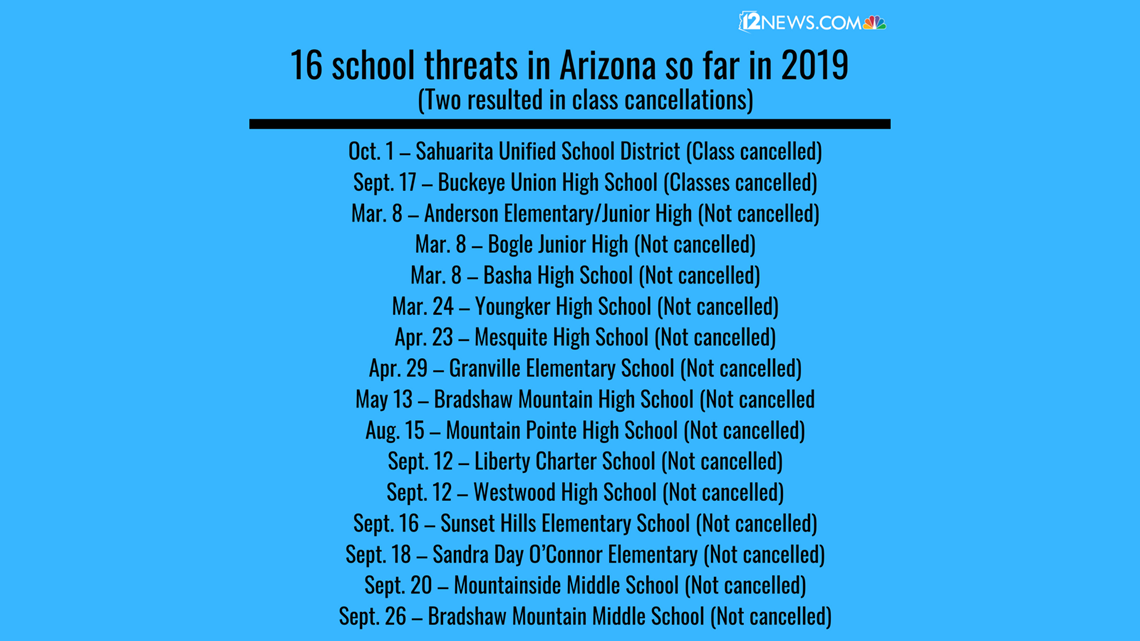 "I think the biggest message here is that $20 million is not going to go far enough," Hoffman said.
The 896 applications submitted add up to about $98 million needed, which is five times what is approved.
With a team of counselors, a psychologist and even a substance abuse specialist to assist Officer Keipert, Chandler High is considered to be in better shape than many schools.
Keipert has a collection of tassels, which serves as a reminder of the impact he believes a well-staffed school can have on young minds.
"They symbolize each class I watch graduate as seniors and it gives me an idea of how many kids that I'd like to think I've helped mentor."