PHOENIX — Call it SRP envy.
Homeowners who move from SRP to APS territory are often irked that their power bills are more complex and higher in cost.
Just last week, Alex M. emailed a complaint to the Arizona Corporation Commission, detailing his calculations on a spreadsheet comparing his electricity bills from the two homes, according to the public record the I-Team reviewed.
APS was charging him 8% more than SRP while using 17% less power, he concluded.
"A gross injustice," Alex wrote to the commission.
Earlier this year, Scottsdale real estate agent Kristin Nelson, once an SRP customer, was so frustrated by her APS bills she signed up to be a legal intervenor in the upcoming APS rate case. A data analyst's review of Nelson's bills showed she paid 37% more for electricity in 2022 to APS than she would have under SRP's rates.
Nelson is a high-energy user. But even so, she might be able to shave off her expenses without changing her behavior. In November of last year, APS notified Nelson on her bill she could save money by signing up for a different plan (time-of-use) instead of the plan she was using (a fixed energy charge rate). If accurate, that plan would reduce the difference between the amount she is paying for APS compared to SRP by 28%.
But Nelson tells the I-Team she is hesitant to try a different plan because she's had bad experiences with APS customer service.
"I feel like when I've tried their different tier programs it's a gimmick. I've been burned so many times," Nelson said.
Although every utility customer is unique, SRP envy is real.
"Both APS and SRP sell the same commodity, kilowatt hours," said Abhay Padgaonkar, a longtime consumer advocate. "There shouldn't be that much difference in price that customers have to pay. It's that simple."
According to APS, comparing the utility to other investor-owned utilities is more equitable.
"When you look at 2022, our rates were below the national average compared to investor-owned utilities and our residential rates were below the national average for all utilities," APS wrote.
According to federal data, last year APS customers paid an average of 24% more per kilowatt hour compared to SRP.
Put another way, SRP sold 2.3% more total electricity to retail customers in 2022, but collected 21% less revenue than APS.
"APS makes people think they are the Arizona 'public service'," Nelson said. "I don't think they should be allowed to use that word, 'service.' They are a for-profit company. It's misleading."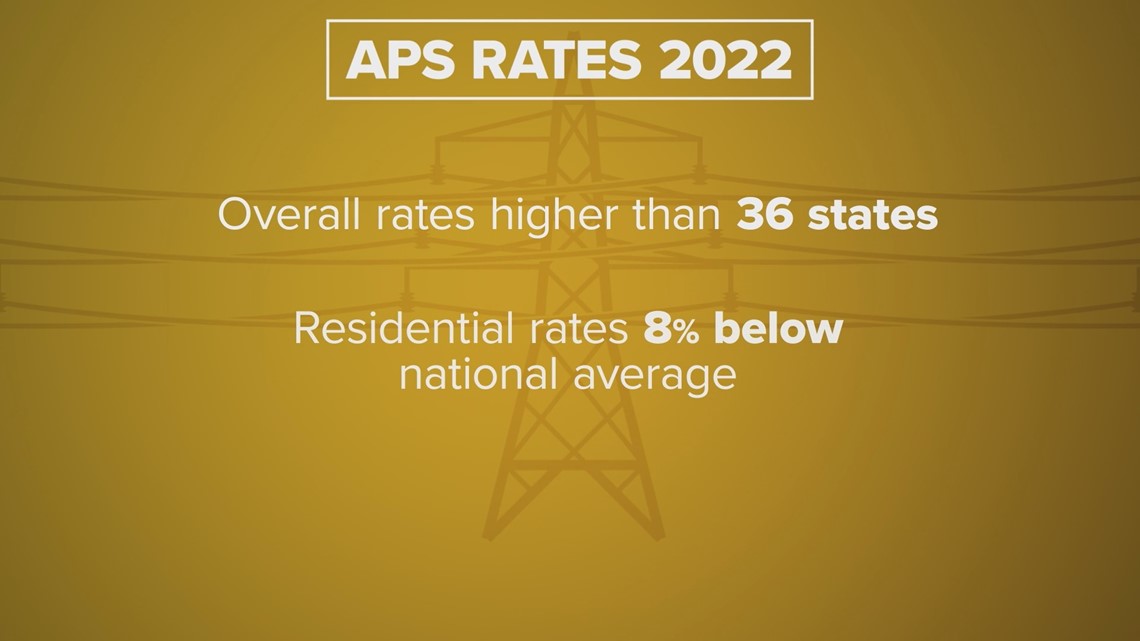 Two different utilities, one identical commodity
Both SRP and APS offer customers the option to sign up for time-of-use rates. Time-of-use rates are more complex than fixed rates and are intended to allow customers to save money based on the time of day they use electricity.
Generally speaking, there is a sharper ramp-up of rates at a lower threshold of usage for APS customers compared to SRP customers.
"Those higher rates come into play at lower usage for APS and the increases are steeper for APS," Padgaonkar said.
APS considers comparisons between the two utilities "unreasonable" because the utilities are fundamentally different.
Still, price comparisons by residents are inevitable.
Both utilities serve homeowners in the greater Phoenix area.
Both serve a similar number of customers. APS has 1.3 million, SRP has 1.1 million customers.
Both have been offering the exact same commodity in Arizona for more than a century: kilowatt-hours.
Nelson wants APS executives to prove to the commission why they are justified to charge higher rates, and why they should be able to raise rates even higher later this year.
"I'm representing the little people out there, the grandmas, the grandpas, the teachers, the people that can't. The people who are too busy to be over here to fight for this," Nelson said.
The other large investor-owned utility in Arizona, Tucson Electric Power, charged an average of 19% more than SRP.
What APS is requesting
APS's new rate application will be heard before the commission during a series of meetings and hearings this summer.
APS reports it is seeking to increase its allowable "return on equity" – effectively the profit margin – from 8.7% to 10.25%.
APS estimates this would result in an average increase in bills of 13.6%.
However, a state agency that advocates for consumers, the Residential Utility Consumer Office, estimates the actual impact to customers of APS's proposal would be about twice as much -- a 26% increase to bills.
Those estimates could change as meetings proceed this summer.
APS CEO Jeff Guldner and President Ted Geisler declined to be interviewed for this story.
However, in a written statement, APS told 12News that the price hike is needed to maintain and grow the grid, invest in "cost-competitive clean energy," and protect reliability.
The utility also proposes to improve customer support by eliminating payment fees, adding new time-of-use holidays and increase limited-income support for qualifying customers.
"We know many Arizonans are facing challenging times, and no one wants to see rising energy bills," APS wrote. "We are here to help. We have different plans to help. We encourage customers to contact us, so we can walk through the many ways to save on bills."
The hearings will involve a collection of nonprofits, accountants, engineers, and policy experts who will provide discovery and cross-examination.
APS has the right to a reasonable financial return.
How APS and SRP are different
APS covers more territory and is for-profit.
APS's territory covers more than 34,000 square miles across the state. SRP's territory is a concentrated region in the Valley of 2,800 square miles. When asked to quantify how transmission costs across the state contribute to higher rates, APS did not answer directly, except to say its territory includes rural and forested areas and tribal lands.
APS is a for-profit company with shareholders on Wall Street and is regulated by the Arizona Corporation Commission. SRP is a quasi-government nonprofit with an elected board. Between 2018-2022, APS reported $2.1 billion in excess profits compared to SRP (an average of $423 million per year) according to financial reports.
APS and SRP have different tax structures. An analysis of financial reports by both utilities shows between 2018-2022, APS paid a yearly average of $137 million more in various taxes compared to SRP, which amounts to about 3.5% of APS's operating revenues.
SRP also provides water service. This creates a financial disadvantage to SRP power customers. The utility subsidizes an average of $60 million per year from electricity revenue to its water service.
APS and SRP raise capital through different mechanisms. SRP raises capital through tax-free municipal bonds while APS through investment loans and company equity.
Another sign of the disparity between APS and SRP is revealed in a program that provides rebates to APS customers who live in certain territories. Each year, SRP mails an application letter to every SRP water shareholder who pays at least 15% more to APS than they would have paid to SRP for the same amount of electricity.
For the 2021 program (paid out in 2022), SRP had 4,095 applicants who received payments. The average payment was $364.82.
The 2023 rate case
Within the next three weeks, commission staff and the state consumer office known as RUCO are expected to file their testimonies in the rate case.
"The Commission has to dig into these details and actually parse all the competing information to get to the reality, so that in fact, customers are protected," said Justin Olson, a former Corporation Commissioner who finished his term in January.
Citizens interested to provide public testimony in writing can sign up here. The Docket No. is E-01345A-022-0144. Citizens interested in appearing at a public comment meeting should call the Corporation Commission at 602-542-4251. The first two scheduled meetings are on Thursday, June 1 at 1 p.m. and Wednesday, June 7, at 6 p.m.
Bill Mundell, who served on the Commission from 1999 to 2009, said RUCO's role in the upcoming hearings will be crucial.
"If RUCO does their job as established by statute then the public can feel pretty confident the hearing will be fair," Mundell said.
"The Commission's impact is incalculable and often far-reaching," said Caryn Potter of the Southwest Energy Efficiency Project, a nonprofit that is an intervenor in the case. "Our world is changing. The electric grid is changing and the way we develop rates and maintain reliability is changing rapidly."
Intervenors in the rate case will provide testimony, data, make their arguments, and the state's five elected Corporation Commissioners will ultimately vote on a rate plan in September.
APS also updated its price comparison tool.
"To their credit, they have made it fairly simple to go to the online price comparison tool to see potential savings and change plans. This comes after the price comparison tool was found to be defective and was steering customers to more expensive plans," Padgaonkar said.
To make sure you're getting the best rates, follow these steps:
Login to your APS account
Select the Price Comparison Tool
Evaluate the options listed and customized to you.
Through a project called Power and Influence, 12 News is analyzing the way utilities, regulators and politicians influence Arizona's energy future.
Related coverage
12News sat down with a panel of experts to discuss what this APS rate case means for customers.
I-Team
Learn more about other 12News investigations by subscribing to the 12News YouTube channel and watching our I-Team playlist.