PHOENIX — Trisha Eskridge's injuries still are not fully healed.
An independent medical examiner determined they likely never would be.
It's been 19 months since the veteran police officer took multiple gunshot wounds to the arm, hip and foot while she was rescuing a baby from a deadly ambush.
She was one of nine officers injured in the surprise attack on Feb. 11, 2022. According to the medical report, Eskridge will never be able to work as an officer again.
Feb. 11, 2022: 'I got the baby!'
It was around 2 a.m. on a Friday morning in February that officers were called to a home in south Phoenix.
Police reports, audio interviews and body camera footage later revealed that officers had little information about what was happening inside the house when they first arrived.
Eventually, they would learn that a man, identified as 36-year-old Morris Jones, was believed to have shot and killed the mother of his child inside the home.
When the first officers responded, the suspect shot at them too.
Jones allowed another man who was inside the house to take a one-month-old infant outside. Officers ordered the man to set down the child and walk away.
That's when Officer Trisha Eskridge rushed forward.
"I got the baby!" body camera video recorded Eskridge shouting to other officers, just before the suspect opened fire again.
In all, nine officers were injured by bullets or shrapnel.
Eskridge was struck by bullets in the hip, arm and foot.
When police ultimately entered the home, they found Jones deceased alongside the infant's mother.
The financial toll
Trisha Eskridge worked for the Phoenix police department for 22 years.
She joined the police department after serving in the United States Army.
She was eligible for retirement after 20 years, but amid staffing shortages, she agreed to stay on and enter into the state's Deferred Retirement Option Plan (DROP).
The shooting occurred two years after she could have retired.
Her heroism on the night of the shooting was acknowledged across the country. She received the city's "Act of Valor" award and was named a Top Cop in 2023 by the National Association of Police Organizations.
Still, her sisters worried for her recovery and the financial toll of her inability to continue working.
"It's nice that they acknowledged her but let's acknowledge her in a way that matters," said Gina Wilder, Trisha's sister. "Let's take care of her because she needs you."
Wilder and her sister, Andrea Stott, sat down with the 12News I-Team to discuss their sister's case as some benefits began drying up.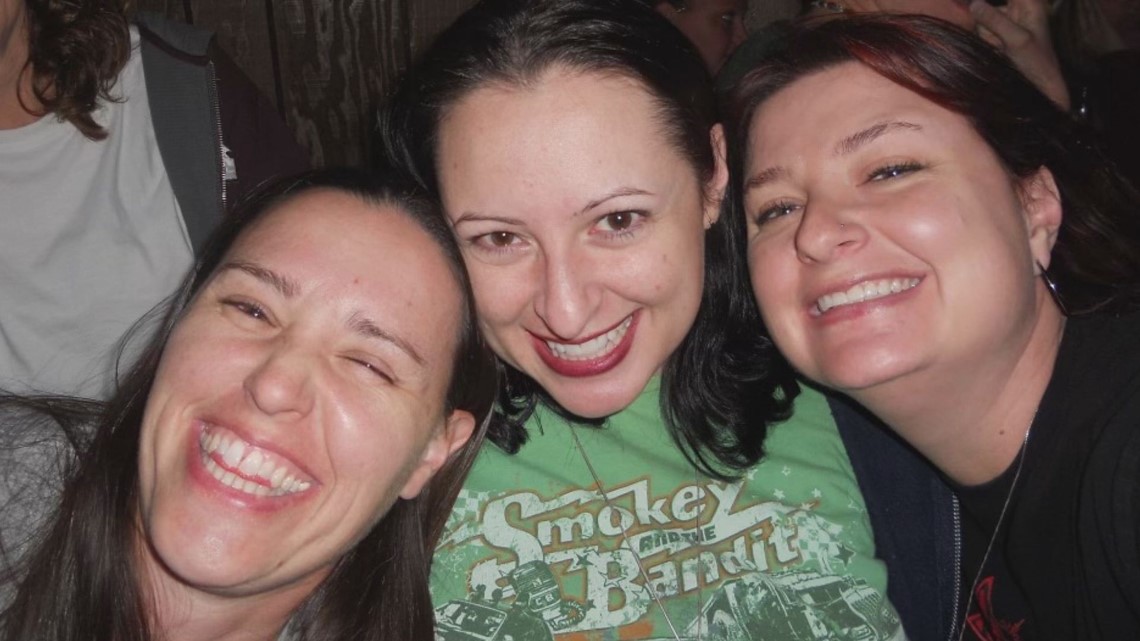 Eskridge did not agree to an interview, because, as a city employee, she did not want to jeopardize her disability case.
For the first year after her injuries, worker's compensation covered 66% of her salary.
The City of Phoenix offers an additional benefit to cover the gap to pay 100% of an injured officer's salary while the officer is not able to work.
However, that gap benefit only lasts for one year. After that, the city allows injured workers to supplement the standard workers' comp benefits using vacation, sick leave, or comp time. City employees can also file for long-term disability.
Disability delays
When the city's supplemental benefit expired in February, Eskridge filed for disability retirement.
She still hasn't received the final decision.
"She's not asking for anything special. She's not asking for any kind of special treatment. She's just asking to be taken care of," Wilder said.
"How is that OK? Why would anyone be a police officer in Phoenix?" asked Stott.
On Aug. 1, the Phoenix Police Pension Board met to discuss Eskridge's case. Whether the board approves Eskridge's claim is only part of the question. It's also considering whether to grant an accidental disability or catastrophic.
The payouts are a big difference.
Accidental would cover half of her salary, while catastrophic would pay 90% for the first five years. Then, there would be another evaluation.
The board said it rarely sees cases claiming "catastrophic" disability, stating this was only the second in the past several years, and instead of making the decision, Eskridge's case was delayed.
The board scheduled another meeting to determine Eskridge's case on Tuesday, Aug. 8.
Despite all these challenges, Eskridge's sisters say they believe she would do it all again.
"We are proud," Wilder said.
"We couldn't be prouder. She's kind of my hero," Stott said.
"Her sisters are here asking someone to help her. Because we see it," Wilder said.
Up to Speed
Catch up on the latest news and stories on the 12 News YouTube channel. Subscribe today.