LITHONIA, Ga. -- Twenty-one people were displaced, eight of them children from an apartment fire in Lithonia on Monday morning, which damaged eight units, four of them severely.
It happened at the Le Parc Fontaine Apartments off of Farington Parkway in Lithonia shortly after 6 a.m.
According to Deputy Chief Shane Dobson of DeKalb County Fire Rescue, when their crews arrived, there were trapped residents on the second floor that they were able to get down safely.
Dobson said one resident jumped from a window, but all the other residents were able to come out of the building through normal means.
Two men told themselves, "I'm not going to die today," and then made sure no one else did.
Second-floor residents Shaquan Alston and Trenton Wyatt were awakened from a deep sleep.
"It wasn't a pleasant smell," Alston said.
When they realized they couldn't go out the door due to the thick smoke, they knew they were trapped.
"It was just -- we gotta get out of here," Alston said. "That was our thinking. Like, we're getting out of here. I'm not gonna die today."
Their survival instincts immediately thought: Window.
"We decided, let's jump, so we just jumped," he said. "I landed right on my feet, like cat, actually."
Once they were out, they knocked on every neighbor's door to help get everyone out -- especially one guy who they said would not wake up.
"It took everyone to yell at his window and throw stuff at his window to wake him up," Alston said.
In the end, everyone got out safely, largely due to Alston and Wyatt.
"So I guess you could call us a hero, but we just felt like we were doing the right thing," Alston said.
Dobson said no injuries were reported among the residents or with fire crews.
Of the eight units that received damage, four of them received significant fire damage, while the remaining four received smoke and water damage, Dobson said.
He said the largest challenge firefighters faced was that the buildings were oddly shaped, leading them to call a second alarm and add resources.
"It's also an odd-shaped building, so there's a lot of things going on," Dobson said. "This fire went two-alarms, so we had double the amount of people here -- so it's a lot of moving parts at this particular time."
PHOTOS | Lithonia apartment fire displaces 21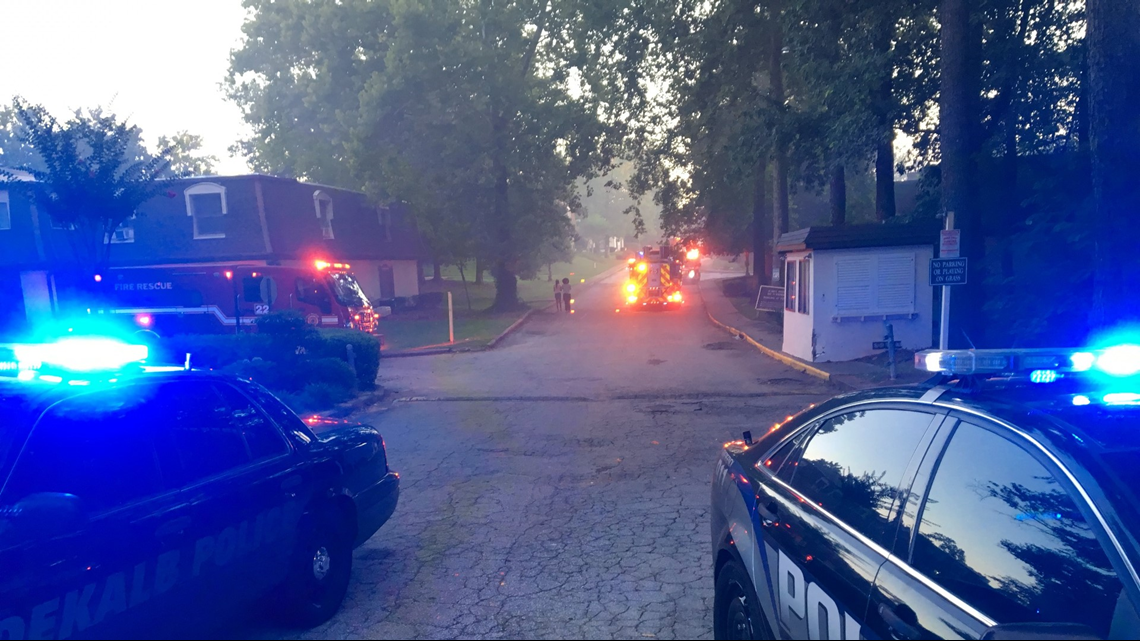 Dobson said that with the second alarm, 18 units and 50 firefighters responded to the complex.
The cause of the fire remains under investigation.