PHOENIX — Editor's note: The above video is from an earlier newscast.

Arizonans aged 16 and older are now able to register for a COVID-19 vaccine.
It was announced that registration at the state-operated COVID-19 vaccination sites in Maricopa, Pima and Yuma counties will be open to all Arizonans ages 16 and older.
Anyone looking to book a vaccination appointment can do so at the Arizona Department of Health Services' website.
This new eligibility group can only book at the state-run sites in Maricopa, Pima and Yuma counties:
State Farm Stadium in the West Valley
Desert Financial Arena in Tempe
Dexcom in Mesa
University of Arizona's Tucson campus
Yuma Civic Center in Yuma

The Arizona Department of Health Services will release new COVID-19 vaccine appointments each Friday at 11 a.m.
Spokesman Steve Elliott said people can check podvaccine.azdhs.gov each day for appointments made available due to cancellations, which usually number in the hundreds.
Maricopa and Pima counties have also opened vaccine appointments to all residents aged 18 and older for those receiving the Moderna and Johnson & Johnson vaccines and 16 and older for those receiving the Pfizer vaccine.
State leaders say vaccine supply is up
Gov. Doug Ducey and state health department director Dr. Cara Christ both said Monday supply of the vaccine is looking up.
"We have a lot of supply," Ducey said.
Since the vaccine rollout, both Ducey and Christ, as well as county health leaders, have said there wasn't enough vaccine supply to open up more appointments or expand eligibility.
Christ said Monday AZDHS had about 58,000 appointments still sitting empty from when the department opened them up on Friday.
"We were actually a little surprised we had that many appointments left," Christ said.
Christ said AZDHS was also noticing that people who booked appointments at a state site have been canceling them for earlier appointments. Christ estimated that was happening with upwards of 3,000 appointments per day.
"We anticipate it will still probably be the summer or the fall before we reach herd immunity. We know there are certain phases there is phase 1, where there is so much demand and very little vaccine," Christ said.
"Hopefully we are now getting into phase 2 where the demand meets the supply."
Christ also estimated the state will be getting 40,000 to 60,000 additional doses per week from the federal allocation.
State sites are scalable to meet supply and demand
An analysis by Surgo Ventures, a nonprofit health-data organization and the Associated Press, shows states like South Carolina, Florida and Missouri that offered the COVID-19 vaccine to more people earlier, may have been too much for states to handle, causing confusion and frustration for residents.
"If you're more targeted and more focused, you can do a better job," said Sema Sgaier, executive director of Surgo Ventures.
"You can open it up — if you have set up the infrastructure to vaccinate all those people fast."
Christ said Monday that Arizona's sites can meet the demand, given enough supply from the federal government, saying the state sites are scalable.
"They all have the ability to scale up to what State Farm does, if not meet what State Farm does," Christ said.
Christ added more appointments can also be added to each hour.
"Right now, State Farm is running about 500 appointments an hour, and we will be operating this throughout the night at that same pace. But if we had to we can add more or we can add more hours to other sites," Christ said.
Christ said the demand for vaccine appointments will likely be high the next two weeks, but then will drop off.
This is a developing situation. Stay tuned to 12 News for the latest.
Watch Gov. Ducey's remarks on the development here:
READ THE FULL PRESS RELEASE BELOW:
Arizonans Age 16 And Up Can Be Vaccinated At State Sites
PHOENIX — Registration at Arizona's state-operated COVID-19 vaccination sites in Maricopa, Pima and Yuma counties will be open to all Arizonans 16 and older beginning at 8 a.m. Wednesday, March 24, Governor Doug Ducey and the Arizona Department of Health Services announced today.

"Our goal has been and remains to get vaccine into the community as quickly, widely and equitably as possible," said Governor Ducey. "Given a thorough review of vaccination data, anticipated vaccine supply, and current demand among prioritized groups, now is the time to take this critical next step."

As of this morning, Arizona has administered 2,904,159 doses of COVID-19 vaccine to 1,831,456 individuals, including 1,136,413 who are fully vaccinated. As of Monday morning, there were over 58,000 appointments still available from Friday's release.

The change announced today advances a hybrid approach that had been based on age and also has had counties vaccinating frontline essential workers. It applies to appointments still available for this week at state sites in Maricopa and Pima counties.

"We anticipate more and more vaccine reaching Arizona heading into April, making it possible now to expand prioritization," said Dr. Cara Christ, director of the Arizona Department of Health Services. "We have been flexible and nimble throughout, while expanding the availability of state sites to vaccinate large numbers of people rapidly."

ADHS now opens appointments at 11 a.m. each Friday for State Farm Stadium in Glendale, Arizona State University's Phoenix Municipal Stadium in Tempe, Chandler-Gilbert Community College, the University of Arizona in central Tucson, and, as of this Friday, Yuma Civic Center in Yuma County.

State sites complement county vaccination programs and the growing availability of vaccine at pharmacies and federally qualified health centers participating in federal vaccination programs. Sites using the Pfizer vaccine, including those run by the state, can vaccinate those 16 and older. The Moderna and Johnson & Johnson/Janssen vaccines, which are allocated to counties, are approved for those 18 and older.

Information about all vaccination sites across Arizona can be found at azhealth.gov/findvaccine. Those without computer access or needing extra help registering can call 1-844-542-8201 to be connected with someone who can assist. Note: You can use the patient portal at podvaccine.azdhs.gov to make an appointment for a relative.

To learn more about COVID-19 vaccines and vaccination, please visit azdhs.gov/COVID19Vaccines.
Coronavirus facts you should know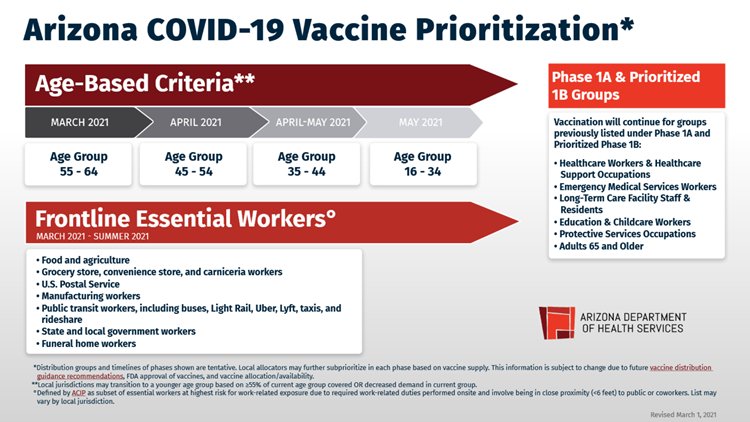 For the latest news about COVID-19, including doctor responses to questions about the coronavirus, watch our 12 News YouTube Playlist here.