PHOENIX — Staying at home is supposed to flatten the coronavirus curve and speed up our return to real life
There are three new signs that it's working in Arizona:
'STARTING TO FLATTEN' Maricopa County's medical director said Wednesday the county is starting to flatten the curve on hospitalizations, on a widely used data tool for tracking diseases.
Dr. Rebecca Sunenshine cautioned it's too soon to talk about lifting social distancing. We can have that conversation, she said, only when the curve falls below its peak.
"What we're doing with social distancing seems to be working," Sunenshine said during a video conference with reporters.
"It's more likely we'll have to pull back gradually. I don't think anyone can predict when that will happen."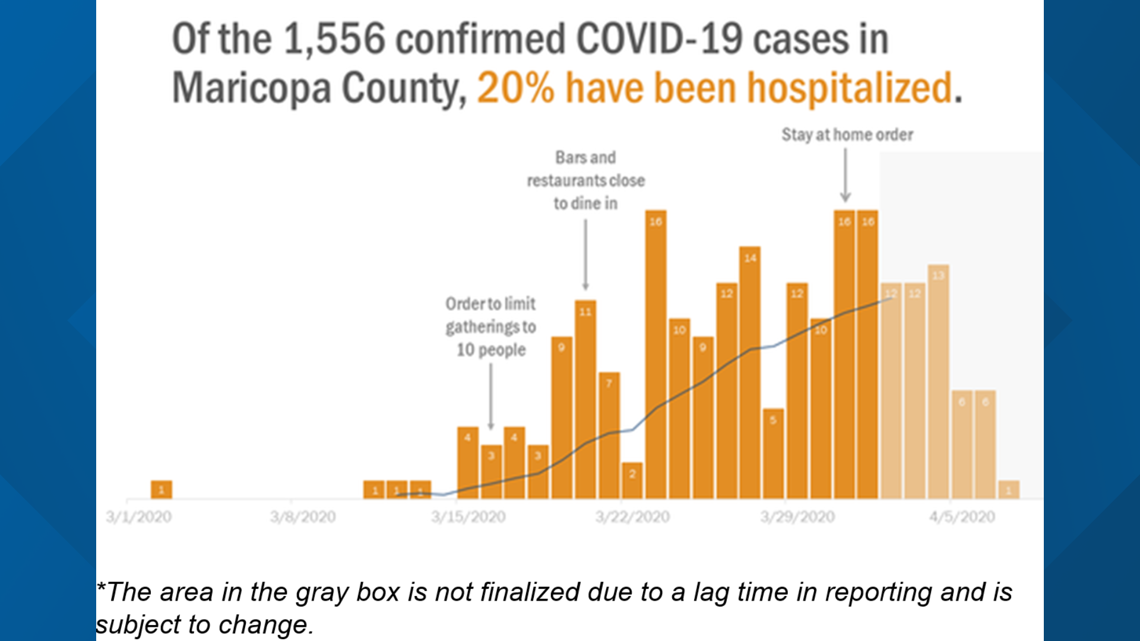 SLOWING THE SPREAD A University of Arizona professor who reviewed two of the more widely used forecasting models comes to the same conclusion in a report Wednesday: social distancing, including Gov. Doug Ducey's March 30 stay-at-home order, is slowing the spread of new infections.
Professor Joe Gerald, a health services researcher at the University of Arizona, says the pace of new confirmed coronavirus cases is slowing down.
The doubling time has increased from 2.7 days to 7.1 days since March 29, Gerald says. The largest single-day reports of new cases were on April 3 and 4 – 250 cases on each day,
Gerald expects hospital admissions, which lag confirmed cases, to peak in two weeks, from April 22 through 24.
He strikes the same cautious tone as Sunenshine:
"Maintaining or increasing our social distancing efforts over the coming weeks should remain our highest priority. Even though the pace of new infections has slowed, the risk of being infected remains high as we are simply coming down the other side of the peak."
TESTING FLATLINES Wednesday's update of the Arizona Department of Health Services dashboard showed the number of new cases and coronavirus tests three days into the new week was little changed from the week before.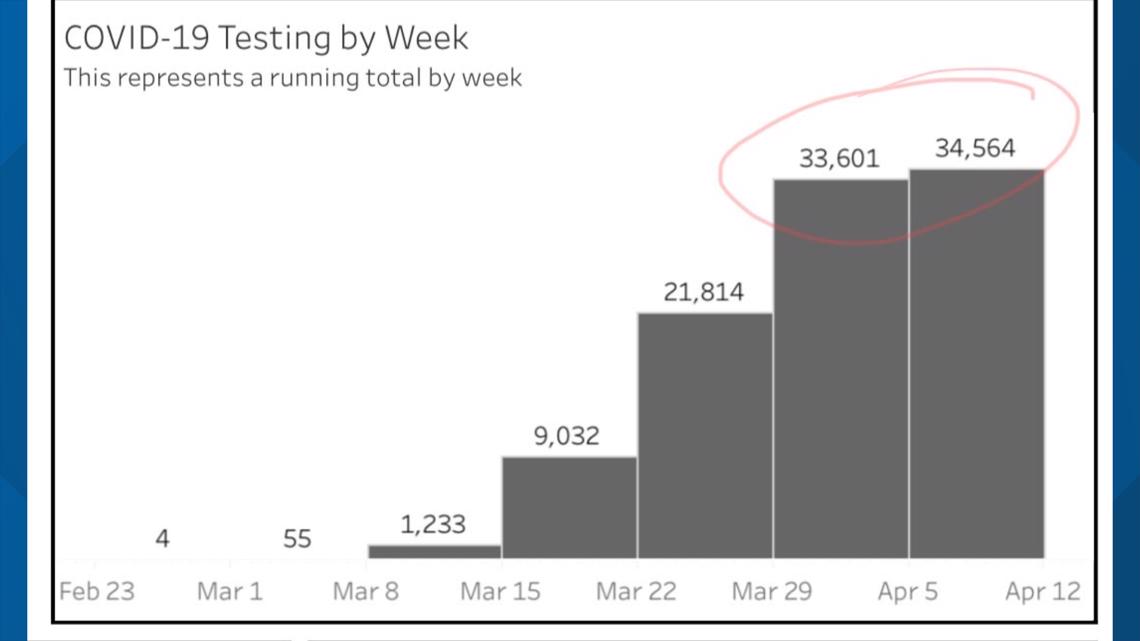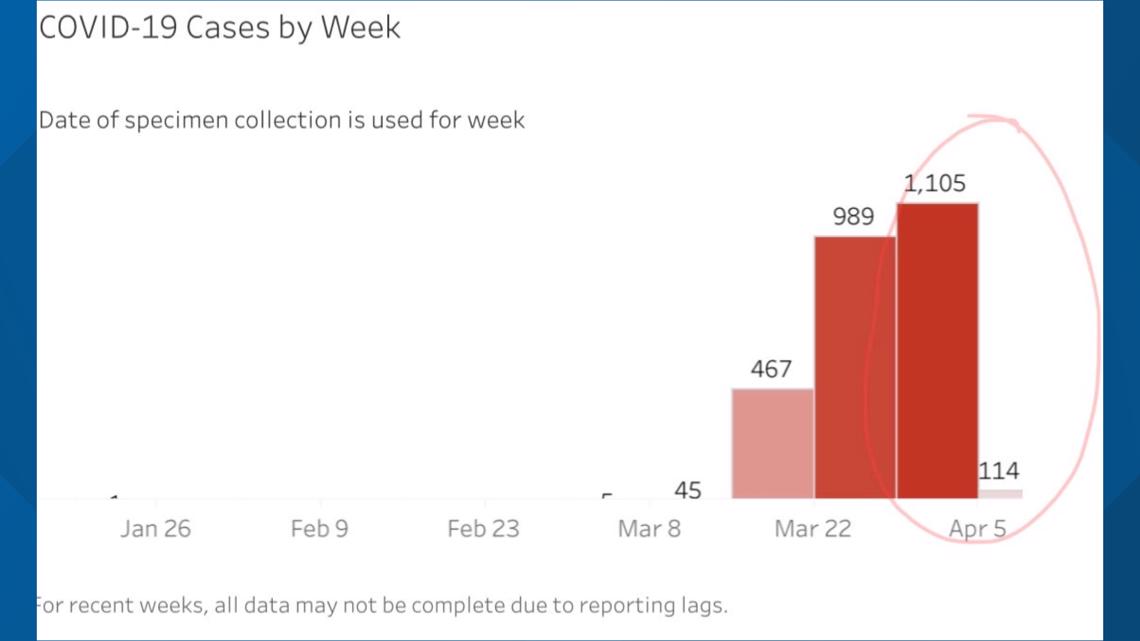 There are some caveats on the data: It's still the middle of the reporting week –DHS adds up results for Monday through Sundays. And commercial labs' reporting of test results to DHS can be uneven.
But it was striking enough to ask DHS about it.
It could show the impact of the stay-at-home order, spokesman Chris Minnick said.
But he quickly added: "We don't want people to look at a couple of days of data and think we're on the downside, because we're not."
The data may also highlight the persistent shortage of coronavirus tests in the state that has led to rationing.
These are the first signs of hope, albeit tentative, in a crisis that has left dozens of Arizonans dead and sickened thousands, and put a quarter of a million people out of work.
The new reports also provide rare updates on COVID-19's destructive path across the state.
None of the reports account for the disease's profound impact on the Navajo Nation in northeastern Arizona, one of the world's hot spots for the coronavirus.
Arizona's top public health official, Health Services Director Dr. Cara Christ, has revealed just one forecast, back on March 26: "We believe that the peak of our illnesses will start mid- to end of April, with peak hospitalizations in May," Christ told reporters.
Ducey cut her off when reporters asked for more information.
The governor has refused to answer questions about what the state's own forecasting models can tell Arizonans about the coronavirus' potential impact.
At a news conference Tuesday, Christ referred to the state's modeling as "scratch paper" – projections that change daily. But her March projection appears to have held up.
DHS does rely on one of the more widely used projections, by the Institute for Health Metrics and Evaluation (IHME) at the University of Washington's School of Medicine.
The University of Arizona's Gerald says IHME's most recent update slashed the number of projected hospitalizations in Arizona, from 176,000 to 29,000.
- Deaths per day are projected to peak at 24, on April 23
- The model projects 775 COVID-19 deaths statewide by August, almost 10 times the current number.
IMHE researchers say they've adjusted projections downward as they've seen the impact of social distancing around the world.
"As we obtain more data and more precise data, the forecasts we at IHME created have become more accurate," Murray said. "And these projections are vital to health planners, policymakers, and anyone else associated with caring for those affected by and infected with the coronavirus."
In his report, Gerald says the state appears to have enough hospital beds and intensive-care unit space to meet the peak demand.
Critics have challenged what they say is a paucity of data on the outbreak on DHS's daily dashboard. That's about to change.
Ducey issued an executive order Tuesday requiring all Arizona hospitals to report the number of coronavirus patients in the hospital, ICU or emergency department; those on ventilators; and patients discharged.
This is the second data-related executive order by the governor. The first was issued to pry data from commercial labs on their coronavirus test results.
As soon as this weekend, both the state and Maricopa County will begin rolling out reporting on the location of coronavirus cases.
A DHS spokesman said the state information would be reported by ZIP code.
Maricopa County's Sunenshine said her Public Health Department would also start reporting on coronavirus victims' race or ethnicity, based on death certificates. That data could start appearing next week.
Those county reports will be based on hospitals' "primary care areas." PCAs, which are larger than many ZIP Codes, cover the area served by a hospital, often near where a person lives or works.