Of course, we need to heed their advice. But let's face it, we're social animals, and this social distancing thing will likely leave us feeling lonely.
It's natural to want some comfort in an uncertain time, but instead of seeking it in that soft, precious 3-ply toilet paper that you can't find anywhere anymore, you should look to your fellow human.
We want to help you connect with your loved ones without spreading disease, which means virtual hugs all around.
Just shoot a 15-second video of your greetings to one another – whether it's "happy birthday," "congrats on your wedding," or even just "I miss you" – and post them on your social media.
Be sure to tag @12news on Facebook, Twitter or Instagram and use the hashtag #SendTheLove for a chance for your message to be shared on air.
#SendTheLove feed:
If you need a little motivation for the day, check this out! Phoenix Children's Hospital added a little inspiration to the steps of its entrance! It says: Let's see what happens when we don't give up. What an incredible way to help kids and their families stayed motivated in this time of need.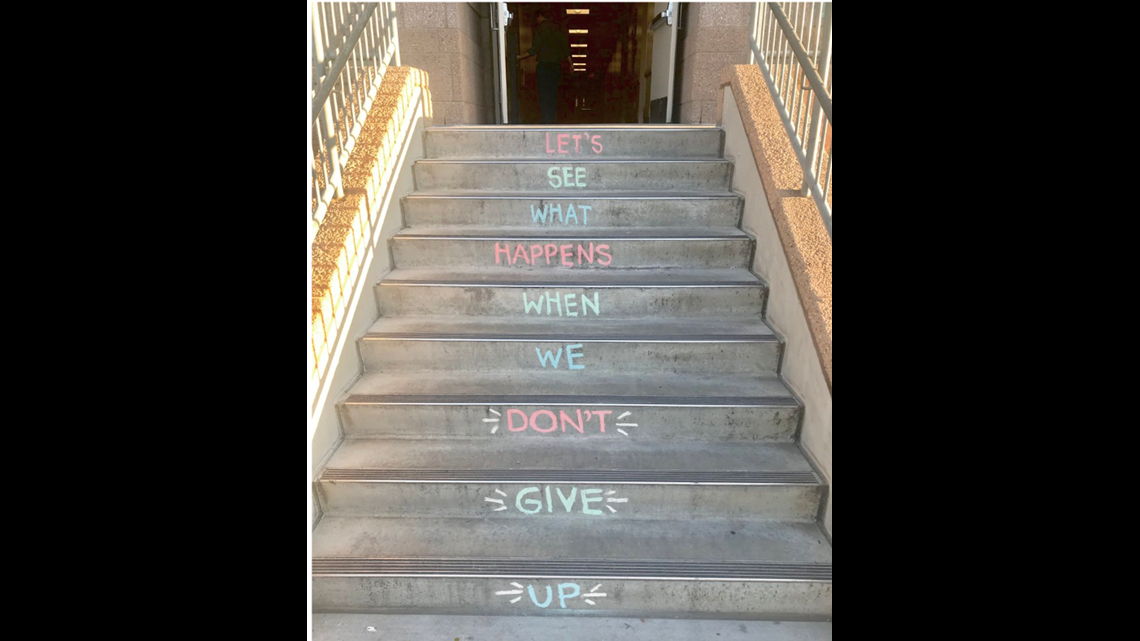 Feel the burn.. we mean love! A crossfit gym in the Valley has created a program where you can do both! Wildfire Crossfit gym in North Phoenix loaned out all the equipment from the facility and moved to online classes! They also adjusted workouts so even if you don't have the exact equipment, you can still get in a good workout. They even hosted a "sip and stretch" where people could sip a cocktail, stretch and catch up with other members of the community.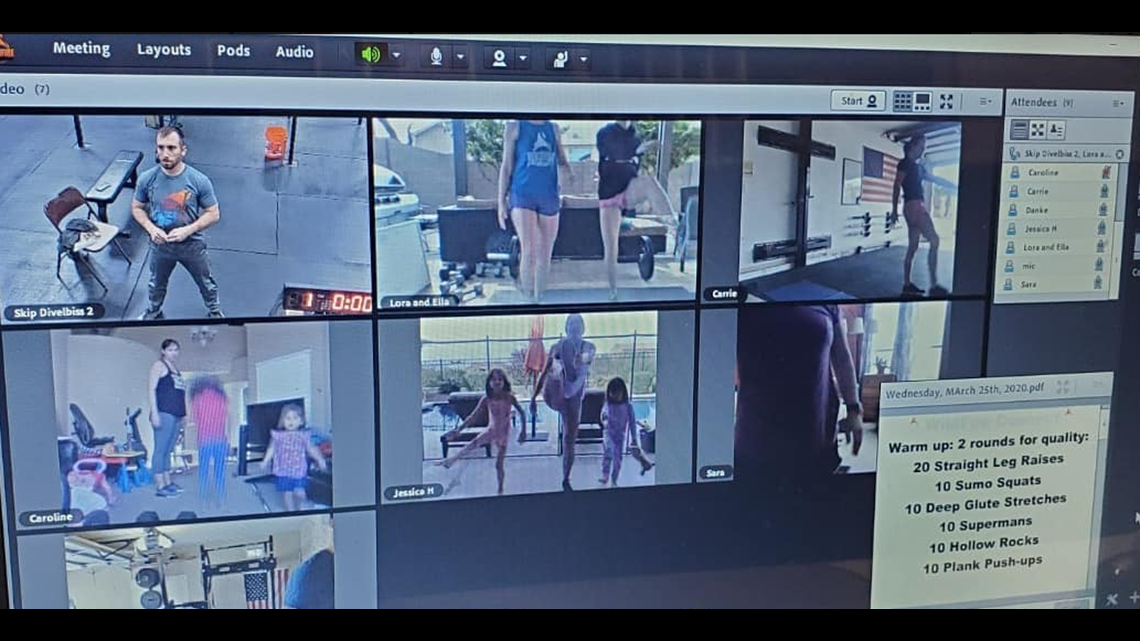 If you want to help those on the front lines of the Coronavirus pandemic, you can adopt a nurse, doctor or first responder! Small restaurant Pita & Co has created a program where people in the community can donate as little as $1 to provide meals for hospital employees along with first responders! It's easy and simple to do through Venmo and 100% of the proceeds will go to meals for employees.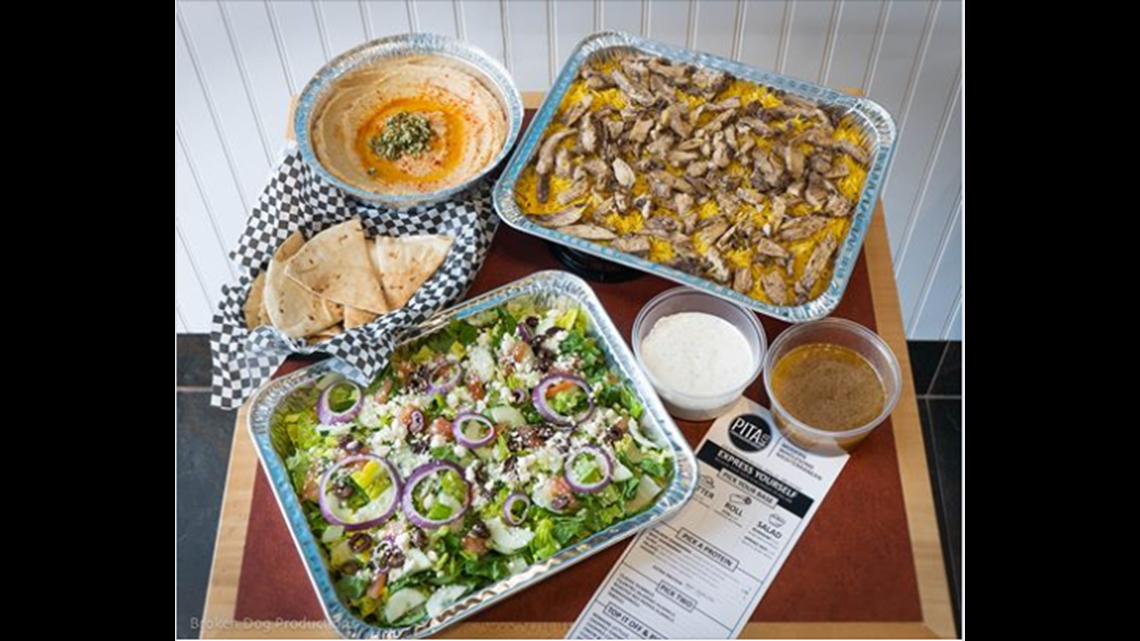 The Carvin Jones Band is using Facebook Live to raise money to deliver needed supplies to elderly and vulnerable neighbors in his community. Carvin Jones wrote in a Facebook post, the proceeds from the live events, where virtual viewers can send tips through services like Paypal and Venmo, will also be used to help some of the servers and bartenders who have always been so good to the band.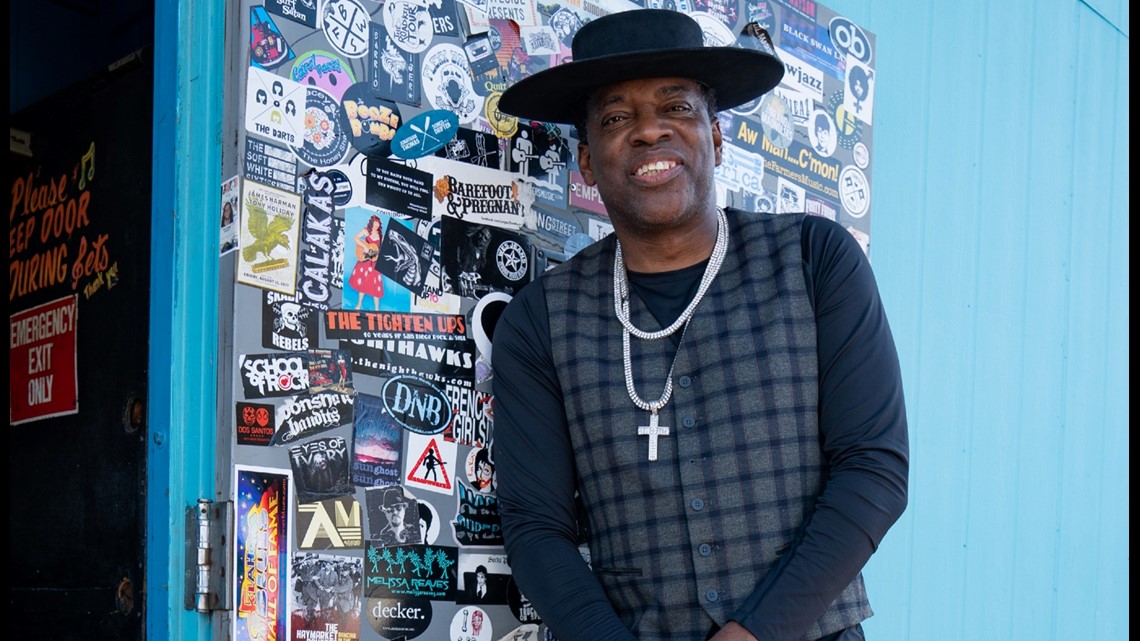 Stay inside your cars for church! Living Word Bible Church in Mesa is offering a unique way to worship while in quarantine. Living Word is bringing church outside to you! The Pastors and the worship team will be on the west lawn preaching and worshiping as you and your family watch the service on a jumbotron display!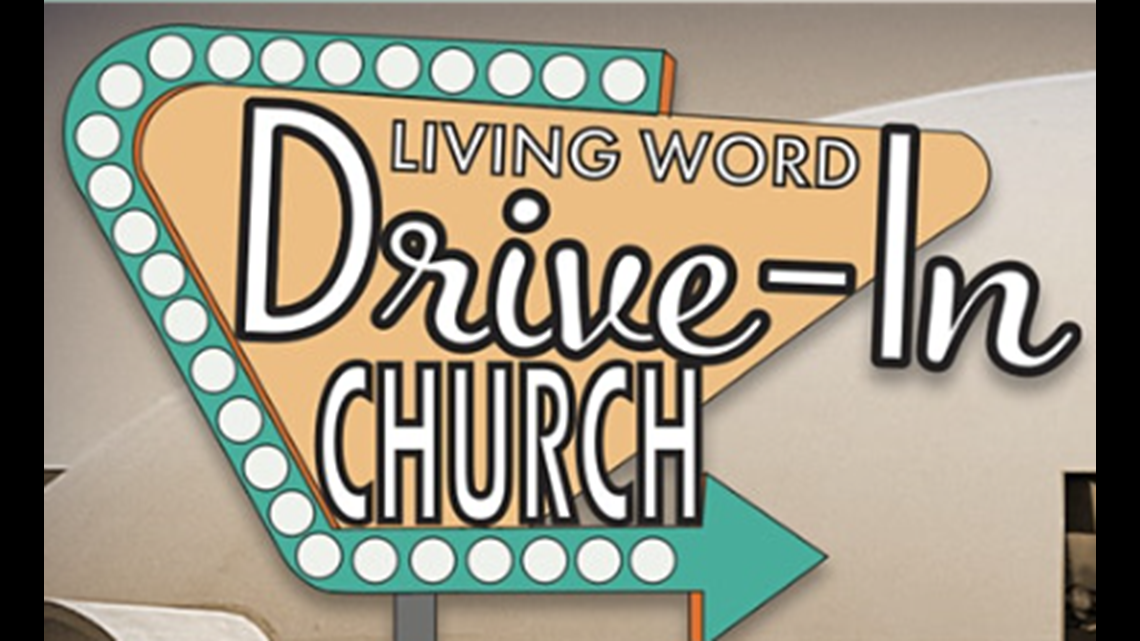 Shawn Simon got creative to let his students at Happy Valley School in Peoria know they are missed and to remind them online learning started Monday.
Ashley King shared this photo of how her hometown of Globe is showing support for the community during a trying time.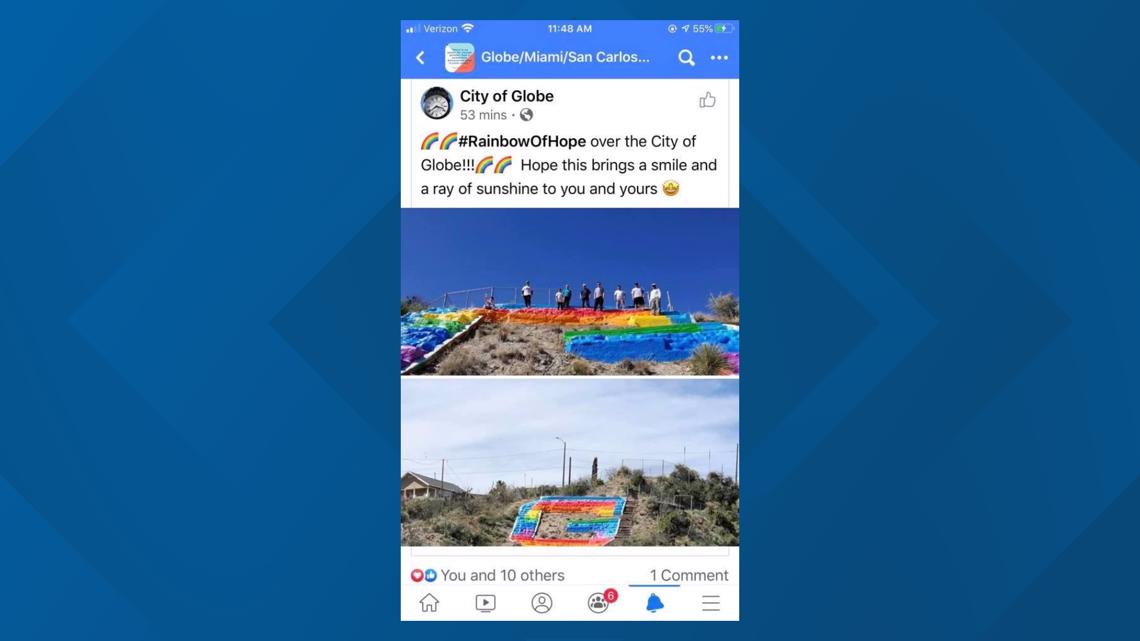 Susanne and Christa made more than 80 cotton face masks to donate and hare with friends and family.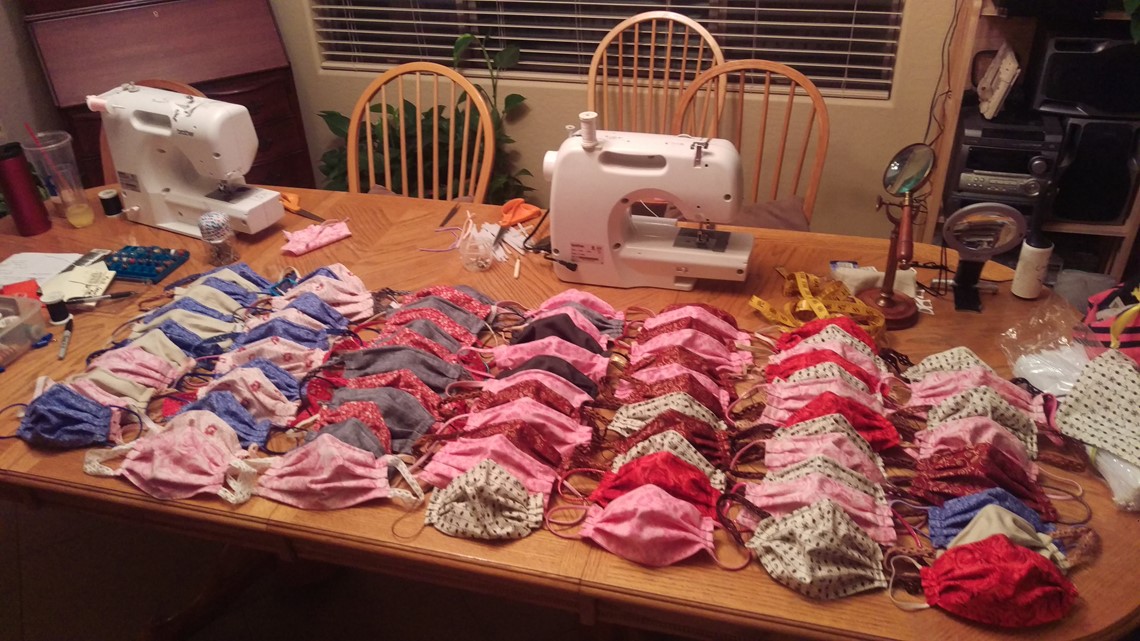 Jacquelyn Pastor shared video of her child's baseball team 'playing catch' together while practicing social distancing. They are an Arizona local 9U team. The club is Mound Magic Baseball.
Dickey's BBQ is giving out 100,000 vouchers for a free sandwich to first responders. KNIX radio personality Barrel Boy came up with the idea to partner with Dickey's BBQ to hand out the sandwich vouchers to local first responders.
So far they've given out over 30,000 coupons to hospitals, police, fire, home health care and doctor offices. They say the response from the community has been tremendous. You can email Barrel Boy at barrelboy@knixcountry.com to get your vouchers.
Quail Park Assisted Living in Gilbert is keeping residents busy. The posted greetings on the outside of the fence as part of a toilet paper scavenger hunt plus, everyone posed for mug shots as they had a 'Jailhouse Rocks' day.


Formal Fashions in Tempe is giving back through the pandemic by manufacturing masks for local health care providers. So far this week, more than 700 masks have already been made and more are coming in weeks ahead. Sew Sweet Angel Gowns is donating the fabric needed to make the badly needed masks.
Kathryn Rose of Glendale is making surgical masks to send to the Westchester County Department of Health in White Plains, New York. She said she is using scraps of fabric she already had on hand. If you want to help, she suggests watching the following video. You can download the pattern needed and instructions.
Christi Rich in Sun City wants to say thank you to Gina Ogle who is making masks for health care workers in the Valley. Ogle also made a video with instructions on how to make masks too.
Tara Cooke shared her 8-year-old daughter's chalk picture she created while social distancing.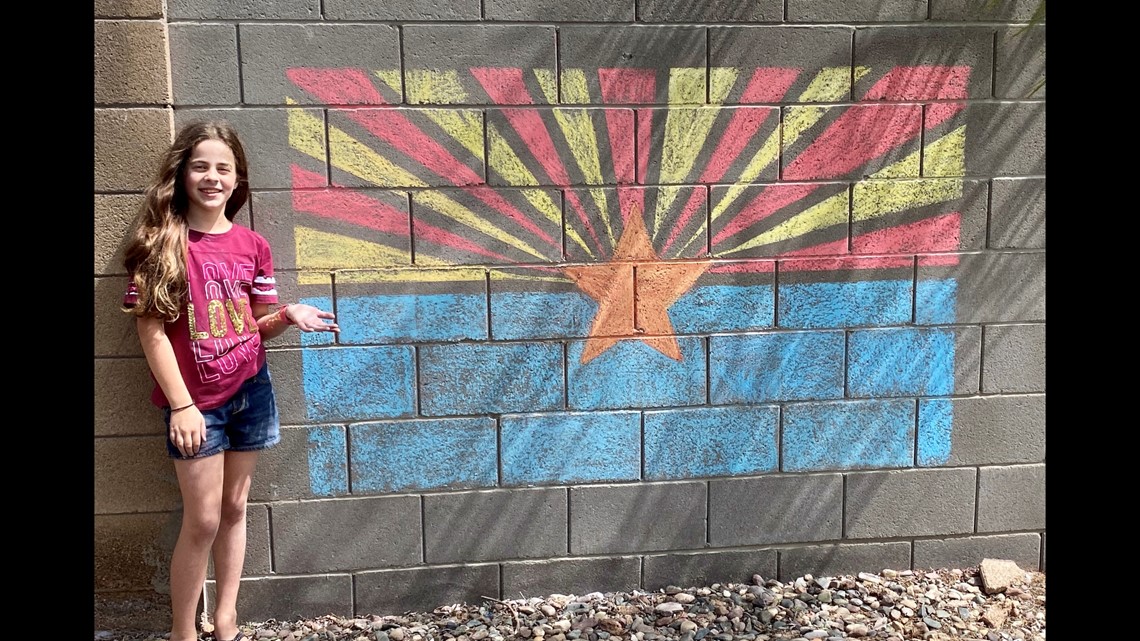 The Hernandez family is thankful if the teachers at Chaparral Elementary School who drove through neighborhoods and waved at students offering a familiar face during these difficult times.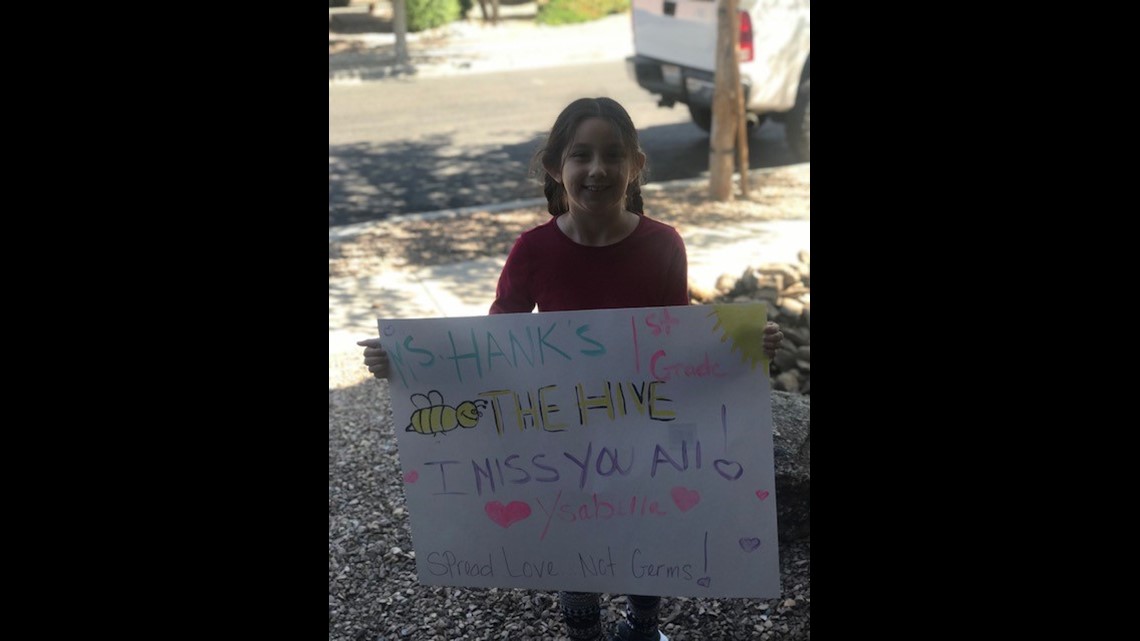 Linda H. shared photos of her daughter and family having a "snowball" fight with her neighbor's family. Linda says her daughter had to make the "snow" first and they practiced social distancing during the snowball fight.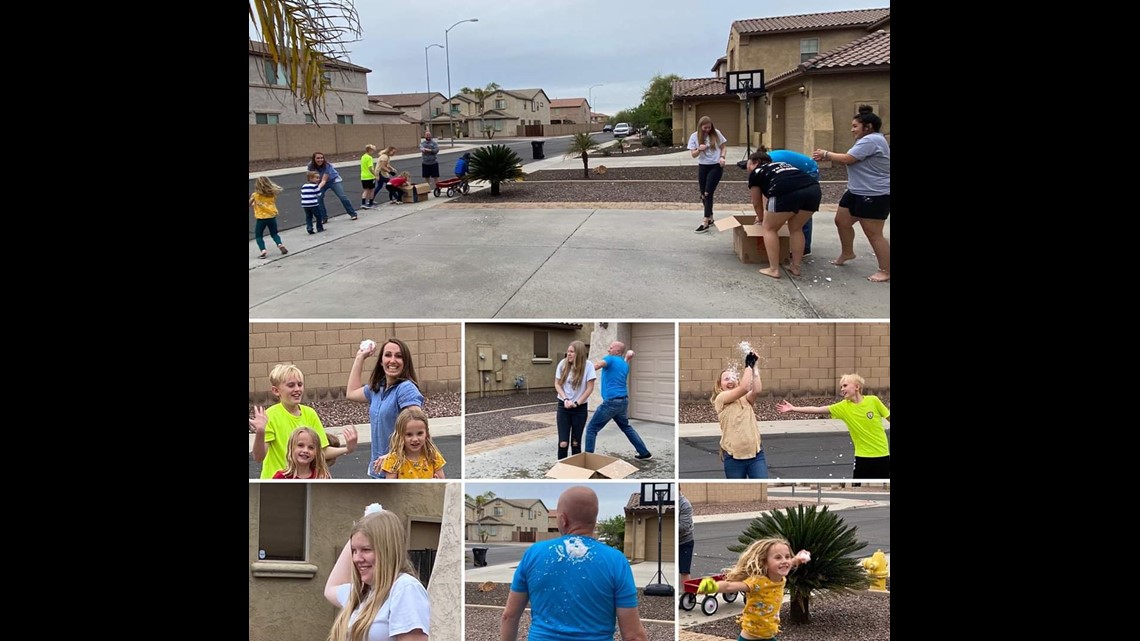 Tommy and Gianna said they are thankful for the memory care center taking care of their nana is reading and sharing fun mail with its residents. They are sending cards, letters and pictures in the mail to her while she in on quarantine. Now, they've asked other relatives and even their neighbors to send her notes too.
Theresa Rulapaugh-Phelps shared a photo of herself and her mom during the quarantine, She said she was so excited and thankful for the caregivers at American Orchards. She said they are going above and beyond to make sure their residents are safe. She said she can't express how thankful she is for their sacrifices. She is also thankful they brought her mom to the window so she could look at her while they chatted on the phone.
A Phoenix event venue is paying its employees while being responsible and closing its doors. Chateau Luxe is closed to the public but for now, they're still able to pay employees their full time pay. Deepika Bhalla, the owner, is hopeful to be able to continuing paying employees until it is safe to reopen.
Ray, who is 92-years-old, and his son-in-law took advantage of Sam's Club new dedicated shopping days and special hours for seniors this morning and are sharing their thankfulness to the company. The manager of the Phoenix story Ray visited is Eddie Valles. We are told Eddie also supported a local business by offering smoothies for his employees during a meeting this week.
12 News graphic artist Ryan O'Connell was out hiking in the Phoenix Mountain Reserve when he ran across a man on the mountain top, playing the guitar. He stopped to chat with the man, Bob Gilson, who was celebrating his 70th Birthday. You can watch the video below.
Sarah W. shared video of Gilbert police Sgt. Ric Borom outside Costco Wednesday morning. Take a look at the video where the officer offered some information with a side of humor.
Kelli M. and her six-year-old son, Jullian, have been painting kindness rocks to leave around their neighborhood during walks. She said he really enjoys painting the rocks to make people feel better.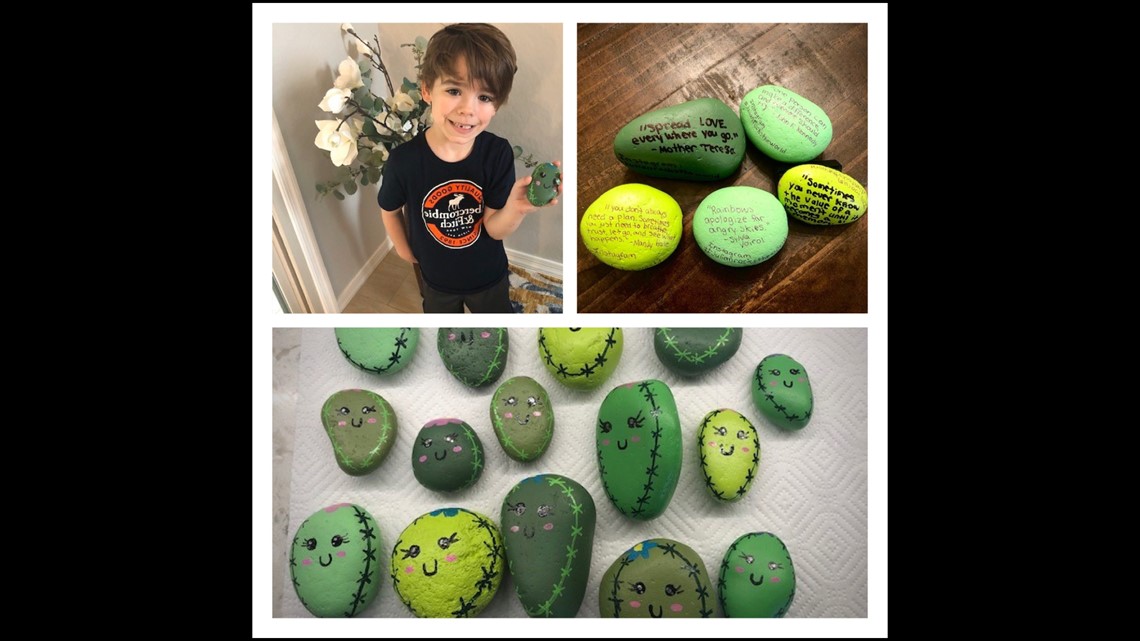 @SparkeySunDevil said social distancing might be keeping people at home but it didn't stop him from wishing Wyatt a very happy 5th Birthday thanks to technology.
With school out right now, many teachers are missing their students. That's why the teachers at Barry Goldwater High School are sending love to their kids with a fun video. The video description said BGHS is a Title 1 school where students need and crave interaction, so the teachers made this video to help bring smiles to their faces. Students in the district will start online learning April 6.
The staff at Kiddie Paradise care for children of the teachers who work at Paradise Schools. The staff spent three hours this week to drive by and wave at their students this week. The students and staff waved, blew kisses and screamed with excitement. Amy E. posted about it on Facebook and said it was worth every mile.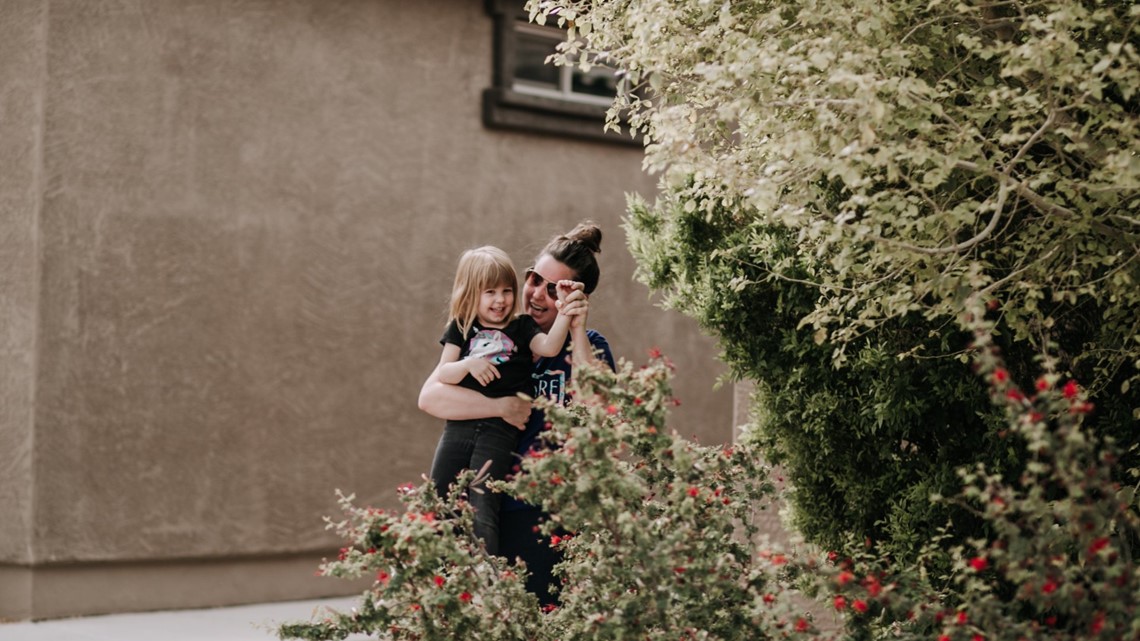 Ronald and Billie Kretschman want to thank health care workers and volunteers working to fight COVID-19. They posted a photo of flowers blooming in San Tan Valley and wrote, 'As seniors in Solera @Johnson Ranch we appreciate all the hard work and dedication of those helping to protect our citizens'.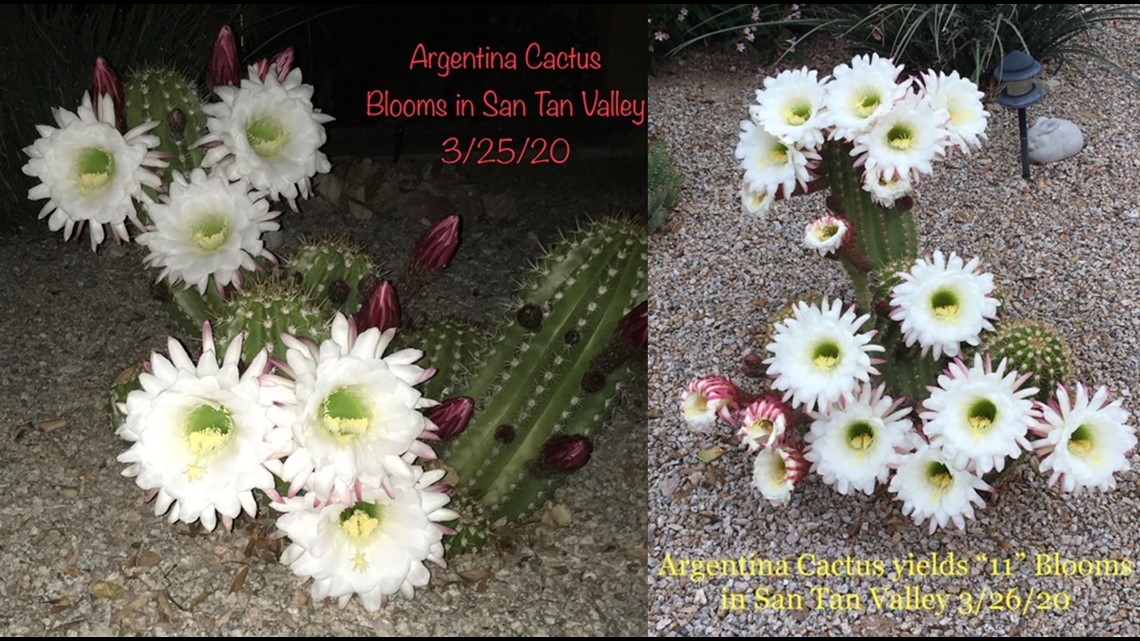 Josh McBride shared this photo of the Sheraton Phoenix Downtown Spreading love to the local area and the world!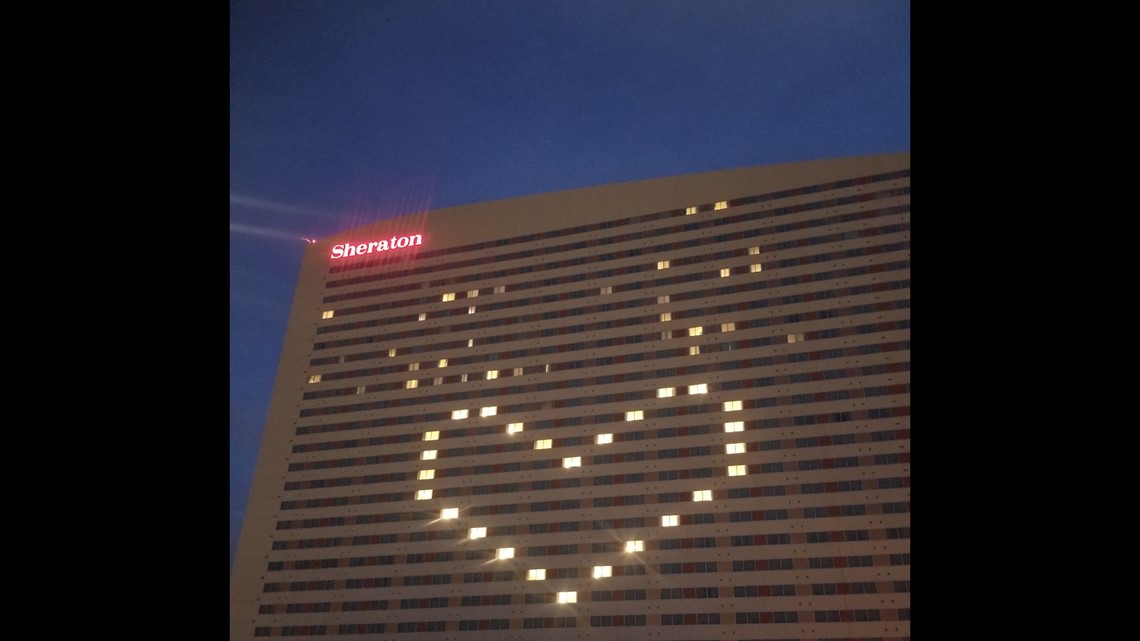 Leslie B. bragged on a group of seniors in Sun City who are staying busy sewing masks from all the material they had saved up. Joyce Shellito is the seamstress while the others have cut, ironed, pleated and sewed. So far, the group had made more than 500 masks to send to people who need them.
Nan from Sun City is painting rocks to place around her community for people to find while they are out taking a walk. She's also writing messages of support on the sidewalks. She said while she can't go near people right now, she can still send love to others.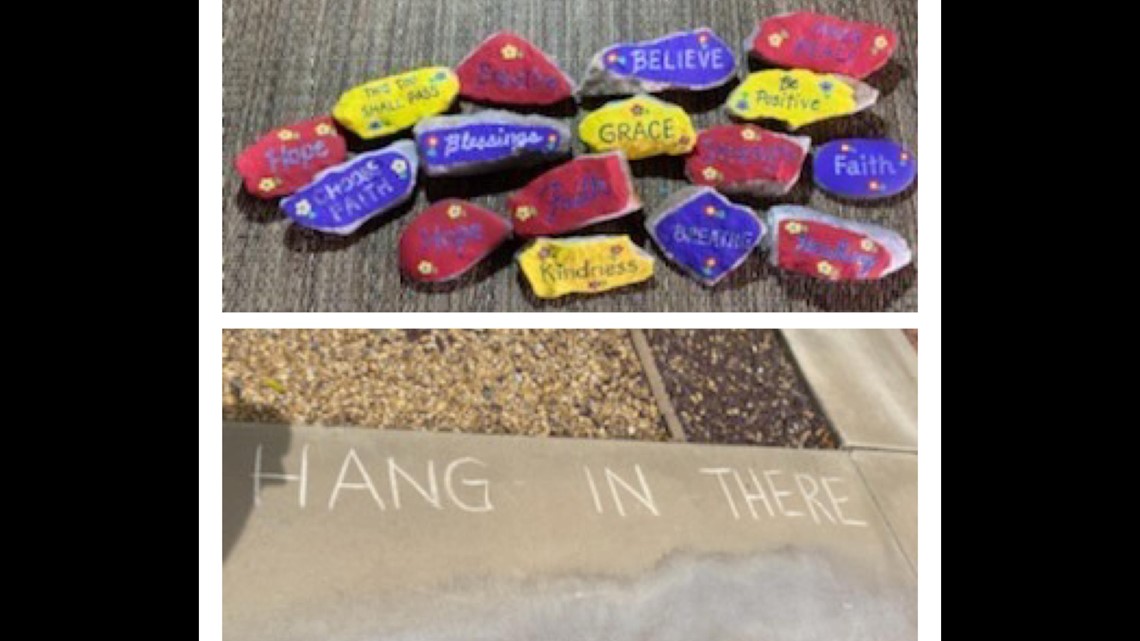 Pryce Morgan and his little sister, Preslie are spending time with their dad putting together a one-thousand-piece puzzle while in quarantine. Their aunt, Beverly, shared this photo.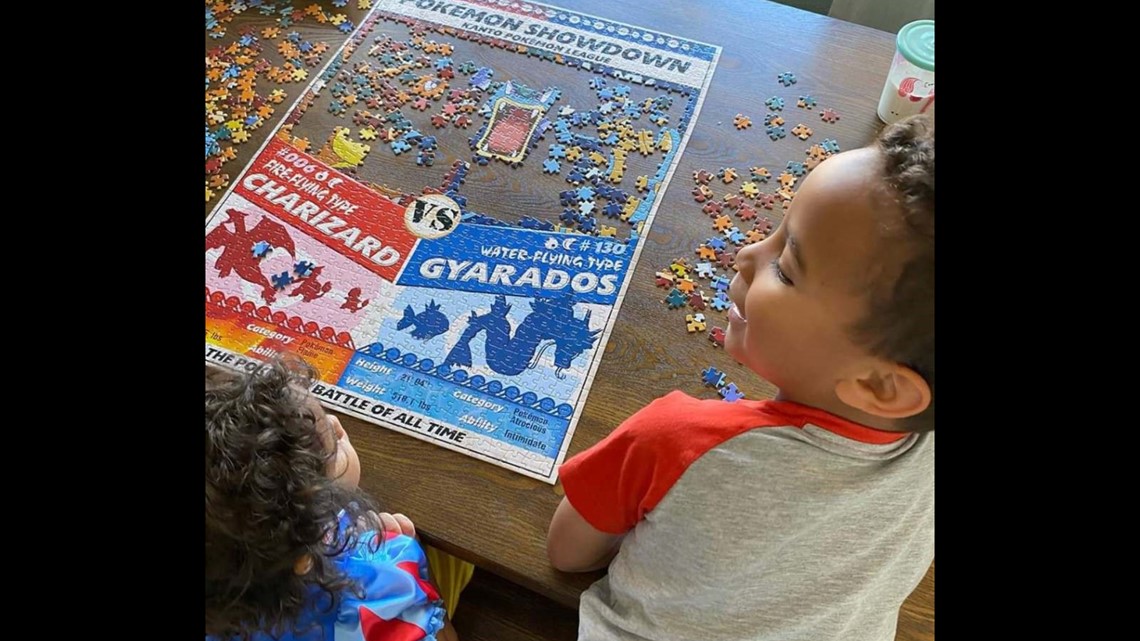 Licensed esthetician, Jessica Kishbaugh, shared this video and said, 'Since I can't work on clients, I decided to give my dog a facial'. Her dog, Milly, is a rescue from Arizona Animal Welfare League.
Megan S. in Mesa said she is offering encouragement to neighbors by doodling on her sandwich board and putting it in her driveway. She said she plans to change the sign often.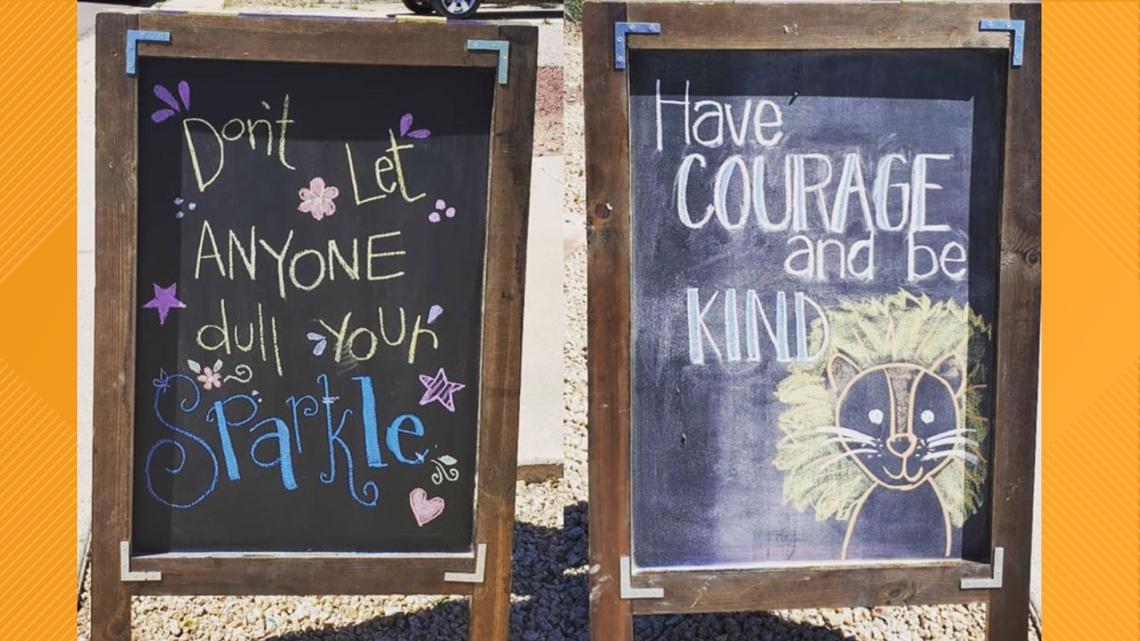 Cottonwood's community Recreation Center is providing their exercise classes on Facebook Live @Cottonwood Parks and Recreation Dept. and no membership is needed!
Musically Fed is using food from cancelled events to feed hundreds of families. The mission of Musically Fed is to mobilize the music industry in the fight against hunger. In one week, it's estimated 30,000 meals have been distributed in L.A. and Phoenix.
Cindy shared video of her Kindergartner presenting the forecast!
The Grid Bar in Mesa closed its doors for the safety of its employees and patrons allowing staff to take perishable food home to cook. Several employees live together but they also shared hot wings with an elderly neighbor. We are told they took precautions while cooking and made no contact on delivery to keep him safe. The Grid Bar says they do plan reopen when its safe.
Loren W. posted about a teacher going above and beyond. She said Ms. Lily brought a special Harry Potter to her daughter to encourage her to keep working on reading while schools are closed. She posted a picture of the teacher talking to her daughter through a closed window. Loren said her daughter has dyslexia and struggles with reading. She said she is thankful for teachers who are often not given enough credit for their dedication.
A community pantry for the public is now up and running in Laveen. The Facebook Group, Living Laveen, said the pantry is located at 4701 W. Dobbins Road and is for people who are in serious need right now. If you have some essential household goods, canned or boxed food to share, you can make donations at Amadio Ranch Farm Store.
Kay Edkridge and her family want to spread smiles, encouragement and good vibes with a family project. Her family created signs saying things like, 'share a smile today' and 'take care of yourself' to hang outside their home.
The United Chinese Association of Arizona donated boxes personal protection equipment, or PPE, including badly needed surgical masks and gloves to health care professionals at Valleywise Heath Medical Center.
Hilary L. said people in Anthem are putting teddy bears in their windows and yards so families out on walks can go 'bear hunting'. Families are encouraged to count the bears on the walk to see how many they can find.
Trish G. was worried about her mother in Dublin, Ireland. She asked people on social media to send her cards and letter. Then Trish would send a card of cheer to whomever they wanted.
Kris W. gave a shout out to her cousin, Christy C.M., who is helping those in need find supplies and deliver them. All with two school-age twin girls in tow!
Tamara C. said her mother is stuck at a facility in Scottsdale when she should have been going home. The family went to see her mother and shared some cheer.
Help us prove that our hearts will remain united, even through the toughest of times.