PHOENIX — Under Governor Doug Ducey's executive order, bus drivers are essential workers. But, a Valley bus driver is opening up to the 12 News I-Team saying he has been given little to no protective equipment and is not getting paid while he's home sick.
"Please do something for us," pleaded the bus driver.
The driver asked 12 News to remain anonymous. He's scared that despite the many years he has worked as a driver, he will lose his job for speaking out.
"There's doctors on our buses, there's grocery store folks. Take care of us," the driver said.
Bus drivers keep the cities moving, so they are considered essential. According to a Phoenix public transportation spokesperson, operators are being provided with hand sanitizers, gloves and masks as supplies are available."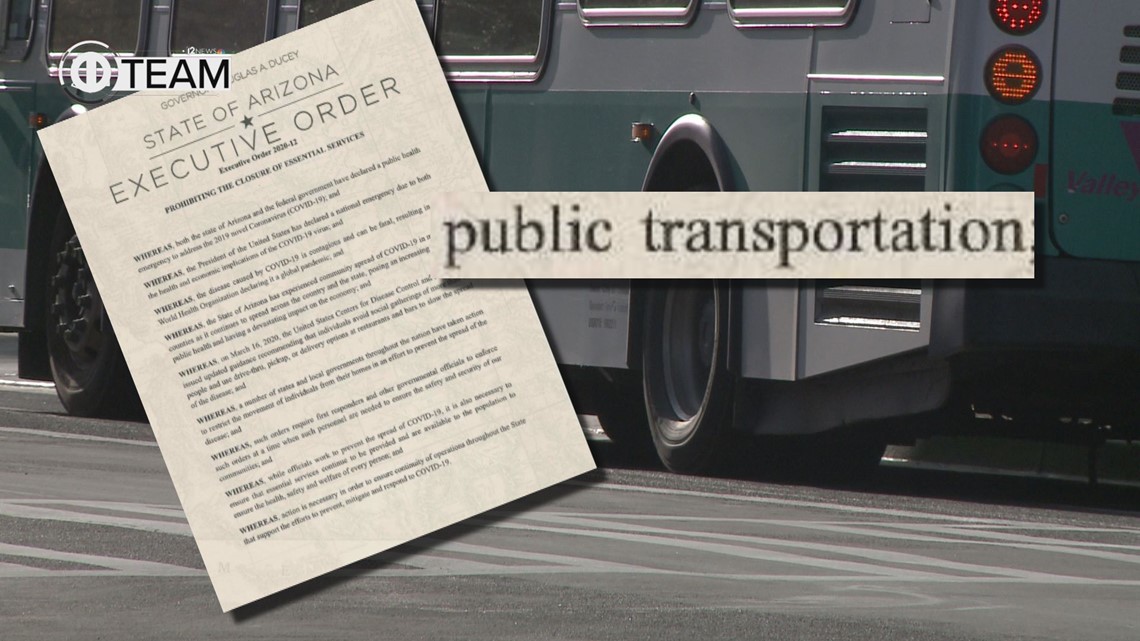 This driver says all he has received is a single pair of gloves.
"Why don't we have masks? Why don't we have that? And I'm not saying we are nurses. I'm not saying we are doctors. We are important and we have a right to be protected."
After being exposed to dozens of passengers per shift, the driver says he is sick and showing symptoms of the highly contagious virus.
Since he has been home sick, he says he has not been paid.
"You got the headache, you got the dry cough, you got the fever," the driver said.
The worst case scenario he fears has already become reality in at least one case.
"To those who are watching, I'm just letting you know this is real and y'all need to take this serious," said Jason Hargrove, a bus driver in Detroit.
Two weeks after posting a Facebook live video criticizing a passenger for coughing and not covering their mouth, Hargrove died from the coronavirus.
"It's scary and it eats at us every day," said Bob Bean, the local transport union president in Phoenix.
Bean says there are new protocols made in an effort to protect drivers.
"I think we're making great strides. Not as fast as anybody would have really liked. To see but We've got no fares right now, we've got rear door entry and exit, Plexiglas barriers or sneeze guards are going up," Bean said.
So far, Bean says three Valley drivers have tested positive for COVID-19 as of Wednesday. But drivers fear that number could still go up.
"If you need me on this bus to move this city around the way you need me to move it, then treat me with some respect," the anonymous Phoenix bus driver said. "I'm out here on the front lines."
12 News has reached out to the three private companies that contract public transportation in the Valley asking them what the financial security is for bus drivers who are put on quarantine. So far, none of them have answered that question.
On April 13, the number of passengers on each bus will be limited to appropriately social distance.