PHOENIX — Key updates:
There are now at least 403 cases of COVID-19 in Arizona
The number of deaths in Arizona was updated to six Wednesday
Schools will remain closed through April 10 in Arizona
Maricopa County has the most cases at 199
Banner Health is opening 4 drive-thru COVID-19 testing sites in Arizona
Ducey issued two executive orders regarding commercial lab testing and essential services.
The Gila River Indian Community announced its first confirmed COVID-19 cases.
An employee on the Salt River Pima-Maricopa Indian Community tested positive for COVID-19
New Arizona order protects renters from eviction during coronavirus outbreak
First two cases of COVID-19 in Mohave County
Scroll down for key national updates.
RELATED: There are now 403 cases of coronavirus in Arizona, 6 deaths
Wednesday:
First case confirmed on the Salt River Pima-Maricopa Indian Community
An employee on the Salt River Pima-Maricopa Indian Community tested positive for COVID-19, tribe officials announced Wednesday.
The person does not live in the community and is a member of another federally recognized tribe.
The employee was isolated at home, and health officials are providing guidance to anyone who may have been exposed.
First Mohave County cases
The first confirmed case of coronavirus was reported in Mohave County on Wednesday morning and another in the afternoon.
Both individuals are adults recovering at home.
You can find more information at the link below.
RELATED: 1st confirmed case of coronavirus reported in Mohave County
Coronado National Forest shuts down group-use sites

Campgrounds, day-use sites, and other developed recreation facilities will be closed to discourage high concentrations of visitors.
Recreation opportunities on the forest include hiking and biking on trails, dispersed camping and other activities that support social distancing and small groups.
$5.3 million to go to senior meal programs
Arizona received more than $5.3 million in grant funding to help Arizona communities provide meals for seniors.
The $5,356,670 for senior meal programs will support both meal delivery programs and programs serving senior centers.
The grant money comes from the Department of Health and Human Services and is part of a relief package signed by President Donald Trump.

"These dollars will help Arizona keep our seniors safe and healthy at a critical time," Gov. Doug Ducey said in a statement.
"I'm grateful to members of both parties who supported this legislation and to the Department of Health and Human Services for making these resources available."
Phoenix-based bedding company to make hospital beds
Brooklyn Bedding, a company that is based in Phoenix, announced Wednesday that it would "repurpose its proprietary technology" to produce hospital beds in the face of the COVID-19 pandemic.
The new hospital mattress features and benefits will include:
A proprietary vinyl cover with creased corner seals to resist liquid permeability
Dual comfort and support foam layers, including a Tri-Zone convoluted core
CertiPUR-US certified foams for patient health and safety
California Prop 60 compliant materials
Standard as well as non-standard sizes to accommodate all types of bed frames
On-demand production to alleviate excess inventory
Roll pack processing that allows for bed-in-a-box delivery direct to hospitals and government agencies in need
Peoria deli to hand out free bread
Heidi's Brooklyn Deli in Peoria will give away freshly-made bread from 1 to 3 p.m. Thursday.
Free unlimited car washes for health care workers
Quick Quack Car Wash is offering Valley healthcare professionals free "best single unlimited car washes" at all of its locations through March 31.
Healthcare professionals can redeem their wash by visiting any of our 11 Valley locations and showing identification. Here are the locations.
Phoenix Children's Hospital physician tests positive
A physician with the Phoenix Children's Hospital tested positive for the coronavirus, the hospital announced Wednesday.
In a series of tweets, officials said a "member of our team" tested positive for COVID-19.
"This employee followed best practices and is recuperating at home," part of the tweets read.
You can read more at the link below.
RELATED: Phoenix Children's Hospital physician tests positive for coronavirus
Ducey wants changes to federal food assistance programs
Arizona has requested permission from the United States Department of Agriculture, Food and Nutrition Services to implement program changes to expand access to nutritious foods through the Supplemental Nutrition Assistance Program.

"Arizona is focused on making sure families impacted by COVID-19 have the assistance and resources they need," Ducey said in a statement.
"We want these resources to be easy to access and available for all who need them. We'll continue working with our partners in the government, non-profit and private sectors to come together and support Arizonans in need."
Petrified Forest National Park closed
Petrified Forest National Park is closed until further notice.
The modifications were announced Wednesday to implement the latest guidance from the White House, Centers for Disease Control & Prevention, and local and state authorities to promote social distancing and slow the spread of the novel coronavirus.
Tuesday:
Coronavirus-related deaths in Arizona up to 6 on Tuesday
The number of deaths from coronavirus in Arizona increased to five on Tuesday.
There are at least 327 reported cases so far in the state, with 199 of them in Maricopa County alone.
New Arizona order protects renters from eviction during coronavirus outbreak
An order from Arizona Gov. Doug Ducey Tuesday will prevent renters from evicting tenants who are under quarantine or are financially unstable due to the coronavirus outbreak.
The state order will stay in effect for 120 days. The announcement comes a week after the U.S. Department of Housing and Urban Development and Federal Housing Finance Agency each announced a 60-day suspension on all evictions on properties it's financed across the country.
15 Arizona State students have tested positive for coronavirus
There are about 15 reported cases of ASU students who currently have COVID-19, whether they are at home or still in Arizona, with only one student hospitalized due to a pre-existing condition, Crow said, according to The State Press.
Gov. Doug Ducey's office launches 'Arizona Together'
The Arizona Together resource, according to the governor's office, "brings together resources for individuals, businesses and volunteer opportunities."
People affected by the coronavirus outbreak who are seeking immediate crisis counseling can also call the Disaster Distress Helpline at 1-800-985-5990, available 24-hours-a-day, seven-days-a-week.
Coconino National Forest closes recreation, day-use sites
Coconino National Forest closed its developed recreation and day-use sites indefinitely to protect public and employee health amid the coronavirus outbreak.
The vast majority of the forest is still open to visitors who want to spend time outdoors participating in recreational opportunities that support social distancing, such as hiking and biking on trails, and dispersed camping.
The following developed recreation sites, facilities, and restrooms are closed.
RELATED: There are now 326 cases of coronavirus in Arizona, 5 deaths
Pet adoption fees reduced to help clear shelters
The BISSELL Pet Foundation said Tuesday it will sponsor reduced adoption fees across the country to assist animal shelters that are struggling with fewer volunteers and staff to care for their animals.
"Many shelters have already been forced to eliminate all foot traffic in their facilities, so overcrowding is becoming a real issue, Cathy Bissell, founder of BISSELL Pet Foundation, said in a statement.
"Organizations are scrambling to find fosters to take pets in during this desperate time and they need our help. That's why BPF will also reduce fees for foster-to-adopt cases."
You can adopt a pet from Maricopa County Animal Care and Control for $25 by viewing adoptable animals online at www.bissellpetfoundation.org/ets.
Monday:
Gila River Indian Community confirms first positive test results
The Gila River Indian Community announced two people tested positive for COVID-19. The two people were tested last week, and the results were returned Monday.
Gila River officials said one of the patients is a member of the Gila River Indian Community, and the other is a member of another federally recognized Native American tribe.
Both of the people are at home in isolation. Neither of them required hospitalization, health officials said.
Stephen Roe Lewis, governor of the Gila River Indian Community, said of 39 tests that were conducted, these two were the only positive results received.
Pima County reports first death
Health officials reported the first COVID-19 death in Pima County.
A woman in her 50s with underlying health conditions died Monday evening.
It is the third coronavirus death in Arizona.
Ducey issues new executive orders on March 23
During a press conference Monday, Gov. Ducey said he issued two more executive orders.
One order requires commercial labs to report numbers of tests they've done on COVID-19.
Another order details "essential services" in Arizona as businesses that will not close during this time.
Essential services are health entities, long term care facilities, grocery stores, government entities, post offices, restaurants that offer takeout, delivery or drive-thru services, transportation, hotels, funeral homes, professional and personal services, residential facilities and more.
FULL LIST: Here are the jobs considered 'essential services' in Arizona
"This order will allow workers and employees to plan on what things look like in the weeks ahead," Ducey said.
He added that the state is not moving to a stay-home policy at this point.
Number of cases in Arizona rises 55%
The number of people who have been diagnosed with the COVID-19 coronavirus in Arizona is on the rise.
The latest numbers in Monday's report from the Arizona Department of Health Services showed there are now 235 cases of COVID-19 in Arizona and two deaths, up from 152 cases on Sunday with two deaths.
The Arizona Department of Health says the risk to the community is "increasing with some areas of heightened risk," labeling the community spread as "moderate."
Total cases: 234
Deaths: 2
Number of people tested: 352
Number of people ruled out: 309
Number of tests pending: 6
Here's the breakdown of cases county-by-county:
Maricopa County: 139
Pinal County: 17
Pima County: 24
Coconino County: 17
Navajo County: 25
Apache County 4
Cochise County: 1
Graham County: 2
Santa Cruz County: 1
Yavapai County: 3
Yuma County: 1
RELATED: Here's how to get tested for coronavirus in Arizona
Arizona Friends of Foster Children Foundation holding basic-needs drive for aged-out kids
The Arizona Friends of Foster Children Foundation will be collecting items to help support the local youth that have aged out of foster care and have been hit hard during the pandemic.
The event will run March 23 through March 26 from noon till 3:00 p.m. each day at the Thrive AZ office at 3110 East Thunderbird Road.
The AFFCF stated they desperately need items such as:
Toilet paper
Diapers (Newborn-Size 6)
Wet Wipes
Cleaning supplies
Hygiene items
Food
Gift cards (gas, grocery, drive-thru restaurants, and food delivery services)
Those interested in volunteering during the event may call Thrive AZ at 602.281.6192.
University of Arizona scientists develop, manufacture COVID-19 test kits
Steve Voeller, the vice president of government and community relations at University of Arizona, said scientists developed and manufactured 1,600 test kits this weekend and hope to make 7,000 more this week.
Banner Health to open 4 drive-thru COVID-19 testing sites in Arizona
Banner Health announced Monday there will be a new process to test for COVID-19 in Arizona and it includes drive-thru testing sites.
There will be three testing sites in the Phoenix metro area and one in Tucson. Several more are expected to be open later.
Those concerned about symptoms or exposure to the virus can now call Banner Health at 1-844-549-1851 to speak with a clinical team member to determine if they should be tested.
Maricopa County health officials did not know coronavirus diagnosis until after man's death
County health officials confirmed that they did not learn of the man's COVID-19 diagnosis until Friday after the man had died.
"He was never really given a chance to fight this." Rose Abell, a friend of the man said.
The man had underlying medical conditions and was in his early 50's.
All Arizona schools ordered to close through April 10
Gov. Doug Ducey and School Superintendent Kathy Hoffman announced Friday an extension of the state-wide school closure through April 10.
The original decision to close schools, in response to the spread of the coronavirus, creates new uncertainties for the families of Arizona's more than 1 million schoolchildren.
All schools were ordered closed -- public, charter, private and parochial.
Tempe Lab begins testing for COVID-19 to speed up turnaround time
Sonora Quest Laboratories announced they have begun testing nasal and throat swabs at its main lab in Tempe. This will allow the lab to get results out quicker and increase the number of tests it can run a day for Arizona patients.
Initially, specimens were sent to their parent companies in California who ran the tests, according to press release. Now, after investing in infrastructure and equipment, the company will be able to conduct tests locally for nasal and throat swabs.
Non-swab respiratory samples will still be sent to its parent companies.
Sonora Quest requires a physician to order a COVID-19 test. Patients are asked to contact their doctor if they are experiencing symptoms or may have been exposed to the virus.
Attorney General Brnovich and Senator Sinema issue warning after reports of COVID-19 scams targeting seniors
Attorney General Mark Brnovich and Senator Kyrsten Sinema issued a joint-statement Monday regarding reports of seniors being targeted for coronavirus-related scams.
Fake miracle cures, shopping thieves, door-to-door sanitization services, robocalls, official-looking phishing emails, and government impostor scams are on the rise as the "unethical try to gain access to the financials of Arizona seniors," the statement said.
Officials are warning people to be vigilant and report fraud. If you need a complaint form sent to you, you can contact the Attorney General's Office in Phoenix at (602) 542-5763, in Tucson at (520) 628-6648, or outside the Phoenix and Tucson metro areas at (800) 352-8431.
Key national updates for March 25, 2020
The White House and Congressional leaders reached a deal on a $2 trillion rescue package Wednesday to help working and laid-off Americans, businesses and hospitals. It still faces votes in the House and Senate.
Prince Charles, heir to the British throne, has tested positive for coronavirus. The palace says he has mild symptoms.
New Zealand has declared a state of emergency.
South Korea is sending testing materials to the U.S. It is also issuing a quarantine for people arriving from the U.S.
Britain will shut down Parliament for four weeks.
Starbucks will offer free brewed coffee to first responders until May 3. This includes police officers, firefighters, paramedics, doctors, nurses, hospital and medical staff and medical researchers.
Here is a link to some coronavirus myth-busters, according to WHO.

Coronavirus facts you should know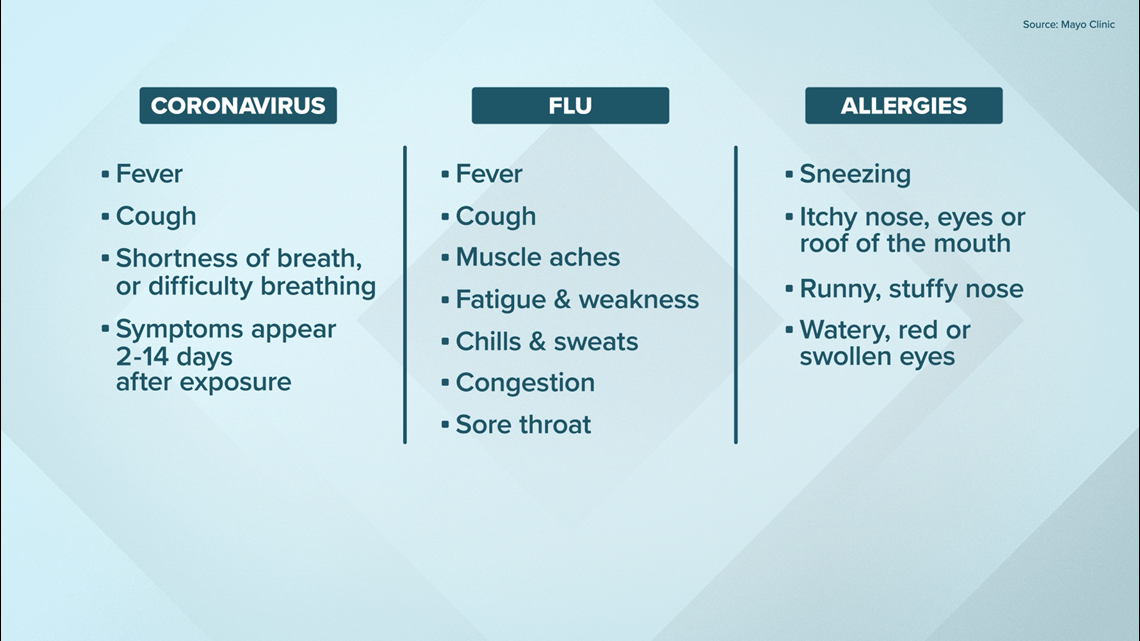 More coronavirus in Arizona stories:
-Arizona trails experience overcrowding during coronavirus pandemic
-GCU urges students to return home, moves Phoenix campus to online-only
-Gilbert woman says she tested positive for coronavirus
Feel good stories:
-#SendTheLove: Surprise woman inspires donation drive for those at risk
-Opera singer serenades father stuck in coronavirus quarantine
-St. Vincent de Paul feeds Phoenix community amid coronavirus outbreak
-Baby Mylo meets family through window amid COVID-19 pandemic