ARIZONA, USA — The state's COVID-19 statistics are updated daily to inform us about how Arizona is battling the virus.
But, when trying to decide whether or not to take your family to the Valley's newly opened restaurants or parks, what stat is the most important to look at?
According to health experts, the most important stats aren't even on the front page of the state's data dashboard.
The former Director of the Arizona Department of Health Services, Will Humble, said that case and death numbers should not be the stats that guide your decision to leave your home.
"The data point that I think is most useful is…the number of new hospitalizations per day," Humble said.
Humble wasn't the only expert who thought that. Dr. David Engelthaler from TGEN's Pathogen and Microbiome Division also said that whether the state's hospitals are overwhelmed is a good indicator of the progress the state is making.
"Looking at...in our community, are the hospitals overwhelmed or not?" Dr, Engelthaler said. "And, the good news, is that they're not. We have plenty of ICU beds and plenty of emergency room beds."
Hospitalizations, it turns out, are what people should be focusing on. The reason being is that hospitalizations aren't affected by the testing "drama" that the state had, Humble explained.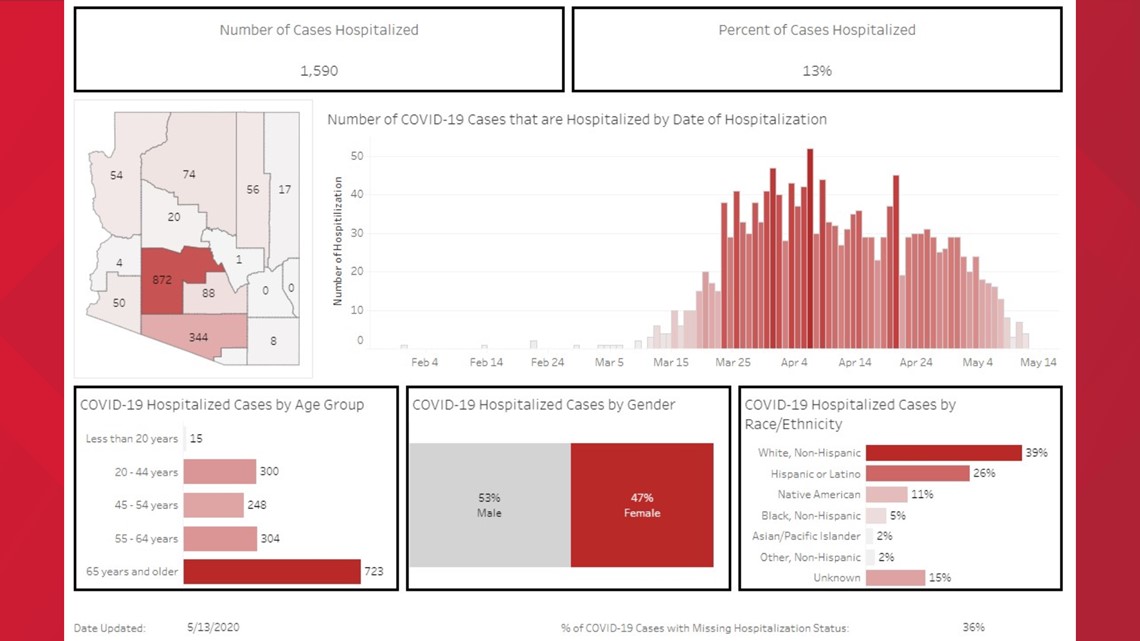 "In March, and even into April, there was really limited testing capacity in Arizona," he said. "If you look at the pure number of cases over that time period, it's artificially low because we had such limited testing capacity."
The amount of COVID-19 cases in the state may look like they've only drastically increased week by week, and that the virus is only spreading more throughout the state.
That is not accurate, Humble said. It doesn't mean that the virus is getting worse. It only means that testing is becoming more accessible and widely available.
"The new hospitalizations per day graph gives you a better objective view of where we are in terms of the spread of the virus in Arizona, especially when it comes to high-risk people," he said.
"The graph won't lie to you. It'll show that we've been on a slow decline for the past few weeks when it comes to new hospitalizations. That's a good thing."