There is a lot of news regarding the coronavirus in Arizona.
In an effort to track the changes, 12 News has started a daily live blog.
Here is the live blog for Wednesday, April 29.
Gov. Ducey announces stay-at-home order extended through May 15 with modifications.
Ducey says retail stores can begin reopening with limitations voluntarily beginning May 4.
There are now 7,202 confirmed cases of coronavirus in Arizona as of Wednesday morning.
304 people have died from the virus or complications related to the virus in Arizona, as of Wednesday morning.
President Trump tells reporters he plans to come to Arizona next week.
The state does not record how many people have recovered.
Scroll down to see how many cases are in each ZIP code in Arizona.
Gov. Ducey extends stay-at-home order through May 15
Arizona's stay-at-home order will continue through May 15 with modifications, Gov. Doug Ducey announced Wednesday.
The order was originally supposed to end this Thursday, April 30.
This means non-essential stores and services have been ordered to remain closed, and residents are advised to maintain social distancing as much as possible.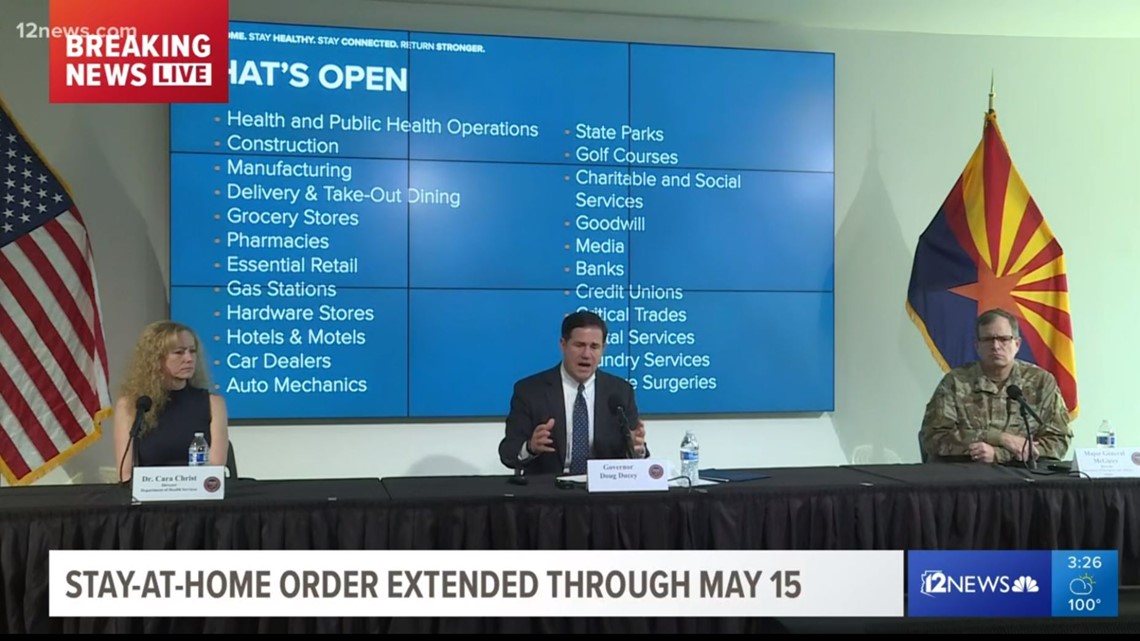 Ducey says retail stores can begin reopening with limitations voluntarily beginning May 4.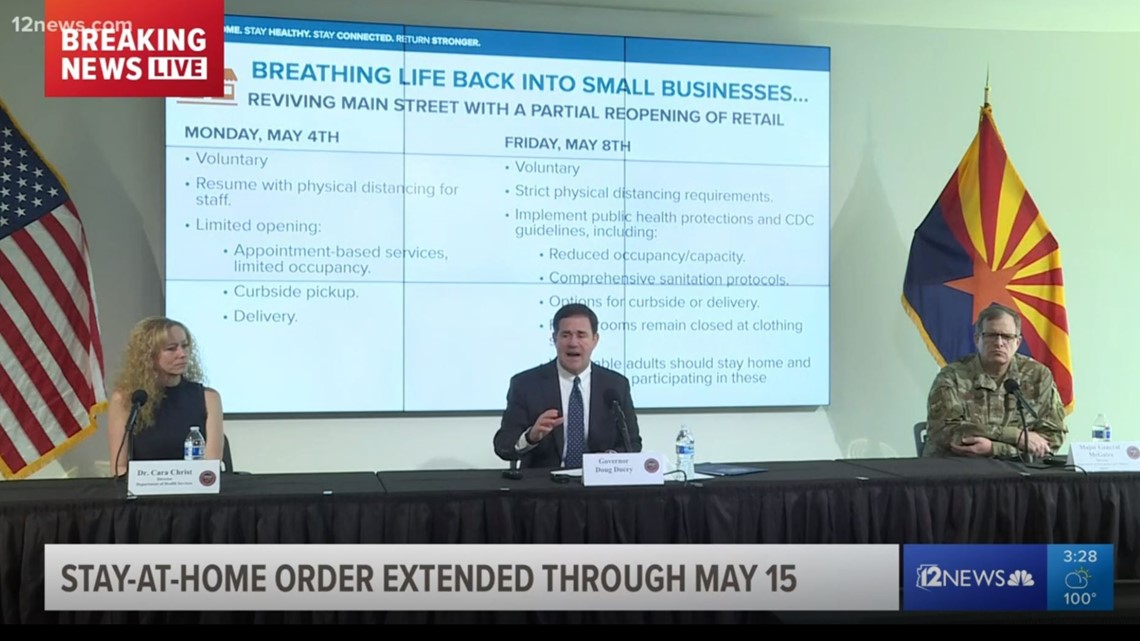 President Trump tells reporters he plans to come to Arizona next week
President Trump told reporters on Wednesday he plans to come to Arizona next week for an industry event, but it's too soon to hold political rallies.
There are now 7,202 confirmed cases of coronavirus in Arizona, 304 deaths
There are now 7,202 confirmed cases of coronavirus in Arizona, with 304 coronavirus-related deaths, according to the state's latest numbers.
Cases are up from 6,948 confirmed cases on Tuesday with 293 deaths.
One week ago, there were 5,459 cases and 229 deaths in Arizona.
Here's a county breakdown:
Maricopa: 3,723
Pima: 1,215
Pinal: 387
Coconino: 473
Navajo: 682
Apache: 392
Mohave: 105
La Paz: 8
Yuma: 65
Graham: 10
Cochise: 38
Santa Cruz: 31
Yavapai: 79
Gila: 12
Greenlee: 2
Arizona marked two milestones with the coronavirus on Wednesday: It was the first time the state had more than 7,000 cases and 300 deaths.
There were 254 new cases and 11 new deaths reported Wednesday.
There were 1,375 new tests reported, making a total of 68,813 tests reported to state health officials as of Wednesday.
Of those tests that have been reported, 9% were positive.
Mohave County also broke 100 cases for the first time.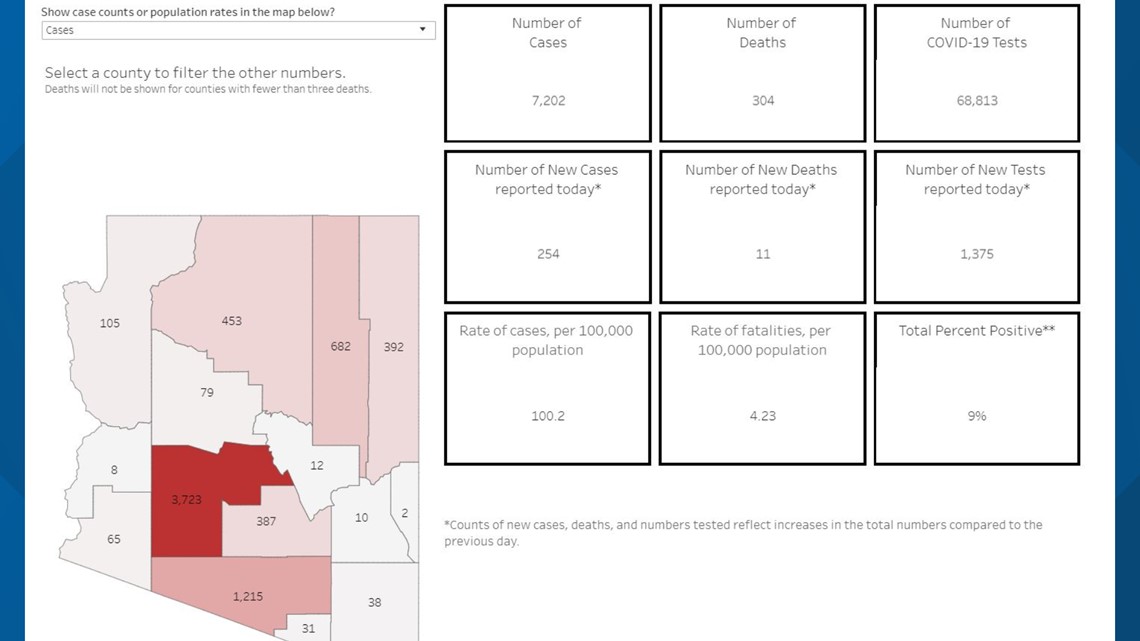 Maricopa County continued to have the highest number of cases in the state, with 3,723 cases as of Wednesday.
Pima County had the second-highest number of cases, with 1,215.
Navajo County had 662 cases, Coconino County had 453 and Apache County had 392 cases as of Wednesday.
The age group that continued to have the highest number of cases was 20-44, with 2,642 cases.
The 65-plus age group followed behind, with 1,803 cases.
The state still does not know the race or ethnicity of a majority of cases. Thirty-six percent of cases as of Wednesday were marked "unknown."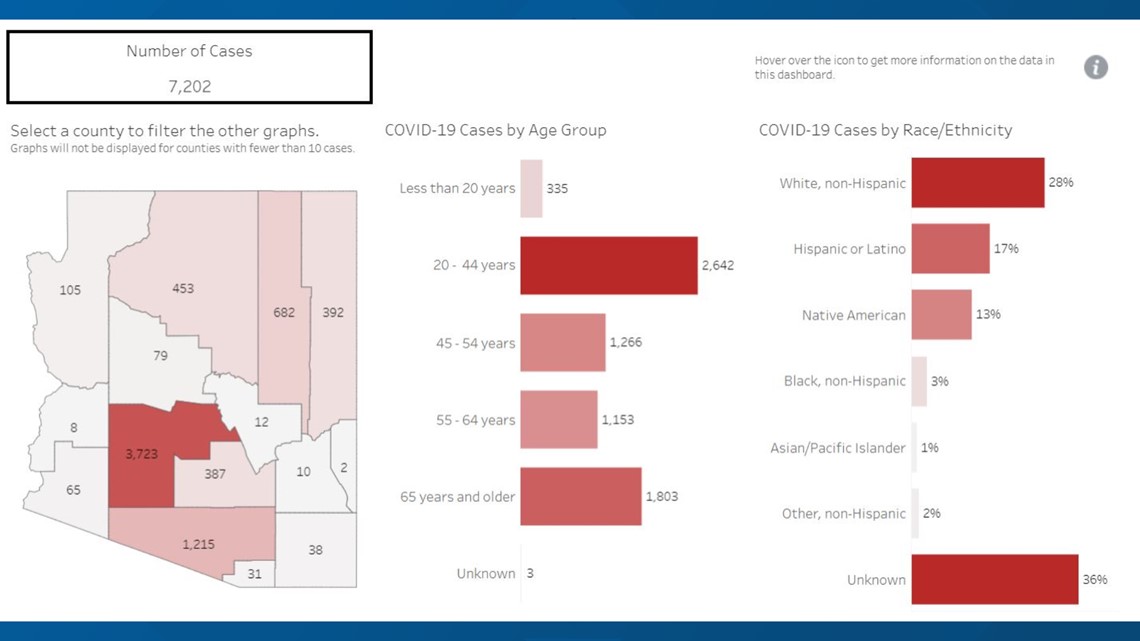 Women continued to make up a majority of cases in the state, with 53%.
People without a chronic medical condition made up 71% of cases and people who were not considered high-risk made up 57% of cases.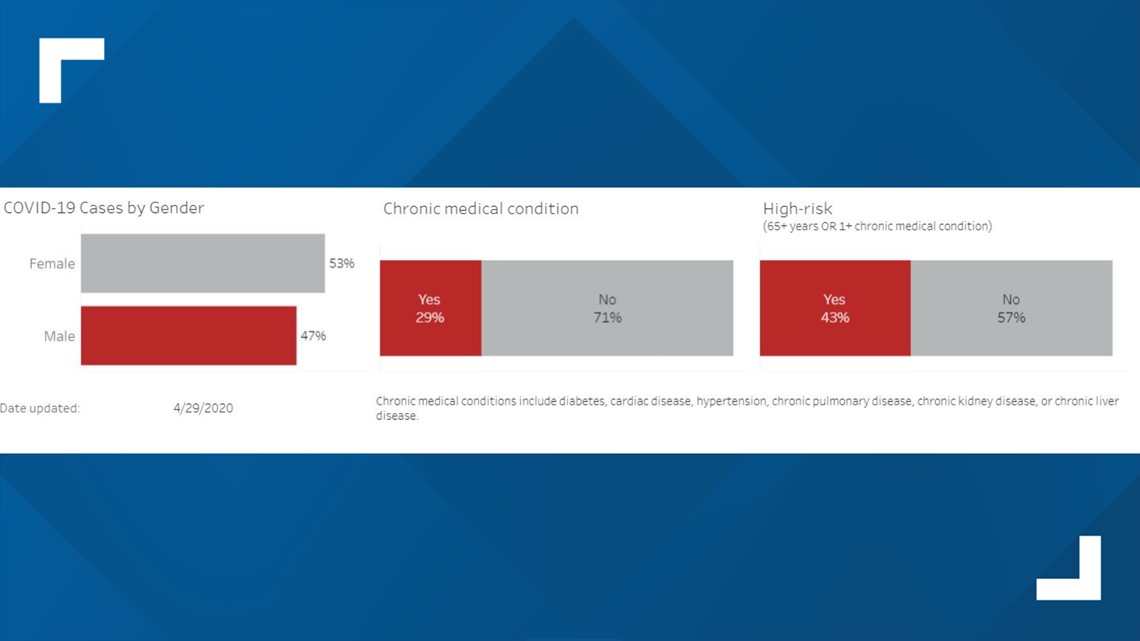 Maricopa County also continued to make up the highest number of deaths in the state, with 140 deaths, according to state health officials.
Pima County had 80 deaths and Coconino County had 38 deaths.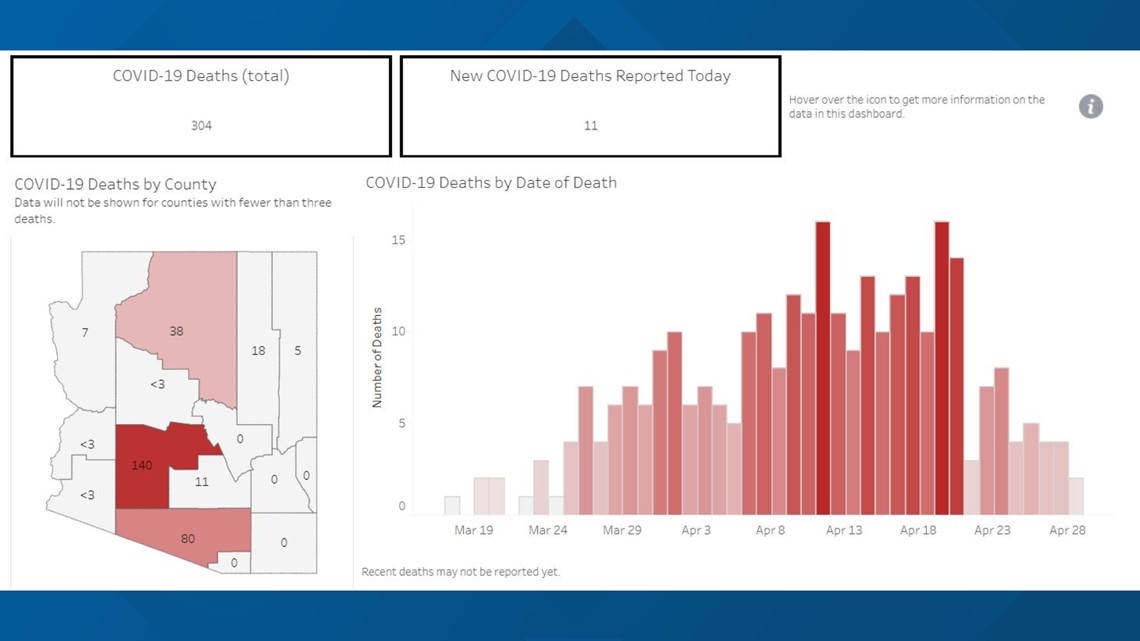 Men continue to make up the majority of deaths in Arizona, with 57% of deaths.
People over the age of 65 also continue to make up the majority of deaths, with 233.
The race and ethnicity is more known among the dead than the alive. Forty-nine percent of deaths are white, non-Hispanic people.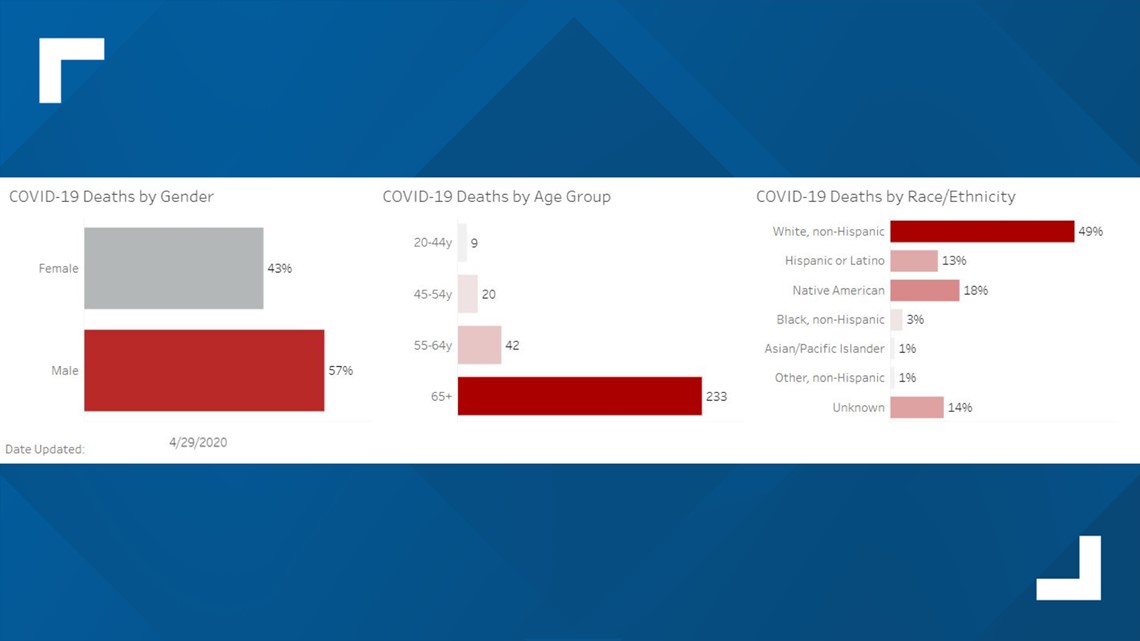 Arizona releases ZIP code locations of coronavirus cases, other data
The Arizona Department of Health Services has released expanded data points regarding coronavirus cases in the state.
You can see the current ZIP code map below and can find yours by clicking around or searching for your ZIP code in the top right of the map.
According to the state health department, there are 3,723 case and 140 deaths in Maricopa County.
The county health department had the same number of deaths but had recorded 3,718 cases.
There were 642 hospitalizations and 188 ICU admissions.
According to the county health department, the number of people diagnosed with COVID-19 in Maricopa County per day is "leveling off, but these numbers do not reflect testing ability."
County health officials said the best way to track COVID-19 trends in Maricopa County is to follow the number of hospitalizations because it does not change with testing availability.
According to the county, COVID-19 hospitalizations are leveling off.
"This means what we are doing seems to be working and we need to continue social distancing," county health officials said.
However, due to a lack of testing availability in the county, the number of cases only represent people who seek care and get diagnosed.
"Most people with severe disease get tested. Not everyone with mild disease is able to get tested."
The Mohave County Health Department said one of the previously identified hospitalized COVID-19 positive cases in the Bullhead City service area has died.
This person was in the 65+ range. The individual was not epidemiologically-linked to another case and it was not travel-related.
There are now 29 positive confirmed cases in the Lake Havasu City area, including three deaths, 65 in Kingman, with a total of four deaths there (including the three latest) and 11 in Bullhead City, including this latest death.
There are a total of 8 deaths in the county from the disease.
Yavapai County also had reported 80 cases in the county as of Wednesday, one more than the state had reported for the county.
Arizona governors urge Ducey to follow CDC guidelines
Three Arizona mayors are have urged Ducey to follow CDC guidelines order as the state's stay-at-home order expires at the end of Thursday.
Phoenix Mayor Kate Gallego, Tucson Mayor Regina Romero and Flagstaff Mayor Coral Evans issued a joint statement that read:
"We've seen other communities who have reopened too soon and paid the price in both public health and with a second economic shut down."
Gallego said earlier in the day that social distancing is helping lower the number of COVID-19 cases, and Romero also urged Ducey to extend his order.
TSA officer at Sky Harbor tests positive for COVID-19
A TSA screening officer at Phoenix Sky Harbor International airport and another employee that doesn't work with the general public were diagnosed with COVID-19.
The TSA website says the worker last worked at the airport on April 14. It didn't say what terminal the screening officer worked at.
So far, the TSA has had 500 employees test positive for with coronavirus. 208 of whom have recovered but and 5 have died as a result of the virus.
St. Mary's Food Bank to hold mobile food distribution Thursday
St. Mary's Food Bank is teaming with Arizona State University for the next major mobile food distribution on Thursday at Phoenix Municipal Stadium.
Families in need are invited to come from 8 a.m. to 10 a.m. or until the food runs out).
Volunteers will be helping the food bank distribute food boxes and food bags to families who have found themselves in food emergencies.
This is a drive-thru, no contact mobile pantry with social distancing measures strictly enforced.
Families must stay in their cars and one volunteer will load each car.
2nd inmate in Arizona prisons dies from coronavirus
A 79-year-old man with lung cancer became the second inmate in Arizona's prisons to die from the coronavirus.
The Pinal County Medical Examiner's Office says the prisoner known as Sittingdown died Friday at a hospital in Florence of COVID-19 and lung cancer.
Sittingdown didn't have a first name and also was known as Robert Proell.
He was serving a sentence for four convictions from Mohave County for sexual conduct with a minor.
The Department of Corrections, Rehabilitation and Reentry said it hasn't received verification on the cause of Sittingdown's death.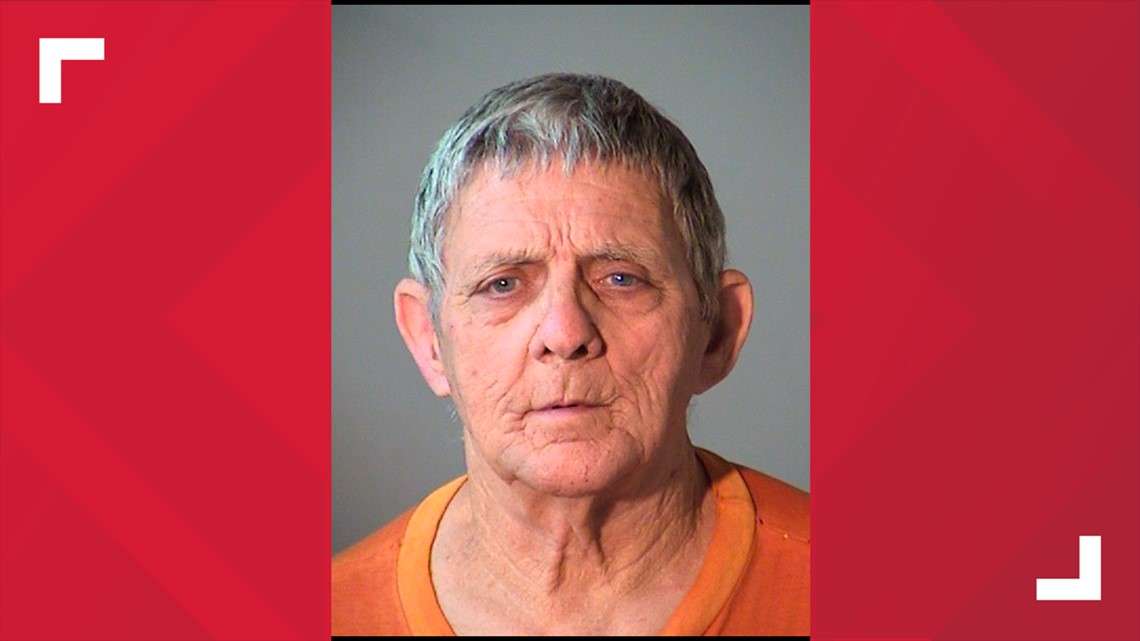 Voting-rights advocates look for election changes amid virus
Voting rights advocates are calling on Arizona officials to send a ballot to every registered voter for the primary and general elections this year and take other steps to ensure people can safely vote.
Citing infections linked to Wisconsin's primary earlier this month, the groups said nobody should risk their health to cast a ballot.
They want election officials to send ballots to everyone while preserving in-person voting opportunities for those who prefer it or can't vote by mail.
But the proposal faces long odds in the Legislature, where key Republicans say Arizona already makes it easy for people to vote by mail.
Lawsuit: US citizens with immigrant spouses should get help
The Mexican American Legal Defense and Educational Fund is suing the federal government over its denial of federal coronavirus relief payments to U.S. citizens who are married to immigrants without social security numbers.
The lawsuit was filed in Maryland on Tuesday on behalf of six American citizens who were denied coronavirus relief checks because they filed and paid taxes with a spouse who has what's known as an Individual Taxpayer Identification Number, or a way for immigrants without legal status to still pay federal taxes, which millions do.
Americans married to immigrants say they've been unfairly targeted.
Arizona organization gets $17.5M to help older adults
The Arizona Association of Area Agencies on Aging said it received $17.5 million from state and federal partners to support older adults through the coronavirus crisis.
The funds will help older adults obtain food, groceries, home care, and other critical services to remain safe and healthy.
"Older adults are particularly vulnerable during this crisis, with a vast majority of the deaths reported in Arizona being to those 65 and over," said Mary Beals-Luedtka, Director of the Northern Arizona Council of Governments Area Agency on Aging, Chair of the Arizona Association of Area Agencies on Aging and Chair of NANASP.
"This additional funding allows us to provide the support older adults need to remain in their homes and continue the proper social distancing measures to remain as safe as possible."
The Associated Press contributed to this report.
COVID-19 is believed to be primarily spread through coughs or sneezes.
It may be possible for the virus to spread by touching a surface or object with the virus and then a person touching their mouth, nose or eyes, but this is not thought to be the main method of spread, the CDC says.
You should consult your doctor if you traveled to an area currently affected by COVID-19 and feel sick with fever, cough or difficulty breathing.
There is no vaccine for the coronavirus, so the best way to prevent COVID-19 and other respiratory diseases is to:
Avoid close contact with people who are sick.
Avoid touching your eyes, nose, and mouth.
Stay home when you are sick.
Cover your cough or sneeze with a tissue, then throw the tissue in the trash.
Clean and disinfect frequently-touched objects and surfaces using a regular household cleaning spray or wipe.
Wash your hands often with soap and water for at least 20 seconds. If soap and water are not readily available, use an alcohol-based hand sanitizer.
You can text FACTS to 602-444-1212 to receive more information on the coronavirus and to ask questions.
Coronavirus facts you should know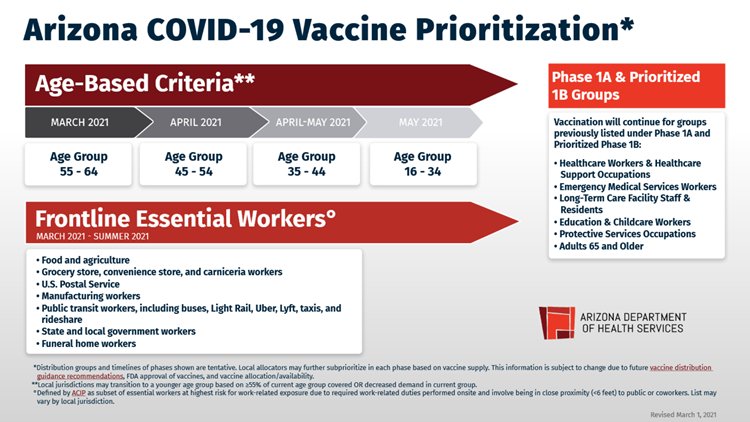 MORE ARTICLES FROM PAST WEEK: