PHOENIX — The number of coronavirus cases across the state rose to 773, with 15 deaths as of Sunday morning, according.
Here's a county breakdown:
Maricopa: 454
Pima: 120
Pinal: 41
Coconino: 56
Navajo: 57
Apache: 12
Mohave: 5
La Paz: 2
Yuma: 4
Graham: 4
Cochise: 3
Santa Cruz: 2
Yavapai: 12
Gila: 1
The age group in Maricopa County that made up the most amount of cases were 18-39, with 34%. Ages 40-59 and 60+ both had 33%.
There were two children between the ages of 0 and 17 who had coronavirus in Maricopa County.
Health officials in Arizona classified the community risk as "increasing with some areas of heightened risk."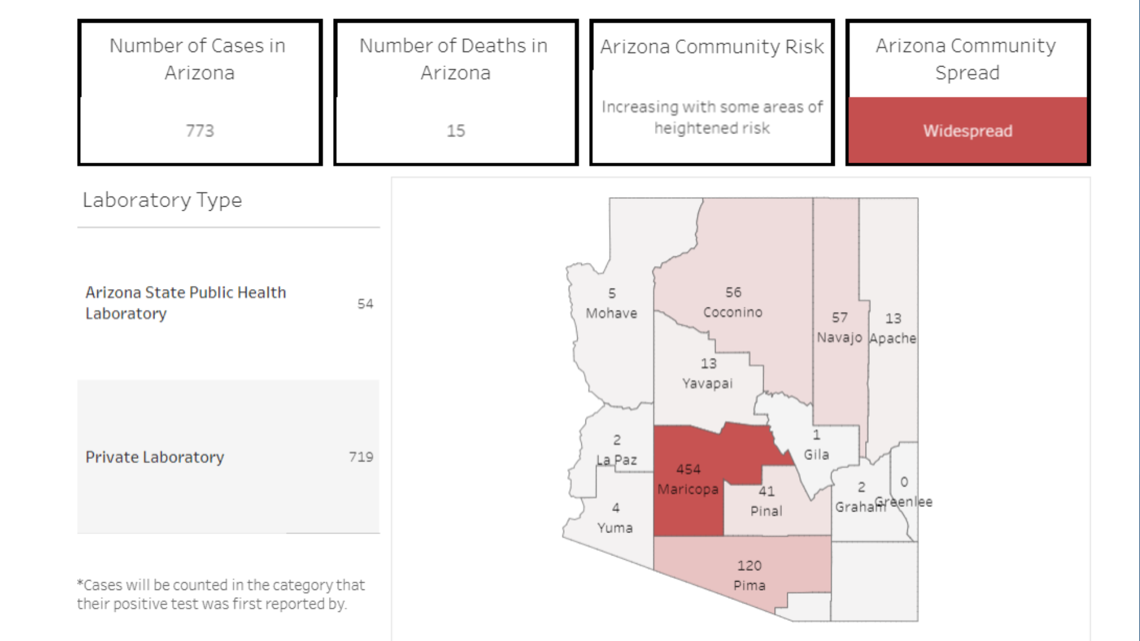 State health officials classified the outbreak as "widespread" in Arizona, meaning there were cases reported in 12 or more counties.
Fourteen of the state's 15 counties had confirmed coronavirus cases as of Friday.
The only Arizona county that has no reported COVID-19 is Greenlee County.
Gov. Doug Ducey has ordered all counties with confirmed cases of COVID-19 to close bars, movie theaters and gyms, and have restaurants provide dine-out options only.
Health officials said the number of cases is expected to "skyrocket" as more people get tested – though primary care physicians have been instructed to discourage tests because of a lack of supplies.
The state health department says computer models show that the peak of the outbreak in Arizona will happen in the middle or end of April. Most hospitalizations are expected in May.
COVID-19 is believed to be primarily spread through coughs or sneezes.
It may be possible for the virus to spread by touching a surface or object with the virus and then a person touching their mouth, nose or eyes, but this is not thought to be the main method of spread, the CDC says.
You should consult your doctor if you feel sick with fever, cough or difficulty breathing.
There is no vaccine for the coronavirus, so the best way to prevent COVID-19 and other respiratory diseases is to:
Avoid close contact with people who are sick.
Avoid touching your eyes, nose, and mouth.
Stay home when you are sick.
Cover your cough or sneeze with a tissue, then throw the tissue in the trash.
Clean and disinfect frequently-touched objects and surfaces using a regular household cleaning spray or wipe.
Wash your hands often with soap and water for at least 20 seconds. If soap and water are not readily available, use an alcohol-based hand sanitizer
You can text FACTS to 602-444-1212 to receive more information on the coronavirus and to ask questions.