There is a lot of news regarding the coronavirus in Arizona.
In an effort to track the changes, 12 News has started a daily live blog.
Here is the live blog for Monday, April 6.
There are now 2,456 confirmed cases of coronavirus in Arizona as of Monday morning.
65 people have died from the virus or complications related to the virus in Arizona, as of Monday morning.
The state health department is not tracking the number of recovered cases
There are now 2,456 confirmed cases of coronavirus in Arizona, 65 deaths
There are now 2,456 confirmed cases of coronavirus in Arizona, with 65 coronavirus-related deaths, according to the state's latest numbers.
Cases are up from 2,269 confirmed cases on Sunday with 64 deaths.
One week ago, the state had 1,157 cases and 20 deaths.
Here's a county breakdown:
Maricopa: 1,433
Pima: 415
Pinal: 106
Coconino: 163
Navajo: 210
Apache: 25
Mohave: 20
La Paz: 3
Yuma: 13
Graham: 2
Cochise: 9
Santa Cruz: 4
Yavapai: 49
Gila: 3
Greenlee: 1
Maricopa County's official numbers on their website show 1,433 cases of coronavirus in the county as of Monday morning.
According to the county, there are 35 cases in ages 0-19.
The 20-44 age group has 39% of cases, 36% cases fall between 45 and 64 years old and 23% of cases are 65 years and older, as of Monday morning.
Among Maricopa County cases, 258 (18%) were hospitalized and 87 (6%) were in the intensive care unit. 31 (2%) people have died in Maricopa County.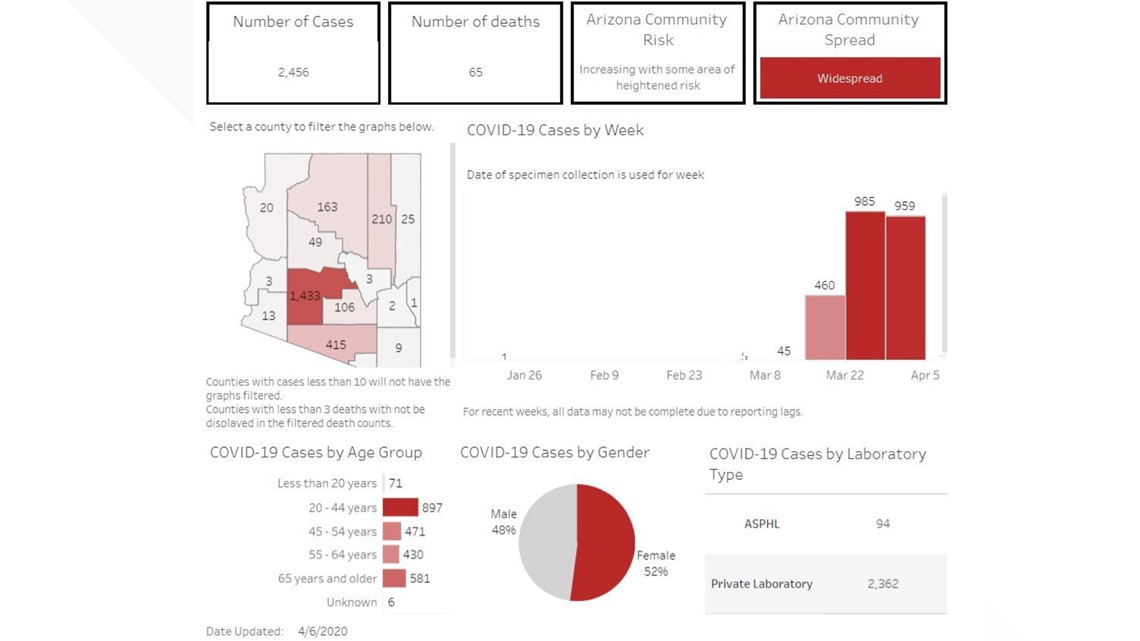 Cardenas Markets employee tests positive for coronavirus
An employee at Cardenas Market on Glendale Avenue in Phoenix tested positive for COVID-19 on March 25. The store is reopened after it's been deep cleaned.
Mohave County confirms 21 cases of coronavirus
The Mohave County Department of Health has confirmed its most recent case in the Lake Havasu City area, bringing its total number of cases to 21.
The county stated that there are now 13 positive confirmed cases in the Lake Havasu City area, six in Kingman, and two in Bullhead City.
Blue Ridge Unified School District to suspend free-meal program
Blue Ridge Unified School District announced today the suspension of its free-meal program it was offering to students. The district said the suspension is due to the further spread of coronavirus.
"I am painfully aware it provide a stable food source for many of the kids of our community and the surrounding areas," Superintendent Michael Wright said.
Havasupai Reservation extends tourism suspension
The Havasupai Tribal Council has extended its tourism suspension through May 14, 2020.
The council said they will be contacting people who had already booked reservations during the time of the suspension to offer an opportunity to reschedule for dates within the 2021 season.
Second Eloy ICE detainee tests positive
A 24-year-old from Guatemala being held in custody at La Palma Correctional Center in Eloy has tested positive for COVID-19, U.S. Immigration and Customs Enforcement said Monday.
This is the second confirmed case at the facility. The first case was announced on April 1 after a 45-year-old from Guatemala tested positive.
Anybody who was in contact with the two who tested positive is being monitored for symptoms.
Navajo Nation to enforce strict weekend curfew
The curfew starts at 8 p.m. Friday, April 10 and ends at 5 a.m., Monday, April 12.
Essential employees are exempt from the curfew while working and with identification.
Gov. Ducey issues executive order to halt evictions for small businesses and nonprofits during pandemic
The governor's executive order stopped landlords from evicting Arizona's small businesses and nonprofits for failure to pay rent during the coronavirus pandemic.
Gov. Ducey also encouraged landlords to defer rent payments for small business tenants and to consider waiving all fees and interest associated with late payments. More can be found on the executive order here.
Pima County closes public shooting ranges
The Pima County Natural Resources, Parks and Recreation Department announced the closure of the county's rifle and archery ranges beginning today.
The department also reminded those who want to target shoot in the county to familiarize themselves with all applicable laws where they are shooting.
Santa Cruz County confirms fifth case of coronavirus
The county announced on Monday that they now have five individuals who have tested positive for the coronavirus.
On their site, the county says that three of their five current cases have recovered. You can find more information on the county's statistics here.
Navajo Nation cases reach 354, 14 coronavirus-related deaths
The total number of confirmed cases of coronavirus in the Navajo Nation has reached 354 as of Sunday.
That's an increase of 33 cases since Saturday.
There are also 14 coronavirus-related deaths in Navajo Nation.
There were 1,796 negative results as of Thursday.
The 354 confirmed positive cases were in:
Navajo County, AZ: 149
Apache County, AZ: 33
Coconino County, AZ: 94
McKinley County, NM: 17
San Juan County, NM: 45
Cibola County, NM: 7
San Juan County, UT: 7
Socorro County, NM: 2
Navajo Nation residents are ordered to be home between 8:00 p.m. and 5:00 a.m. each day.
Phoenix College donating personal protection equipment
Phoenix College is donating $8,000 worth of personal protection equipment from its Allied Health programs to local community partners.
The college is currently redistributing personal protection equipment from its Dental Assisting, Dental Hygiene, Phlebotomy, Nursing and Medical Lab Technology programs to help those in the medical field.
Sun City West to close golf courses
The Recreation Centers of Sun City West will close its seven golf courses on April 14 until further notice.
The move is a step further than Gov. Doug Ducey's narrowed list of essential services issued last week, which included golf courses.
"The governor has not mandated the closure of golf courses, but we believe the time has come to take this action to protect against the spread of coronavirus," General Manager Bill Schwind said in a statement.
"We had taken several measures prior to this to ensure our golfers were socially distancing themselves, not touching flag poles or the cups, not renting our golf carts. But want to continue being at the forefront of this, so our courses will close on April 14."
Arizona AG issues cease-and-desist to local dispensary over coronavirus-related ads
Arizona Attorney General Mark Brnovich issued a cease-and-desist notice to YiLo Superstore Dispensary in Phoenix.
It was issued in an effort to stop YiLo from advertising products as a treatment or cure for COVID-19.
Text messages have been circulating offering a "Coronav Immunization Stabilizer Tincture" for sale in connection with YiLo.
There is currently no Food and Drug Administration-approved vaccine to immunize against, prevent, or cure for COVID-19.
City of Mesa launches initiative to assess needs
The City of Mesa has created Mesa CARES, a citywide initiative to assess community needs resulting from COVID-19. These outreach efforts will also aid in providing needed support and resources.
More than 100 employees will be making contact via telephone, email or social media with nonprofit organizations, faith-based organizations and other key community contacts, such as business and neighborhood leaders, to gain insights about the key issues, concerns and needs stemming from the pandemic.
The Mesa City Council will review the results at a special meeting April 14 to give direction on starting to meet those needs.
Arizona Biltmore closes doors
The Arizona Biltmore resort in Phoenix has closed its doors in an effort to prevent the spread of coronavirus.

"At the Arizona Biltmore, the safety and security of our guests, team members and community remains our highest priority," the resort said in a Facebook post.
"In an effort to do our part in limiting social interactions and preventing the spread of COVID-19, the Arizona Biltmore has temporarily suspended operations."
COVID-19 is believed to be primarily spread through coughs or sneezes.
It may be possible for the virus to spread by touching a surface or object with the virus and then a person touching their mouth, nose or eyes, but this is not thought to be the main method of spread, the CDC says.
You should consult your doctor if you traveled to an area currently affected by COVID-19 and feel sick with fever, cough or difficulty breathing.
There is no vaccine for the coronavirus, so the best way to prevent COVID-19 and other respiratory diseases is to:
Avoid close contact with people who are sick.
Avoid touching your eyes, nose, and mouth.
Stay home when you are sick.
Cover your cough or sneeze with a tissue, then throw the tissue in the trash.
Clean and disinfect frequently-touched objects and surfaces using a regular household cleaning spray or wipe.
Wash your hands often with soap and water for at least 20 seconds. If soap and water are not readily available, use an alcohol-based hand sanitizer.
You can text FACTS to 602-444-1212 to receive more information on the coronavirus and to ask questions.
Coronavirus facts you should know