The path towards reopening Arizona has started, but it will be gradual.
In an effort to track the changes, 12 News has started a daily live blog.
Here is the live blog for Tuesday, May 19.
There are 14,556 confirmed cases of coronavirus in Arizona with 704 coronavirus-related deaths, as of Tuesday morning.
The state does not record how many people have recovered.
Arizona's stay-at-home order expired last week.
Scroll down to see how many cases are in each ZIP code and additional information.
COVID-19 cases reported in Arizona on Tuesday
There are 14,556 confirmed cases of coronavirus in Arizona with 704 coronavirus-related deaths, according to the state's latest numbers.
That's up from 14,170 confirmed cases and 686 deaths on Monday.
One week ago, there were 11,736 cases across the state with 562 deaths.
Scroll down for more information.
Masks required inside Arizona courts
Arizona's chief justice issued an order Tuesday that requires anyone who enters a state court building to wear a face-covering starting in June.
The order was issued as in-person court operations resume in the midst of the ongoing COVID-19 pandemic. Chief Justice Robert Brutinel's order also includes guidelines for court proceedings, jury selection, and new social distancing measures.
"Arizona's courts are beginning the process of returning to normal operations, consistent with protecting the health and safety of the public and of court employees," Brutinel said.
Fewer jurors will also be called upon until the end of the year to speed up the backlog of ongoing court cases.
Employee at Shearer's Foods manufacturing in Phoenix tests positive
Shearer's Foods has confirmed that a team member in their Phoenix, Arizona manufacturing location has tested positive for COVID-19.
The team member did not come in contact with product and there is no food safety risk, the company said.
The company said it has taken all necessary steps to identify and notify those who worked closely with that employee and have asked them to self-quarantine at home for 14 days.
Those team members will continue to receive pay and benefits during their quarantine period.
The company also conducted a deep cleaning of the contacted areas and equipment.
The company continues the practice of taking temperatures of team members before they enter the facility for work, and strictly follows the social distancing, enhanced sanitation and PPE/masks requirements.
Fry's expands free testing
Fry's Food Stores and The Little Clinic will be expanding free COVID-19 drive-thru testing at Tempe Diablo Stadium for another five days.
The additional testing dates will be from May 20 through May 23 and May 27 through May 30.
Testing will take place from 8 a.m. to 1 p.m. at Tempe Diablo Stadium.
Navajo Nation cases reach 4,071 with 142 deaths
The Navajo Department of Health reported 69 new cases of COVID-19 for the Navajo Nation.
The total number of positive COVID-19 cases for the Navajo Nation has reached 4,071 and the total number of deaths is now 142.
Preliminary reports from six health care facilities indicate that approximately 928 people have recovered from COVID-19, with more reports still pending.
A total of 25,682 COVID-19 tests have been administered, with 19,964 negative results.
The Navajo Nation continues to conduct large-scale testing of its residents to help identify and isolate those who are positive.
On Tuesday, the Tuba City Regional Health Care Corporation will have a COVID-19 testing site at the Tonalea Chapter House parking lot from 8:00 a.m. to 1:00 p.m. for those showing COVID-19 symptoms, those who have been exposed to COVID-19, and those who think they may have the virus, but are not showing symptoms.
The general public is asked to wear a protective mask and remain in your vehicle at all times.
Navajo Nation Council approves CARES Fund Act
The Navajo Nation Council approved the Navajo Nation CARES Fund Act on Friday.
The act was approved by a vote of 19-4, with the speaker not voting.
The act allocates more than $600 million in federal Coronavirus Aid, Relief, and Economic Stimulus (CARES) Act funding received by the Navajo Nation last week.
The resolution will now be presented to Navajo Nation President Jonathan Nez for his signature to make the act law.
Grand Canyon National Park to be open for limited access on Memorial Day weekend
Testing expands for Maricopa County homeless
Sonora Quest Labs donated 300 tests to Community Solutions, a national nonprofit that supports local efforts to end homelessness, to support efforts to test people experiencing homelessness in Maricopa County.
Circle the City has been administering the tests and undertaking further assessments.
Community Bridges, Inc. has ensured transportation for individuals tested and is developing housing plans for permanent housing for individuals being tested or in alternative care facilities.
"The Sonora Quest team has a history of collaboration and compassion to support Arizona communities through hours of volunteer work, frequent blood drives, and in-kind testing," said David Dexter, President & CEO of Sonora Quest Laboratories.
"When we have an opportunity to partner with our state's outreach organizations and bring high-quality testing to our most vulnerable and underserved populations, we are proud to answer the call and make health care accessible."
Outbreak on edge of Navajo Nation overwhelms rural hospital
A night of revelry before bars and restaurants shut in New Mexico appears to have led to an outbreak in a detox center and homeless shelter in the city of Gallup, on the fringes of the Navajo Nation.
The outbreak would combine with the local hospital's ill-fated staffing decisions and its well-intentioned but potentially overly ambitious treatment plans to create a perfect storm.
The hospital became overwhelmed and now sends all of its critically ill coronavirus patients to other facilities.
Doctors, nurses and hospital executives disagree about who is to blame.
The Associated Press contributed to this report.
Arizona releases ZIP code locations of coronavirus cases, other data
The Arizona Department of Health Services has released expanded data points regarding coronavirus cases in the state.
You can see the current ZIP code map below and can find yours by clicking around or searching for your ZIP code in the top right of the map.
More information on coronavirus cases from Tuesday
There are now 14,566 confirmed cases of coronavirus in Arizona with 704 coronavirus-related deaths, according to the state's latest numbers.
That's up from 14,556 confirmed cases and 686 deaths on Monday.
That's an increase of 396 new cases reported since Monday, up from the 233 new cases reported on Sunday.
There were 18 new deaths reported on Tuesday, up from the sex new deaths reported on Monday.
In total, 7,828 new tests were reported on Monday, down from 9,778 tests that were reported on Monday.
There have been a total of 220,612‬ PCR and Serology tests reported to the state as of Monday.
5.9% of those tests have been positive.
Here's a county breakdown:
Maricopa: 7,482
Pima: 1,888
Pinal: 720
Coconino: 943
Navajo: 1,320
Apache: 1,023
Mohave: 262
La Paz: 38
Yuma: 433
Graham: 20
Cochise: 46
Santa Cruz: 97
Yavapai: 269
Gila: 22
Greenlee: 3
Click on the links below to find more information from each county's health department:
COVID-19 is believed to be primarily spread through coughs or sneezes.
It may be possible for the virus to spread by touching a surface or object with the virus and then a person touching their mouth, nose or eyes, but this is not thought to be the main method of spread, the CDC says.
You should consult your doctor if you traveled to an area currently affected by COVID-19 and feel sick with fever, cough or difficulty breathing.
There is no vaccine for the coronavirus, so the best way to prevent COVID-19 and other respiratory diseases is to:
Avoid close contact with people who are sick.
Avoid touching your eyes, nose, and mouth.
Stay home when you are sick.
Cover your cough or sneeze with a tissue, then throw the tissue in the trash.
Clean and disinfect frequently-touched objects and surfaces using a regular household cleaning spray or wipe.
Wash your hands often with soap and water for at least 20 seconds. If soap and water are not readily available, use an alcohol-based hand sanitizer.
You can text FACTS to 602-444-1212 to receive more information on the coronavirus and to ask questions.
Coronavirus facts you should know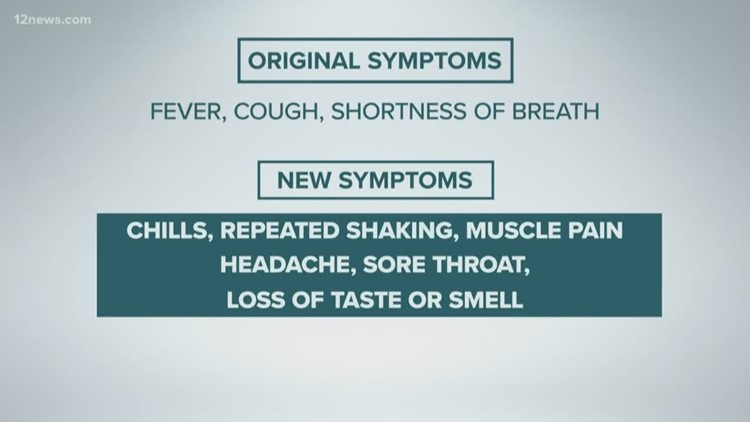 MORE ARTICLES FROM PAST WEEK: