The number of coronavirus cases and deaths in Arizona continues to rise.
In an effort to track the changes, 12 News has started a daily live blog.
Here is the live blog for Monday, June 15.
There are 36,705 people with confirmed cases of coronavirus in Arizona and 1,194 coronavirus-related deaths, as of Monday morning.
The state does not record how many people have recovered.
Scroll down to see how many cases are in each ZIP code and additional information.
COVID-19 cases reported in Arizona on Monday
There are 36,705 people with confirmed cases of coronavirus in Arizona and 1,194 coronavirus-related deaths, according to the state's latest numbers.
That's up from 35,691 confirmed cases and 1,186 deaths on Sunday.
One week ago, there were 27,678 cases across the state with 1,047 deaths.
Congressman Ruben Gallego, health experts discuss Arizona's spike in coronavirus cases and what needs to change
In a Zoom press conference on Monday, Congressman Ruben Gallego, representing Arizona's 7th district, was joined by national health expert Andy Slavitt and Director of the Arizona Public Health Association, Will Humble, to talk about Arizona's recent growth in coronavirus cases, which has gained national attention.
"We're basically having this because there is a problem," Gallego said. "We have growing cases of COVID-19, we're headed in the wrong direction and we have a secondary problem where we have a lack of leadership that's coming from the State Capitol."
Gallego criticized the opening of the state in mid-May without a mandate to wear masks.
Slavitt says no governor should be embarrassed about a spike in cases, saying that's how the virus works, trying to find new hosts and new ways to grow. He said he believes being more conservative in actions surrounding the virus will only be better for the economy down the road. Slavitt also says he's planning on sending a list of recommendations to Gov. Ducey this week on things he's learned from other states.
"To some extent, I hear (Gov. Ducey) playing some of March's agenda: do we have enough ventilators? Do we have enough hospital beds? I don't think that's the question," Slavitt said. "I think the question is, can we care for people and keep them from dying?"
Slavitt also says there needs to be an investment in contact tracing to contain the virus.
"There's increasing compelling evidence that wearing a mask in indoor public spaces is a very effective intervention," Humble said. "It's a policy decision you make that we know now is an effective way of preventing the spread of the virus and it doesn't cost anything."
Humble said he doesn't have a problem with the fact that Gov. Ducey ended the stay-at-home order on May 15, but said he has a problem with the way the state came out of it.
"The people of Arizona did a terrific job in April and the first part of May staying at home, they made a lot of sacrifices," Humble said. "But when we came out of the stay-at-home order, we came into a completely voluntary system and businesses were encouraged to follow CDC guidelines but there was no compliance measures in place to make sure that people who cheat the system are not held accountable for that."
The three also discussed Ducey's policy in his executive order that takes away the authority of local jurisdictions to use mitigation measures within their own communities, saying that should be taken out of the executive order so communities can make their own policies that work for them.
You can watch the full nearly-hour-long press conference below:
Navajo Nation cases grow by 57
The Navajo Department of Health reported 57 new cases of COVID-19 for the Navajo Nation and three more deaths.
The total number of positive COVID-19 cases for the Navajo Nation has reached 6,611.
The total number of deaths has reached 311 as of Sunday.
Reports from 11 health care facilities indicate that about 3,158 people have recovered from COVID-19, with one health care facility report still pending.
More than 44,000 people have been tested for COVID-19.
'I've run out of tears'
A Valley man has suffered an unimaginable loss after five family members have died from coronavirus.
"Some people just don't get it this is real. Five family members have died. Myself, my wife, my kids, my brothers, have all tested positive. I mean how many more people, like I mentioned, have to die?" Ricardo Aguirre said.
Masks are effective at limiting COVID-19 spread
A top public health official in Arizona's largest county is doing an about-face on whether masks can help stem the fast-spreading coronavirus.
Arizona releases ZIP code locations of coronavirus cases, other data
The Arizona Department of Health Services has released expanded data points regarding coronavirus cases in the state.
You can see the current ZIP code map below and can find yours by clicking around or searching for your ZIP code in the top right of the map.
More information on coronavirus cases from Monday
There are 36,705 people with confirmed cases of coronavirus in Arizona and 1,194 coronavirus-related deaths.
That's up from 35,691 confirmed cases and 1,186 deaths on Sunday.
That's an increase of 1,014 new cases reported on Monday, down from the 1,233 new cases reported on Sunday.
There were eight new deaths reported on Monday, an increase from the three new deaths reported on Sunday.
In total, 9,676 new tests were reported on Monday, down from 12,511 tests that were reported on Sunday.
There have been a total of 479,102‬‬ PCR and Serology tests reported to the state as of Monday.
7.0% of those tests have been positive, an increase from Sunday's 6.9%.
Here's a county breakdown:
Maricopa: 19,372
Pima: 3,944
Pinal: 1,568
Coconino: 1,373
Navajo: 2,636
Apache: 1,975
Mohave: 618
La Paz: 222
Yuma: 3,265
Graham: 50
Cochise: 221
Santa Cruz: 988
Yavapai: 374
Gila: 87
Greenlee: 12
Click on the links below to find more information from each county's health department:
COVID-19 is believed to be primarily spread through coughs or sneezes.
It may be possible for the virus to spread by touching a surface or object with the virus and then a person touching their mouth, nose or eyes, but this is not thought to be the main method of spread, the CDC says.
You should consult your doctor if you traveled to an area currently affected by COVID-19 and feel sick with fever, cough or difficulty breathing.
There is no vaccine for the coronavirus, so the best way to prevent COVID-19 and other respiratory diseases is to:
Wear face coverings while in public.
Practice social distancing while in public.
Avoid close contact with people who are sick.
Avoid touching your eyes, nose, and mouth.
Stay home when you are sick.
Cover your cough or sneeze with a tissue, then throw the tissue in the trash.
Clean and disinfect frequently-touched objects and surfaces using a regular household cleaning spray or wipe.
Wash your hands often with soap and water for at least 20 seconds. If soap and water are not readily available, use an alcohol-based hand sanitizer.
You can text FACTS to 602-444-1212 to receive more information on the coronavirus and to ask questions.
Coronavirus facts you should know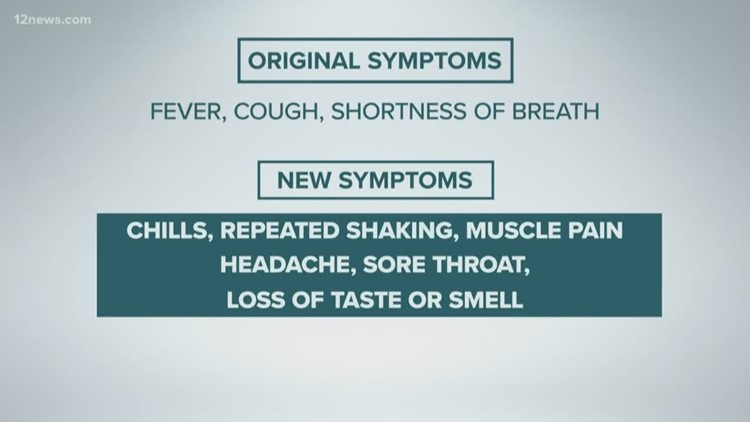 MORE RELATED ARTICLES: