There is a lot of news regarding the coronavirus in Arizona.
In an effort to track the changes, 12 News has started a daily live blog.
Here is the live blog for Thursday, April 30.
There are now 7,648 confirmed cases of coronavirus in Arizona as of Thursday morning.
320 people have died from the virus or complications related to the virus in Arizona, as of Thursday morning.
The state does not record how many people have recovered.
Gov. Doug Ducey extended the stay-at-home order through May 15 with modifications.
Retail stores can begin reopening with limitations beginning May 4.
Scroll down to see how many cases are in each ZIP code in Arizona.
There are now 7,648 confirmed cases of coronavirus in Arizona, 320 deaths
There are now 7,648 confirmed cases of coronavirus in Arizona, with 320 coronavirus-related deaths, according to the state's latest numbers.
Cases are up from 7,202 confirmed cases on Wednesday with 304 deaths.
One week ago, there were 5,769 cases and 249 deaths in Arizona.
Scroll down for more information about today's cases.
Ducey extends stay-at-home order through May 15
Arizona's stay-at-home order will continue through May 15 with modifications, Gov. Doug Ducey announced Wednesday.
The order was originally supposed to end tonight at midnight.
This means non-essential stores and services have been ordered to remain closed, and residents are advised to maintain social distancing as much as possible.
Ducey says retail stores can begin reopening with limitations voluntarily beginning May 4.
Trump to visit the Valley next week
President Donald Trump will visit a Honeywell facility in Phoenix on Tuesday, May 5, the White House confirmed.
The president told reporters during a roundtable with business leaders earlier in the day he had plans to travel to Arizona for an industry event, saying it was too soon to host any rallies.
Bashas' in Navajo Nation to offer special shopping hours for elderly
All Bashas' Dine Markets on the Navajo Nation will offer special shopping hours for the elderly.
The hours will be from 6 a.m. to 10 a.m. on May 1.
Arizona to expand rest area in another move to aid truckers
Arizona is taking another step to aid long-distance truckers hauling freight during the coronavirus pandemic.
The state Department of Transportation announced Wednesday that a nearly $4 million project will add a total of 38 additional parking spaces for big rigs on the two sides of the Haviland Rest Area on Interstate 40 west of Kingman.
The department previously raised weight limits for trucks carrying supplies for the COVID-19 relief effort and reopened two long-closed rest areas near Flagstaff to provide additional overnight parking for truckers.
In another move, the department authorized food trucks to operate at rest areas to make it easier for truckers to obtain meals at a time when takeout options in some communities are limited.
The Associated Press contributed to this report.
More coronavirus case information from Thursday
There are 7,648 cases of coronavirus and 320 coronavirus-related deaths in Arizona as of Thursday.
There were 446 new cases -- the highest number since the state started collecting data -- and 16 new deaths reported on Thursday.
The record-high number comes one day after Gov. Doug Ducey extended the state's stay-at-home order until May 15.
But the number of tests have also increased. According to state health officials, 2,973 new tests were reported on Thursday.
There have been a total of 71,786 tests reported to state health officials as of Thursday. Of those tests, 9% have been positive.
Here's a county breakdown:
Maricopa: 3,972
Pima: 1,241
Pinal: 397
Coconino: 486
Navajo: 712
Apache: 449
Mohave: 117
La Paz: 14
Yuma: 78
Graham: 16
Cochise: 39
Santa Cruz: 33
Yavapai: 79
Gila: 13
Greenlee: 2
Arizona releases ZIP code locations of coronavirus cases, other data
The Arizona Department of Health Services has released expanded data points regarding coronavirus cases in the state.
You can see the current ZIP code map below and can find yours by clicking around or searching for your ZIP code in the top right of the map.
COVID-19 is believed to be primarily spread through coughs or sneezes.
It may be possible for the virus to spread by touching a surface or object with the virus and then a person touching their mouth, nose or eyes, but this is not thought to be the main method of spread, the CDC says.
You should consult your doctor if you traveled to an area currently affected by COVID-19 and feel sick with fever, cough or difficulty breathing.
There is no vaccine for the coronavirus, so the best way to prevent COVID-19 and other respiratory diseases is to:
Avoid close contact with people who are sick.
Avoid touching your eyes, nose, and mouth.
Stay home when you are sick.
Cover your cough or sneeze with a tissue, then throw the tissue in the trash.
Clean and disinfect frequently-touched objects and surfaces using a regular household cleaning spray or wipe.
Wash your hands often with soap and water for at least 20 seconds. If soap and water are not readily available, use an alcohol-based hand sanitizer.
You can text FACTS to 602-444-1212 to receive more information on the coronavirus and to ask questions.
Coronavirus facts you should know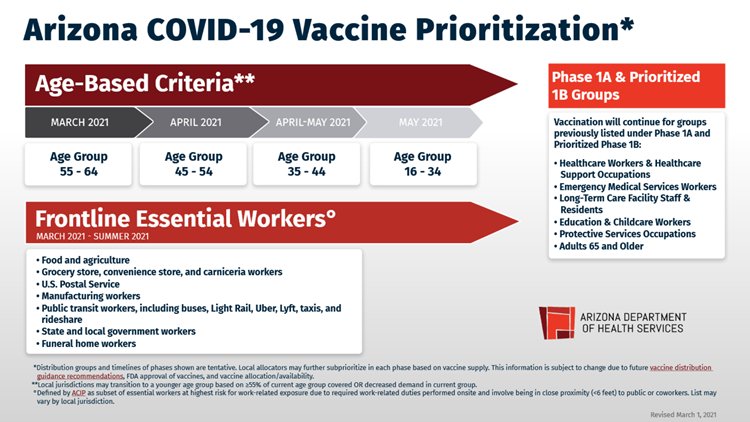 MORE ARTICLES FROM PAST WEEK: