There is a lot of news regarding the coronavirus in Arizona.
In an effort to track the changes, 12 News has started a daily live blog.
Here is the live blog for Tuesday, April 21.
There are now 5,251 confirmed cases of coronavirus in Arizona as of Tuesday morning.
208 people have died from the virus or complications related to the virus in Arizona, as of Tuesday morning.
The state does not record how many people have recovered.
Scroll down to see how many cases are in each Arizona ZIP code.
There are now 5,251 confirmed cases of coronavirus in Arizona, 208 deaths
There are now 5,251 confirmed cases of coronavirus in Arizona, with 208 coronavirus-related deaths, according to the state's latest numbers.
Cases are up from 5,064 confirmed cases on Monday with 187 deaths.
It's the largest jump in reported deaths from a previous day since coronavirus arrived in Arizona.
One week ago, there were 3,806 cases and 131 deaths in Arizona.
Here's a county breakdown:
Maricopa: 2,738
Pima: 963
Pinal: 268
Coconino: 342
Navajo: 485
Apache: 226
Mohave: 59
La Paz: 6
Yuma: 27
Graham: 2
Cochise: 29
Santa Cruz: 23
Yavapai: 72
Gila: 9
Greenlee: 2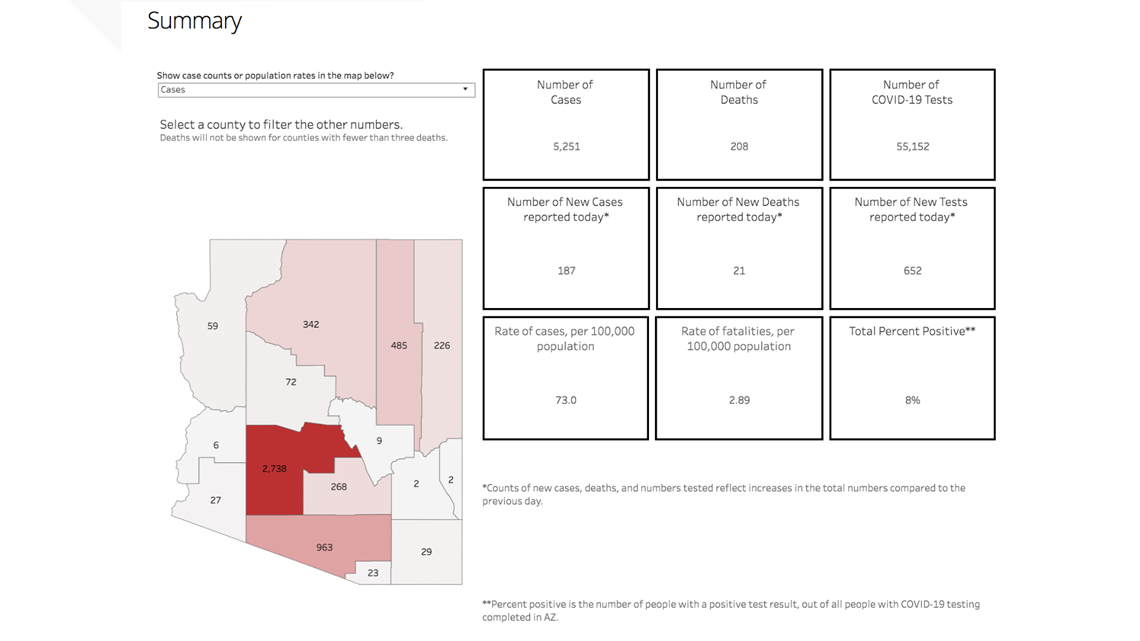 Maricopa County has the most cases in the state. On Tuesday morning, the county reported 84 total deaths, up nine from the previous day. Of the county's 2,719 cases, 18% have been hospitalized and 6% have been admitted to the intensive care unit.
There are 64 cases in Mohave County, according to county health officials. The state health department only has 59 cases.
Health officials in Mohave County were notified Tuesday of five more positive COVID-19 cases in the county.
It is yet to be determined if they are epidemiologically-linked to another case or travel-related.
There are now 25 positive confirmed cases in the Lake Havasu City area, including the three deaths, 33 in Kingman, and 6 in Bullhead City.
Arizona releases ZIP code locations of coronavirus cases, other data
The Arizona Department of Health Services has released expanded data points regarding coronavirus cases in the state.
You can see the current ZIP code map below and can find yours by clicking around or searching for your ZIP code in the top right of the map.
City of Phoenix to move most vulnerable residents into hotel rooms, city council says
Phoenix's most vulnerable and at-risk residents will be moved into hotel rooms in the near future, according to a decision made by Phoenix's City Council.
The announcement comes as the largest Community Block Development Grant investment towards combating homelessness in Phoenix's history was passed.
Read more on the announcement here.
Navajo Nation confirms 1,206 people test positive for COVID-19
The Navajo Department of Health reported an increase of 63 people who have been infected with COVID-19. The newly confirmed residents bring the nation's total to 1,206 people who have tested positive and 48 deaths.
"Now is not the time to let up! To all residents of the Navajo Nation," Navajo Nation President Jonathan Nez said. "Please continue to stay home as much as possible and to honor the shelter-in-place order that's in effect."
National forests to start campfire ban at 5 p.m. Wednesday
The U.S. Department of Agriculture's Forest Service is enacting a campfire ban in Arizona starting Tuesday to protect the health and safety of employees and communities during the COVID-19 pandemic.
Beginning April 22, igniting, building, maintaining, attending or using a fire will be prohibited on all six national forests in Arizona until June 30, 2020, or until rescinded.
"While we know that going outside provides forest and grassland visitors needed space, exercise and satisfaction, we are taking the risks presented by COVID-19 seriously," said Acting Regional Forester Elaine Kohrman.
"We are providing some recreation opportunities where we can while protecting and keeping employees, the public and our communities safe from the virus and unwanted human-caused wildfires."
Violating the campfire ban may result in an appearance in federal court, fines, and possible time in jail.
Thousands of school kids could get free meals
Federal officials authorized the Arizona Department of Economic Security to give meal replacement benefits to students who are eligible for free or reduced-price school meals.
There are nearly 600,000 students receiving free or reduced-price school meals in Arizona, including 186,000 students already receiving Nutrition Assistance, who will be eligible for these benefits.
These households will receive benefits equivalent to one free lunch and one free breakfast for each eligible child.

"We are working to ensure no Arizona kid goes hungry during the COVID-19 health emergency," Gov. Doug Ducey said in a statement.
"Schools across the state have worked hard to get nutritious meals to kids while schools are closed, and this program will build on those efforts and provide additional relief to families struggling at this time."
Benefits will first be distributed to the majority of existing eligible Supplemental Nutrition Assistance Program households this week via their existing accounts.
Any eligible households who do not already participate in SNAP will receive Electronic Benefit Transfer cards with benefits beginning in early May.
Families whose children participated in the free or reduced-price school lunch program, but have not received notification, DES will create a web application for them to submit their information to the Department for processing.

The benefits will be retroactive to March 16, 2020, and are calculated based on the number of school days for which the child would have received assistance from school meal programs.
Eligible families will receive $69 for March, $126 in April, and $120 in May, for each child. Families that have been accessing meals from schools during the closure are still eligible for these benefits.
Banner Health hospitals to run 'grocery stores' for workers
Banner Health is setting up makeshift grocery stores for workers on the front lines tending to coronavirus patients.
The provider announced Monday that select metro Phoenix hospitals will have on-site locations where health care workers can pick up provisions.
Fruits, vegetables, bread, dairy products and eggs are among the essentials that will be available to physicians, nurses and other staff at a discounted price.
Banner officials say they hope to ease the burden for workers who are putting in especially long shifts.
The facilities that will offer groceries are in Queen Creek, Glendale, Scottsdale and Phoenix.
In Mesa, Banner Desert Medical Center will instead have grocery boxes available to buy.
The Associated Press contributed to this report.
West Valley shopping center owner to feed health care workers
The owner of the Park West shopping center and several other neighborhood centers throughout the Valley have launched Feed the Leads.
It's a campaign to feed hospital workers at HonorHealth facilities during the COVID-19 pandemic.
Ten local restaurants will be participating in the Feed the Leads campaign. Meals will be provided as often as donations allow, with the goal of providing a meal to medical staff at least once per week.
You can sponsor a meal for hospital frontline workers by donating to the GoFundMe page set up by CIRE Equity. Donations are tax-deductible and will directly go to participating restaurants to cover the costs of the meals.
Sushi Roku to hand out free pantry bags to employees
Sushi Roku Scottsdale will hand out free pantry bags to all employees from noon to 2 p.m. Wednesday.
The move is part of the restaurant's efforts to help staffers struggling during the COVID-19 pandemic.
It was launched as part of its ongoing Employee Relief Fund.
Every Sushi Roku employee is eligible and encouraged to pick up a bag, which will be hand-delivered curbside, taking every precaution necessary to ensure safety, including giving an "air high five" with each bag.
COVID-19 is believed to be primarily spread through coughs or sneezes.
It may be possible for the virus to spread by touching a surface or object with the virus and then a person touching their mouth, nose or eyes, but this is not thought to be the main method of spread, the CDC says.
You should consult your doctor if you traveled to an area currently affected by COVID-19 and feel sick with fever, cough or difficulty breathing.
There is no vaccine for the coronavirus, so the best way to prevent COVID-19 and other respiratory diseases is to:
Avoid close contact with people who are sick.
Avoid touching your eyes, nose, and mouth.
Stay home when you are sick.
Cover your cough or sneeze with a tissue, then throw the tissue in the trash.
Clean and disinfect frequently-touched objects and surfaces using a regular household cleaning spray or wipe.
Wash your hands often with soap and water for at least 20 seconds. If soap and water are not readily available, use an alcohol-based hand sanitizer.
You can text FACTS to 602-444-1212 to receive more information on the coronavirus and to ask questions.
Coronavirus facts you should know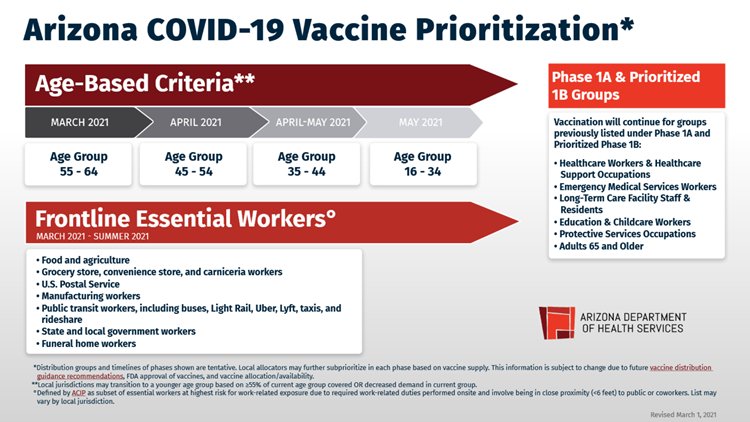 MORE ARTICLES FROM PAST WEEK: