There is a lot of news regarding the coronavirus in Arizona.
In an effort to track the changes, 12 News has started a daily live blog.
Here is the live blog for Monday, April 20.
There are now 5,064 confirmed cases of coronavirus in Arizona as of Monday morning.
187 people have died from the virus or complications related to the virus in Arizona, as of Monday morning.
The state does not record how many people have recovered.
There are now 5,064 confirmed cases of coronavirus in Arizona, 187 deaths
There are now 5,064 confirmed cases of coronavirus in Arizona, with 187 coronavirus-related deaths, according to the state's latest numbers.
Cases are up from 4,929 confirmed cases on Sunday with 184 deaths.
One week ago, there were 3,702 cases and 122 deaths in Arizona.
Here's a county breakdown:
Maricopa: 2,636
Pima: 941
Pinal: 256
Coconino: 337
Navajo: 473
Apache: 202
Mohave: 56
La Paz: 5
Yuma: 27
Graham: 2
Cochise: 28
Santa Cruz: 20
Yavapai: 71
Gila: 8
Greenlee: 2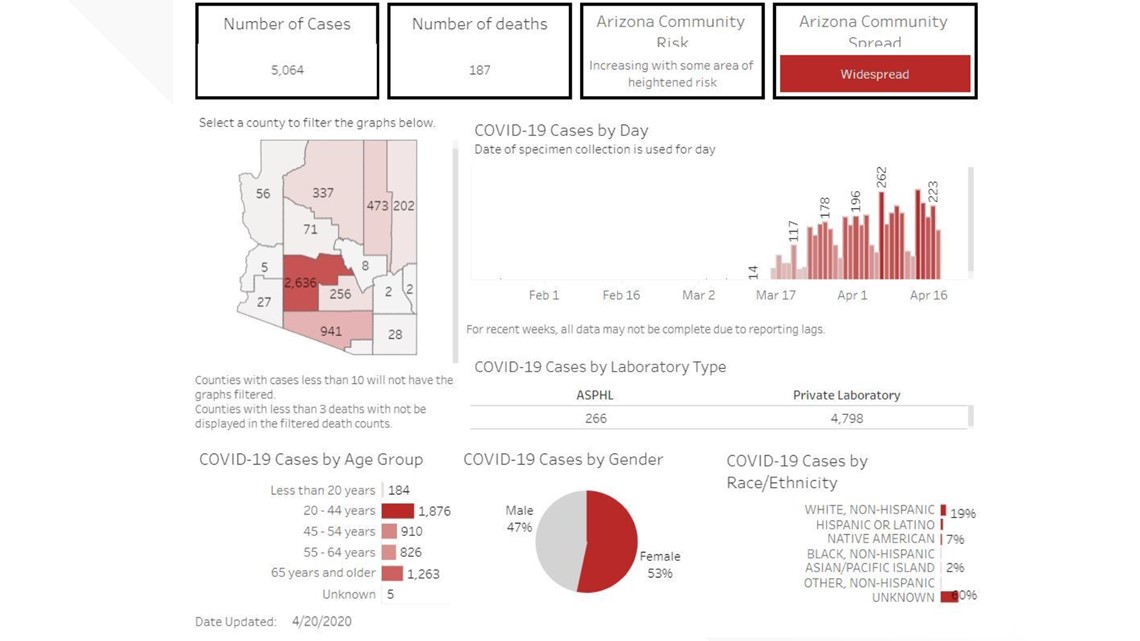 Maricopa County health officials said there were 2,634 cases in the county, two fewer than the state accounted for on Monday.
Mohave County health officials had 57 cases, one more than the state accounted for them.
The Mohave County Health Department said it was notified Monday morning of two positive COVID-19 cases.
The first is in the Lake Havasu City service area and the second is the Bullhead City service area.
Both are in the 65+ age range and both are isolating and recovering at home.
The Lake Havasu City case is epidemiologically-linked to another case. It is not known at this time if the Bullhead City case is travel-related, epidemiologically-linked to another case, or the result of community spread.
There are 21 positive confirmed cases in the Lake Havasu City area, including the three deaths, 30 in Kingman, and 6 in Bullhead City.
Navajo County health officials said they had 473 cases, the same number as the state had accounted for them.
The Mohave County Health Department MCDPH-Nursing staff confirmed that two more people in the Kingman service area have tested positive for COVID-19. The county now has 59 people who have tested positive for the virus.
There are now 21 positive confirmed cases in the Lake Havasu City area, including the three deaths, 32 in Kingman, and 6 in Bullhead City.
Arizona releases ZIP code locations of coronavirus cases, other data
The Arizona Department of Health Services has released expanded data points regarding coronavirus cases in the state.
Additionally, demographics including race and ethnicity on confirmed coronavirus-related deaths, hospital information and more are being reported by the state.
You can see the current ZIP code map below and can find yours by clicking around or searching for your ZIP code in the top right of the map.
As of Monday morning, 58% of the 187 deaths have been men.
Data shows 40% of deaths in Arizona have been white/non-Hispanic individuals, 18% have been Native Americans, 10% have been Hispanic.
AZDHS shows the race/ethnicity are unknown in 28% of the deaths.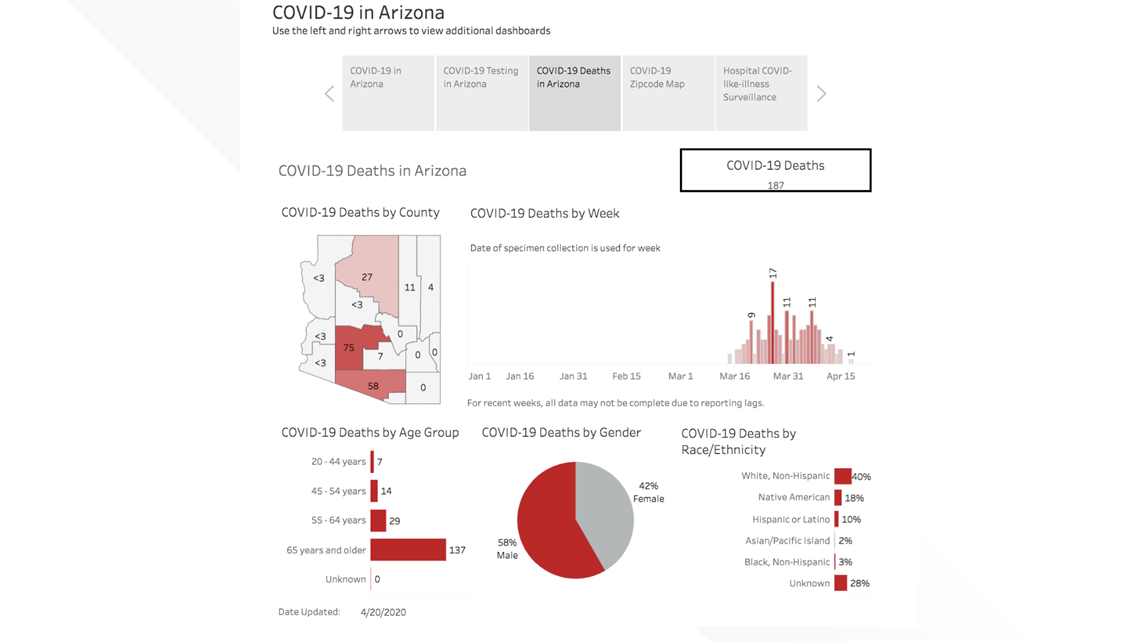 In terms of testing numbers, AZDHS shows 54,500 people have been tested in Arizona.
Since testing began in February, 92% of tests returned negative and 8% positive.
AZDHS shows how many tests have been conducted in each county on the map below.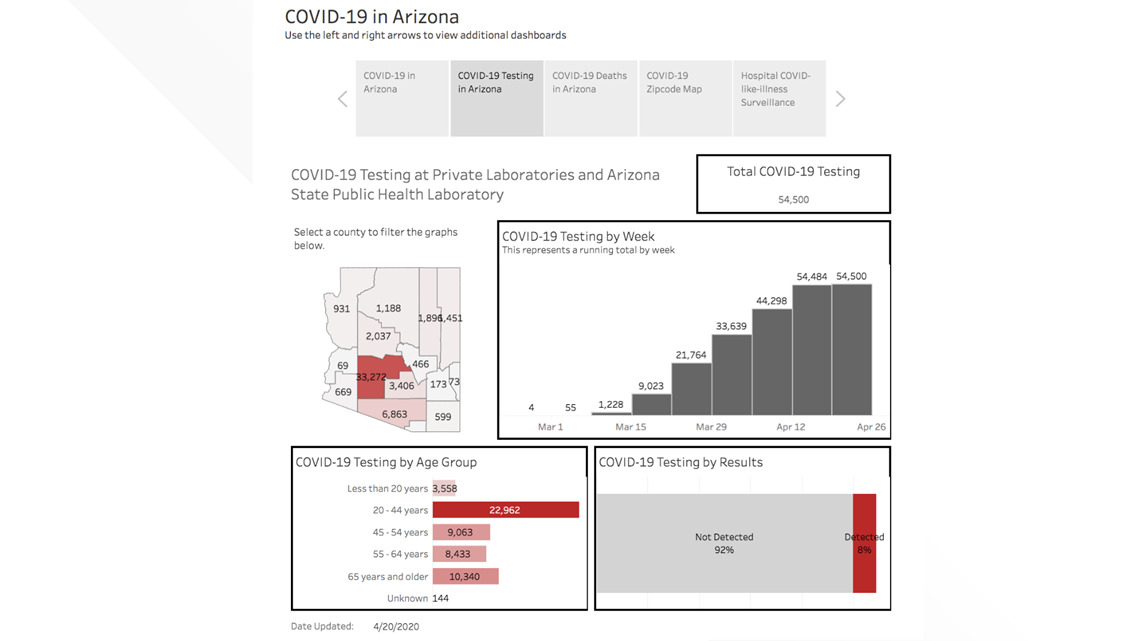 Navajo Nation issues 179 citations during weekend-long curfew
Police issued 179 citations during the second 57-hour-long weekend curfew, the Navajo Police Department said. 108 of the citations reflected curfew violations, and the other 71 were traffic violations.
Although there was an increase in traffic from the previous weekend, this could be partially due to families getting stimulus checks and in need of supplies." Navajo Police Chief Phillip Francisco said.
Secretary of State's Office receives 450 remote online notary applications in 10 days amid pandemic
The Secretary of State's Office has reported that it has already received around 450 remote online notary applications since April 10.
Remote online notary services weren't supposed to become available until July 2020, but the project was fast-tracked due to the challenges created by COVID-19, authorities said. The project now available for advanced directives, property deeds, loan approvals, business agreements and more.
Uber launches Uber Connect in Phoenix
Uber users in Phoenix can log into their app and send packages to family and friends without having to come into contact with others.
"Whether it's a care package, a board game, or an extra roll of much-needed toilet paper, you can send it by requesting 'Uber Connect' in the Uber app," a press release read.
"This contactless delivery feature saves people time and minimizes the need to travel beyond the curb of their primary address, or pickup location, helping people to stay connected through delivery of essential items while practicing social distancing."
Users can enter their pickup and delivery address then select Uber Connect. You must include your recipient's name and any special instructions for your driver.
When the driver arrives, you'll be alerted to load your package in the trunk of the vehicle. You can also share your trip status with your recipient so they can easily monitor the delivery's progress.
The value of the package must total less than $100 per trip, be less than 30 pounds and comfortably fit in the trunk of a midsize vehicle.
Testing to continue in Coconino County this week
St. Vincent de Paul gets 41K pounds of food donated
The Society of St. Vincent de Paul will receive 41,000 pounds of food from The Church of Jesus Christ of Latter-day Saints on Tuesday.
The food will be delivered to the organization's Phoenix campus, located at 420 W. Watkins Road on Tuesday at 8:00 a.m.
"This food will help us fill the rising need for food resources in the homes of our community," said Danielle McMahon, the director of food services at SVdP.
"We are so grateful that the LDS Church is helping us restock our food warehouse, and helping us meet the urgent needs of our community."
Arizona students from low-income households can get food help
Arizona was approved to operate the Pandemic Electronic Benefit Transfer, or Pandemic EBT.
The program provides assistance to families of children eligible for free or reduced-price meals dealing with school closures.
This allows Arizona to operate Pandemic EBT, a supplemental food purchasing benefit to current SNAP participants and as a new EBT benefit to other eligible households to offset the cost of meals that would have otherwise been consumed at school.
According to the federal government, Arizona had approximately 604,000 children eligible for free-and reduced-priced lunch for the 2019-2020 school year, or about 56% of children in participating schools.
Scottsdale to hold emergency food drive this weekend
Navajo Nation Council to hold spring session as scheduled
Navajo Nation President Jonathan Nez and Vice President Myron Lizer have vetoed a resolution that sought to cancel the tribal council's session less than three days before the scheduled start.
The Navajo Nation Council is required to hold four regular sessions each year in the months of January, April, July and October.
The spring session is scheduled to begin Monday morning.
Although the resolution passed by the council cites concerns over the possible spread of coronavirus among Navajo Nation employees and officials, Nez and Lizer said the Council and its committees have continued to hold regular and special meetings throughout the pandemic.
They say with proper protective equipment for staff and the use of teleconferencing, the session can proceed as scheduled.
The Associated Press contributed to this report.
Flagstaff seeks to raise fines, jail sentences for those threatening first responders
The Flagstaff City Prosecutor's Section of the City Attorney's Office announced Monday that it "intends to seek substantially elevated fines and jail sentences in appropriate cases" for people threatening to intentionally expose first responders to the coronavirus.
"In appropriate cases where a first responder is intentionally and directly exposed to the virus (such as being spit on by a person making such threats), city Prosecutor's Office will work with the County Attorney's Office to pursue Felony charges for Aggravated Assault on a Health Care worker of Law Enforcement Officer, as the situation dictates," the office announced.
The city prosecutor has also coordinated with the Flagstaff Police Department to encourage filing disorderly conduct or threats and intimidation charges where appropriate when first responder has not been directly exposed but has been threatened with exposure.
Salt River Pima-Maricopa Indian Community extends essential services
The Salt River Pima-Maricopa Indian Community extended its essential services until May 31 due to the coronavirus outbreak.
COVID-19 is believed to be primarily spread through coughs or sneezes.
It may be possible for the virus to spread by touching a surface or object with the virus and then a person touching their mouth, nose or eyes, but this is not thought to be the main method of spread, the CDC says.
You should consult your doctor if you traveled to an area currently affected by COVID-19 and feel sick with fever, cough or difficulty breathing.
There is no vaccine for the coronavirus, so the best way to prevent COVID-19 and other respiratory diseases is to:
Avoid close contact with people who are sick.
Avoid touching your eyes, nose, and mouth.
Stay home when you are sick.
Cover your cough or sneeze with a tissue, then throw the tissue in the trash.
Clean and disinfect frequently-touched objects and surfaces using a regular household cleaning spray or wipe.
Wash your hands often with soap and water for at least 20 seconds. If soap and water are not readily available, use an alcohol-based hand sanitizer.
You can text FACTS to 602-444-1212 to receive more information on the coronavirus and to ask questions.
Coronavirus facts you should know
MORE ARTICLES FROM PAST WEEK: