PHOENIX — The number of people who have been diagnosed with the COVID-19 coronavirus in Arizona is rising.
There was at least one case that was not counted in the state's total: Mohave County health officials confirmed that an adult was the third positive case in the county.
Mohave County is the only county that has said where cases are specifically, saying one of its cases is in Lake Havasu City, one in Bullhead City and one in Kingman.
ADHS has updated the community transmission level of COVID-19 in Arizona to widespread.
Public health experts have been warning since last week that the number of cases would "skyrocket" as more people get tested. At a news conference Monday, Gov. Doug Ducey somberly declared that there would be more deaths.
The state's leaders are busy preparing for a peak of illnesses in mid- to late April, with most hospitalizations happening in May, Christ said during a press conference Wednesday.
Here's the breakdown of cases county-by-county as of Thursday morning:
Maricopa County: 299
Pinal County: 35
Pima County: 75
Coconino County: 28
Navajo County: 43
Apache County: 9
Cochise County: 2
Graham County: 2
Santa Cruz County: 1
Yavapai County: 5
Yuma County: 4
Mohave County: 2
La Paz County: 2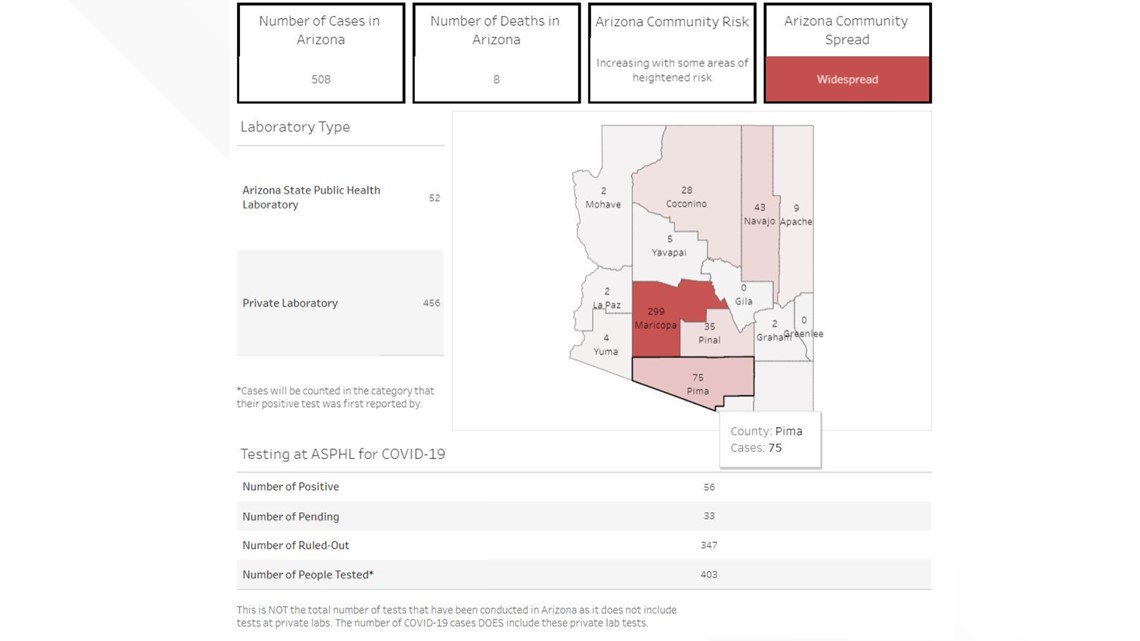 Maricopa County provided this breakdown Thursday of its 299 cases:
- 161 patients are male, 138 female.
-Maricopa County is reporting two cases in children ages 17 and under still.
- 35 percent are between the ages of 18-39; 33 percent are 40 to 59; and 30% are 60 or older.
In total, 58 of the 299 cases were hospitalized, 20 were in the intensive care unit and four had died.
Pima County announced its first coronavirus death on Monday. Coconino County reported its first death on Tuesday.
The first COVID-19 case was confirmed on the Salt River Pima-Maricopa Indian Community. The person is an employee who does not live in the community and is a member of a different federally recognized tribe.
The employee was isolated at home, and health officials are providing guidance to anyone who may have been exposed.
Those counties are all covered by the governor's executive order requiring bars, gyms and other large gathering places to shut down, and restaurants to scale back service.
Just three Arizona counties -- La Paz in far western Arizona, and Greenlee and Gila in eastern Arizona -- have reported no cases of coronavirus. Officials in Arizona's rural counties have said they are suffering from a dire shortage of test kits.
The White House and Congressional leaders reached a deal on a $2 trillion rescue package Wednesday to help working and laid-off Americans, businesses and hospitals. It still faces votes in the House and Senate.
Prince Charles, heir to the British throne, has tested positive for coronavirus. The palace says he has mild symptoms.
New Zealand has declared a state of emergency.
South Korea is sending testing materials to the U.S. It is also issuing a quarantine for people arriving from the U.S.
Britain will shut down Parliament for four weeks.
The number of cases in the Navajo Nation continues to grow. As of Monday, there were 29 cases.
The Gila River Indian Community announced its first cases on Monday. Two people who were tested last week were confirmed to have COVID-19.
Officials said one person is a member of the Gila River Indian Community, and the other is a member of another federally recognized tribe.
They are both recovering at home in isolation.
Gov. Doug Ducey announced last Thursday that he would issue an executive order in an effort to slow the spread of the coronavirus.
He ordered restaurants in counties with confirmed cases of COVID-19 to provide dine-out options only. Restaurants are allowed to deliver alcoholic drinks with a food purchase.
The executive order also closed all bars, movie theaters and gyms in the affected counties, effective at the close of business on Friday, March 20.
Ducey also activated the National Guard to help grocery stores and food banks.
Coronavirus facts you should know
COVID-19 is believed to be primarily spread through coughs or sneezes.
It may be possible for the virus to spread by touching a surface or object with the virus and then a person touching their mouth, nose or eyes, but this is not thought to be the main method of spread, the CDC says.
You should consult your doctor if you traveled to an area currently affected by COVID-19 and feel sick with fever, cough or difficulty breathing.
There is no vaccine for the coronavirus, so the best way to prevent COVID-19 and other respiratory diseases is to:
Avoid close contact with people who are sick.
Avoid touching your eyes, nose, and mouth.
Stay home when you are sick.
Cover your cough or sneeze with a tissue, then throw the tissue in the trash.
Clean and disinfect frequently-touched objects and surfaces using a regular household cleaning spray or wipe.
Wash your hands often with soap and water for at least 20 seconds. If soap and water are not readily available, use an alcohol-based hand sanitizer.
You can text FACTS to 602-444-1212 to receive more information on the coronavirus and to ask questions.