MARICOPA COUNTY, Ariz. — Editor's note: The above video originally aired on Nov. 13.
Both the Maricopa County Public Health Department (MCDPH) and the Arizona Department of Health Services (AZDHS) have created guidelines for schools in "red" or substantial COVID-19 spread areas to follow.
The Maricopa County Public Health Department recently created a map, dashboard, and benchmarks that shows areas' recommended learning scenarios based on the community spread of coronavirus data over two consecutive weeks.
If only one of the COVID-19 benchmarks, including the rate of cases, percent positivity, and COVID-like illness, is in the red for two weeks, then the district should consult with MCDPH about preparation for virtual learning. The county is working with districts that have one or more of these benchmarks in the red for two consecutive weeks, an agency spokesperson said.
Once all three benchmarks are in the red, then a transition to virtual is recommended.
However, some districts in those areas are not preparing online learning plans for a possible shift back to virtual learning.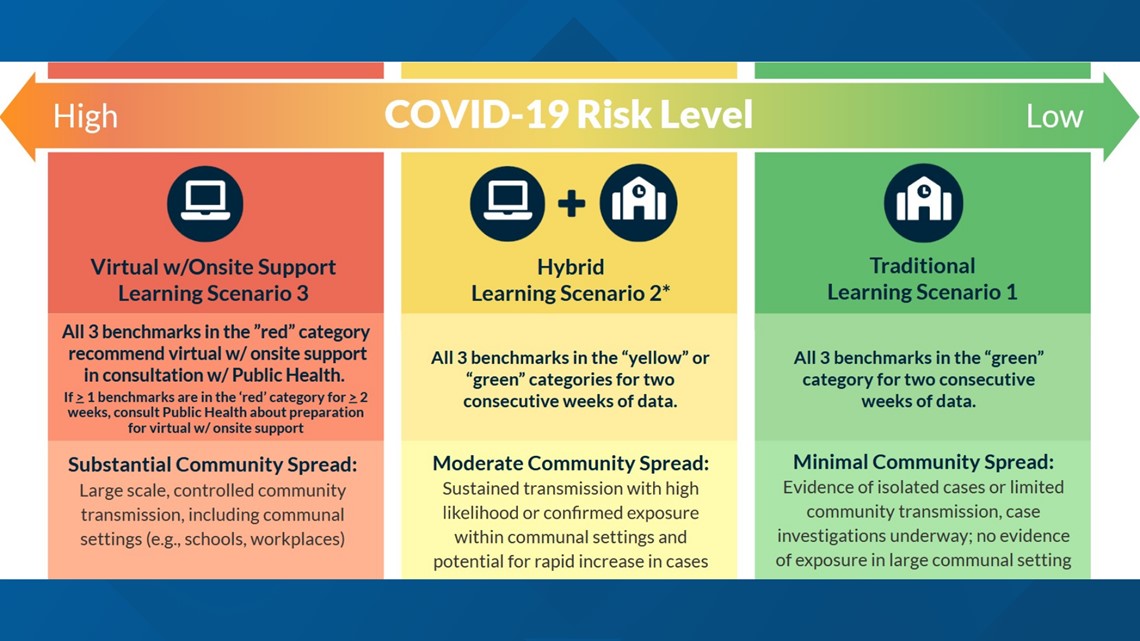 Some unified and elementary school districts in the county, when recently contacted by 12 News, said they were moving ahead with in-person learning and were not creating plans for a potential shift back to virtual learning.
Many stated they were focusing on continuing their mitigation measures to keep COVID-19 out of schools and would only start planning a transition to virtual learning if it became clear that students would not be safe and healthy continuing in-person classes.
MCDPH has been in frequent communication with school districts in red areas, the Maricopa County Joint Information Center said. The department said they take multiple factors into consideration when deciding whether a district should transition to virtual learning, including:
the level of community transmission
whether cases have been identified among students and staff
if cases are identified, how many classrooms are affected
percent absenteeism in the school
student population being affected (i.e., age of students, classrooms affected, etc.)
the model of instruction delivery and mitigation plans in place
the importance of in-person education to the social, emotional, and academic growth and well-being of the student population
No school district in the county has all three of the COVID-19 benchmarks in the red. Any district with all three of these in the red is recommended by MCDPH to transfer to virtual learning.
*Editor's Note: A previous version of this article listed multiple school districts as "not following the guidance of health officials." This list was removed after the Maricopa County Joint Information Center stated that school districts with only one benchmark in the red are only required to "consult with Maricopa County Department of Public Health to determine whether to prepare to transition back to virtual learning with onsite support services." School leadership has the authority to make decisions for their own districts, the joint information center said.