PHOENIX - After a week-long buildup to a potential walkout, Arizona teachers and supporters came out in full force Thursday to voice their demands for higher teacher salaries and better school funding.
Thousands of teachers and #RedforEd supporters marched through downtown Phoenix starting at Chase Field and ending at the State Capitol.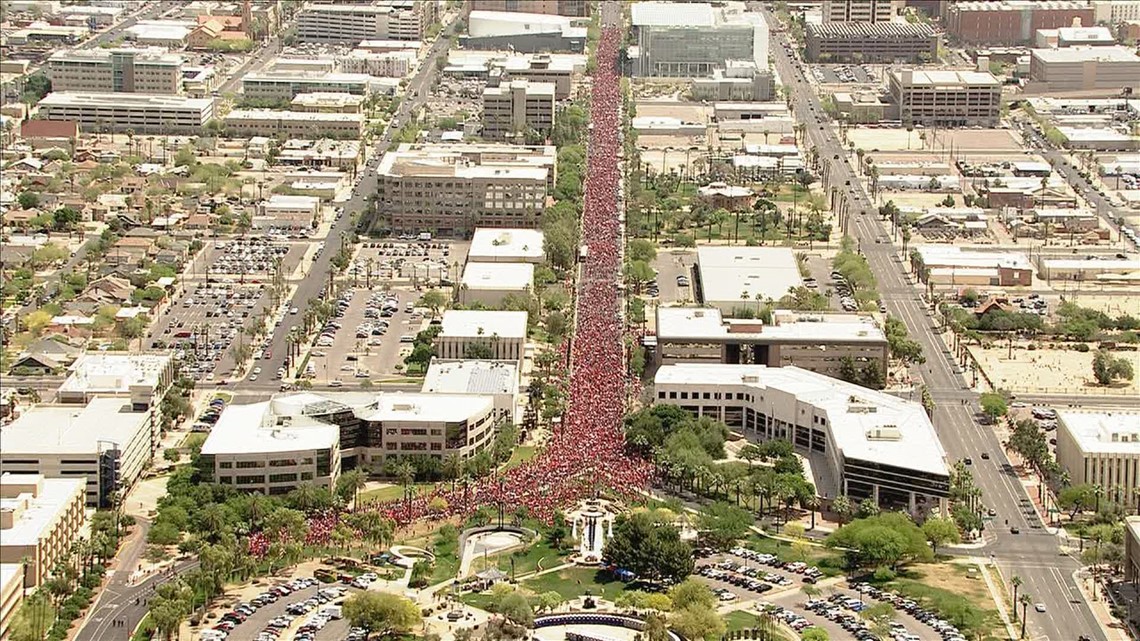 Once at the Capitol, the crowd of over 50,000 thousand people wearing red bunched together in the Wesley Bolin Memorial Plaza for a #RedforEd rally.
And although it had a massive presence in Phoenix, the #RedforEd movement spanned across the state Thursday.
Ducey, who told 12 News Thursday he's "committed" to getting Arizona teachers a raise, has proposed a 20 percent pay raise by 2020. However, education leaders say it doesn't go far enough.
Thursday's event, which started even before, with teachers protesting on street corners, supporters gathered at Chase Field, wraps up at the State Capitol.
Former Arizona Gov. Jan Brewer talks with 12 News over the phone saying that she feels education should be Arizona's No.1 issue.
"I got into politics because of my kids' education," she said.
The former governor criticized Ducey, the man who succeeded her, for his handling of the situation
Brewer said as a governor or a politician you've "got to listen to the people you represent." She said Gov. Ducey has a "tiger by the tail" and an "angry one at that."
She said education is "very, very important" and Arizona has to fund it, adding teachers "aren't getting paid."
The Phoenix Police Department estimates that over 50,000 people are participating in today's events.
As thousands of teachers march on the Capitol, the Arizona Senate adjourns, after discussing the state budget, until Monday. No deal was made.
Thousands chant "Red for Ed" as the rally begins in front of the Capitol.
Former Arizona Gov. Jan Brewer tweets photo of march saying, "Sleeping giant is awake at the Capitol today."
Aerial footage shows the crowd of marchers covers nearly the entire Wesley Bolin Memorial Plaza outside the Capitol, as even more arrive.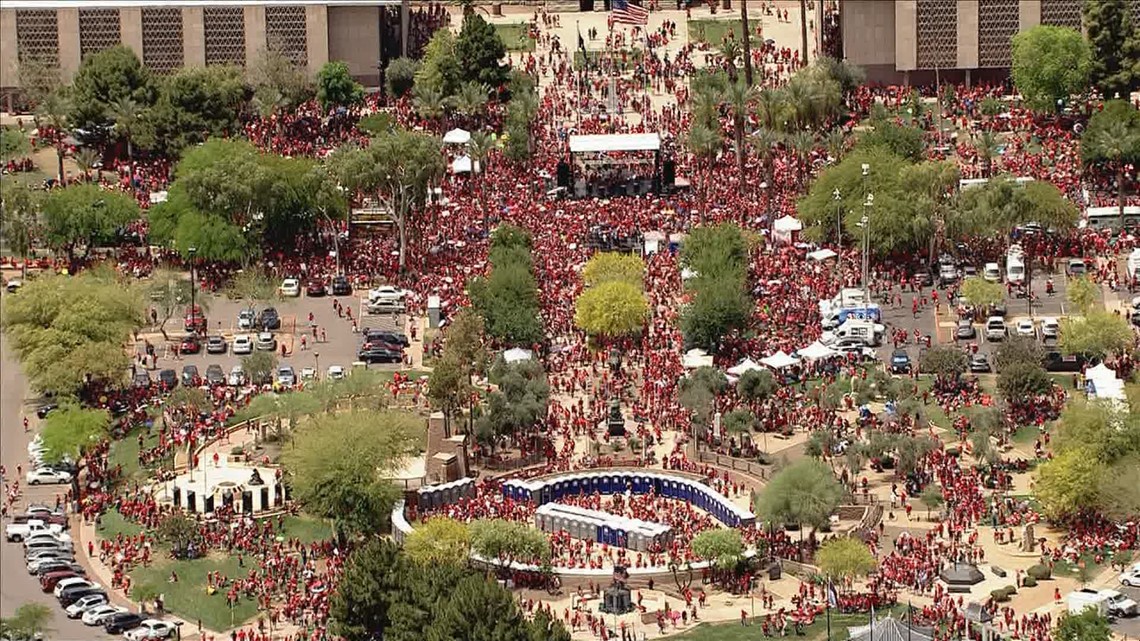 Ducey joins 12 News saying he's committed to getting teachers a 20 percent raise by 2020.
"Teachers have earned this raise," he said.
The proposal would also deliver an addition $100 million for school funding, including support staff, according to Ducey.
Ducey said the funds are there to make this happen since "our economy is booming."
The governor said he has a "sense of urgency" and is "confident" he can get the proposal passed.
"We're getting closer," he said.
Ducey said teachers will have the raise and be able to "count on this raise."
When asked if he would meet face-to-face with #RedforEd leaders, like they've been asking," he said he's already met with parents, teachers and school superintendents.
"It's time to sit down with people who can affect the outcome," he said.
The sea of red starts to fill the Wesley Bolin Memorial Plaza as marchers reach the Capitol.
On Thursday, Douglas said she has "long been an advocate" of increasing teacher pay and adding additional school funding. But she referred to today, as teachers strike and march to the State Capitol, as a "sad day."
"It's our children who will pay the price for it," she said.
Douglas said what Arizona needs is a "sustainable funding source for education," adding she hopes "for our teachers" that Ducey and the Legislature can work through the governor's proposed pay raise plan.
Marchers reach Washington Street where they will head west all the way to the State Capitol. Aerial footage shows the large crowd of supporters stretches several blocks in downtown Phoenix.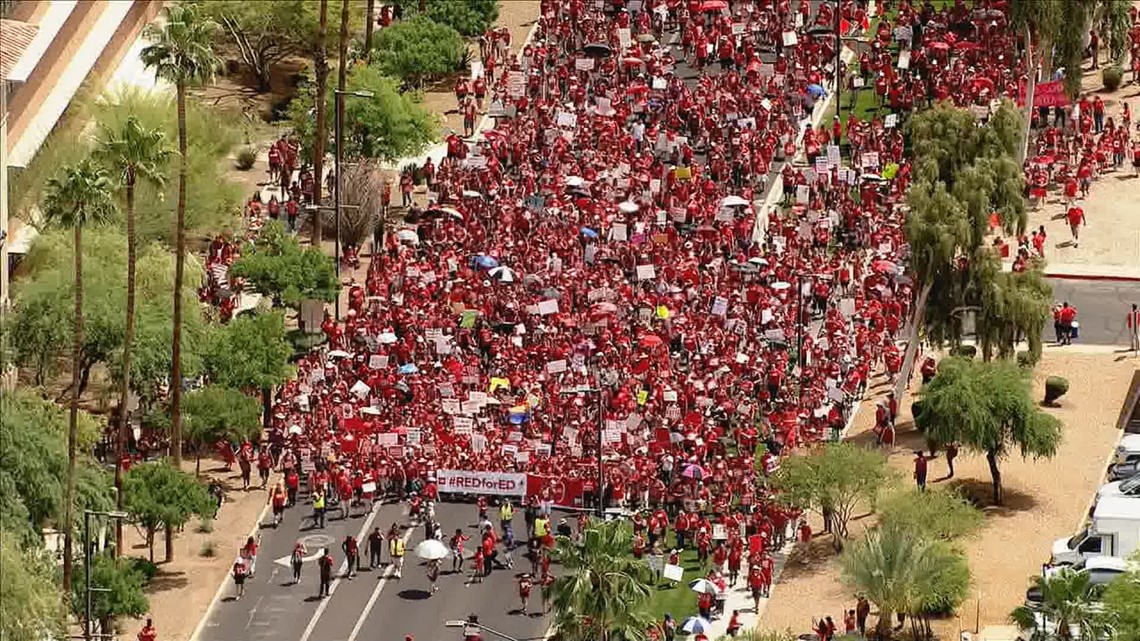 Red for Ed supporters begin the march to the Capitol, west on Jackson Street to 3rd Avenue.
A sea of red shirts was visible at Chase Field as "Red for Ed" supporters prepared to march to the State Capitol.
Teachers and supporters have started to gather at Chase Field, the starting point of the march.
Many more were on their way.
"Without a doubt, teachers are some of the biggest difference-makers in the lives of Arizona children. They need to be respected, and rewarded, for the work they do — and Arizona can do better on this front," he wrote.
Supporters and teacher were up early wearing red shirts on busy Valley street corners protesting ahead of the scheduled walkout.