PHOENIX - There are still many unanswered questions after a chaotic scene erupted following President Donald Trump's rally Tuesday night in downtown Phoenix.
Phoenix police fired pepper balls and smoke bombs to disperse protesters as Trump supporters were leaving the rally.
WEDNESDAY: Phoenix Police Chief Jeri Williams joins 12 News on air at 4 p.m. Then, Tram Mai goes one-on-one with Arizona Governor Doug Ducey at 5 p.m.
Police Chief Jeri Williams said at a news conference late Tuesday night that the police response was prompted by a protester who had thrown a gas canister at police providing security outside the rally.
Several witnesses said they saw a few water bottles tossed at officers.
The names of those arrested were released Wednesday.
Daireus Latravus Stokes, 18, was arrested for three counts of aggravated assault on police, three counts of disorderly conduct, one count of resisting arrest, and three counts of threatening and intimidating. Pamela Ann Robertson, 25, and Derrick Gilbert Pacheco were arrested for one count each. Robertson for aggravated assault on police and Pacheco for disorderly conduct.
Police said a juvenile was also arrested for criminal damage while another man was arrested in the area on an unrelated misdemeanor warrant.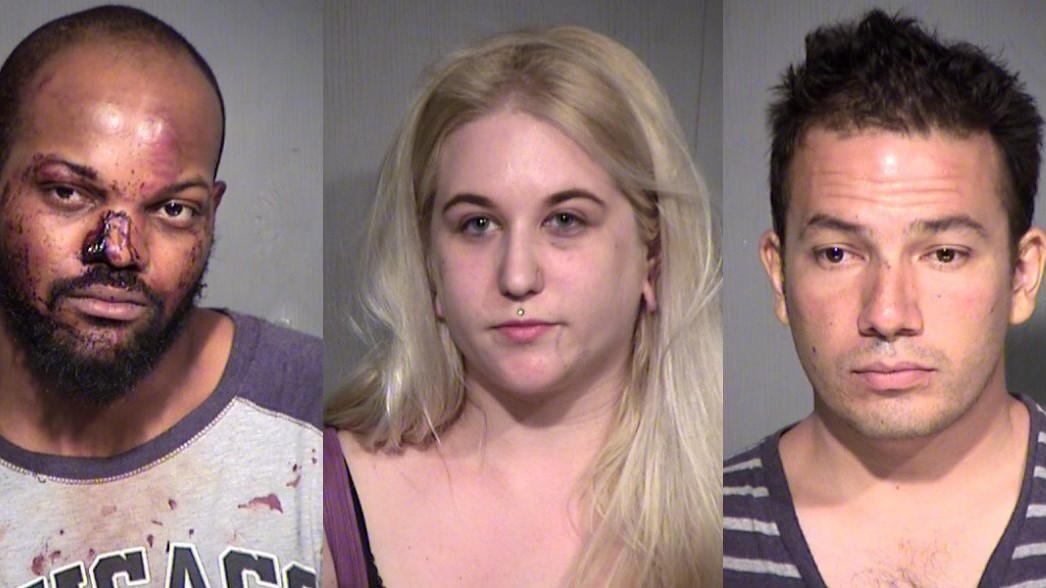 Protesters were outside the convention center several hours before the rally started at 7 p.m. It wasn't until after the president's event ended, about 8:30 p.m., that the confrontation with police apparently escalated.
Williams said police would continue to investigate the incident and provide a complete report later.
Williams said no officers were injured in the protests, but two were hospitalized for heat exhaustion.
Fire officials gave a final count of 56 people treated and 12 transported to the hospital for heat-related illness. No civilians were treated for injuries related to the protest.
Both Williams and Mayor Greg Stanton said the rally was "successful."
Thousands of people were in downtown Phoenix for the rally and protests, they said, and only a small number were involved in the confrontation with police.
PHOTOS: Police, protesters clash in Phoenix