PHOENIX - On Thursday, nearly two years after Jana Van Sickle went missing in Phoenix, Paul Palandri was arrested for her murder, according to court documents.
Below is an entire timeline of her death investigation from start to supposed finish, according to court documents.
November 28, 2016
Just before 9 p.m., tribal members walking through the desert near 87th Avenue and Dobbins Road called the Gila River Police Department to tell them about a hole in the desert described as not very wide but "pretty deep."
Gila River PD tried to find the hole, but couldn't because it was dark and the caller had left already.
November 28, 2016
Jana Van Sickle's son contacts the Phoenix Police department to report his mother missing, as she has not been seen or heard from in a few weeks.
November 29, 2016
Phoenix PD begins missing persons investigation on Jana Van Sickle, 51.
December 13, 2016
Through the course of the missing persons investigation, investigators speak with family and friends of Van Sickle asking questions about her whereabouts, but had no luck, until they spoke with Bill Paige on Dec. 13.
Bill Paige, a family friend of Van Sickle's, told investigators that he would see Van Sickle about every week when she would come by his home in south Phoenix. Paige has known Van Sickle for over 30 years.
Paige told investigators he hadn't' seen Van Sickle since seeing her at his home on her birthday, Nov. 6 2016.
Paige said Van Sickle told him that she was going to Paul Palandri's house to wash his mother's hair because her birthday was the next day, Nov. 7.
Furthermore, Paige recalled Van Sickle saying she was tired of living the "drug life" and that she was going to break up with Paul to get away from the bad life she was living with him. Paige said Jane drove away in her white Ford Ranger pickup truck and he never saw her again.
December 20, 2016
Around noon, the same tribal members that called Gila River PD about the hole in the desert were back in that area and found a large metal gun safe partially buried at the same site where they saw the original hole.
Desert plants and trees were placed around it and on top of it to prevent someone from seeing it, but it appeared wild animals had begun digging up the gun safe, according to court documents.
The tribal members called Gila River PD again and stayed at the site to direct officers.
Gila River PD and FBI agents excavated the site and removed the metal gun safe and took it to another location to have it cut open by the fire department.
Inside, they found a female body in stages of decomposition.
The suspect(s) poured white powder (calcium hydroxide) over the body and used a welder to seal the door of the safe.
Also inside the safe was .22 caliber shell casings and an empty beer can. The victim was wearing one white converse all-star tennis shoe.
The Maricopa County Medical Examiners Office collected the remains and other evidence.
December 27, 2016
The Phoenix Police Department contacted Paul Palandri by phone and conducted an over-the-phone interview with him.
Palandri was Van Sickle's boyfriend at the time of her disappearance.
During the short phone interview, Palandri said he last saw Van Sickle on his mother's birthday, Nov. 7th around 11 p.m. or midnight.
Palandri said Van Sickle walked away from his home that night wearing shorts and a jacket.
Palandri said everything was fine between them and that he has not seen or heard from her since.
He told investigators to look into the "Hells Angels" or "Dirty Dozen" motorcycle clubs because she had "problems" with them, but he gave no specifics.
December 28, 2017
Dr. John Plakis identified the dental remains of the body in the gun safe as Jana Van Sickle.
The medical examiner's office determined the cause of death to be gunshot wounds to the body and ruled it a homicide.
January 10, 2017
A search warrant was executed for Van Sickle's cell phone records. Detective Nicolas Mosley of Phoenix PD mapped Van Sickle's cell phone records from Nov. 7 and 8 of 2016.
According to the cell phone records, Van Sickle's cell phone was being used and was communicating with a cell phone tower close to Palandri's home on East Greenway.
On Nov. 8 between 12:59 p.m. and 1:03 p.m. Van Sickle's cell phone received a phone call from her doctor's office that was not answered but went to voicemail. The phone was communicating with a cell phone tower in close proximity to Palandri's home.
At 2:38 p.m., Van Sickle's phone made an outgoing call to Palandri's home phone, which communicated with a tower near Palandri's home. The call lasted about 35 seconds. This all happened on the day after Palandri claimed he last saw Van Sickle, which he said was Nov. 7, 2016.
No more outgoing calls or texts were sent from her phone. But, the phone appeared to be active with data usage until Nov. 9, 2016 around 11 a.m., showing the phone was communicating with towers near Palandri's home.
On Nov. 18, between 12:31 and 12:34 p.m., there was another brief period of activity involving data usage, which communicated with a tower near Palandri's home.
The cell phone has never been found.
January 20, 2017
During an interview with Van Sickle's cousin, whose name was redacted, she told police she knows Paul Palandri personally and he is a "very scary and very violent person" and told police to check his backyard for Van Sickle's body.
She also told police she checked with all of Van Sickle's friend and relatives in the neighborhood and nobody has seen or heard from Van Sickle since she dropped Van Sickle off at Palandri's house on Nov. 7, 2016.
January 26, 2017
Investigators interviewed Van Sickle's two sons.
Jared Louthan told investigators he gave Jana a ride home from the hospital to her home on East Greenway on Sept. 21, 2016 around 3:30 p.m. She was in the hospital for an arm injury.
Jared said he walked Van Sickle into the home and back into Paul's bedroom.
While Jared was in Paul's bedroom, he said he noticed a .22 caliber rifle propped up against the wall near his bed.
February 23, 2017
The Phoenix Police Department served a search warrant on Paul Palandri's East Greenway Road home.
There were several guns, shovels with dirt on them, work gloves with similar paint from the gun safe on them, similar converse shoes and several welders and welding equipment, among other items seized from the home.
Later that day, Palandri was interviewed and said he did not consider Van Sickle his girlfriend but had a relationship with her. He said he last saw Van Sickle on Nov. 7 at his house between 7 and 8 a.m. because it was his mother's birthday and Van Sickle came over to take his mom to the beauty shop.
Palandri denied knowing how to weld, but later admitted he practices welding.
Palandri previously said he last saw Van Sickle on Nov. 7 around 11 p.m. or midnight, not only in the morning, and he denied that he told the detective that.
Palandri denied killing Jana Van Sickle.
12 News obtained the search warrant and you can see the full findings from Palandri's home below.
PHOTOS: Details from the Feb. 23, 2017 search warrant served on Paul Palandri's home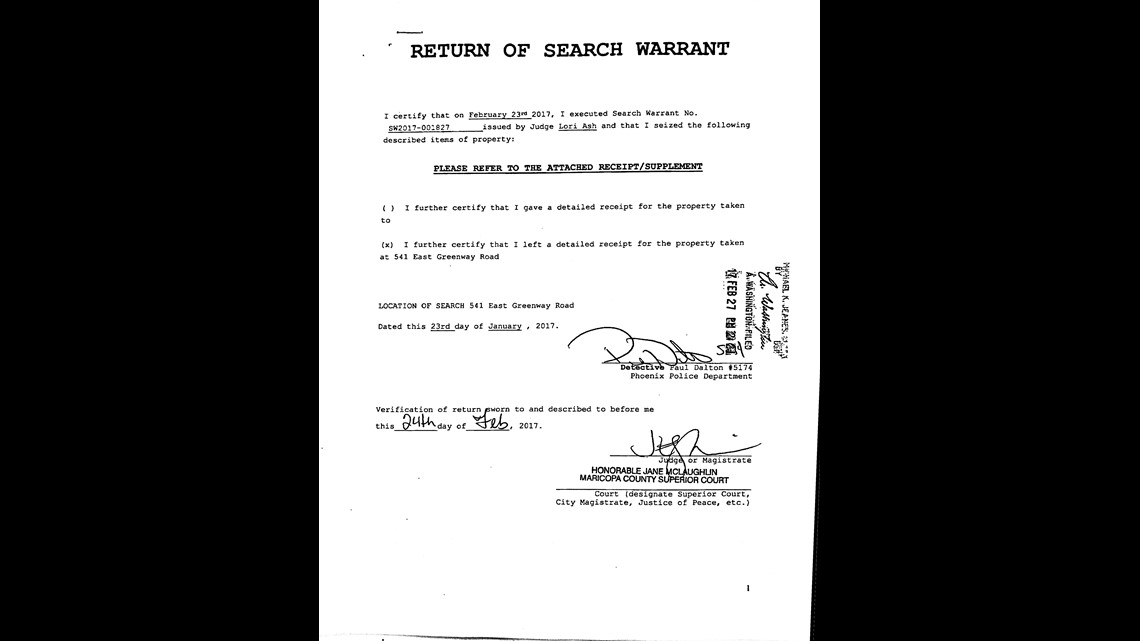 August 1, 2018
Undercover detectives from Phoenix PD's Commercial Crimes Squad met with Paul Palandri at his East Greenway Road home in South Phoenix.
NET (Neighborhood Enforcement Team) Officers previously told detectives they received information from known drug users leaving the residence, who said Palandri and others trade stolen property for cash and drugs.
The undercover detectives went to Palandri's home and told him they had merchandise they wanted to move and went on to say they had beer and Tide soap.
The detectives told Palandri the merchandise was stolen. Palandri bought 28 bottles of Tide detergent and six 30-packs of beer for $90.
October 5, 2018
A witness, unnamed, came forward to talk to investigators about the murder of Jana Van Sickle.
The witness said he/she heard Palandri say several times, "That's why I shot that (expletive)," in different social settings.
Palandri then told the witness how he killed Van Sickle, saying he shot her with a .22 caliber gun twice, telling the witness he did it because she burned down his barn.
The shooting happened in the back room of his home on East Greenway Road.
Palandri allegedly had others sand down his walls where he shot Van Sickle.
He hid Van Sickle's body in his backyard, which is a two-acre property, until she started to "sink," he allegedly told the witness, and he then put her in the gun safe and had to weld the door shut because it wouldn't shut on its own.
Palandri then allegedly had others help him move the safe to the reservation to bury it.
Palandri told the witness that the safe was too big and the hole wasn't deep enough, which is why it was found.
October 11, 2018
Palandri was arrested at his East Greenway Road home at 5 a.m. on one count of second degree murder and one count of trafficking in stolen property.
Phoenix PD
October 12, 2018
Palandri was booked on a bond of $1,000,000. His next court date is Oct. 18.