PHOENIX — A man was arrested on Tuesday after an investigation into his 1-year-old son's fentanyl overdose death in October.
On Oct. 28, officers arrived at Terrance Rowe's house for a call that a child was barely breathing. When they arrived, officers found the child unresponsive and cold to the touch, police said. He was transferred to the hospital where he was pronounced dead.
During the child's autopsy, the medical examiners concluded that the cause of death was fentanyl intoxication.
Officers interviewed Rowe, who was on the scene. He said that he and the child had fallen asleep on the couch and when he woke up the child was limp, police said.
During the initial investigations, two pills were easily visible in front of the couch, police say. They had the label M30 which are oxycodone pills, typically made with fentanyl, police said.
More pills were discovered in a drawer by the couch. Rowe denied any knowledge of the pills in the home, police said.
After the search of the house, officers obtained a warrant to seize Rowe's cell phone which showed him negotiating prices for two large quantities of pills on Oct. 9 and Oct. 17, police said.
Rowe's roommate spoke with police and admitted to knowing that Rowe sold fentanyl pills to make money from the home. He said Rowe always kept them in the drawer next to the couch, police said.
Based on the evidence from interviews and the search, officers arrested Rowe on Tuesday. He is being charged with one count of negligent homicide.
"It seems to be in everything right now," said Cheri Oz, Special Agent in Charge with the DEA Phoenix Division.
Oz says fentanyl is increasingly becoming a problem across the state.
"The price of the fentanyl here in Arizona has not gone up so we know what we were making this huge impact it's not really affecting the cartels financially enough to raise their prices."
Data from Arizona's Department of Health Services shows that from 2017 to 2020, fentanyl has become more and more present in overdose cases.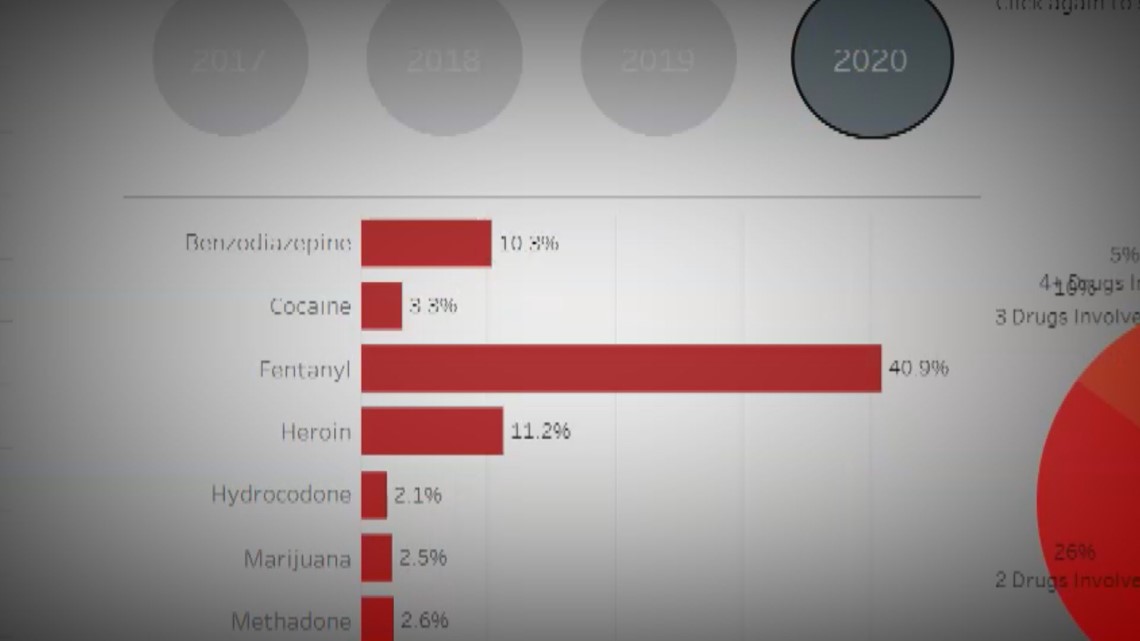 According to that data, 39% of fentanyl overdoses have been fatal.
"A fatal dose is like two grains of salt. And a lot of these pills that we are testing that were seizing have upwards of five grains of salt in them so that would be a fatal dose for almost anyone," Oz said.
If you or someone you know is struggling with substance abuse, there are a number of resources out there to help. Listed below are a few: