PHOENIX, Arizona — Editor's Note: The video above is from previous coverage of the Lori Vallow case.
An attorney representing Lori Vallow, the woman at the center of a nationwide search for her two missing children, filed a motion to reduce Vallow's $1 million bond.
According to the motion, "new facts have come to light" that would support a reduced bond. Vallow's attorney did not specify what the new facts were.
This is the second time Vallow's defense team has requested her bond be lowered. Judge Faren Eddins lowered Vallow's bond from $5 million to $1 million on March 6. Eddins has since withdrawn himself from the case as requested by Vallow's attorney.
Vallow was extradited from Hawaii earlier this month, after investigators in Idaho issued a warrant for her arrest. Before extradition, Vallow married Chad Daybell on November 5, 2019 – two weeks after Daybell's then-wife, Tammy, was thought to have died in her sleep. Investigators in Idaho have since ruled her death suspicious. Results from a new autopsy have not been released.
A screenshot obtained by EastIdahoNews.com shows an order placed on Amazon for a ring matching the one believed to be worn by Lori Vallow on her wedding day. According to EastIdahoNews.com, the purchase was made under Charles Vallow's account. Charles is Lori's husband who was shot and killed by Lori's brother, Alex Cox, in July 2019. Cox told Chandler Police it was in self-defense, but Vallow's death is still under investigation. People close to the case told EastIdahoNews.com Lori continued to use her then-husband's Amazon account after he died.
The Amazon invoice shows a size 4 Sterling Silver Southwestern Style Malachite Gemstone Inlay Band was purchased on October 2, 2019 – 17 days before Tammy Daybell died – and delivered to Vallow's town home in Southern Idaho.
How an Amazon order could be linked to the Lori Vallow case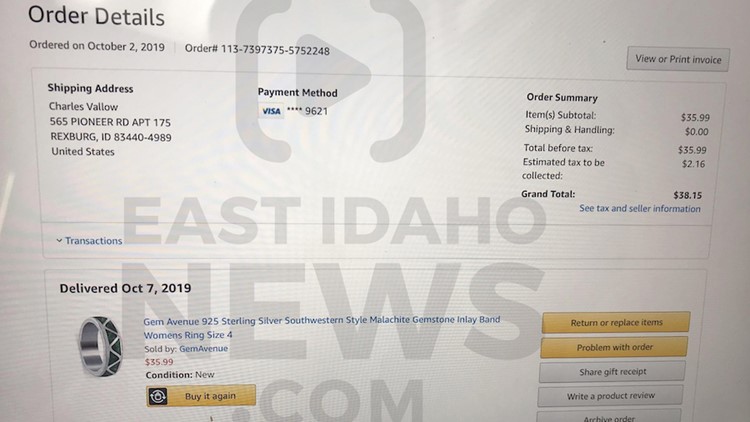 Malachite is a mineral often referred to as "the stone of transformation" and is used by some for "energy cleaning." Court documents involving Vallow's niece, Melani Boudreaux, claim the two women shared religious beliefs and often mentioned using Malachite.
Vallow's next court appearance is scheduled for May 7 or 8. She is charged with two counts of desertion and nonsupport of dependent children. Her 7-year-old son, Joshua "JJ" Vallow, and 17-year-old daughter, Tylee Ryan, were last seen in September 2019. Chad Daybell has not been arrested or charged with any crimes.