MARICOPA COUNTY, Ariz. — The Phoenix housing market is in the midst of a supply and demand crisis that started during the pandemic.
The crisis has caused a rapid rise in home prices that have priced out prospective buyers.
Home prices took a sharp dip in early 2020 according to the Cromford Report, a Phoenix-metro housing data firm. Beginning in June of 2020, the median home price in the Valley began a rise that has continued into November 2021 and looks unlikely to stop any time soon.
Housing analysts say there just aren't enough homes on the market for all of the people who want to buy them.
The data: Numerous homes are owned by big businesses
12 News looked at one year of home sales data from the Maricopa County Assessor's Office to try and answer two questions: Who is buying all of the homes and where are they buying them?
More than 150,000 residential properties sold from June 2020 – June 2021, according to the data. These included single-family homes, apartments and townhomes.
Buyers included a mix of individuals or families, but tens of thousands of homes sold to corporations or small companies.
More than a quarter of homes sold to cash buyers, including investment companies the data and Cromford Report confirmed. 12 News found that the company that bought the most homes in Maricopa County during that time period was Progress Residential, a rental home company registered in Delaware with its corporate headquarters in Scottsdale.
Progress Residential was incorporated in Arizona in June of 2019, according to data from the Secretary of State's website. Since then, Progress has purchased nearly 1,500 homes in Maricopa County.
Progress Residential is Maricopa County's largest home buyer
One real estate insider showed 12 News copies of offers from a Progress representative showing the tactics the company uses to buy houses.
"We represent a large, reputable investment company, Progress Residential, that purchases homes for long-term rentals," one email stated. "They own approximately 5,000 homes throughout the valley," continued another.
Here's a timeline of homes that Progress Residential purchased during the COVID-19 pandemic:
"They are aggressively pursuing this house with a cash offer of $25,000 over list price!" trumpets a third e-mail, also from a representative on behalf of Progress Residential.
"What these investors are doing are disadvantaging the households that most need that foothold within the market," Dr. Dierdre Pfeiffer explained, who holds a Ph.D. in urban planning and teaches housing and planning policy at ASU. "These buyers cannot compete with these large institutional investors."
Pfeiffer has published research on real estate and urban planning since the financial crisis, and she has seen a rise in investment buyers since 2011.
"Before that time period, we had single-family homes that were owned by investors," Pfeiffer said. "These investors were renting them out, or flipping, but these tended to be smaller, local, kind of mom-and-pop investors. We didn't see the rise of these big corporate or institutional investors until that dislocation happened during the foreclosure crisis."
Home prices in Phoenix may be on the rise, but they are still much lower than the nation's most expensive housing markets - places like Los Angeles, the Bay Area, and New York City. That allows investors to buy properties that are much more likely to appreciate in value.
"There's tremendous opportunity to capitalize on our housing market on the growth that is happening in our housing market right now," Pfeiffer said. "And when I say growth, I don't just mean growth and property values that are happening, but also growth in rents."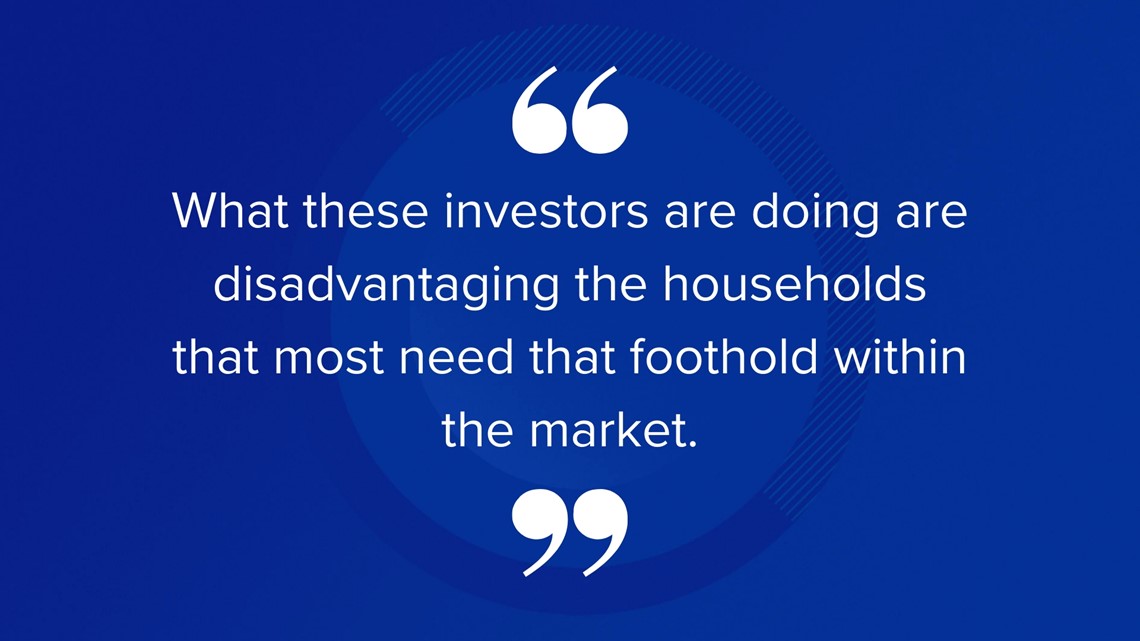 Would-be homebuyers priced out
Pfeiffer said those impacted most by this strategy are often first-time would-be homebuyers who need financing to buy a home.
As of the fall of 2021, the median home price in the Phoenix market was around $400,000 and rising.
The Maricopa County home sales data showed Progress Residential purchased homes below the median price. These are the same homes first-time buyers try to purchase.
While large companies can make all-cash offers, often in excess of the listed price, an individual buyer will most likely need to make an offer backed by a lender that includes contingencies, Pfeiffer said.
Most sellers are not considering who they sell to.
The institutional buyers make the transaction quick, easy, and profitable. Large companies don't always offer the most money, but they do usually offer the easiest transaction.
How Progress Residential is changing one Valley neighborhood
Progress Residential bought more than 70 houses in zip code 85041 from June 2020 – June 2021, according to the Maricopa County Assessor home sales data.
This zip code is in south-central Phoenix bordering South Mountain.
Robert Robinson lives in that zip code. He has owned a house in the Barcelona neighborhood near 27th Avenue and Roeser for seven years.
"I'm going to die here," Robinson said with a laugh while drying a rug in his driveway. "At least that's – that was the plan."
Robinson said he has definitely noticed more renters in the area and more movement of neighbors in general.
And Robinson said he gets one to two calls or texts each day from people he's never contacted nor responded to about selling his house.
"I'm Ron and I work for Home Offers Network," Robinson reads from his text messages, "Open to a cash offer on [my address]?"
Robinson ignores them because he says he has no plans to move. But that may change if rental properties continue to pop up on his block.
"If some company was to come in here and buy up all these houses around me, and I found out that it was an investment company, I would probably put mine on the market," Robinson said.
It's not clear what Progress Residential's strategy is when it comes to these homes or any of their homes in the Valley. The company declined multiple requests for interviews with 12 News but provided a statement via email:
"Progress Residential is committed to providing accessible rental housing and the highest-quality rental experience possible with housing options that provide numerous benefits to residents, including dependable and attentive service, outstanding value, and housing stability," the statement reads.
"We are making it easy for people to find, lease, and love their rental home and, with customers as our top priority, we aim to set the standard of care for the industry as a whole in Phoenix and across the country."
Pfeiffer's research has found that a growing number of rental properties in an area can have benefits for a community that faces rental shortages too. She notes that even though it may upset homeowners like Robinson, more available rental properties can help families who are moving into an area for a temporary period to access neighborhoods they otherwise might not be able to afford.
"Buying single-family homes, turning them into rentals allows renters to access communities that they never before would have had access to," Pfeiffer said. "By access and communities, I mean places that have these conditions for higher quality of life; safety, better schools, parks."
For anyone hoping this type of business model will end or at least lessen, there's really only one group with the power to stop it: Home sellers.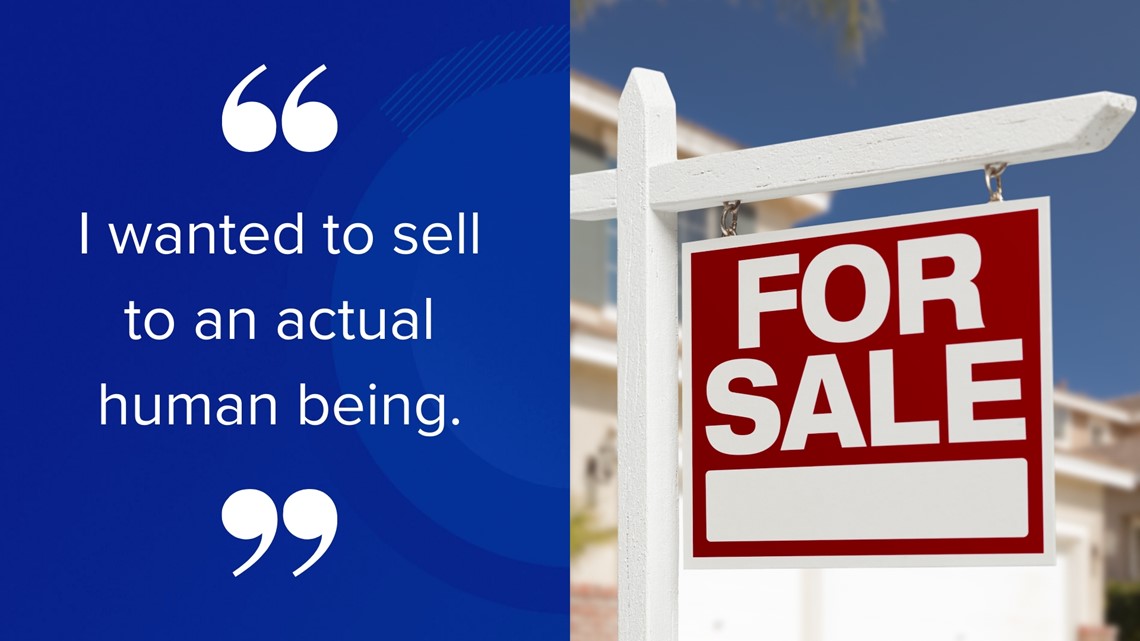 Sellers can end the big business model of home buying
"In a community like this, if they see this institutional investor as a threat, there might be an ability to organize within the community to exert social pressure on the sellers," Pfeiffer explained.
Sometimes sellers don't need the pressure.
Perla Gurrola put her home on the market on a Friday and had it under contract by Monday. She said she made sure she knew who was buying.
"When I bought my house as a newlywed, I remember that the owners gave us the opportunity to -- as actual people and human beings – to live here," Gurrola said. "I wanted to do the same thing. I wanted to sell to an actual human being."
VERIFY
Did you miss one of our verified fact-check segments? You can find all of our VERIFY stories on our 12 News YouTube playlist here.