MESA, Ariz. — Confrontational manager meetings, desperate corporate text messages and a new store culture of surveillance.
These are the conditions workers at Mesa's Power and Baseline Starbucks location said they're facing as they push to become the third Starbucks store in the country to unionize.
It doesn't look like they'll be the last.
The Mesa "partners," what Starbucks calls its store workers, who spoke to 12 News said that they have always been treated poorly by managers and corporate. The move to unionize made by the Buffalo location showed them that bargaining power was a real option they had.
Why Unionize?
"There's always been short-staffing, a lack of support, and us not getting what we really need," said Liz Alanna, who has worked at Starbucks for the past eight and a half years in Chicago, Tucson, and Mesa.
"We're sick of the lies, double standards, and hypocrisy. It's not helping us get our job done."
Some of the hypocrisy the partners are referencing comes from texts and emails sent by corporate. The communication urges partners to vote no on the upcoming union vote. They also say unionization would create "tension" and "continued division" in its stores.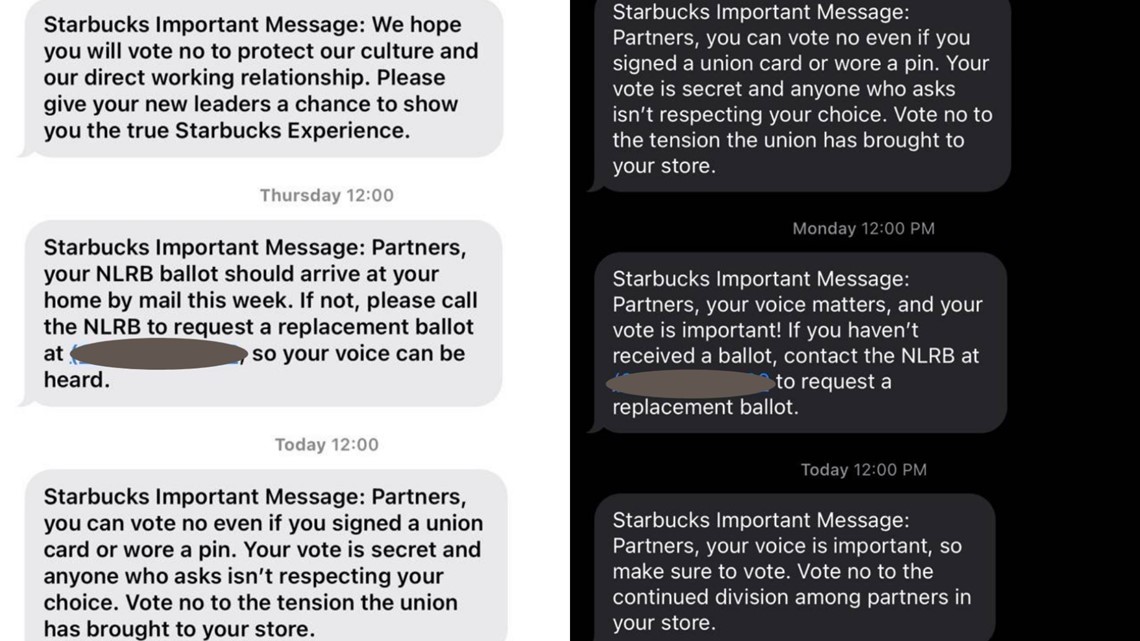 Tyler Ralston, a partner at the Power and Baseline store, disagrees with the company's claims. He said partners are responding to the tensions created by corporate.
"We know who 'the union' is: It's us," Ralston said. "[Corporate] keeps telling us that it's a third-party organization that's going to come between us. Even if that was true, I feel like I'd want that because [corportate] isn't showing us the self-respect and the dignity that a company should."
The union election date for Power and Baseline is scheduled for Feb. 16.
Power and Baseline inspires another Mesa location
The events at the Power and Baseline location have inspired another Mesa Starbucks to start the unionization process.
Partners at Mesa's Crismon and Southern location said they were experiencing anti-union sentiment before they had started the unionization process for their store.
"We literally had partners in our store that were asked to discourage unionizing," said Olivia Cassidy, a partner at the Crismon and Southern location. "There were plants in our own store and that just makes us feel more divided and untrustworthy of each other."
The decision of Power and Baseline to start the unionization process prompted meetings between managers and partners at the Crismon and Southern location, according to Eliza Kent, another partner at Crismon and Southern.
She said that partners were met with a lack of knowledge and a call to "vote no." whenever managers were asked questions about the unionization process.
"They were dodging questions about pay. They were dodging questions about unions. They just kept saying 'we don't know anything about unions, we just know that they're bad,'" Kent said.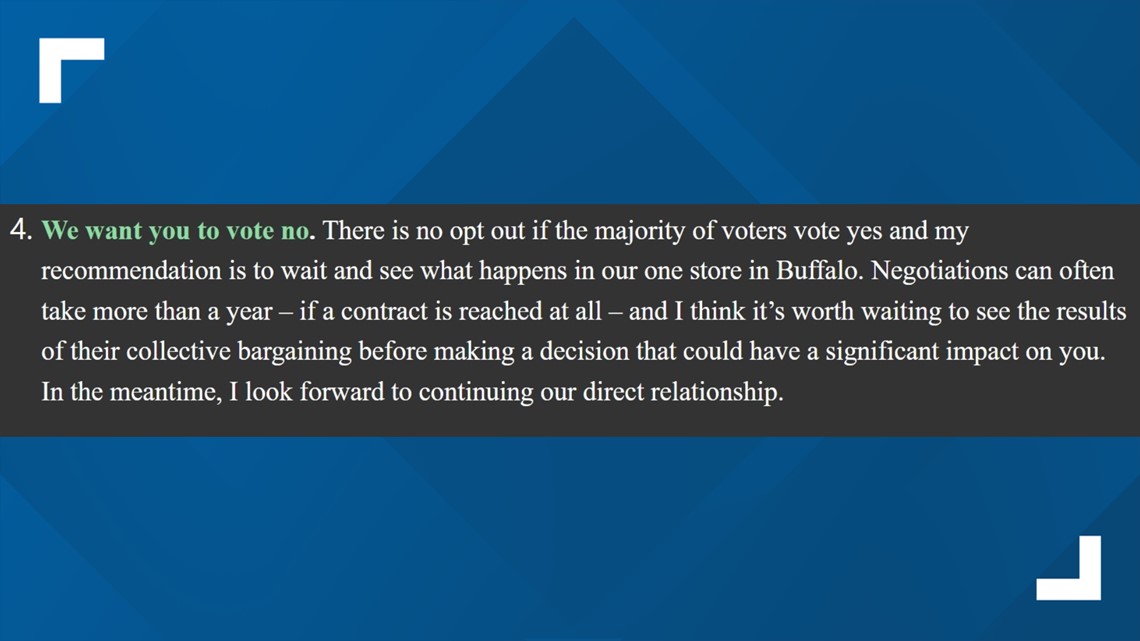 Starbucks trying to stop unionization on a national scale
Texting and emailing haven't been the only ways Starbucks has sought to stop the Mesa location from unionizing.
The corporation recently asked the National Labor Relations Board (NLRB) to overturn a ruling allowing unionization on a store-by-store basis in Arizona, according to reporting from Bloomberg. It argued that unionization should be done on a regional basis.
Starbucks filed a similar request in November to stop the unionization of the Buffalo location. The request was rejected by the NLRB.
12 News has reached out to Starbucks corporate for comment. The company responded with this statement:
"We are listening and learning from the partners in these stores as we always do across the country. Our position hasn't changed: Starbucks success—past, present, and future—is built on how we partner together, always with Our Mission and Values at our core.
As Rossann Williams, evp and president, North America, recently shared with our partners "the vote outcomes will not change our shared purpose or how we will show up for each other. … We will keep listening, we will keep connecting and we will keep being in service of one another because that's what we've always done and what it means to be partner."
Up to Speed
Catch up on the latest news and stories on the 12 News YouTube channel. Subscribe today.