GILBERT, Arizona — The trip to the Gilbert secondhand store was supposed to be for Rose Farmer's daughter. She needed a costume for school and the Goodwill located a few miles away from her house near Higley and Queen Creek roads was where they decided to try one Saturday evening in early March.
After finding the costume, Farmer remembers telling her mom that she was going to go look at the books.
"I started looking at the books and an older lady was next to me. She's the one that actually picked the book up. And the note fell out like this," Farmer said while opening the book above her kitchen table as a white, folded piece of paper fell out onto the blue-patterned tablecloth below.
The note was written by a father to his son.
"You feel it, you just feel it deep down," Farmer said.
In black ink on white paper, the note reads, 'believe Trent – Believe You are loved and respected! So let's get going, the ride may be bumpy but we will get there. When you believe in you as much as I do you will be there. Dad"
Farmer recalled asking the woman if she minded if Farmer bought the $2.29 book, which ended up being 50% off.
"I was like, 'I have to find out who this is,'" Farmer said.
The paper appears to be from the Monterey Plaza Hotel and Spa in California. The book by Carson McCullers is titled "The Heart Is a Lonely Hunter."
"I looked it up because I never, I never read it," Farmer said. "And the book is about overcoming hopelessness."
Farmer believes the novel was carrying another story that's not yet known.
"There's a part of me that thinks maybe he didn't even know the note was in there? I don't know. And I think just seeing where he is today and wondering, how did this note affect his life? If he did read it, you know? And if he didn't, that he realizes that there was somebody out there that supported him, no matter what," Farmer said.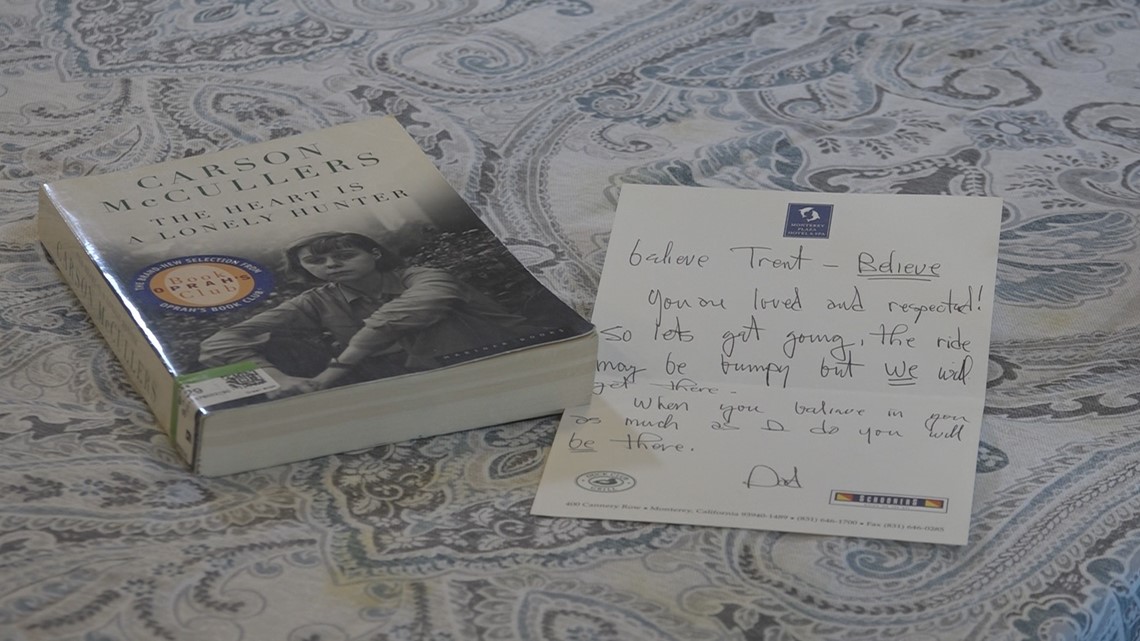 To try and find Trent or his dad, Farmer posted a picture of the book and the note on the Facebook group, "Go Gilbert."
The comments posted include people hoping she will find the original owner, and being inspired by the contents of the note.
Including one that read, "I feel like maybe all of us were moved by the note are indeed a Trent, thanks for sharing the love note."
Farmer is hoping to find Trent or his dad and hear the story behind the note, if they're willing to share.
But if not, she believes the secondhand encouragement is making a difference too.
"Sometimes it takes a stranger, you know what I mean, to lift you up and say, 'You know what? I believe in you. And you can, you can do great things, you know, you can overcome any obstacle,'" Farmer said.
Up to Speed