We want to help you connect with your loved ones, which means virtual hugs all around.
Just shoot a 15-second video of your greetings to one another – whether it's "happy birthday," "congrats on your wedding," or even just "I miss you" – and post them on your social media. We also want to feature paying it forward, so send us those too.
Be sure to message us on Facebook and tag us and use the hashtag #SendTheLove on Twitter and Instagram for a chance for your message to be shared on air.
#SendTheLove feed:
The Scottsdale Fire Department applauded hospital staff at the Honor Health Shea campus on Tuesday night.
The Mesa Police Department is asking everyone to join them Monday night at 8 p.m. to applaud all of our healthcare workers who are working tirelessly to keep us all safe. #Solidartyat8
Oh, baby! One Valley community celebrated in style with a baby shower car parade. Angela Fugatt sent in this photo of the shower in north Phoenix to shower Caleb and Trishann Spacht. Congrats on your baby girl!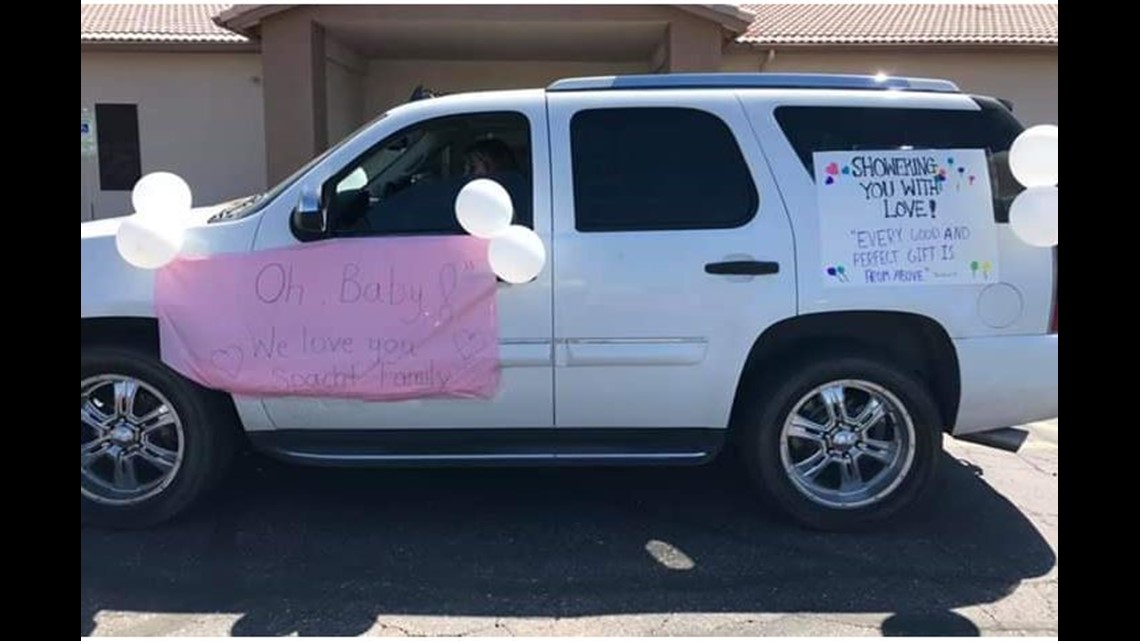 An employee from HonorHealth sent us this photo of other employees praying during a shift. Avery Aboud says the image is a reminder that we will fight the virus and beat it.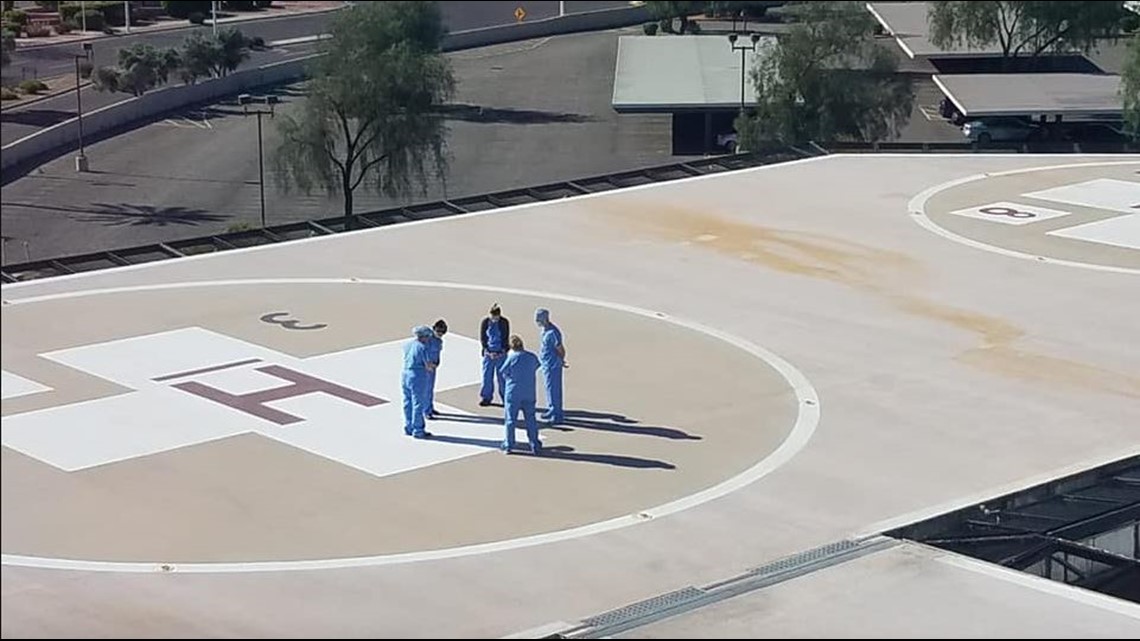 With schools closed, teachers from Westar Elementary School in Estrella Mountain wanted to give a shout out to their students!
Check out this awesome impromptu bagpipe concert in the Cheery Lynn Historic neighborhood. A neighbor sent us this video. The man dressed in a kilt walked throughout community spreading cheer with his music!
IronOaks, an adult community in Sun Lakes, found a way to connect while social distancing. Every evening at 5 p.m., they are having "curbside connections" where a majority of the 7,000 residents walk to the curb or window to wave as neighbors on golf carts safely drive by to say hello with a wave.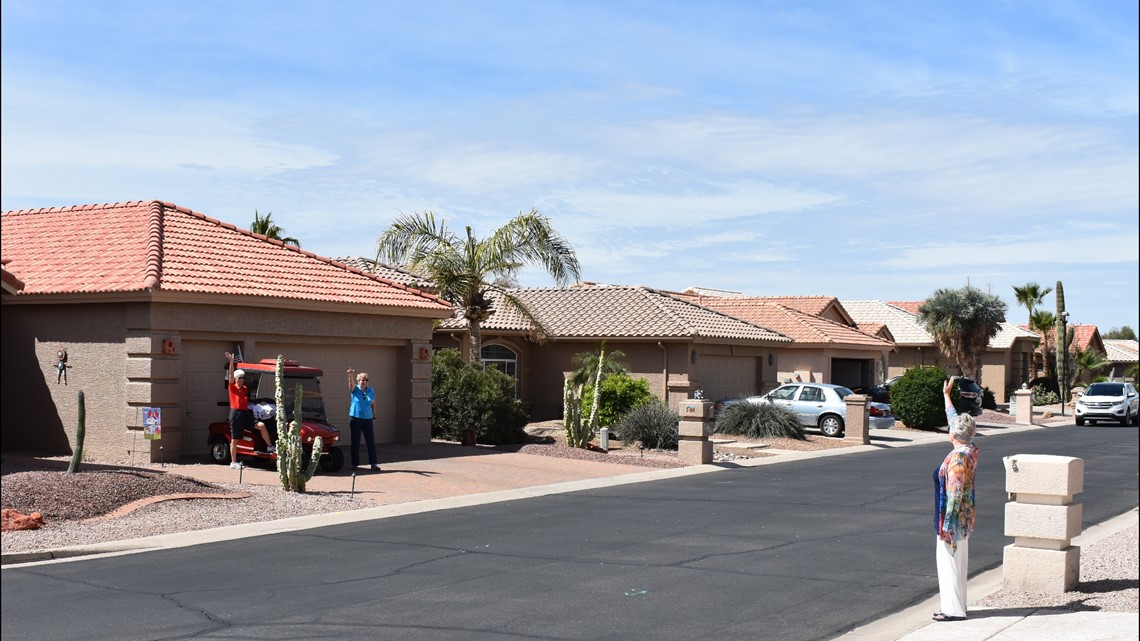 Shelley Fowler and her husband delivered 20 bags of dog food and some canned cat food to the residents of an independent living community in Gilbert. Fowler's mom is on lock down in the community where many people have furry companions. She wanted to encourage others to check on elderly neighbors to make sure they have what they need to stay inside.
A bus driver, Mr. B, made a video to send the love to the kids who ride his school bus to let them know they are missed.
Kathy Scott's 94-year-old mother and 8-year-old granddaughter made a "stained glass" art project together while social distancing.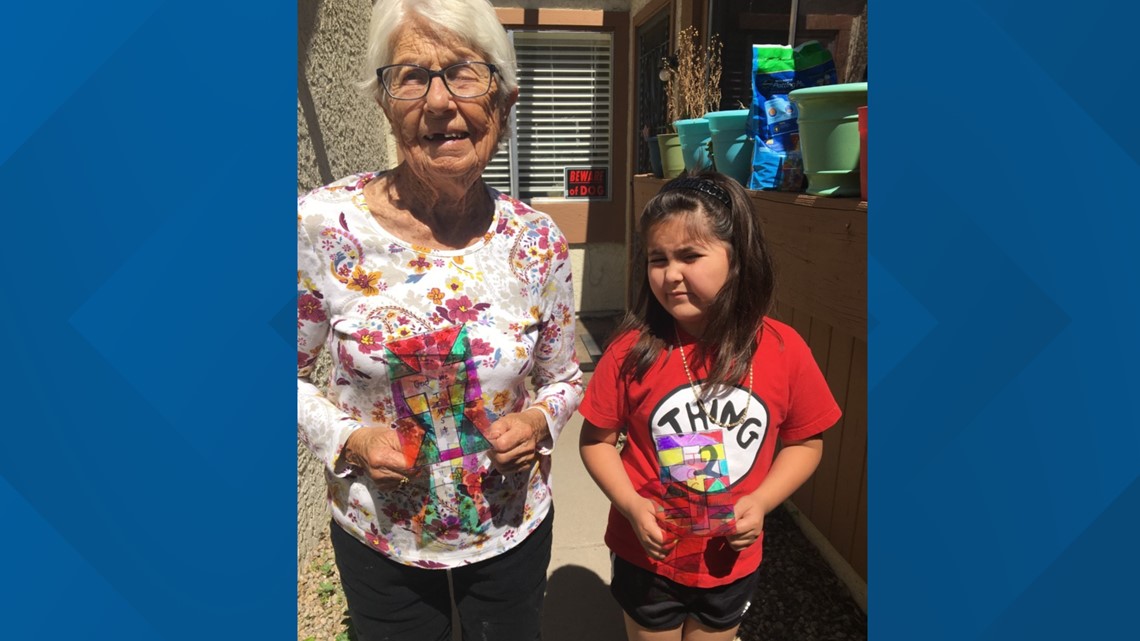 KaBrina Krigen posted a video of her neighborhood writing, "In a world full of hate, be a light." She said she loved to see the neighbors come together to fill the street with love.
Aubrey Carter is sewing masks for skilled nursing facilities in the valley that are out of supplies. Those facilities donated the material for gowns and masks.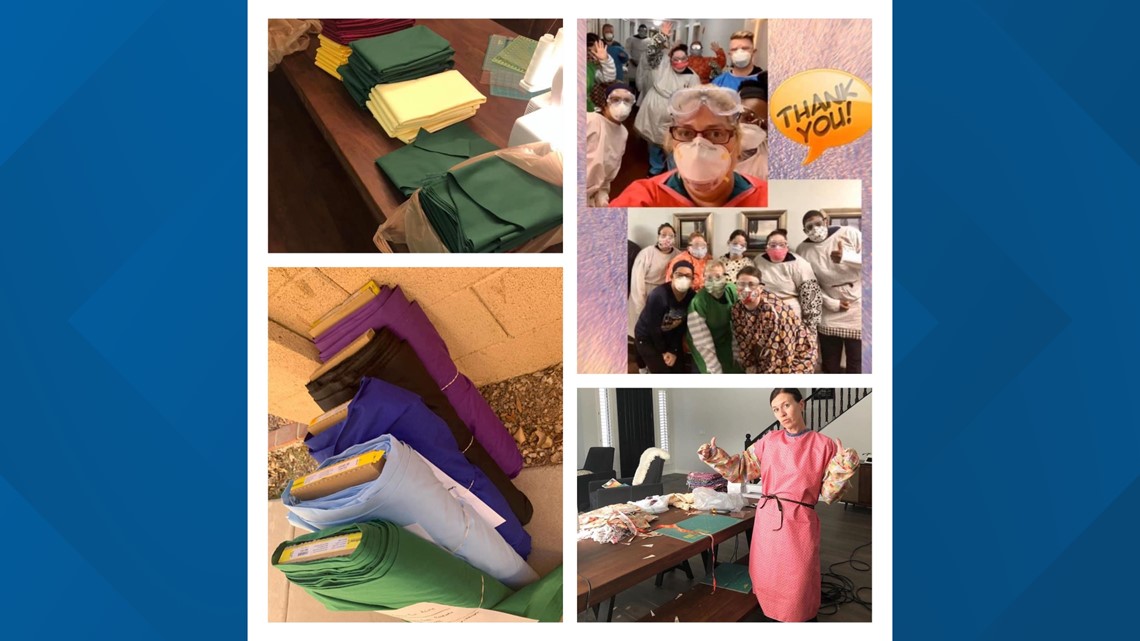 What great way to stay clean! The Gilbert Fire Department is giving a shout out to SERVPRO for donating a deep clean to all 11 stations! The fire department says the cleaning will help everyone stay safe and employees are beyond grateful for the service.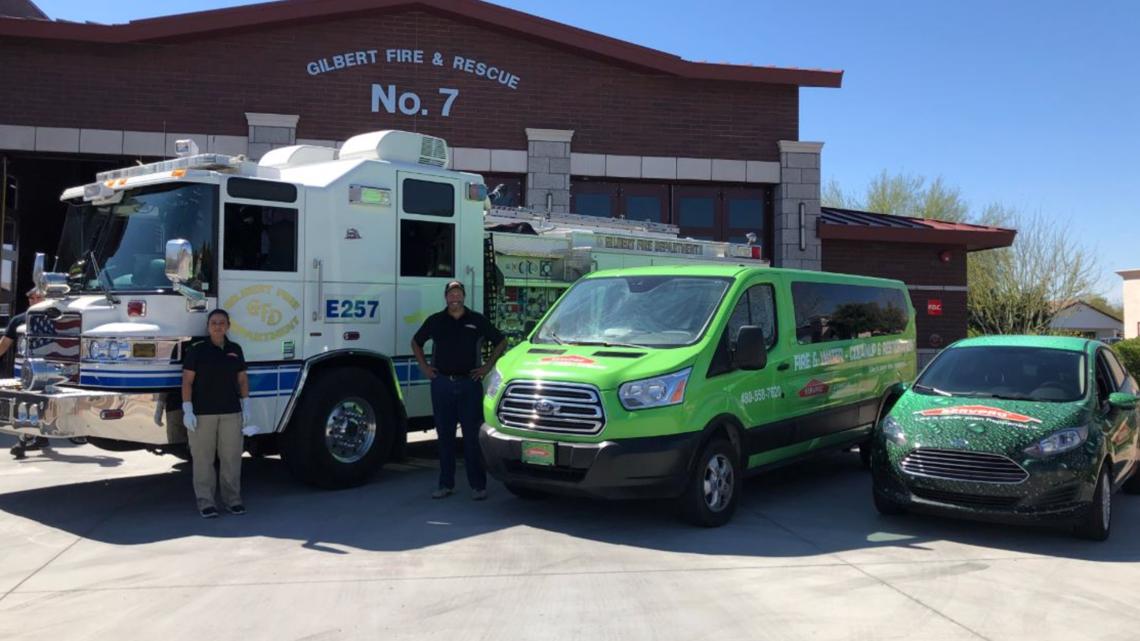 Check out this awesome inspirational rock! Robbie Turk lives in Cottonwood and found this rock by her mailbox. She says the kids in the community are painting the rocks with cheerful messages and putting them by everyone's mailboxes.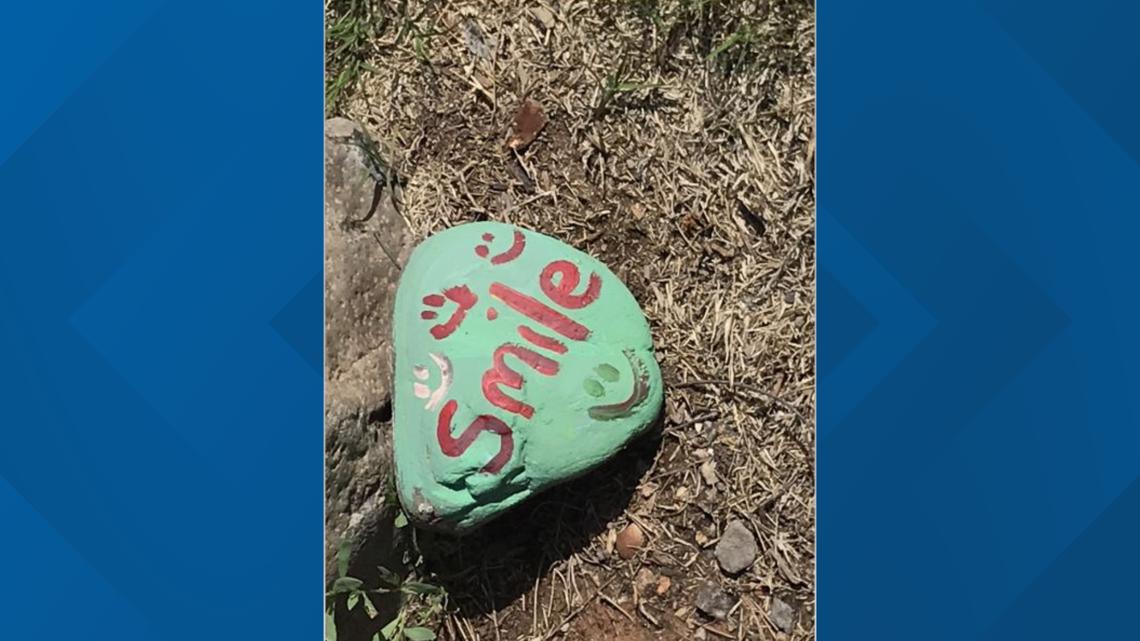 This sweet girl is sending the love! This is Nora Hall. She wants to thank all those working in service, including a special shout out to the mail man! Nora also wanted to send a special thank you to her mom and dad who help serve the homeless.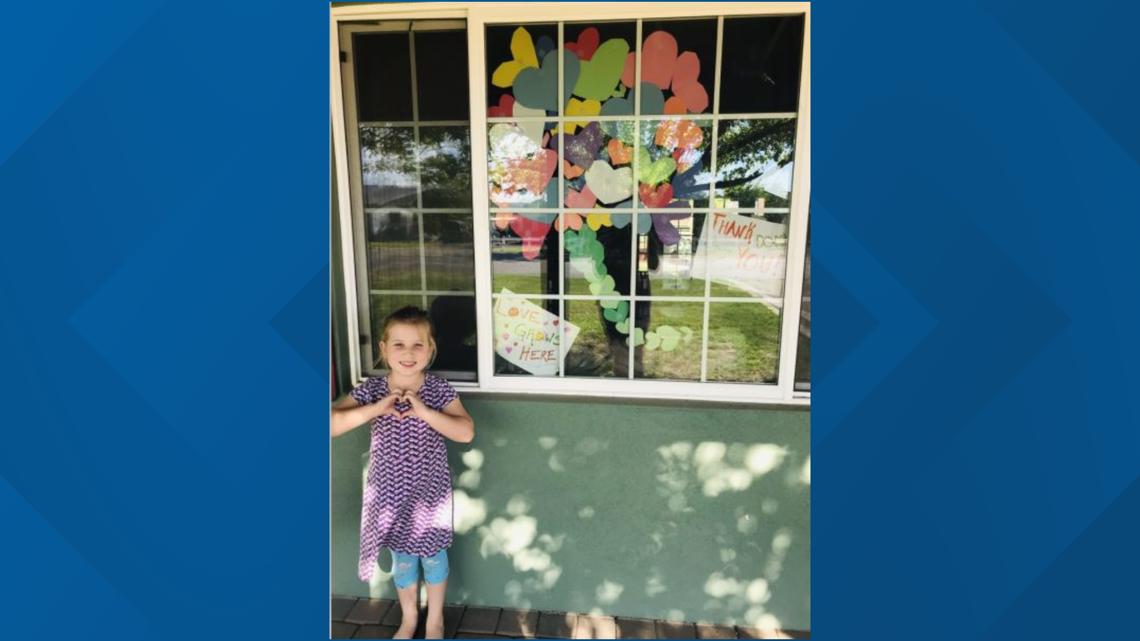 A big thank you to our First Responders! Heather Guzman from Country Financial had lunch delivered to the boys in blue at the South Mountain Precinct this week.We all appreciate the hard work!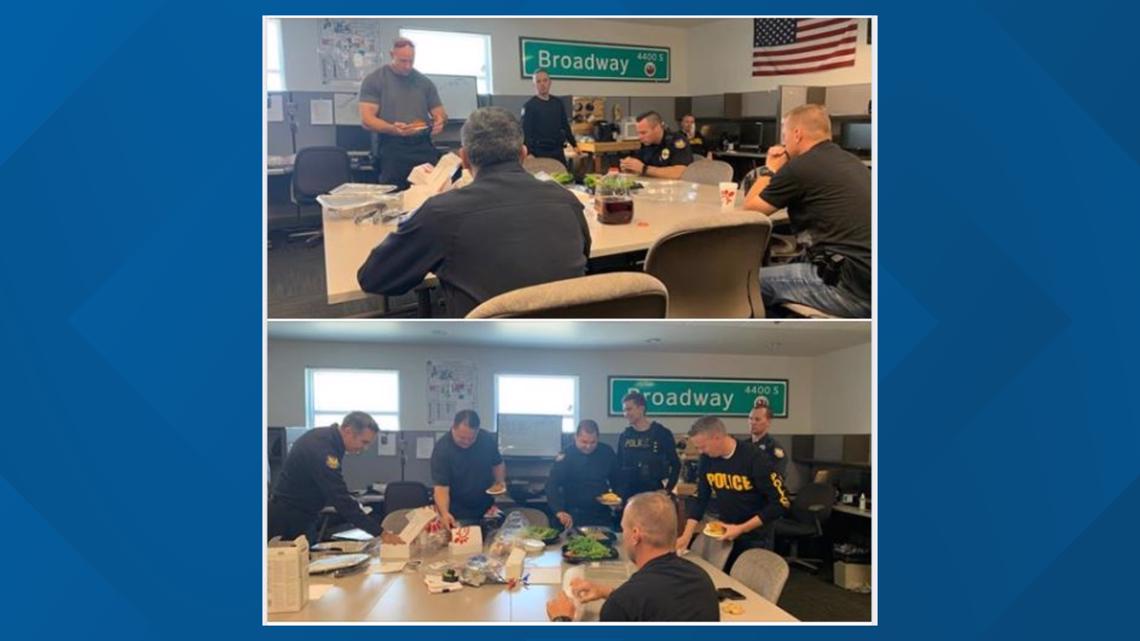 A high school senior in Anthem wants us to help seniors in need! Emma Suttell is hoping people will support the charity "Love For The Elderly" by handwriting letters to seniors! All you have to do is write an uplifting message/letter and mail it in! The letters will then be distributed to seniors in nursing homes across the country. If you are interested, you can find the address at lovefortheelderly.org.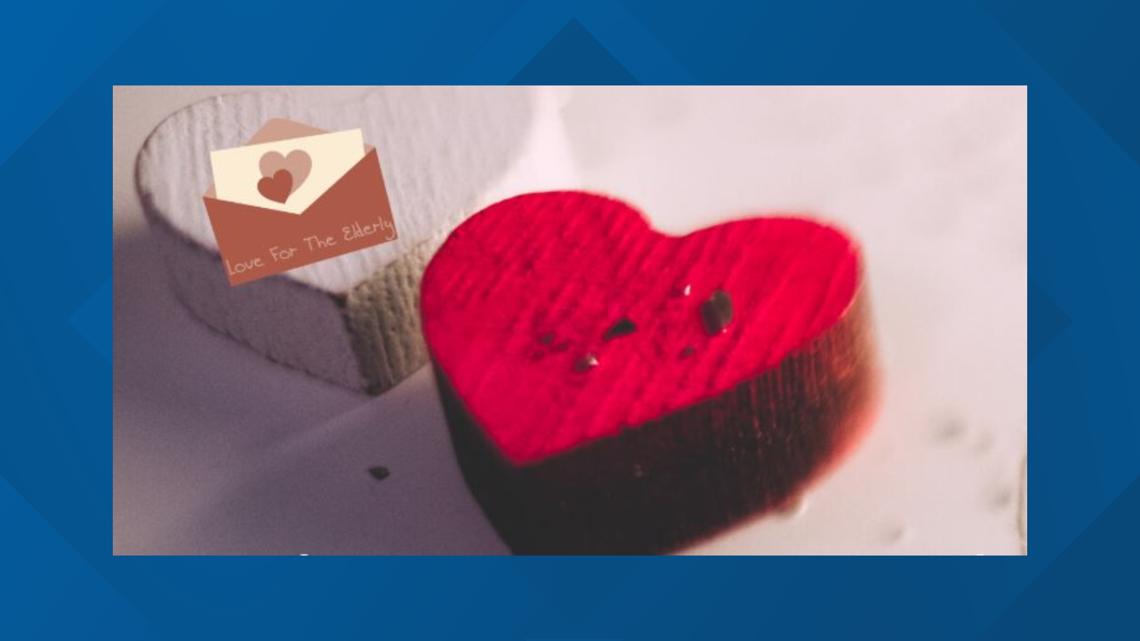 How's this for some inspiration? Barbara Moffit posted this photo on Facebook. While she was walking, she spotted this fire hydrant and a message that read 'Breathe' on the bottom. Barbara says it's so much fun to find these uplifting messages as she walks each day!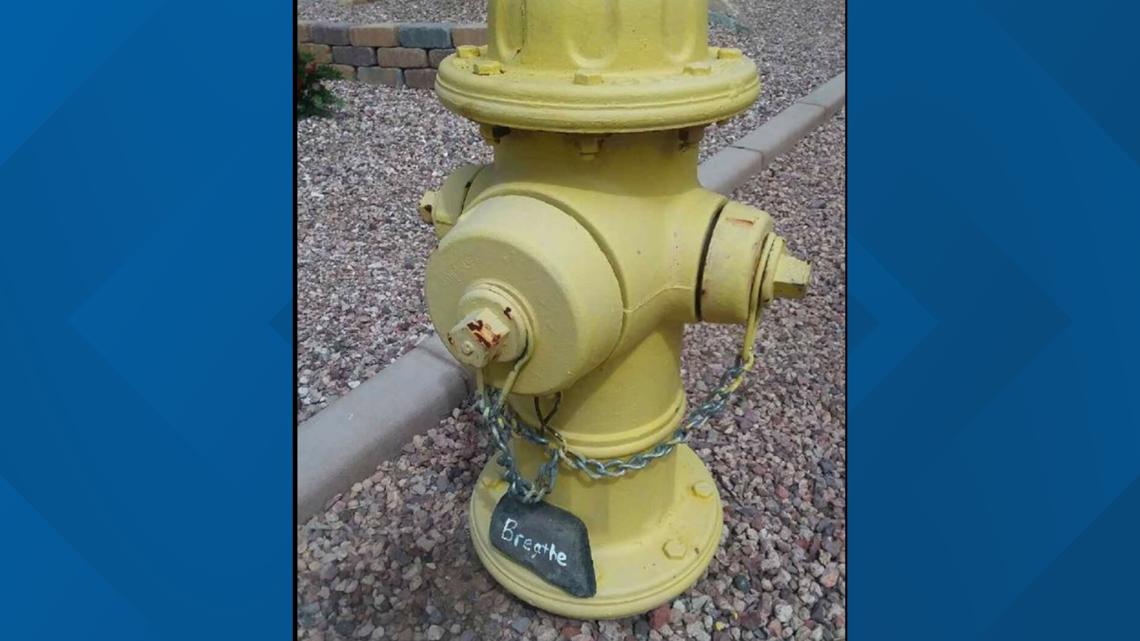 Carmen Ganem is thankful for the teachers from Verrado Heritage Elementary school for showing their love to students. The teachers paraded through the streets to wave at students while social distancing.
The Town of Pinetop-Lakeside shared a video about their community during a time of turmoil and uncertainty.
What's better than a parade where people dressed as dinosaurs and unicorns?! Michelle Grimm from Sedona posted this video of the social distance parade and dance-off!
Darcy Small sent us photos of a virtual 12th surprise birthday party. Isabella was supposed to have a party with her friends last weekend but it had to be canceled because of the COVID-19 pandemic. That's when the moms put their heads together and worked together to make it happen. Each mom decorated their home with what they had to make it look festive. They put gifts on front porches and the mom who picked up the gifts left cupcakes and party hats. The party started at a designated time. The girls even watched a movie together.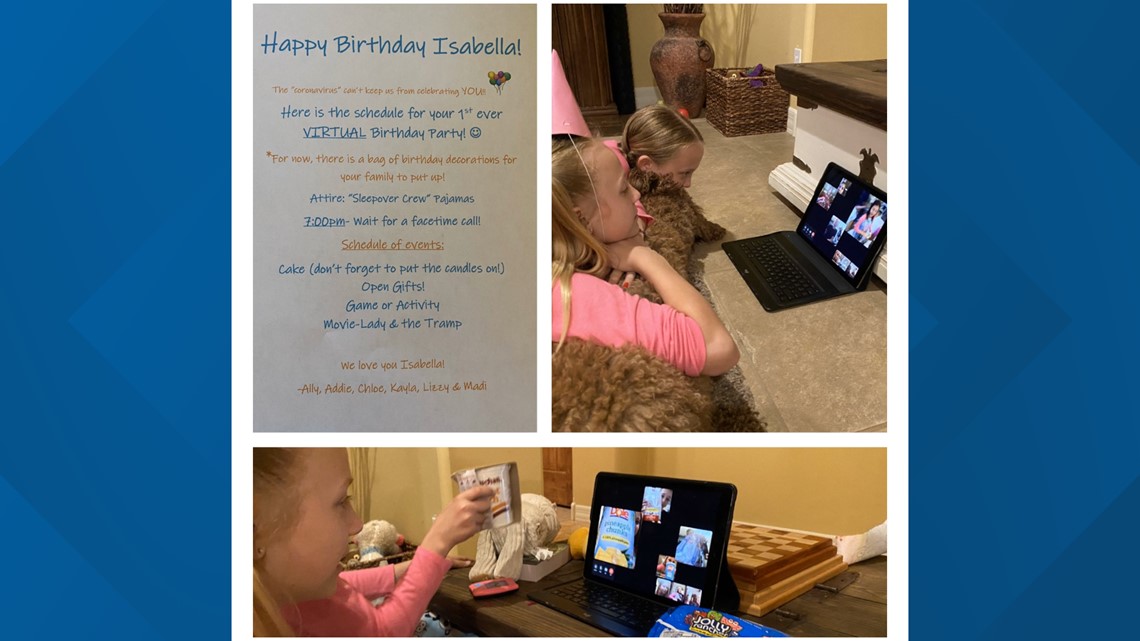 Kadampa Meditation Center, a Buddhist Temple in Phoenix, is offering virtual prayers, meditations, classes and retreats for anyone who wants to participate. You can find more information on their website.
Terrylynn Peña send in a photo of her niece, Joelynn, visiting her Nana from a safe distance.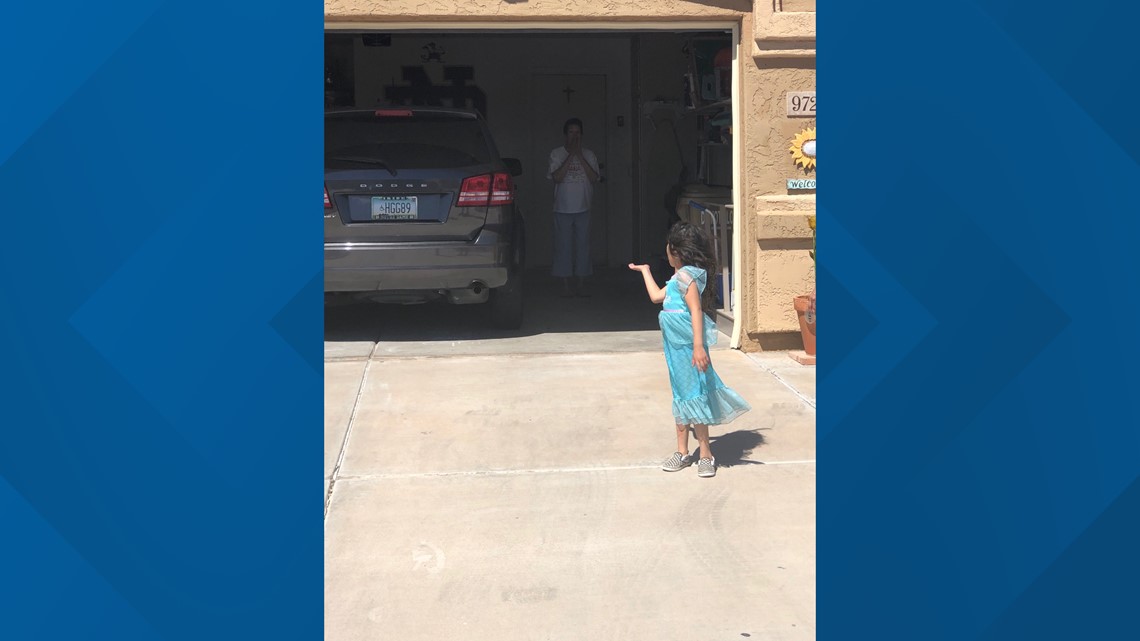 Someone in the Fountain of the Sun community in Mesa painted rocks and put them in neighbor's yards. We are told she places rocks at almost 100 homes and they all had hopeful messages like "Sing" and "Hope."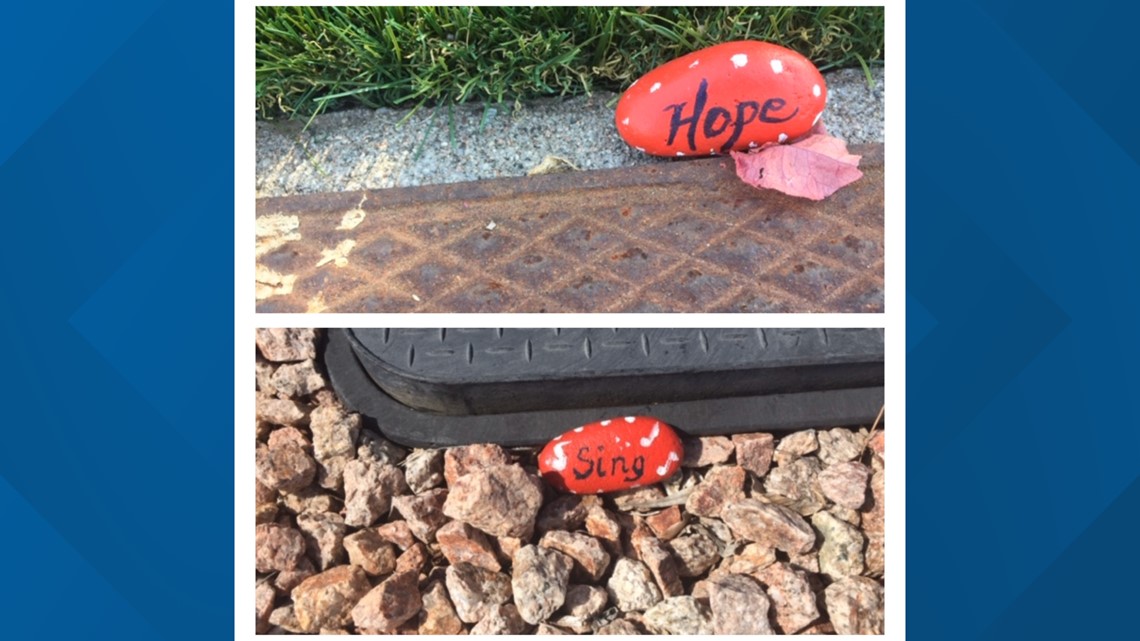 Here's a reminder that playdates can still happen while social distancing! Diel Straw posted this sweet photo on Facebook of her daughter and a friend having a play date. They had a picnic while sitting on opposite sides of a canal. She said it was a perfect day filled with food, laughter and lots of dancing.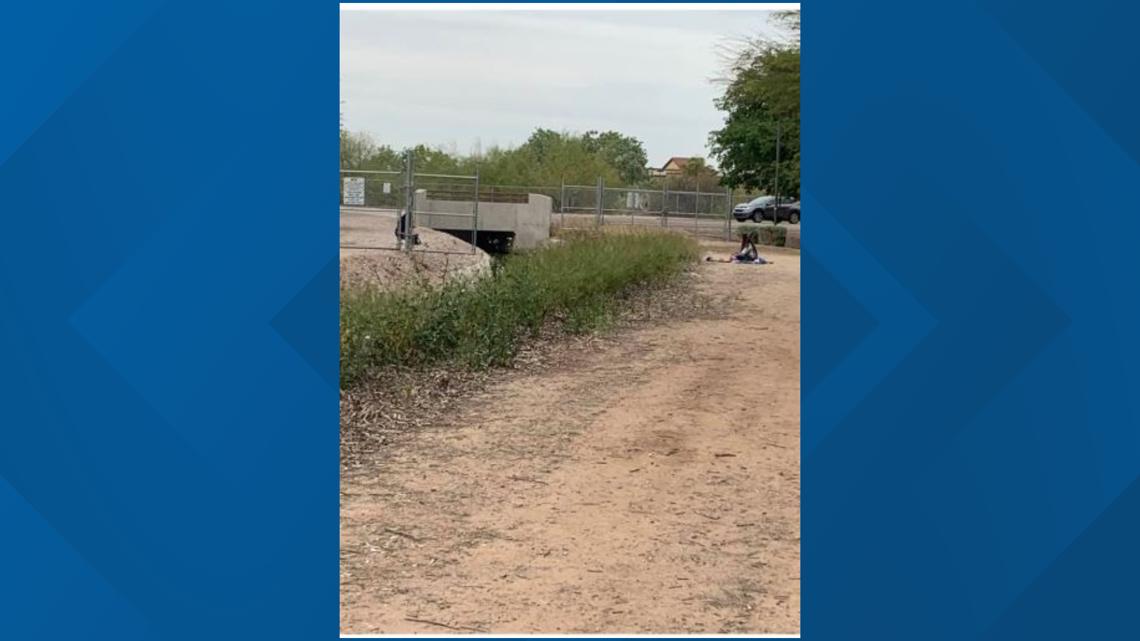 High school seniors across the state of Arizona are dealing with an early end to their high school experience after schools on the state were closed due to COVID-19 for the remainder of the year. The class of 2020 from Scottsdale Unified School District created a video, while social distancing, to encourage people to stay home and #Flattenthecurve.
If you need a little motivation for the day, check this out! Phoenix Children's Hospital added a little inspiration to the steps of its entrance! It says: Let's see what happens when we don't give up. What an incredible way to help kids and their families stayed motivated in this time of need.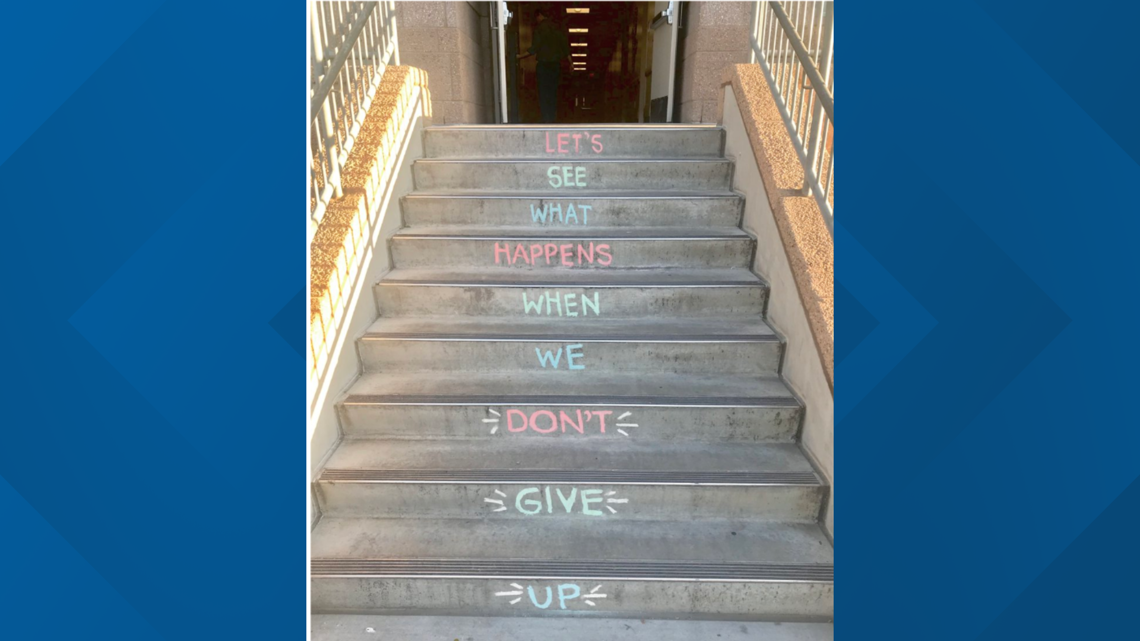 The Kramer family posted a photo of the family's teddy bear for 'bear hunting' in their neighborhood. They pointed out the bear will not fit in the window. It should be easy to spot though.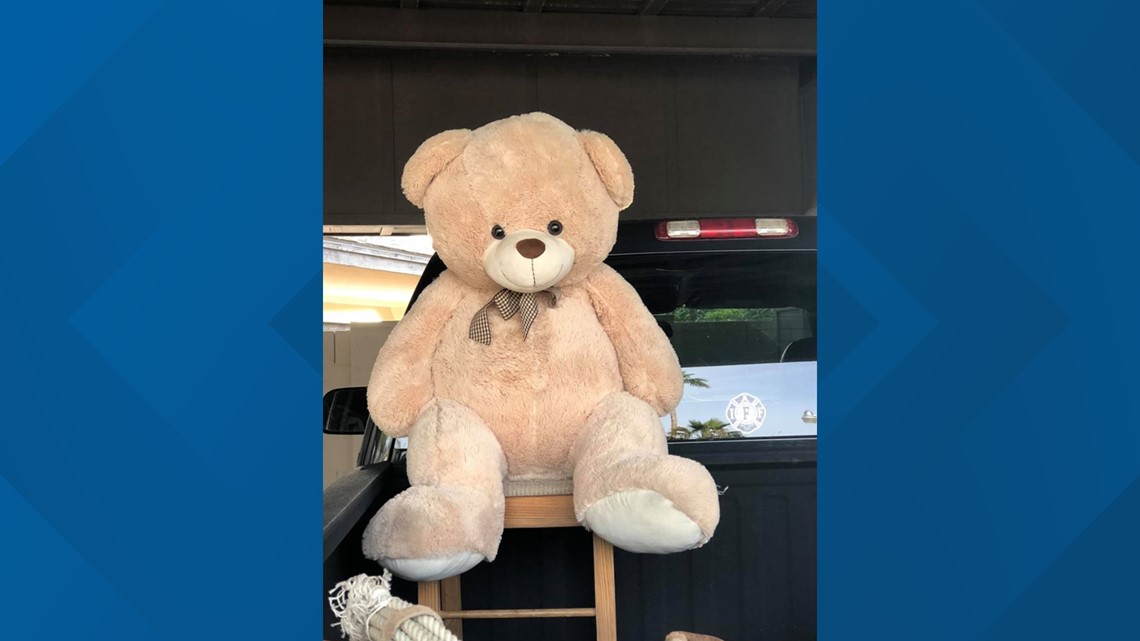 Instagram user @I_love_AZ posted a photo to thank her community of Anthem for stepping up during this national crisis.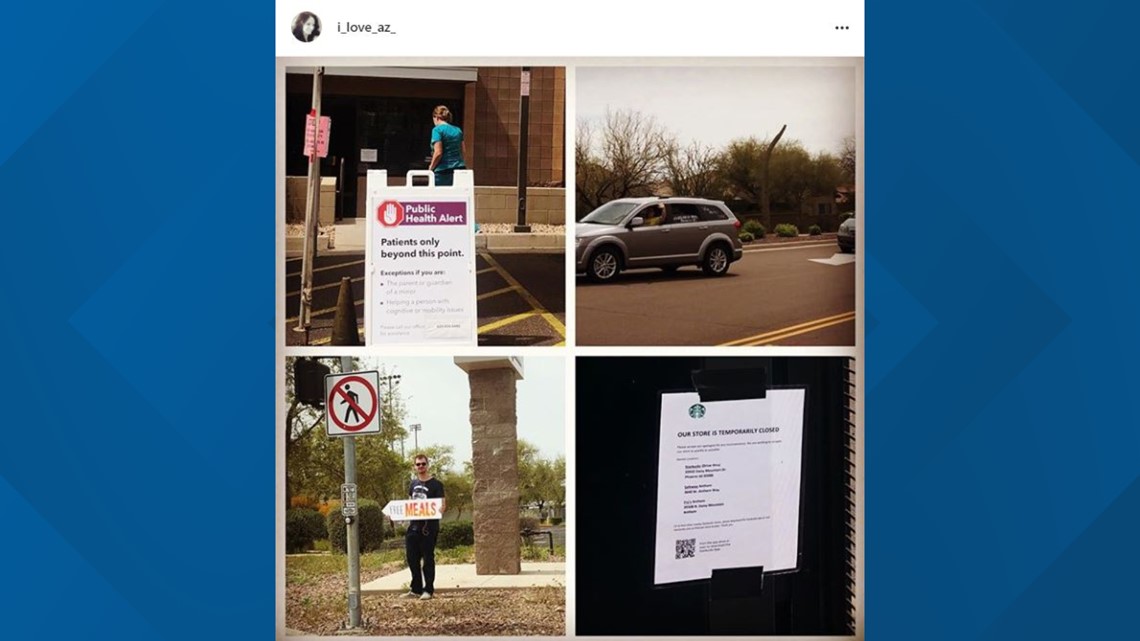 The City of Mesa teamed up with For Our City-Mesa to launch an Adopt-A-Grandparent program. For Our City-Mesa is a network of leaders who work to create solutions for the community. Right now, they are available to help seniors in the community who need food delivered, medication picked up or other errands they need to be done during the COVID-19 pandemic. If you or someone you know needs help from this service you can call 480-644-5756 or email volunteer@mesaaz.gov. Additional help for seniors is available 24/7 by calling the Area Agency on Aging at 602-264-HELP (4357).
Instagram user @cameracrazycaroline shared a photo of a rock she found on a recent walk. She said she found the 'stay healthy' rock tucked up in a Mesquite tree. She pointed out that it's simply stated and truly the most important thing right now.