MARICOPA COUNTY, Ariz. — It was a quiet day of fishing on Apache Lake, and for Logan Hall and his dad, Glenn, catching a fish, any fish, would've made their day.
Little did they know a fish, a very big fish, would change their lives forever.
In mid-April, the father and son went to the lake in the East Valley and were having little to no luck reeling one in.
But later that day, their luck would change and Logan and his father reeled in a mystery fish neither could identify.
Logan said the pair had never caught such a unique fish before, believing that the somber anniversary they were celebrating that day played a part.
"My mom had passed away just over a year ago with a rare, aggressive form of lymphoma cancer; she fought hard like a warrior for eight months," Logan said.
And it was no easy catch.
"We fought this fish for well over 10 minutes, got it next to the boat, can't believe what we have; it was a once-in-a-lifetime experience," he said. "We absolutely let it go, and five minutes before we caught this fish, my wife called to let me know we had to put our dog down."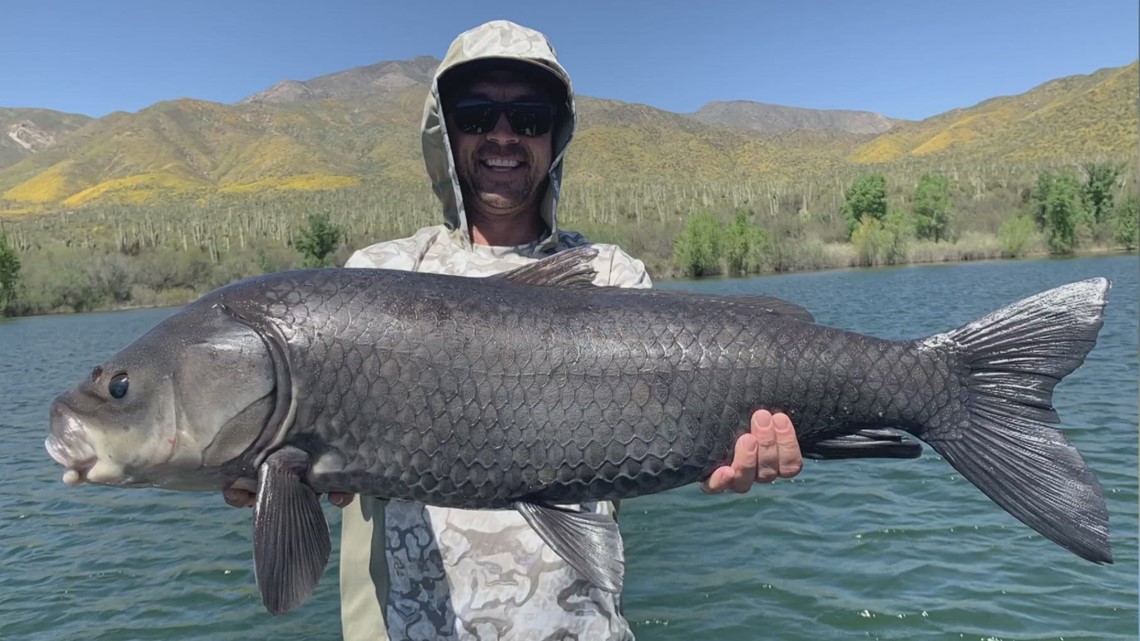 "June Bug," their blind and deaf little dog, needed to go onto her next life, Logan explained.
After he and his dad released the massive fish, they contacted experts to find out what kind it was, but even Mark Voita with The Ocean Floor in Phoenix couldn't identify the fish.
"It looks like an Asian Grass Carp of some type; the mouth is shaped a little bit different, maybe the Black Buffalo, but it looks like some sort of large carp," Voita said.
Regardless of species, it was a special memory; the father and son duo won't soon forget, knowing his mom, Cindy, was there with them in spirit.
"This was a very divine moment, and a very special moment to share with my dad. When people pass, they're still watching over you, you can still feel them, they can still feel you, I wasn't certain of that before this moment, but I'm 100% convinced that that does happen," Logan said.
Up to Speed
Catch up on the latest news and stories on the 12News YouTube channel. Subscribe today.