SCOTTSDALE, Ariz. — A message of friends, family and dreams was the central theme as a man who lost nearly everything that defined him shared his story of recovery to employees of a Valley business.
John MacLean, a former Rugby player and Triathlete, shared the story of his accident that left him a paraplegic and the support he received as he made his recovery.
"I'm looking to plant seeds in your mind," MacLean told the employees of TIBCO Software Inc., a Tempe-based technology company. "To go back and finish what you may not have yet done and therefore create pictures of what you should work towards."
MacLean's message is rather simple: Set small goals. Each goal should move you towards your ultimate, long-term goal, while surrounding yourself with those who support you.
"It's really important to surround yourself with the right people," MacLean said. "For all aspects of life. I think when we look into our own lives there are people -- there generally are -- that are non-supportive. I would kind of say push that delete button."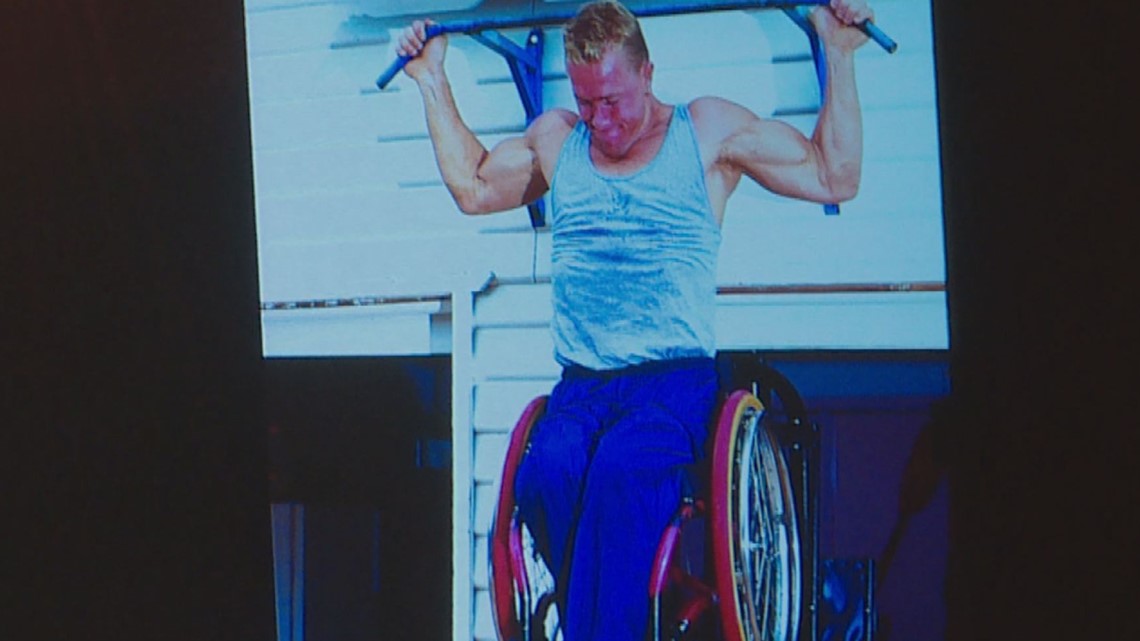 His message is one that he has lived over the past 25 years. Hard lessons he learned after a near fatal accident in 1988.
As MacLean, then 22, was training for a triathlon, a truck crashed into MacLean's hand bike, causing the Australian athlete very serious injuries.
"I broke my back in three places, my pelvis on the right side in four, my right arm in two, so in total, 15 broken bones," MacLean recalled. "I damaged my spinal cord, which as you know, helps us to move and feel, so I'm considered an incomplete T-12 paraplegic."
MacLean was told he would never walk again; a crushing diagnosis for anybody, but especially an athlete like MacLean. The following months in the hospital were hard and dark for the young man as he pondered his future.
"So, there is self-dialogue: I didn't like the look of me anymore, because clearly that was different than what it was previously. You ask questions of yourself, 'Who would be interested in me?' 'What's my future going to look like?' Clearly not a career in Rugby. Therefore, spiraling down into depression and feeling really bad," MacLean explained.
Those "positive influences" that MacLean talks to his audience about are the very people that helped get MacLean out of bed and, ultimately, on the road to recovery.
"Twelve months after my accident, my father said to me, 'Son, how far can you go?' Which was the opportunity to let go of yesterday and embrace today into tomorrow," MacLean said.
That simple question, 'how far can you go?', put MacLean back on the road to achieving his dreams. He eventually started training for triathlons, became an Olympic athlete, even attempted to swim the English channel. All feats he would never have dreamed possible if not for the friends and family in his life.
"So, my message today is asking the same question, "How far can you go?'," MacLean said. "How far can we go as a collective? I feel fortunate that he asked me that question and now I ask that of others."
The speaking engagement was capped off with a demonstration by MacLean to the audience. Gripping the armrests of his wheelchair, with a little grunt, MacLean stood up in front of the crowd, to a standing ovation.
The encouragement and motivation that MacLean shares to crowds like that of TIBCO Software can now be found in his book, aptly named, "How Far Can You Go." He tells 12 News that the creators of the film, "Lion" are in pre-production on a film based on his life.