One of the things a lot of people don't realize about thanking a veteran for their service is that many of them are trying to forget about it.
That's not to say they aren't proud of their military background, because nearly all of them would do it again in a heartbeat.
The feeling as I've learned from now two trips with Honor Flight Arizona comes from seeing such terrible things. Things I won't even pretend to understand and those without the experience will never fully be able to.
Honoring Arizona's WWII and Korean War veterans
Honor Flight is about truly giving our nation's heroes the "thank you" they deserve. More than saying it, this is about actually showing them what their sacrifice means to our lives.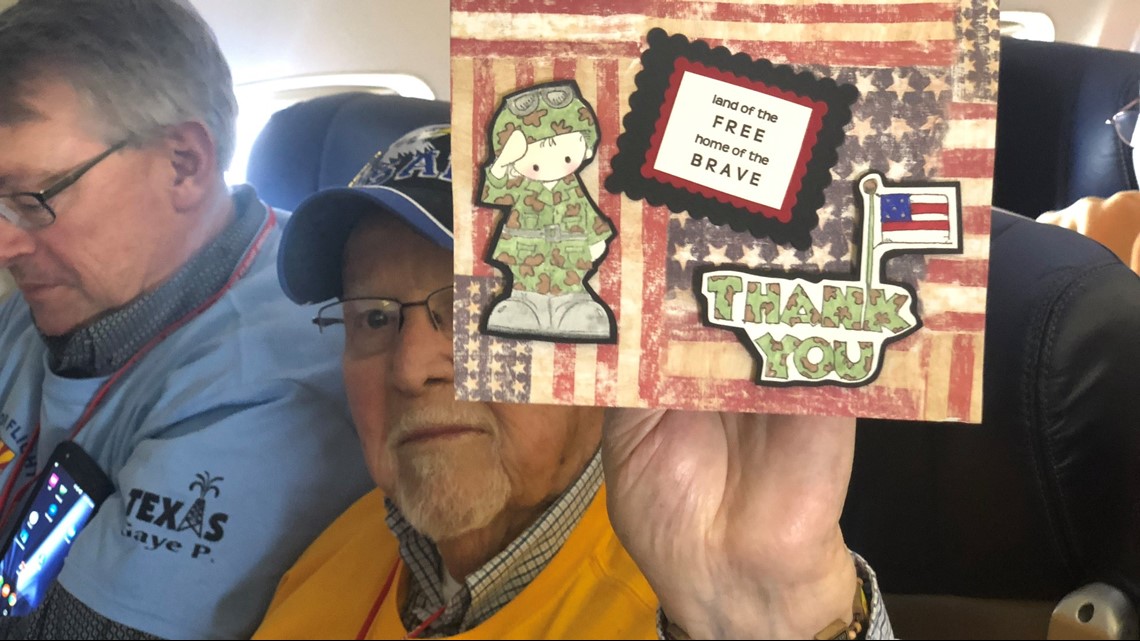 Despite the freezing rain and snow, Bill Willard couldn't have been happier visiting the WWII memorial for the first time.
I walked up to Willard's wheelchair and simply asked, "What does it mean for you to be able to come to this memorial?"
"It means everything," he said with a huge smile on his face. Then in an instant, the 92-year-old was overcome with emotions, saying "it brings back old memories."
These are the memories some of the men and women of our greatest generation have spent decades trying to forget. That's why they deserve this honor flight.
A different kind of memorial
Spend 10 minutes at the Korean War Veterans Memorial and you can just feel the difference.
This piece of remembrance is unlike any of the others in Washington, D.C. The obvious fear in the faces of 19 larger than life stainless steel statues attempts to convey what some of these men and women were feeling as they trekked through enemy territory.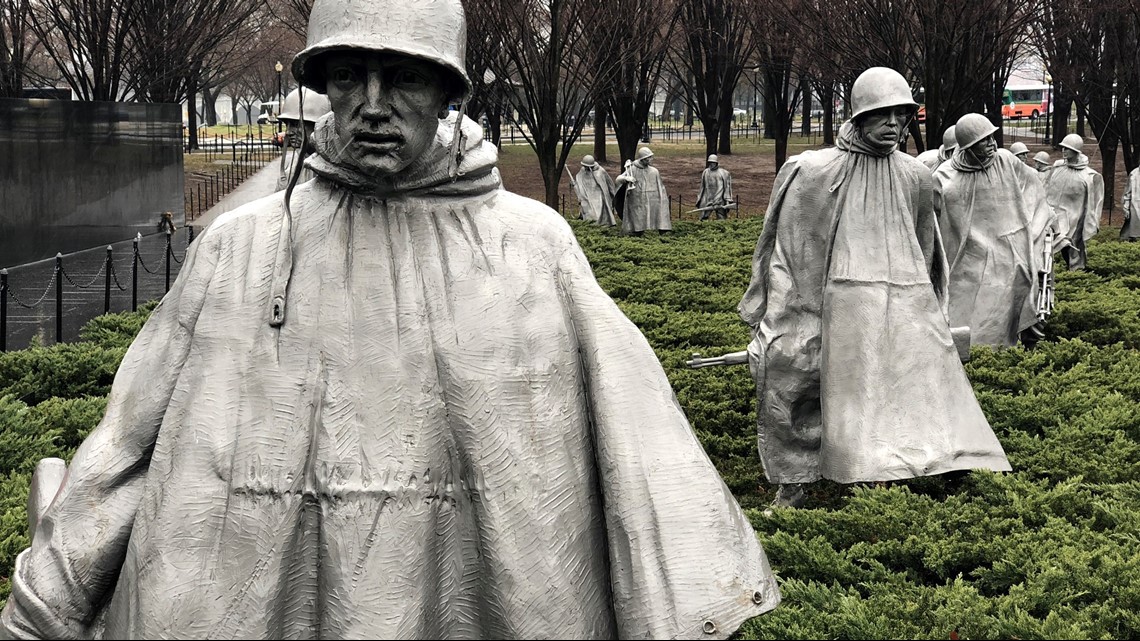 "Most of the time it was fear, being young and far away from home," Sonny Snodgrass said when reflecting on his 17 months and five days in Korea.
"Pretty much depicts what it was like when they were going looking for the enemy," Snodgrass said.
Anticipating an attack while trenching through the frigid Korean countryside is an accurate depiction, at least that's how Dick Cadwallader remembers his year there.
"Almost what it was really like. At least you capture that image much more so than a monument," Cadwallader said while standing next to the 19 soldiers.
His memory of the war is depicted in the Korean War Veterans Memorial, but Cadawallader doesn't see this as a representation of his service. Rather, he sees it as a representation of the men and women who never got a chance to see it.
"A lot of them didn't come back, this really represents them," he said.
A humbling experience
Kiana Reveles has been to the Korean War Veterans Memorial before, but this trip is vastly different for the Seoul native. This time she is a guardian with Honor Flight Arizona.
"Being able to meet the very people that helped me be here today and my family to still live in South Korea is a great honor," Reveles said.
Honor Flight is personal for Reveles and three other students on the trip from Embry-Riddle's ROTC program in Prescott.
"They were the people who did it because they were told to. Not because they were going to get something out of it," Trace Sheerin said after a day touring Washington.
Sheerin wants to become a pilot in the Air Force.
"To see the ones who trailblazed for me was an incredible experience," she said.
Alex Gothard is missing history class to come along on this particular trip, but he's probably learning more than any classroom can teach.
"World War II veterans they're not going to be around for too much longer and who is going to remember that? We will. I think it's the greatest opportunity ever," Gothard said.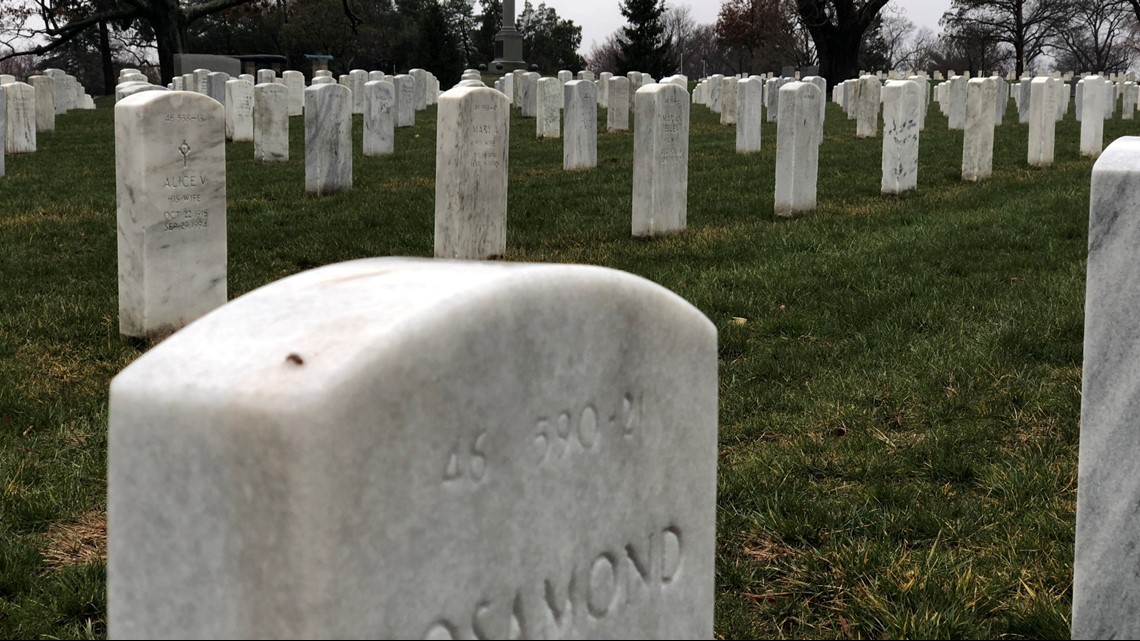 It's not the first time ROTC students from Embry-Riddle Aeronautical University have participated as guardians with Honor Flight Arizona. The university's ROTC program has regular applicants who want to learn more about their future field from the greatest generation.
"When I become an officer one day and start leading people, I can relate the experiences these men have had so that they can build their own legacy that these other men have left behind for them." That's what Roberto Amaya is hoping to learn before hopefully getting into the Air Force.
The stories these students are hearing on this trip will become the building blocks they use in their careers.
It's well-documented what the veterans get from Honor Flight Arizona, but they're also leaving behind a legacy for the future men and women of America's armed forces.
Cold? You don't know cold!
Don't even try and complain about an impending Nor'easter to a group of World War II and Korean War veterans. These are some of the toughest men and women on the face of the planet.
Sure, some have lost a step but let's see how well you move around Washington at 90-plus years old.
A downright nasty mix of sleet and snow was barreling down on the nation's capital just as we arrived from the warmest place in North America.
Nobody complained, nobody asked to stay home, and nobody but the only reporter on the trip (me) grumbled about anything.
You try and keep an arsenal of electronic recording devices dry in a Nor'easter.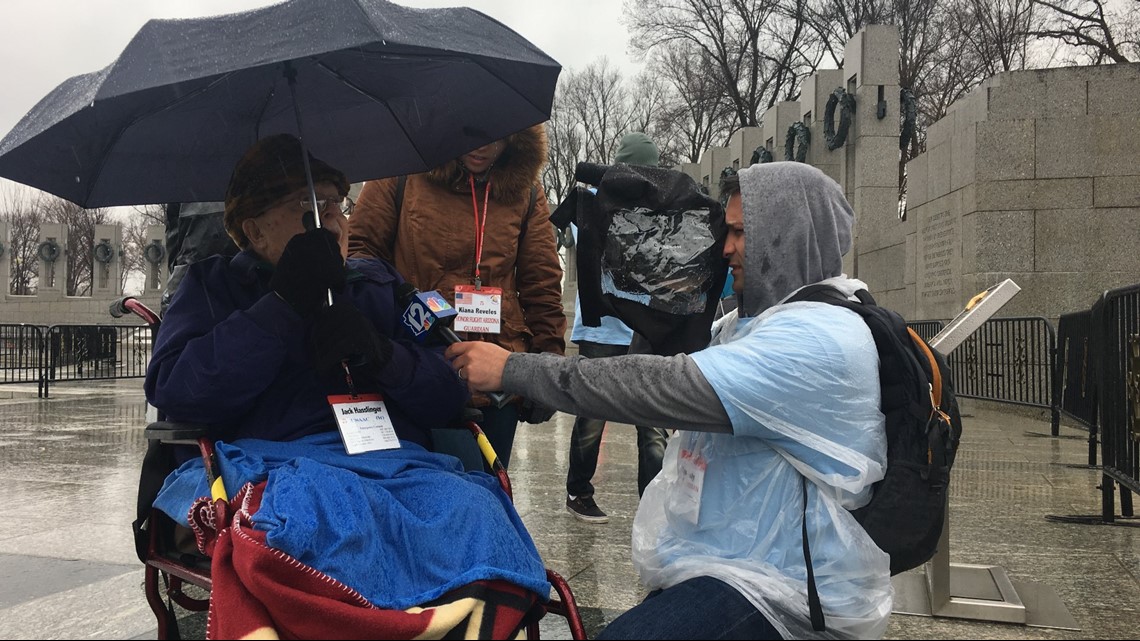 Anyway, these veterans set out to see their war memorials in Washington, D.C. and that is exactly what they did. Armed with umbrellas and ponchos, the day went off like it was 75 and sunny.
I joked with 92-year-old Bill Willard at the WWII memorial how the weather didn't cooperate.
"We won't melt," Willard said.
So much more than a number
Nearly eight decades later, the number still rolls off his tongue like the day he got it.
"38721300," Clifton Henson said while holding his military Identification tags. "I guess you never forget that if you learn it the way I did."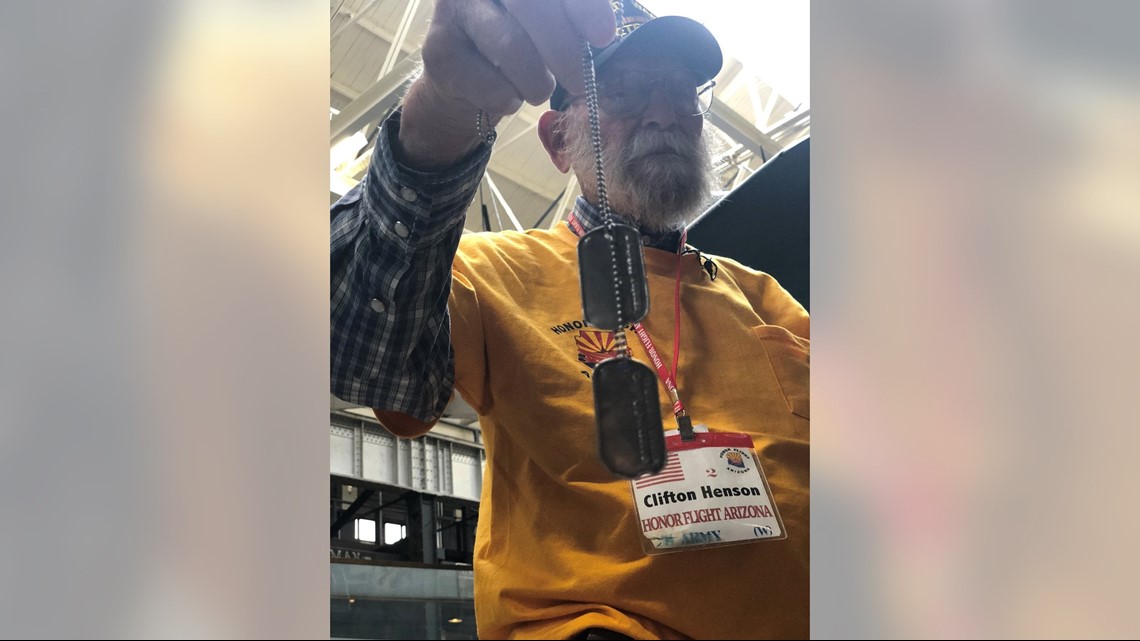 The World War II veteran remembers landing in Japan on Nov. 11, 1945. At 91 years old, Henson is still extremely sharp and recalls stories from his service in great detail.
The stories and memories, however, are things he hasn't cared much to think about over the years. In fact, Henson was asked to travel to Washington, D.C. with Honor Flight Arizona twice before reluctantly agreeing to the trip.
"I just didn't think I wanted to be here and take the stress," Henson said.
You may never find anybody more proud of their time in the service, but life just goes on for many of these men and women who were lucky enough to make it home alive.
Back to his military identification number, and the metal tags they're pressed into. Those tags sat in a drawer for over 70 years, never seeing the light of day until Henson decided to relive his service with Honor Flight Arizona.
"I haven't had these on in about 70 something years now," Henson said while recalling some of his close calls in the war.
Maybe an afterthought but never forgotten, Henson's tags are a symbol of his service. Just a number when it comes to identification, but so much more than that when you consider what his service means to America.
Henson's favorite part of the tags continues to be the fact there are still two. The second identical tag is a duplicate made for taking off a corpse in the event of death.
"I'm just really glad they're still together," Henson's son Dayle said when looking at the objects for the first time in his life. "I'll be 69 in two months and this is the first time I've ever seen the dog tags."
Those are 69 years of life the world would never have known without that second tag. Consider how many years of life we all owe to the ones laying in a drawer without a duplicate.