GLENDALE, Arizona — No one loves Taylor Swift like Glendale... Or should we say Swift City!
In a fearless decision on Monday, Mayor Jerry P. Weiers announced that the city would have a ceremonial name for the week to celebrate the pop superstar's performance.
But hey that's okay, we don't have bad blood, just smiles that could light up this whole town!
Fans in the city nominated names like Swiftdale, Taylordale, The City of Taylor Swift, Taylor Nation, and so many more. Taylor Town got to be the runner up in the decision.
As for the Mayor? He'll be 'Mayor Swiftie' for the upcoming event.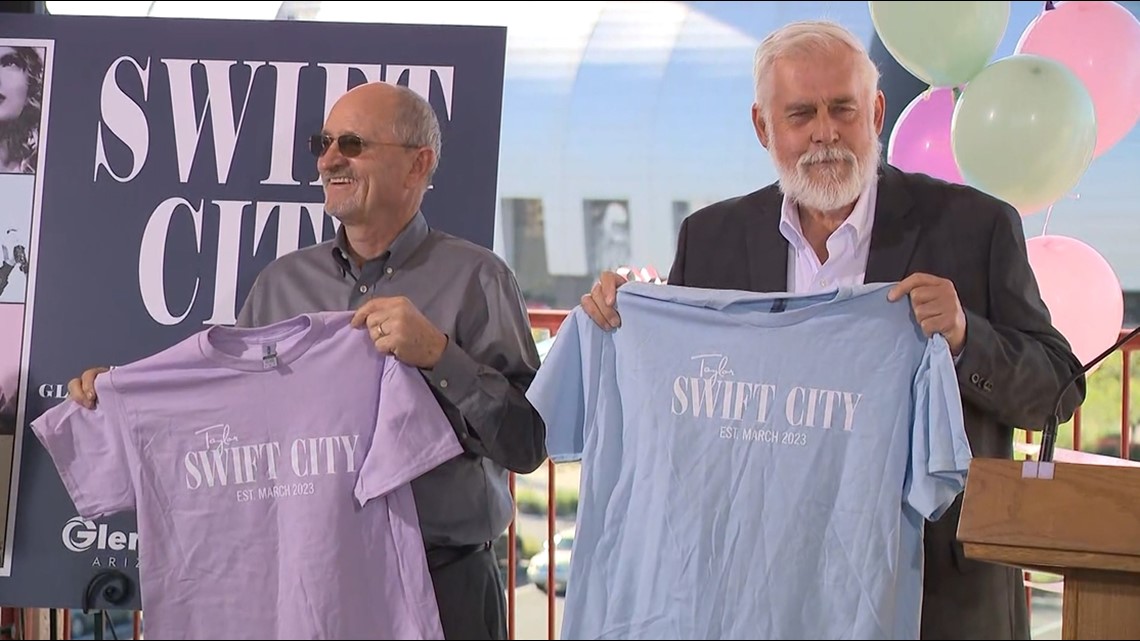 Glendale's entertainment district will be dressed up with all kinds of shops and events for the big concert.
Meanwhile, Taylor will be kicking off "The Eras" tour with two nights in Glendale before heading to 19 other cities, so get ready to party like it's 1989.
The City of Glendale (now technically Swift City) said it wanted to do "something highly unusual" to celebrate Swift's decision to launch her tour in Arizona.
The name change will be in effect through March 18, but we don't think we're going to forget about it any time soon!
Taylor is playing at State Farm Stadium Friday, March 17, and Saturday, March 18. We just can't wait to shake it off to her tunes!
Up to Speed
Catch up on the latest news and stories on our 12News YouTube playlist here.
More ways to get 12News
On your phone: Download the 12News app for the latest local breaking news straight to your phone.
On your streaming device: Download 12News+ to your streaming device
The free 12News+ app from 12News lets users stream live events — including daily newscasts like "Today in AZ" and "12 News" and our daily lifestyle program, "Arizona Midday"—on Roku and Amazon Fire TV.
12News+ showcases live video throughout the day for breaking news, local news, weather and even an occasional moment of Zen showcasing breathtaking sights from across Arizona.