PHOENIX — Come on, Barbie, let's go party – in Scottsdale!
With the highly anticipated release of "Barbie" the movie, a Scottsdale vacation home rental is seeing an uptick in business.
Scottsdale Beach Club, the rental company, owns and operates several themed properties in the Valley. But its "Scottsdale Dreamhouse" near Old Town Scottsdale paying tribute to Barbie is currently their most popular.
"We even have a photo booth right outside the house that has your own Barbie box so you can stand in and take photos," said Kendra Daley, Scottsdale Beach Club's operations manager. "It's just been nonstop inquiries and bookings for this house."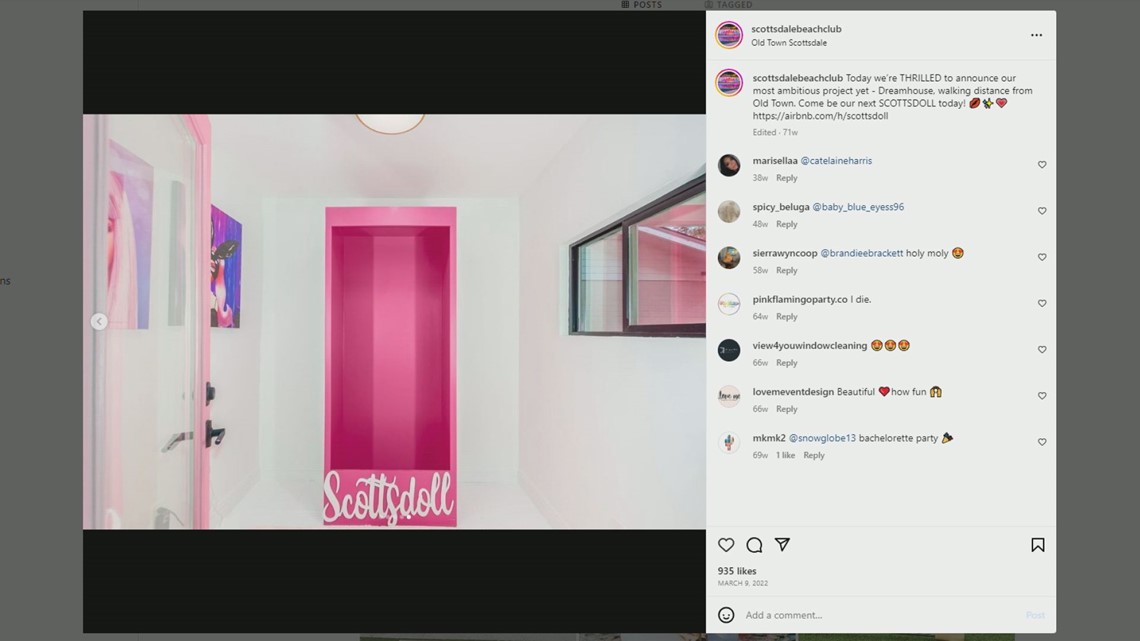 Daley said the house has been available to rent for a couple of years, but attributes the recent boom to the buzz around "Barbie" the movie.
Daley said the house is booked back-to-back for the "Barbie" release, as well as booking requests for the next year.
"It ranges from children's birthday party, parents just coming out to celebrate their child's birthday, Sweet 16s, to 40-year-olds celebrating the big 40 and they love it," Daley said.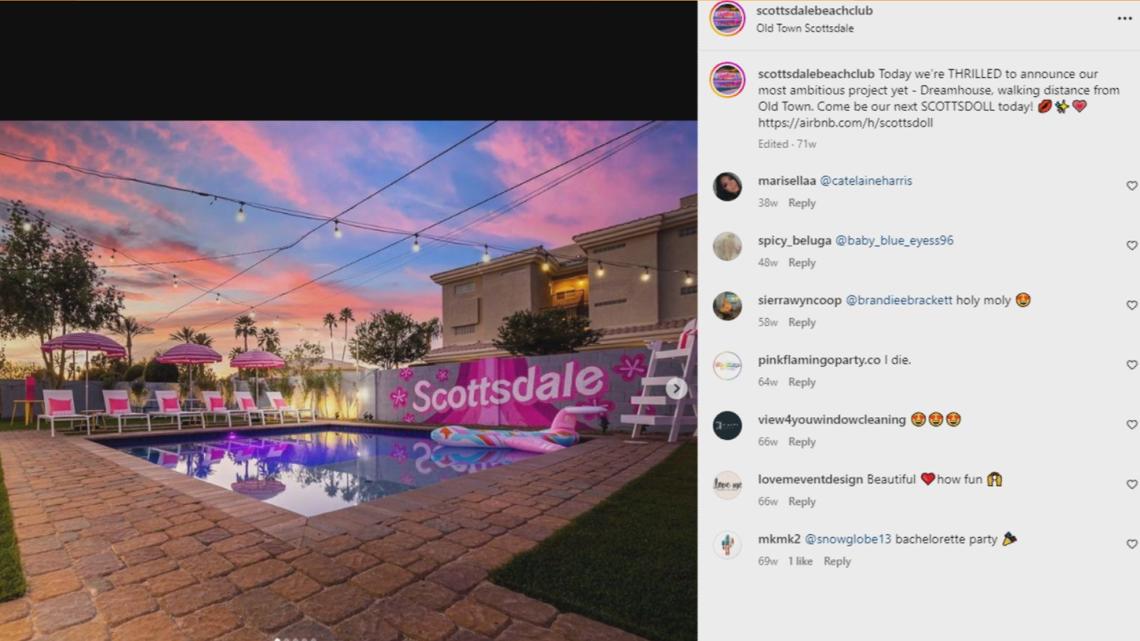 'People can relate to her from all backgrounds'
On the film's premier weekend, it's easy to see why the dreamhouse in Scottsdale is so popular.
Hundreds of Barbie fans flocked to theaters across the Valley Friday night. In Tempe, a pop-up called Barbie's Dream Bar hosted fans for photos, costumes and drinks before many walked over to Harkins Theatre at Tempe Marketplace to catch the movie.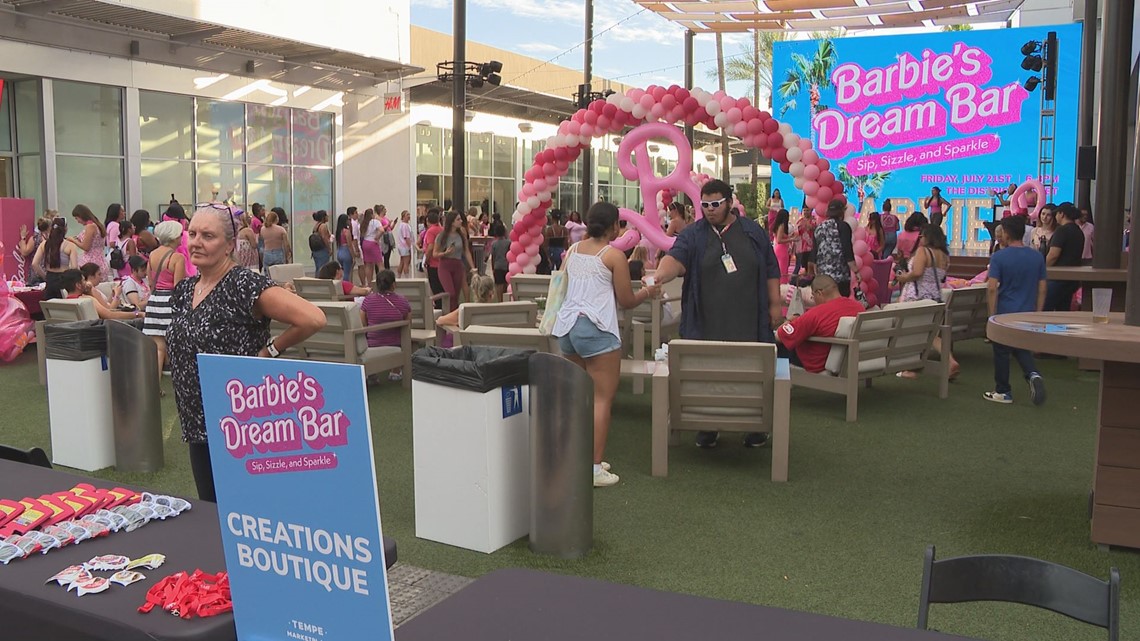 "Just reliving my childhood, I mean Barbie dreamhouse, I had Barbie dreamhouse, Barbie car, I had Ken," said Brittani Evans.
"I feel like it's coming to life for us because we really did like grow up with Barbie," said Marie Topper.
Fans donned their best pink outfits, some even wore cardboard Barbie boxes, and stepped out to the cinema in style.
"What Barbie represents is she does everything. She's a doctor, she's a nurse, she's the president, and that's something that we can look up to," said Yajaira Eve.

"She's a teacher, she's an astronaut, she's a firefighter. People can relate to her from all backgrounds," said Anthony Antiquiera.
Some moviegoers opted for the double feature, "Barbie" and "Oppenheimer," referred to online as "Barbenheimer."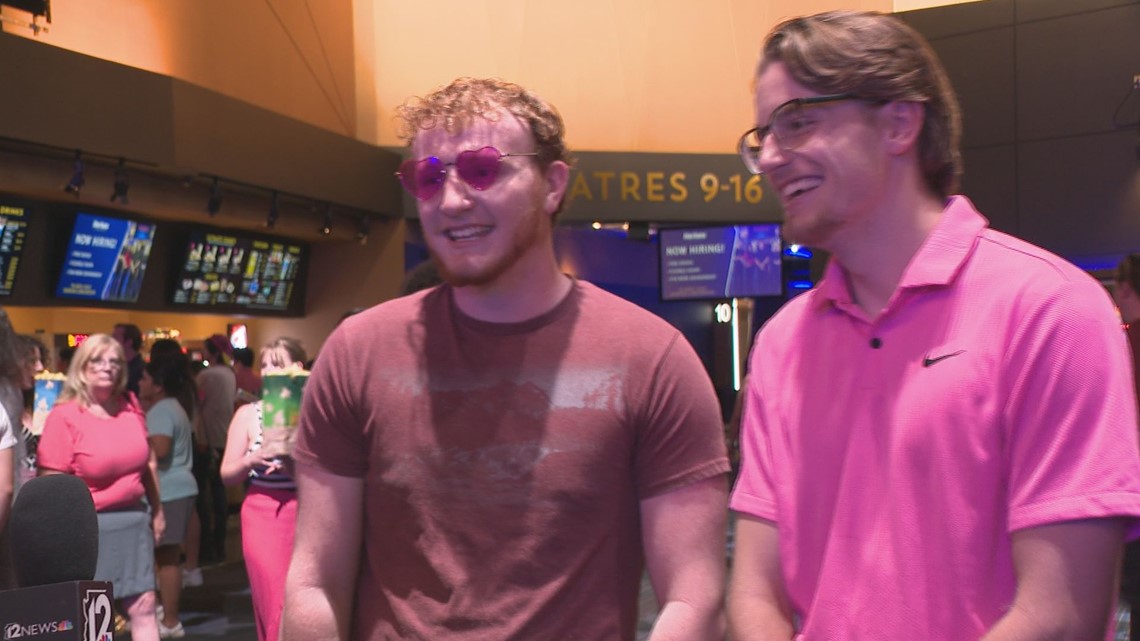 "We're rocking with Barbie at 7:30 p.m. and then we're going 10:30 p.m. Oppenheimer. We are running to the next theater," said Mason Hagemann, on his way to the double feature.
The two highly anticipated movies, which couldn't be more opposite in genre, are expected to boost the box office to one of its best weekends in years.
"Cinema's back baby! It's been a long time since we had movies coming out this good," said Jake Johnson, also planning to see both movies Friday night.
Experts like Hope Simpara, a professor at the University of Arizona's Fashion Industry's Science and Technology program, predict the Barbie buzz to continue long after the movie's release.
"I think that they've done a great job of looking at different groups, thinking about adaptive design, functional design, differences in body type," said Hope Simpara while talking about Mattel's ability to keep Barbie relevant over the decades. "What they've done is had Barbie evolve with the customer. So whoever was buying Barbie in the 60s that looks different right now."
Up to Speed
Catch up on the latest news and stories on the 12News YouTube channel. Subscribe today.