​VIRGINIA BEACH, Va. (WVEC) - Police said that a woman in her 90s died Thursday morning after a dog attack Wednesday night left her with bite marks and cuts.
Officers received a report shortly after 7:30 p.m. Wednesday about the attack on Bunker Hill Lane in Pembroke Manor, Virginia.
When police got to the neighborhood, they found the victim who had life-threatening injuries.
Just spoke to victim's granddaughter-she says attack lasted about 5 mins, but it was extremely gruesome #13NewsNow https://t.co/3VbgLxWQQk

— Chenue Her (@ChenueHer) June 1, 2017
Investigators said the dog attacked after the woman fell on the floor. The dog is a 1-year-old American pit bull terrier that weighs 50 pounds.
The woman's granddaughter told 12 News partner station WVEC that the family adopted the dog Wednesday, the same day as the attack, from Forever Home Rehabilitation Center. Initially, the dog showed no aggressive tendencies.
Granddaughter says they adopted the dog yesterday...no signs it was aggressive until they took the shock collar off. #13NewsNow

— Chenue Her (@ChenueHer) June 1, 2017
Victim's granddaughter showed me adoption page of the dog...this is the description on the website. #13NewsNow pic.twitter.com/ok3dSS5J1a

— Chenue Her (@ChenueHer) June 1, 2017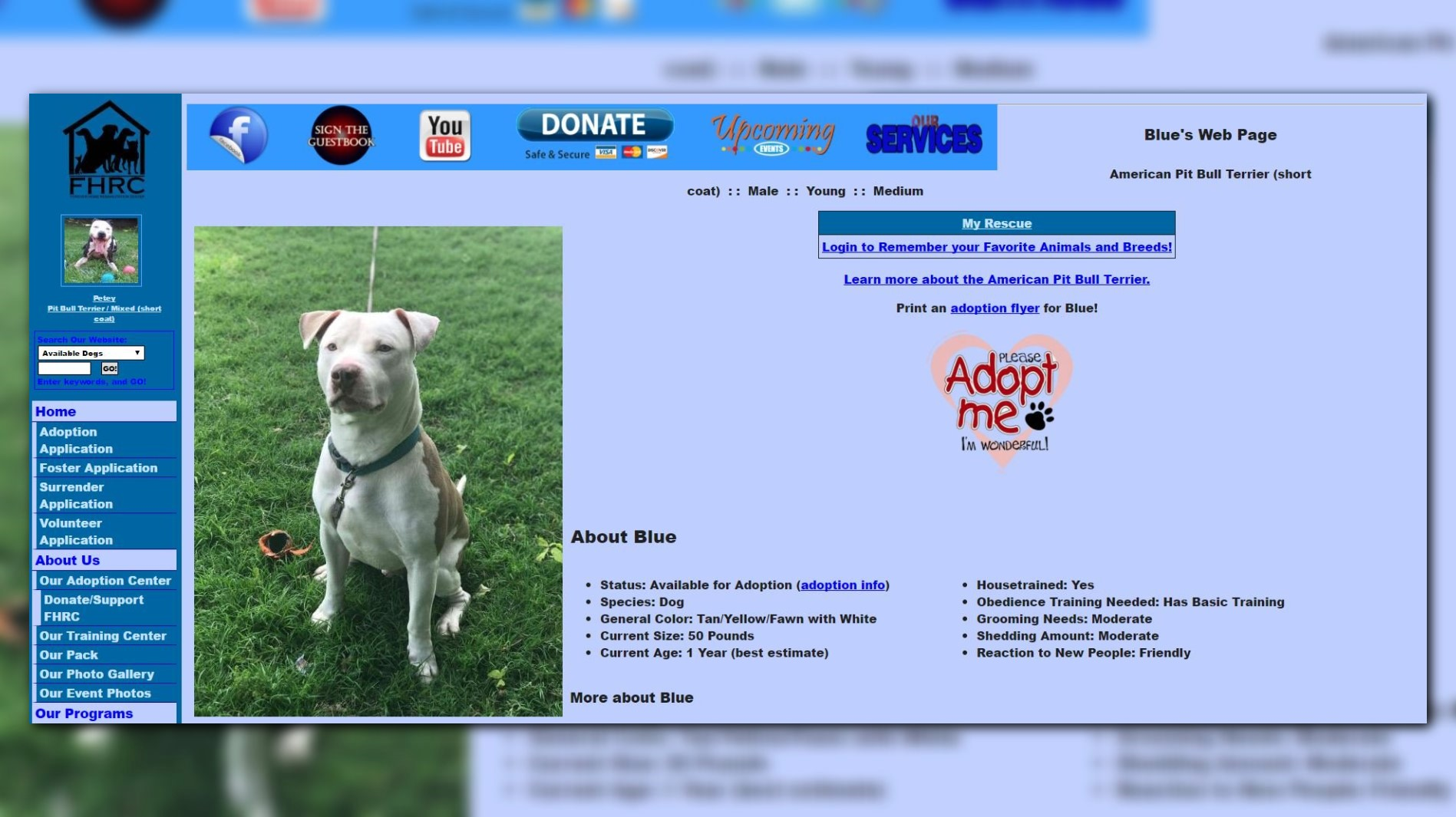 Forever Home Rehabilitation Center provided WVEC with this statement:
We send out our deepest condolences to the Patterson family who adopted Blue. Blue went through our 3 month board and train program, and was a favorite amongst all of the staff members and volunteers. Blue loved other dogs, and didn't know a stranger. He never showed any aggression while at our training facility, and passed his final evaluation with flying colors before being adopted out to the Patterson family. Trainers spent yesterday morning checking over Blue's new home and going over training with Blue's new owner. There were 2 other dogs in Blue's new home, who Blue immediately bonded with. We do not know what events transpired in the moments before this tragedy occurred with Blue's owners mother, and none of us could have ever predicted this horrible event. We are devastated for the Patterson family and our thoughts and prayers go out to them.
The dog currently is in quarantine at the Virginia Beach Animal Care and Adoption Center.