**If on a mobile device, click here to watch continuous live coverage**
A Flash Flood emergency remains in effect for Harris County and counties across southeast Texas.
This is a Life-threatening situation across the region. Galveston Deputies have confirmed two flooding fatalities in Dickinson with hundreds of more homes to search.
Do not attempt to drive through flooded roadways. There have been upwards of 2,000 high-water rescues since flooding began.
There is a race against the clock with countless homes that still need to be checked.
Rescue teams will continue to work throughout the night, but Harris County Judge Ed Emmett warned: "surely people understand they do not need to be out driving tonight. We do not want to go through more high water rescues because people wanted to go drive."
Residents along the Barker and Addicks Reservoirs are being asked as part of a non-mandatory evacuation to leave their homes Monday as the Corps of Engineers will begin a slow, controlled release of water from the reservoirs. Officials stress to leave their homes Monday and NOT tonight due to uncertain conditions on the roads. This will impact several thousand homes. If they don't release water now, the rising water situation could put too much pressure on the dams.

The water release from Addicks Reservoir will begin at 2 a.m. Monday with Barker to follow 24 hours later.
Near Dickinson, boat rescue operations are ceasing for the night. This after a game warden with the Texas Parks and Wildlife Department and a game warden with Louisiana's Parks and Wildlife Department were both injured in a boating accident. Their injuries were described as 'non-life threatening' but both were transported to a hospital for treatment.
Dramatic images show rescues across Houston
People being rescued by boat in Dickinson, Texas. #khou11 #Harvey Credit:  @KevinReeceWFAA
People being rescued by boat in Dickinson, Texas. #khou11 #Harvey Credit:  @KevinReeceWFAA

If in a home, The National Weather Service urges residents as a last resort to escape to the roof only if the highest floor available becomes dangerous. Get on the roof and call 911 and stay on the line.
Officials say DO NOT climb into attics to escape flood waters. Go to your roof instead.
Residents who dial 911 may experience several rings and long delays, but do not hang up until an operator answers your call.
Only dial 911 if experiencing a life-threatening emergency situation. The floods in Houston have put a strain on emergency services phone numbers.
Dozens of shelters have been set up in Harris County including at the George R. Brown Convention Center. A Red Cross Shelter at M.O. Campbell Ed Center has also been set up at 1865 Aldine Bender Rd, Houston, TX
Judge Emmett said many private groups have come forward to make shelter facilities available and they are working to get those running as soon as possible.
Other cities in Texas are working to accept evacuees, including Dallas which is preparing to accept up to 5,000 people at the Kay Bailey Hutchison Convention Center.

Buses will be available to help move groups to those shelters. If you have a group that needs to be taken to a shelter, you're asked to call: 713-426-9404.
In an unprecedented move, Bush and Hobby airports are closed until further notice. Only humanitarian-aid flights will be allowed in and out of the airports.
A widely-shared photo on social media showed a group of senior citizens in a Dickinson assisted-living center sitting in waist-deep water. According to The Daily News in Galveston County, the senior citizens were rescued.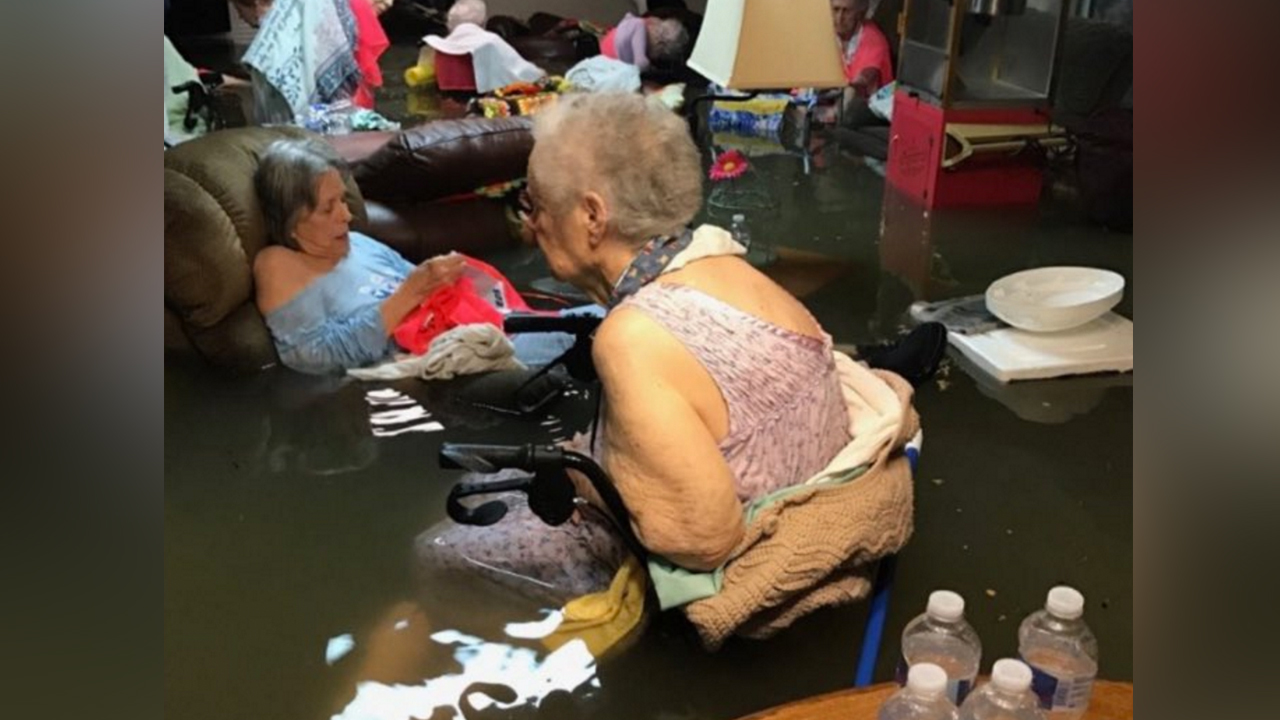 Heartbreaking photo: elderly sitting in waist deep water before nursing home rescue #harvey #khou11 https://t.co/ZOuvakdqvY pic.twitter.com/Tct7cw8qP3

— Jason Miles (@JMilesKHOU) August 27, 2017
Harris County OHSEM tweeted a need for residents who have a high water vehicle or boat that can be used to help rescue people. Call 713-881-3100 to help.

Ben Traub Hospital was being evacuated after water flooded the basement. Critical patients were being evacuated first.
These Dickinson flood victims are on dry ground but need shelter soon. Buses arriving but slowly @wfaachannel8 @KHOU pic.twitter.com/gu7q3U7RXo

— Kevin Reece (@KevinReeceWFAA) August 27, 2017
Tornado warnings continue across the region. Click the check the latest warnings.
Desperate flood victims trapped in their homes are taking to Twitter to plead for help.
Five people have died in the Houston area in unconfirmed flood-related deaths, according to the National Weather Service.
The water here near #Greenspoint is rising slowly as the showers alternate between light and heavy. Lots of cars stranded along BW8. #KHOU11 pic.twitter.com/HVJPHNvKkU

— Brandi Smith (@BrandiKHOU) August 27, 2017
"This is of epic proportions. I've never seen anything like it," Houston Police Chief Art Acevedo said early Sunday.
PHOTOS: Viewers show flooding, damage around Houston area after Harvey
Victoria Benitez shows flood waters rising behind her house in Houston, August 27, 2017.
Victoria Benitez shows flood waters rising behind her house in Houston, August 27, 2017.
On top of the deluge, an extra 15 to 25 inches of rain is likely across the region through Friday. That would add up to nearly 50 inches of rainfall in some areas of southeast Texas making it the most ever seen rainfall event in Texas
There is "extraordinarily dangerous flooding" in southeast Houston, according to Jeff Lindner with the Harris County Flood Control District.
In west Houston, a woman drowned after getting stranded in floodwaters, according to County Judge Ed Emmett. The woman tried to get out of her car on Warrenton near Gessner but she didn't make it. A neighbor found her body about 30 yards from her car.
MAP: Rainfall totals in the last 24 hours

Before the flooding rain started Saturday evening, tornados caused damage in Cypress, Sienna Plantation, Katy, Richmond and Atascocita. There were no reports of injuries.