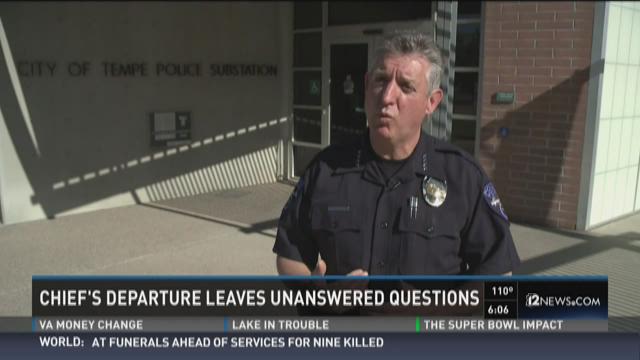 Tempe police Chief Tom Ryff is retiring after nine years on the job and 36 years with the police department, but he's not going away.
The city announced Ryff's retirement in a news release Tuesday. In a brief statement, City Manager Andrew Ching, Ryff's boss, praised the chief's "positive legacy" without providing any details. Ryff has been credited with boosting the department's tech assets.
But Ryff won't be going very far. The city says he will retire Dec. 1 and then become a consultant to Ching. No one, including the chief's spokesman, could provide any details on the consulting work.
That new job could help spike Ryff's pension by adding more service time.
The chief's salary is $176,902 a year. He also collects a public safety employee pension of $81,660 a year, since he retired in 2006 before taking the chief's job, according to records from the state's Public Safety Personnel Retirement System.
Ryff will also be entitled to a pension from the Arizona State Retirement System for his service as chief. The pension could grow depending on how his consulting work is structured.
City Council members said they were briefed on Ryff's possible departure within the last seven to 10 days.
Vice Mayor Corey Woods said learned Ryff would be retiring when the news release went out late Tuesday morning. Woods said he had enjoyed working with Ryff over the last seven years.
The department came under fire recently after a report that Tempe had a disproportionately high number of arrests of African-Americans -- higher than the rate in Ferguson, Mo.
Councilman David Schapira said it was time for the department to move in a new direction.
"I'm excited to see what a new chief can do in terms of building morale in the department and building a culture ...that's a positive one for the city and building really strong relationships in the community," Schapira said.
Ryff declined a request for comment.