Paula Cratsenberg doesn't hold back when talking about how she's handling one of life's most difficult challenges.
"I'm doing things to take care of myself, finally," said Cratsenberg.
Just ahead of her 49th birthday, the mother of two and new grandmother of two is making the transition from married to single.
"I was thinking this is one is a re-do for me," Cratsenberg said. "I wasn't feeling really good about myself."
But getting to this point wasn't easy.
Like many people, watching her marriage of 10 years crumble left her physically and emotionally drained.
Still, she fought through it and is now fighting back.
"I thought, 'What better revenge in a divorce than to look better than when you left?'" Cratsenberg said with a laugh.
Enter, Dr. Daniel Shapiro from Shapiro Aesthetic Plastic Surgery and Skin Klinic in Scottsdale.
"We kind of put the pieces back together for them," Shapiro said.
As a leading plastic surgeon in the Valley, he has clients walk in for a variety of different reasons
"I think people going through a divorce or ending a long relationship have a lot of emotional toll," Shapiro said.
"It's been less than a month since Cratensenberg underwent a full face-lift, which included a brow, neck and eye lift in addition to some laser treatments.
"I didn't feel like my face matched my body," said Cratsenberg. "I just decided to go for it. I really wanted to look more how I felt."
Whether it's to get back at your ex, get back into the dating pool, or to simply feel confident in your own skin, divorce can be a big motivator for people seeking plastic surgery.
One study by Transform Plastic Surgery Group reported that 26 percent of plastic surgery patients are now recently divorced women, and 11 percent are recently divorced men.
Some doctors have estimated it's around 25 to 30 percent of their business.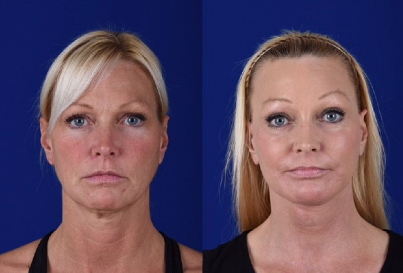 "They've not been focused on themselves per se," Shapiro said, "and all of a sudden they're focusing back on themselves and they take a look and say 'This is not the person who I either feel like, or it's not the person I used to be or want to be.'"
Whether it be a face-lift or a famous "mommy makeover," both women and men are turning to plastic surgery to get their groove back.
But this type of revenge may not be for everyone.
"I spend a good amount of my day turning away people because I want them to do something that's in their best interest and maybe they feel like this is going to be a life-altering thing for them and it's not," Shaipro said. "It's more like icing on the cake for them."
For Cratsenberg, looking good, isn't only the best revenge, it's also a way to give herself an edge in a competitive job market.
Because in addition to ending her marriage, she says she's also leaving the company she and her ex owned together.
"If I'm going to be going back out there, I can't look like I'm 70 years old when I'm 50," Cratsenberg said.
While she's still in the healing process, she's extremely happy with the results she's seen so far.
As for her ex, she says they're keeping things amicable and she even gave him a little makeover advice.
"He doesn't like his stomach so I said, 'go talk to him,'" she said, referring to Dr. Shapiro "So he might be coming here too."